What is the mother of pearl mosaic?
Natural mother of pearl also called natural shell which is the term used iridescent things that forms the inner layer of the natural shell of some mollusks. People always use them to make luxury jewelry pieces or other art decorations. Now, we utilize the beautiful natural shell materials to make mosaic tiles and in this blog, we'll share over 10 types unique mother of pearl tiles, including natural pearl color, beige and mysterious black lip:
Simple Square Style
How about decorating your shower walls or hotel background with black lip mother of pearl mosaic? It will give it a distinct vibe of mystery and elegance. If you're looking for something to add a characteristic touch to your bathroom or any spaces, black lip shell mosaic might help you get what you want.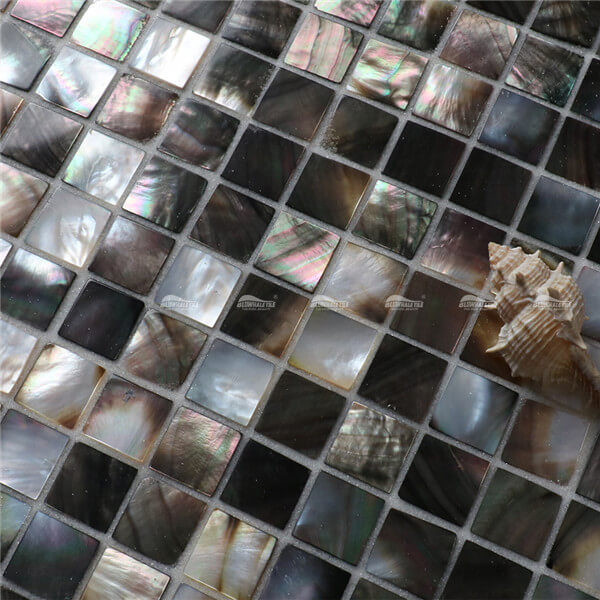 Featured Product: 20x20mm Black Lip Square Natural Shell BOE903E4
This luxury, cozy, bright modern bathroom room for designer starts with a beautiful natural shell walls pairs with large rectangle mirror that expend the originally narrow space. Special dark brown and light black glass light, sky blue washstand and two little greenery complete the modern bathroom look.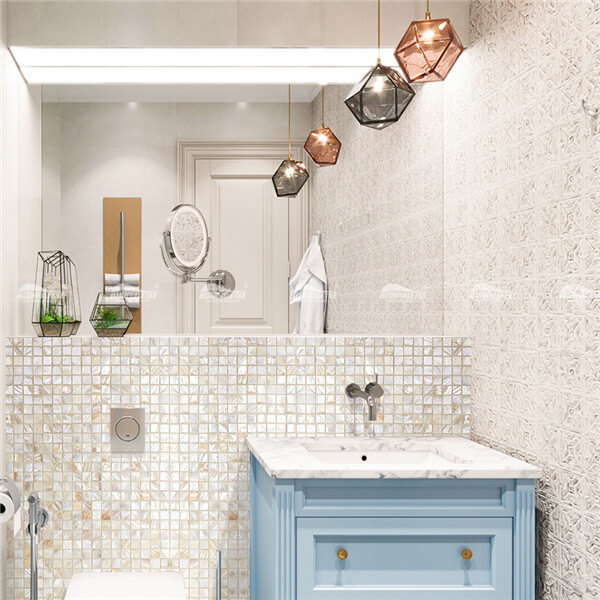 Featured Product: 20x20mm Beige Square Natural Shell BOE902E4
Play with Penny Round
This pink hue cooking space by our interior designer is the epitome of minimalist chic, Standout features include the customized light pink cabinetry, simple rose pink fitting, and the designed lampshade. However, to avoid falling in the pink world, we use natural shell mother of pearl as the backsplash and we all love the idea of calming down a pink cooking space with natural shades of pearl colors.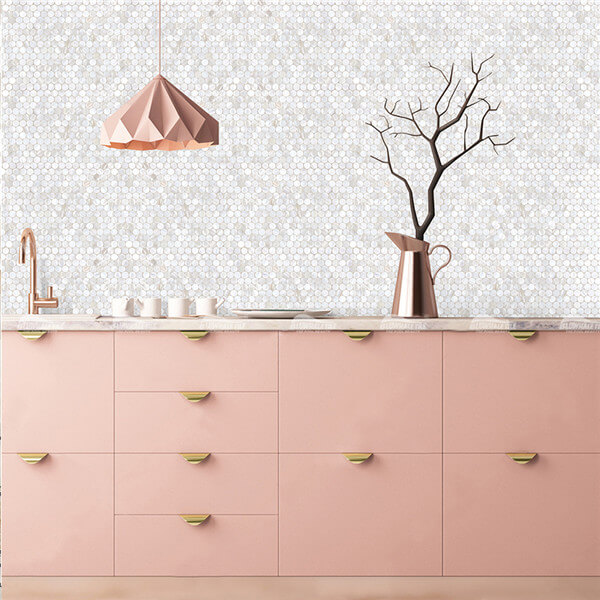 Featured Product: Penny Round Natural Shell Mosaic BOZ901E4
We know you want your kitchen to be stylish and refreshing, but some decoration trends are here and gone in a flash. The green tone is no passing fad, however, they have been used in kitchen decor for years, and it's clear this "pop" isn't going away anytime soon. Light green cabinetry combines well with these understated natural shell mosaic backsplash. The unique color variation of each natural chip will catch eyes easily.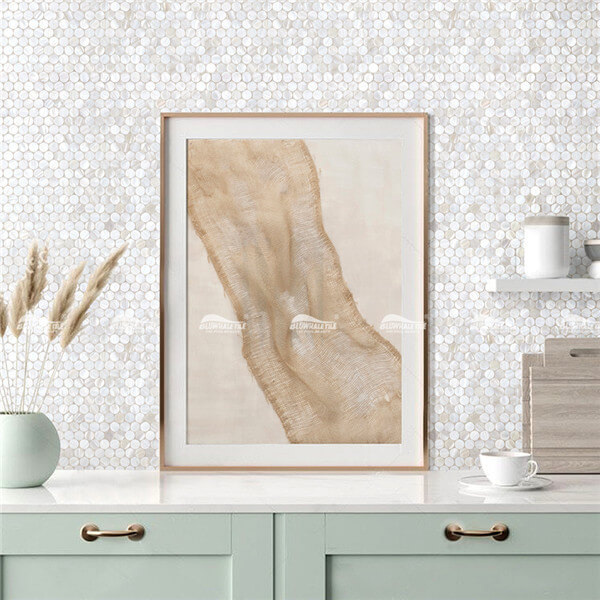 Featured Product: Penny Round Natural Shell Mosaic BOE902E4
Brick Bond Makes A Statement
A perfect aspect about mother of pearl mosaic tiles is their versatility. Therefore, we use these tiles on a wide range of flat surfaces. Because of our advances in manufacturing, this new arrival shell mosaic tiles can be shaped and cut in different shapes. Natural shell mosaic tiles are iridescent and emitting an incomparable light, suitable for commercial space such as hotel lobby, hotel reception background.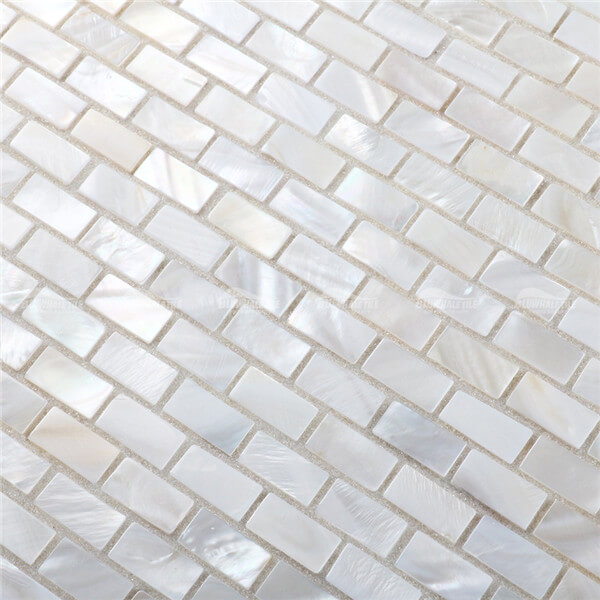 Featured Product: Brickbond Strip Natural Shell Mosaic BOZ907E4
Not only commercial space but common house bathroom can be enhanced style by black lip mother of pearl tiles. Of all the rooms in the house that you can decorate, is it fantastic that the bathrooms might be the household's favorite? This small bathroom can inspire so much creativity and whimsy. We love to use high-end black lip mother of pearl to decor this small space. Just like below: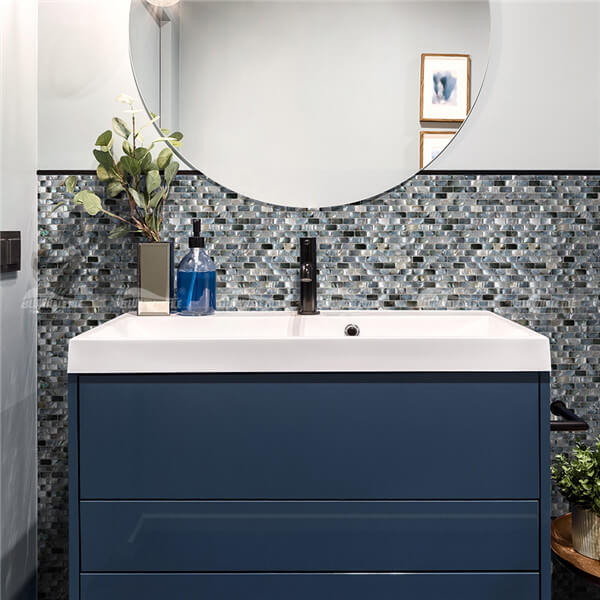 Featured Product: Brickbond Strip Natural Shell Mosaic Black Lip BOZ909E4
Mini Hexagon Also Well
Sometimes mini hexagon can also perform well! Mini hexagon mother of pearl tiles is made of genuine natural pearls. Though our shell mosaic tiles are naturally thin with 1mm thickness, they're very strong and durable as well as easy to install in any spaces.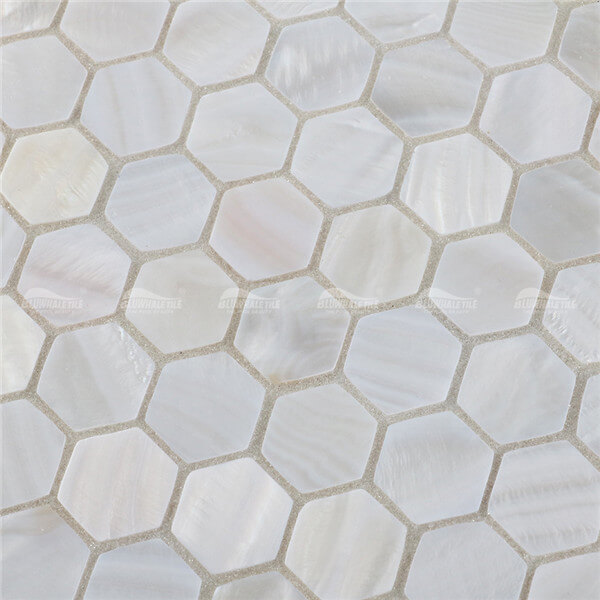 Featured Product: Hexagon Natural Shell Mosaic BOZ904E4
A unique change on a classic hexagon shape, our latest natural shell pattern is the perfect way to let your creativity shine with a mini hexagon shape. Each chip of black lip is different and gives off stunning iridescent under the light.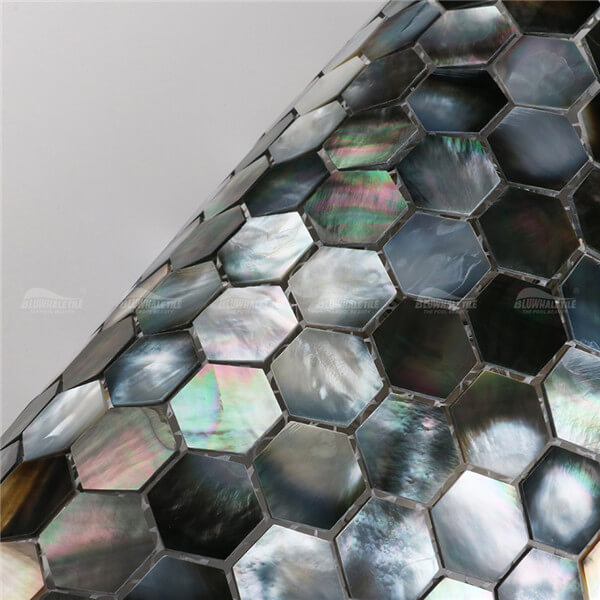 Feature Product: Hexagon Natural Shell Mosaic Black Lip BOZ910E4
Decorating With Fan shape
Whether you're at home or commercial space, cooking spaces are the perfect space to experiment with natural shell mosaic tile. We love this natural and bright ambiance, and what better to create a statement with a fan shape mother of pearl tile? By simply arranging these mini fish scale tiles in horizontal install, it creates a totally cozy vibe. By the way, if you want to achieve a more perfect look, it's recommended to using crystal glass grout.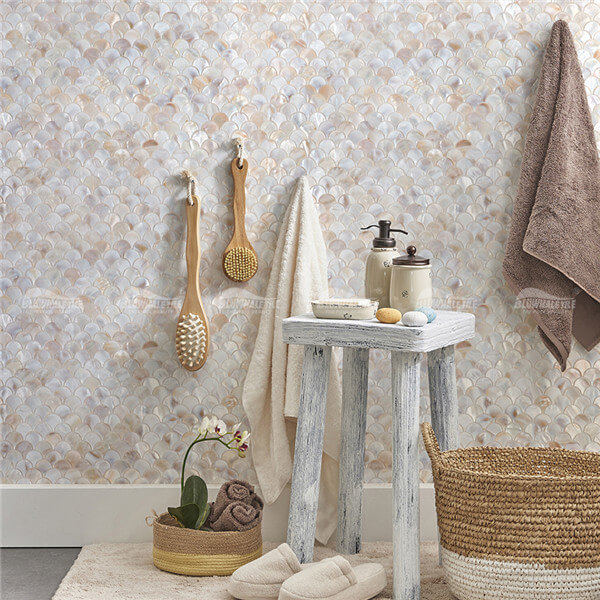 Featured Product: Fan Shape Natural Shell Mosaic BOZ905E4
Looks like the real fish scale? Due to its iridescent finish and unique black lip tone, this natural mother of pearl tile will be worthy of its name "fish scale black lip shell mosaic". Wide usage as interior wall decor, just like a kitchen backsplash, bathroom walls, swimming pool, also commercial plans like hotels, villas, spas, restaurants, etc.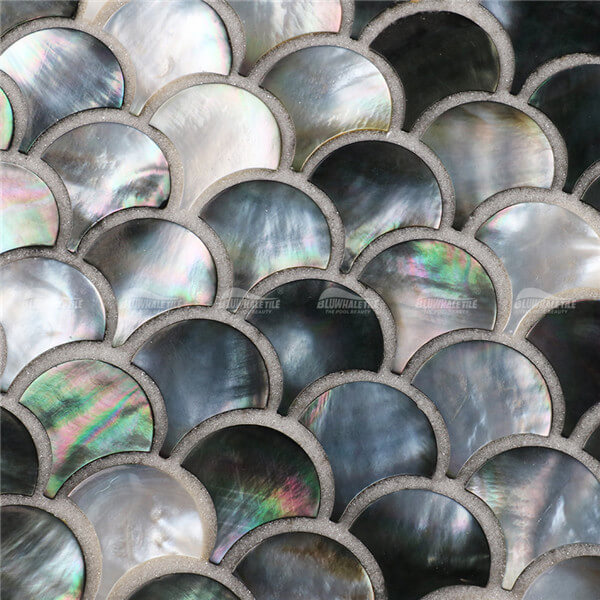 Featured Product: Fan Shape Natural Shell Mosaic Black Lip BOZ911E4
Get Inspired?
Love our new mother of pearl tile? Why not contact us to order some tile samples to touch and see in person now? Beautiful shell mosaic can be not only used in residential space but commercial space., such as hotel projects. Bluwhale Tile will share more trendy pool design as well as bathroom design for our global clients, meanwhile, we look forward to hearing your future plans.