What's your impression about inground swimming pool? Most people literally describe it as a type of pool that builds into the ground. However, inground swimming pool has more than an image of a water-filled rectangular big hole underground. The truth is, it's people's desire for a more magnificent home that promotes viable inground swimming pool designs all the time. In the following passages BluwhaleTile summarizes the three hottest inground swimming pool designs for those who have a pool construction plan or remodeling plan recently.
The Natural Pool
If you think artificial pool, which possesses a manmade gene of everything nicely placed, lacks aesthetic beauty in irregularity, a natural pool may be able to win your appreciation. A natural pool is built without relying on a mass of manufactured materials and chemical additives and goes with the nature in an eco-friendly way. It can perfectly blend in the natural landscape via green plants, rocks, waterfalls, etc. Natural pool is built with gravel stone and clay rather than concrete or fiberglass. Green plants are used as its circulation system while traditional pool relies on harmful chemicals and complicated mechanical filtering system to keep pool water clear and safe to swim in. Moreover, green plants enrich oxygen volume of the pool water, from which beneficial bacteria are given support to eliminate debris and any other detrimental organisms. Natural pool often designs with a nice entrance. BluwhaleTile has a pebble-shape design mosaic pool tile, which is slip-resistant and can help you create a beach walk-in. Also, natural pool is more than a pool that is surrounded by prosperous plants. Salt water pool is another typical variety. It is environmentally friendly mainly because it is free from artificial chemicals. If you want to build a salt water pool, many details need to be taken into account. Choosing a best appropriate tile for salty water is one of the important thing. For more info, it is recommended to read Tile – One of the Essentials to a Successful Saltwater Pool.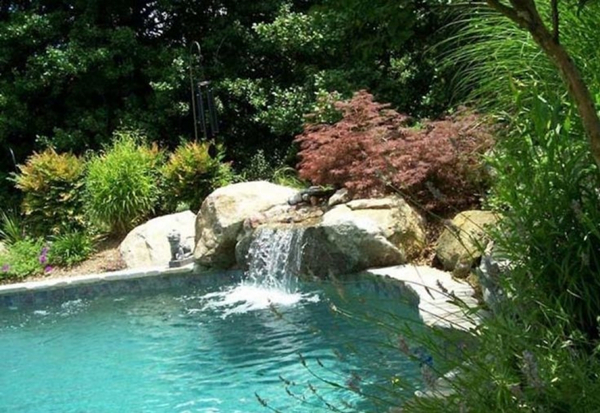 The Plunge Pool
Plunge pool denotes a rectangular pool that is small but deep. This type of pool is the favorite of those who have limited space in courtyard for pool building. It can be said plunge pool is absolutely born for swimming lover or professional. With its deep bottom design, swimmers can have different intensity of training in the pool. What's more, plunge pool design often go with spa-like features such as water jets, porcelain tile steps and ledges to sit on. It also can be multifunctional by installing a heater to heat up the water so that you can get relief as if bathing in a hot tub. However, it's about the pleasure of diving into the water most of the time. One thing you should pay more attention to is making good use of anti slip pool tiles. People used to take a plunge in this kind of pool and stand right on the bottom after swimming for a distance. It is important to ensure the stand-up is safe and soft landing. For more slip resistant solution in the pool, there are some quick tips here How To Choose The Right Pool Step Tiles?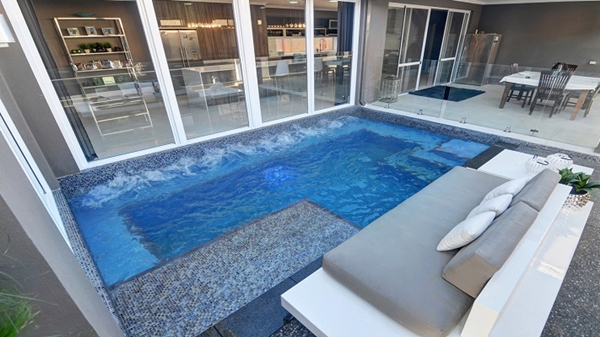 The Exercise Pool
If you're fascinated by exercise and workout, then an exercise pool must be your first choice. There two main designs of this type: one is called lap pool, a narrow but long swimming pool that's like having a single swimming lane in your courtyard; the other is swim spa, a very small and shallow pool that installs with water jet and heater to allow you swim and take a dip inside. For more info about lap more, you may like to read Grasp The Trend – Build A Lap Pool For Recreation And Stay Healthy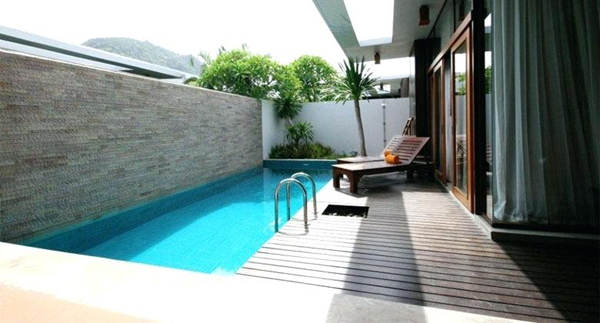 Many people feel hard to find a reliable and experienced purchasing source of pool tiles for their construction or remodeling project. BluwhaleTile is one of swimming pool tile suppliers in mainland China that provide a great variety of pool tile products in ceramic , porcelain, glass, etc. We would love to see your pool being added with our beautiful tiles on style.