Smaller real estates often advertise with a pool-sized backyard for attracting more potential buyers. There are some people hunting for big houses and there must be some opting for smaller ones. Smaller house looks private and exquisite, which is big house cannot afford. Even a fly has its spleen. Small house deserves being equipped with a swimming pool as well, but this one may be just a little different from the ordinary. In small house, the pool is often small as a spa, rectangular, square or circular, and sometimes one single pool and spa connect. An amazing backyard small pool can offer you the most comfortable relaxing anytime you feel stressed and exhausted. Here BluwhaleTile provides you insightful tips to obtain the most pleasure never minding any occasion and season.
Stress Relief
Modern people usually burden a large amount of workload everyday. Continuous overtime working catches your breath and gives you unbearable stress. You deserve a complete rest by sinking into hot water. Therapeutic massage, a hot drink and a good book is a fantastic combination to rid your stress away. For the maximum relaxed experience, it is suggested taking time to perfect the decoration around the pool. Plants, statue, deck, cushion…all details surrounding the pool is well-designed. Just a reminder. Have you noticed there is a transparent glass fence? It is both functional and decorative. For more quick tips on how to make your pool safe for young kids, you might love to read this post: Is Your Swimming Pool Safe Enough For Kids To Swim?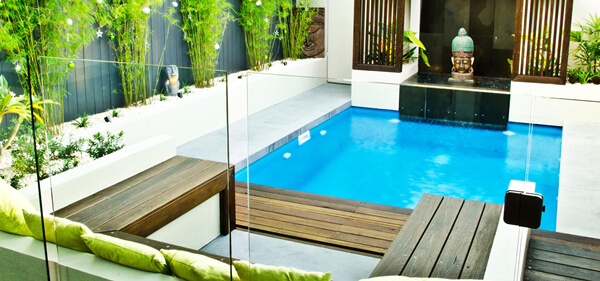 Party Night
If you're a proud owner of a stylish tiled pool, your courtyard may be the best place for various activities. You may invites colleagues and friends for a single party or celebrate Halloween dressing up with frightening costumes. Barbecue would be nice to enhance friendship too. Imagine how lovely the time you would be spending with them. What's most important, Christmas is coming. We guess all of you have been preparing the big day already. How about a pool party this year? You will have a fancy dinner with your loved ones around the pool and after meal, you will sit sideby side, sharing fun with great pleasure. If you are planning to hold a pool party, this post may help you: Top 5 Christmas Pool Party Decorations Ideas.
Winter Wonderland
Why not get some rest sinking into the warm water in chilly winter? I know it's kind of weird and few people would do that but don't you think it has a special favor to enjoy the flickering flames and a cup of warm tea or rich cocoa in the cold months in your spa? Read your favorite novel by shimmering candlelight while listening to classical music. What a wonderful life would be, isn't it? To ensure a pleasant spa time, an excellent hot water system is necessary. It is advised that you consult local pool contractors for helpful tips before you decide upgrading your pool with a heating equipment.
BluwhaleTile, a professional pool tile supplier, provides a great variety of tiles that will sparkle any type of your outdoor tiled pool and spa. We offer factory price of mosaic pool tiles for your small pool, which can make the most of your backyard. Pool with premium tile installed no doubt can last many years. Visit us TODAY for more pool tile design ideas and customized pool design solution.