Penny round mosaic tiles have existed more than one century since the early 1900s, it is widely used in Amercial architecture similar to subway tile and hexagon tiles. The circle surface is firstly used in bathroom and kitchen, and nowadays it has also become a staple of swimming pools, bedroom, balcony and other living spaces. The penny round tile has developed more and more fresh color and texture from simple black and white patterns, to enhance different home styles.
The penny round pattern is also well-received for its anti-slip surface underfoot, it is suitable for both wall and floor decor. That is the reason why more and more people take it for pool installation, and it really make a good result. Made from versatile porcelain, penny round tile creates a timeless style to any spaces. The super flat, premium surface is highly ideal for any wet areas incluing swimming pools, ponds, shower and bathroom.
Here, we share 5 patterns of penny rounds, that works perfectly as a pool tile.
Jumbo Dark Green
The penny mosaic features a 28mm diameter size and high-glossy finish, the edge is so smooth and light-reflective. This turquoise green is an elegant color, it is vivid and can bring your pool back to life. We would recommend you to use it in the pool spa coping and waterline cladding, as well as a modern kitchen backsplash.

Featured product: 28mm ceramic penny round dark green BCZ923A
Jumbo Dark Blue
To build a infinity pool, blue is a best color for it. This 28mm dark blue penny round tile as one ceramic pool tile can meet your requirement well. It comes in a glossy glazed ceramic surface, the texture is unique and looks like freezing, excellently to make a cool and peaceful swiming pool for hot summer.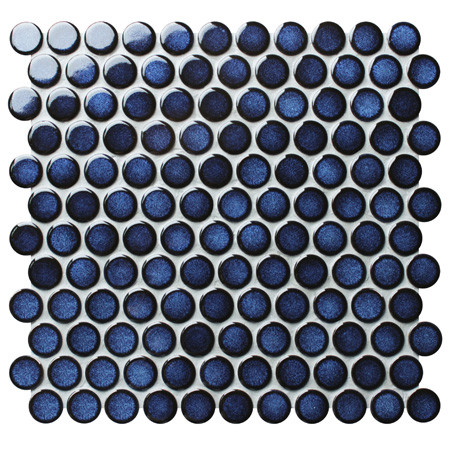 Featured product: 28mm ceramic penny round dark blue BCZ624A
Jumbo Blithe Blue
To make a cool and relaxed vibe, this blithe blue is a great choice for you. The finish is glossy and easy to clean, we set it a gap of 2mm, which can enlarge the space visually.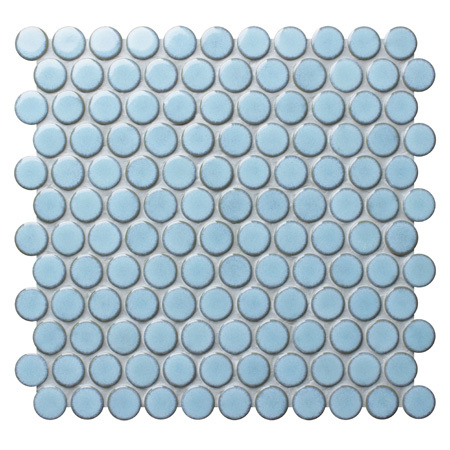 Featured product: 28mm ceramic penny round blithe blue BCZ925A
Fresh Blue Blends
Features a 19mm diameter size, it is a super blend of blue colors. The small circular mosaic tile pattern feels fine and sophisicated, it provides a glossy and easy-to-clean surface. This ceramic penny round can spice up your swimming pool as well as kitchen backsplash and bathroom.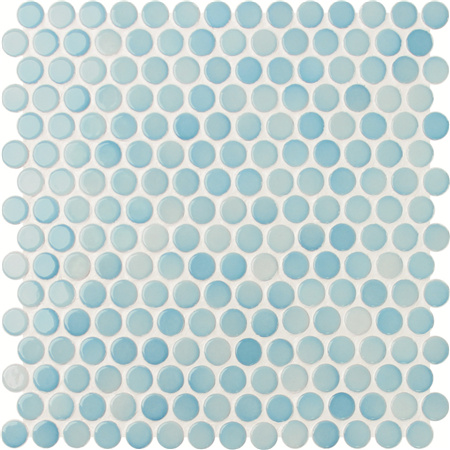 Featured product: 19mm cermaic penny round blue blended BCZ003
Rainbow Color Mixed
If you are looking for a luxury pool tile, this 19mm penny tile in mixed color will make your surprised! It is made of hot melting glass mosaic in iridescent color, looking transparent and beautiful under water and lighting. Small mosaic chips and lots of gaps will make your pool bottom non-slip, safe enough for any users.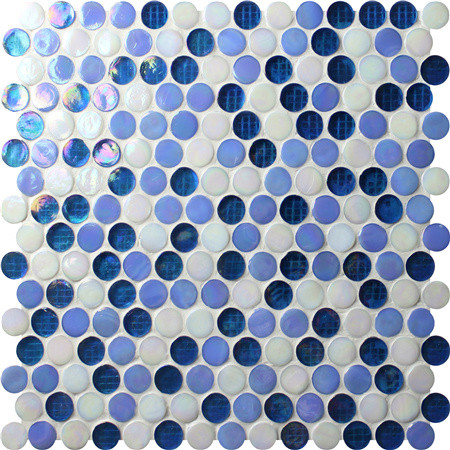 Featured product: 19mm glass iridescent color blended BGZ007
All these historic penny round pool tiles are mesh mounted on back, providing a simple tiling work. They are durable and long lifespan for use. If you are in demand for more penny round mosaics products, please contact Bluwhale Tile, into pool tile mosaics wholesale for over 10 years.