Pool Tile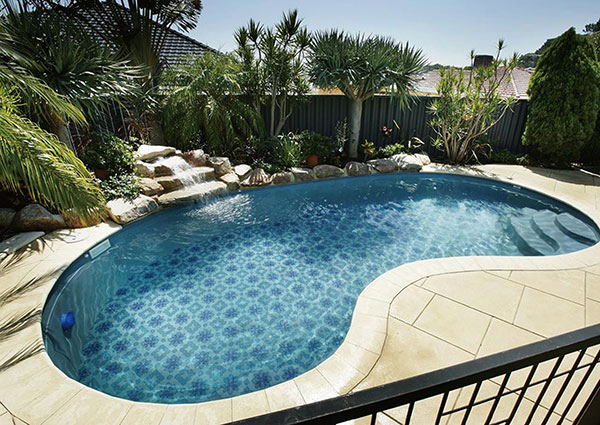 Tile Shown: BCZ017
If you are going to remodel your pool, what's the very first thing to think about? The pool tile, of course. The pool tile is absolutely the centerpiece of the pool. The pool tile sets the keynote for the whole pool and represents your own style and personality. Tired of those pool tiles in regular square shapes? Then why not try the distinctive triangle pool tile series brought to you by Bluwhale Tile? The triangle pool tile series is a geometric tile collection, when more than one sheet is put together, you will get a stunning pattern, adding character and intrigue to your pool.
Lighting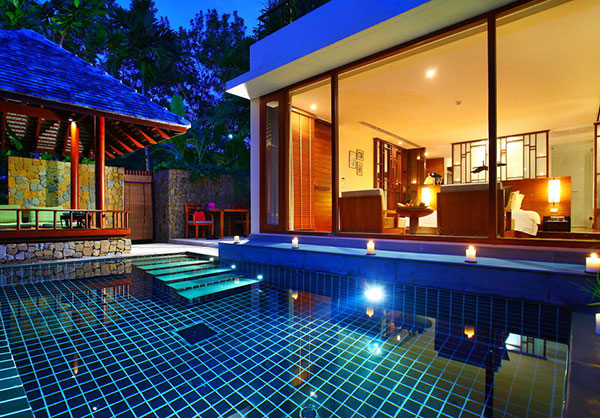 Tile Shown: BCQ604
Besides pool tile, lighting also plays a very important role in dressing up your pool. Like different pool tiles, lights of different colors also create different styles and personalities. If you want to add pizzazz and vitality to your pool, lighting is a perfect choice. Different kinds of lighting create different kinds of ambiance and intrigue. It even makes your pool seem deeper and larger. And it doesn't have to be electric lights, you can also put candles around the edges of your pool and turn your pool into a place for meditation, relaxation or romance. This is a perfect way to unwind, especially after you've worked a long time or have been traveling.
Pool Mosaic Art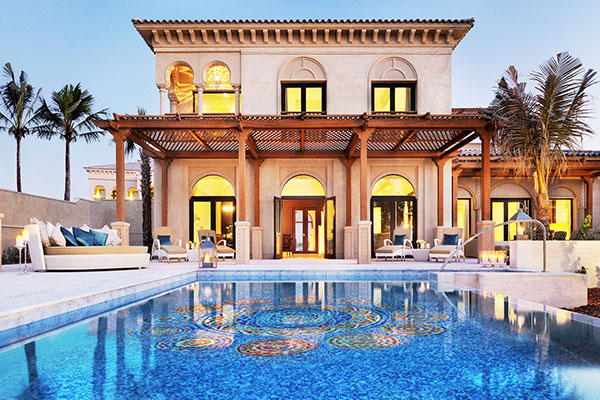 Tile Shown: KZO040MY
Pool mosaic art is always a very good choice if you want your pool to be stunning and inviting. The pool art mosaic is absolutely the centerpiece and focal point of the pool. Swimming pool mosaic art can take your pool to another level. The pool above is featuring a mosaic pool art pattern called Mandala. A mandala is spiritual and ritual symbol in Hinduism and Buddhism, representing the universe. No matter you are religious or not, you will find it very cool after it's installed in the bottom of your pool. Just imagine swimming in the pool, when you are facing down and looking at the mosaic pattern, it's like you are reading the mystery of the universe, you feel like you are floating in the universe, you are swimming with your imagination. And now your pool will no longer have limits, it's as big as your imagination. The blue and iridescent colors are creating a brand new world in the pool that is so fresh and marvellous. It makes you feel relaxed and brings you a good mood. Wouldn't it be lovely and pleasant to swim in pool like that?
Natural Features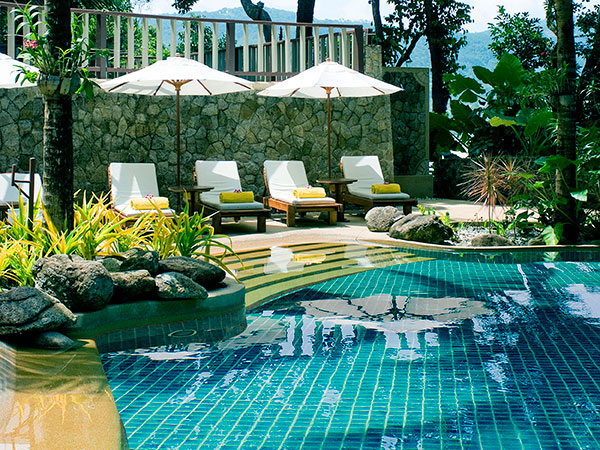 Tile Shown: BCQ703
Sure, pool tile is important, but don't stop at the water's edge, the sophistication surrounding your pool also matters. Speaking of sophistication, cozy loungers are a basic necessity. And plan for shade and sun, for instance, put umbrellas beside the loungers. If it'd be better if there are trees around the pool, providing extra natural shade in the pool, it makes you feel closer to nature. And to make it feel natural is one of the trends for outdoor design nowadays. Putting some rocks around the edges is a good way to make it natural! The rich combination of different elements creates the sophistication of your backyard pool.
Make It Long & Narrow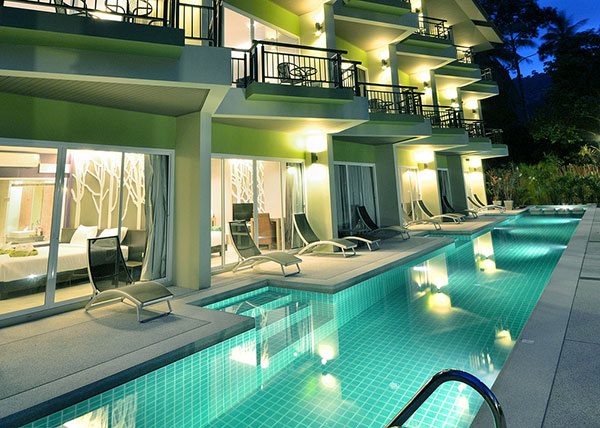 Tile Shown: BCQ702
Got a small yard and it's difficult to find accommodating inground pool designs? Don't just give up yet! Consider the long and narrow style shown above. Try adjusting the length and width of the pool to accommodate for the dimensions of your yard, and make it a long to swim laps.
Stone Appeal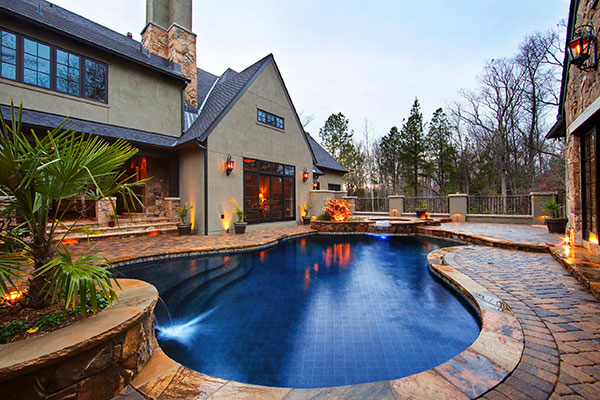 Tile Shown: BCP604
Featuring a full stone deck and patio, this small kidney pool is surrounded with some kind of natural and nighttime ambiance. The fire-like lights around the pool add coziness to the space.
Bluwhale Tile, as a professional pool tile manufacturer, provides a wild and comprehensive assortment of high quality wholesale pool tiles, for instance, ceramic mosaic for pool, glass mosaic for pool, pool art collection, coping and decking, and all kinds of swimming pool tile accessories. We're also dedicated to offering friendly and knowledge service for our customers. For more mosaic tile supplies, please feel free to contact us.

Like us on Facebook: https://www.facebook.com/bluwhaletile/
Follow us on Linkedin: https://www.linkedin.com/in/bluwhaletileant/
Instagram: bluwhaletile
Twitter: https://twitter.com/BluwhaleTile
Google+: https://plus.google.com/u/1/101821340989943290093