It is common to see swimming pool tiles designed in squares, rectangle, penny round and hexagons. People prefer to use general pool tile shapes, colors and sizes for their project, creating a classic look. But now, it is time to make some out-of-box designs for your swimming pools. Pool can be both classy and creative, it does require personality and something different. Bluwhale Tile has created a brand new collection of mosaic pool tiles in interesting graphic motif in our Triangle Series, composed of triangle mosaic tiles chips. Today we are sharing 6 geometric tiles patterns for you, with playful motifs to add a sense of dynamism to your pool. Read on and see how they bring your pool into life.
1. Santorini Porcelain Triangles Single Wheel TR-SA-WH
Getting a feel of blowing when you have a look at this tile pattern, you can find one wheel on each tile sheet. This pattern is rendering in 3 different blue shades, to complete the motif. It is made of porcelain, durable and wear-resistant, waterproof enough for swimming pool installation as well as bathroom and shower. It is not difficult to tile, repeat it and achieve the motif.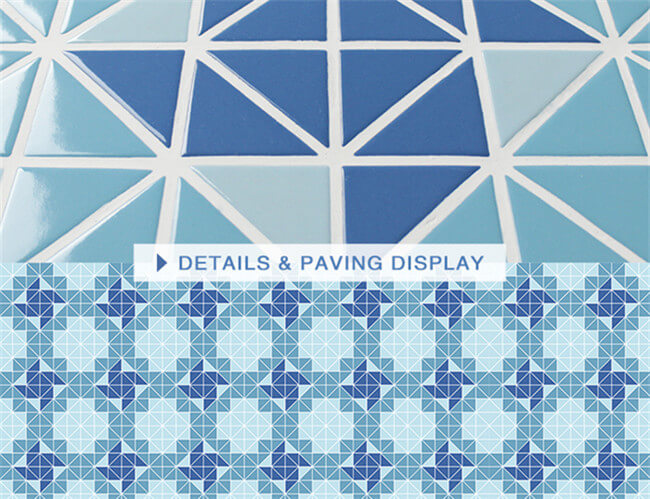 Featured product: Santorini Wheel TR-SA-WH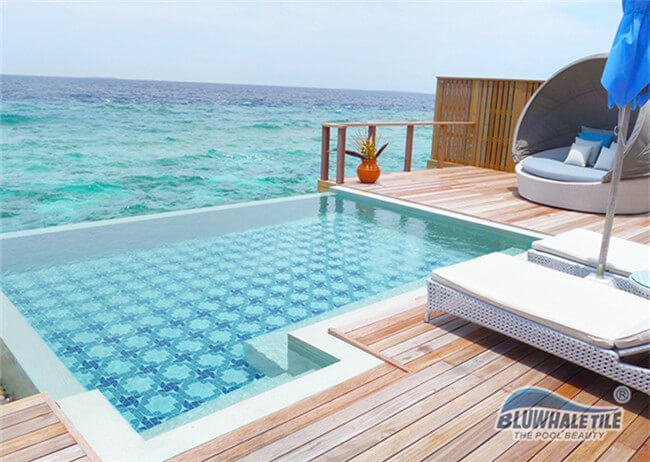 No doubt that this geometric pool tile used on the rooftop swimmng pool maked a statement! It produces a visual effect of water without boundary, and enhances the house values.
2. Santorini Porcelain Windmill TR-SA-TWM
This item is a special design, that you should use 4 sheets to complete the whole motif. Make sure the sheet is rotated right to form the pattern during installation. 4 sheets makes one windmill surrounded by a square, the windmill becomes the focus, it is more eye-catching!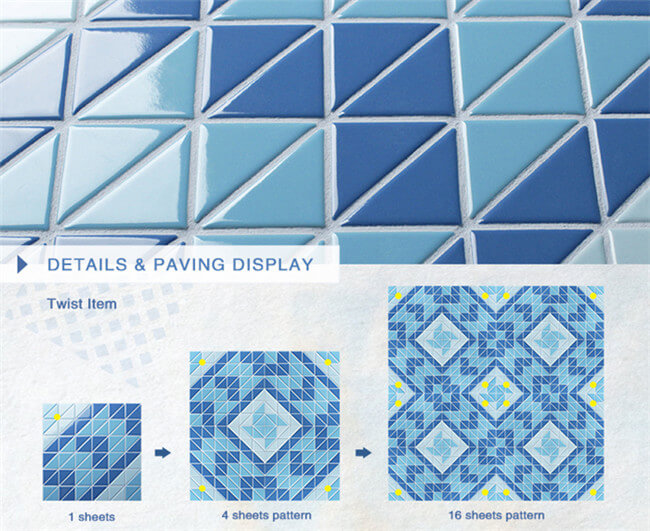 Featured product: Santorini Windmill TR-SA-TWM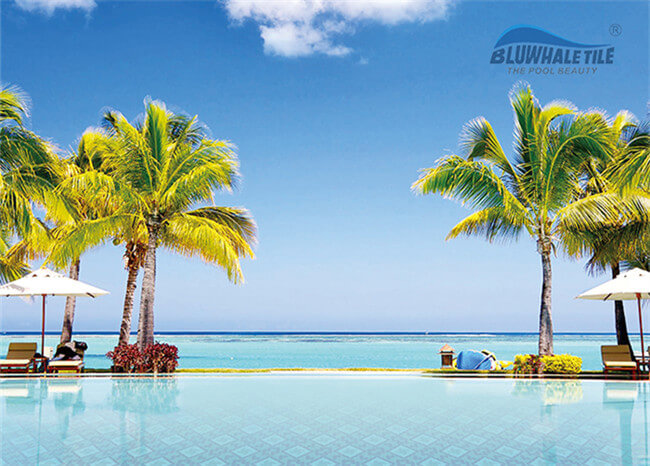 This geometric tile pattern is a fascinating choice for resort outdoor swimming pool. It creates an out-standing bottom to the seaside infinity pool.
3. Santorini Glass Windmill TRG-SA-WM1
In addition to porcelain triangles, we also supply hot melt glass mosaic triangle tiles. If you want to make your swimming pool more impressive, you should not miss this big windmill pattern. Big windmill design will expand the pool space, repeat laying the tile and you will get an unique motif, lots of windmill interlaced adding dimension and levels to pool bottom.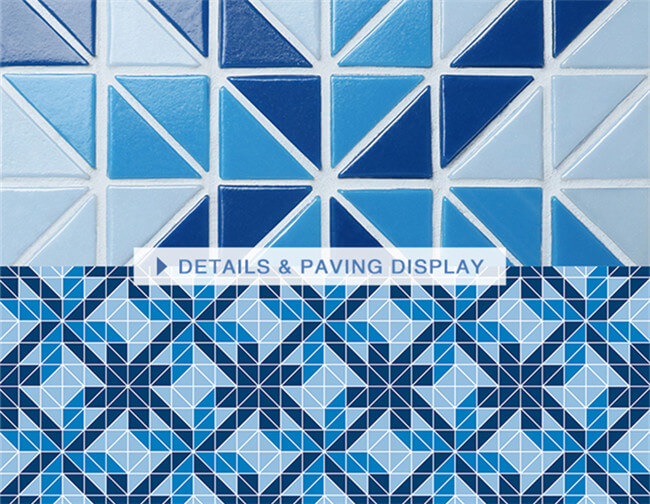 Featured product: Santorini Windmill TRG-SA-WM1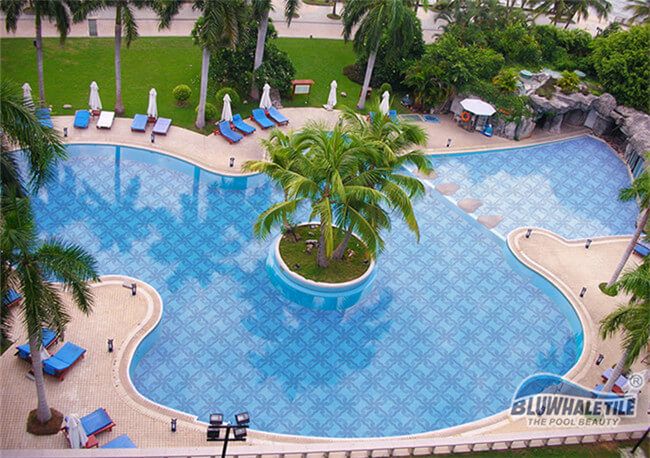 Look at this resort swimming pool, the pool bottom is so amazing and stylish, the pool is so life-like and everybody will enjoy their holiday time here.
4. Santorini Glass Windmill TRG-SA-WM
Another big windmill tile pattern design, what a cool surface! Melting glass mosaics is widely used in swimming pool, when it works with creative patterns, you pool stand out! Interesting pattern, easy to install, give a new try to your lifeless pool.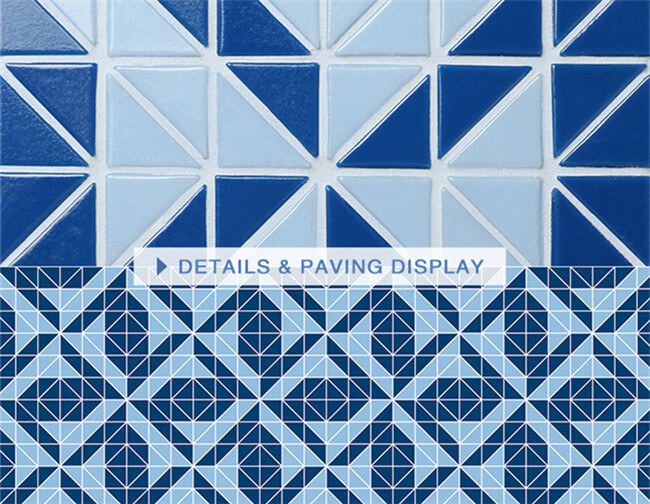 Featured product: Santorini Windmill TRG-SA-WM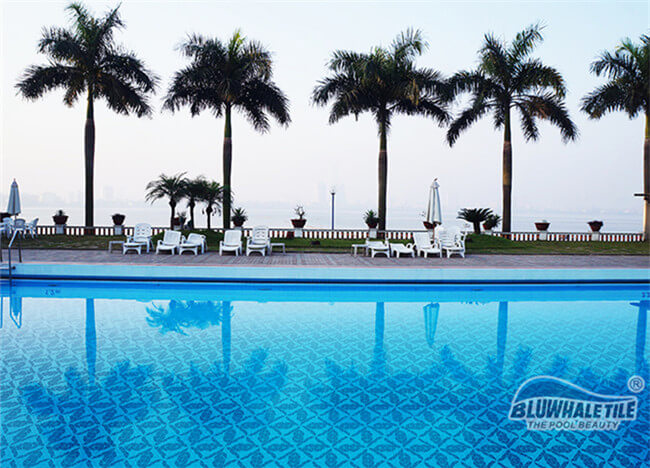 This pool bottom surface has told you how a tile pattern affect your swimming pool style.
5. Santorini Glass Wheel TRG-SA-WH1
This wheel pattern produces a dynamic effect, you may worry that it is too overpower and dazzling, but believe me, you will not remove your eyes from the pool once it is finished. 3 types of blue mosaic chips structure a tile sheet, mesh mounted on back for simple installation.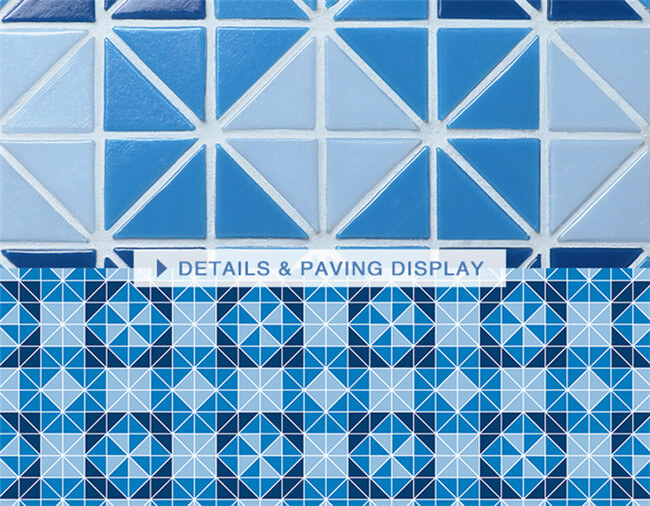 Featured product: Santorini Wheel TRG-SA-WH1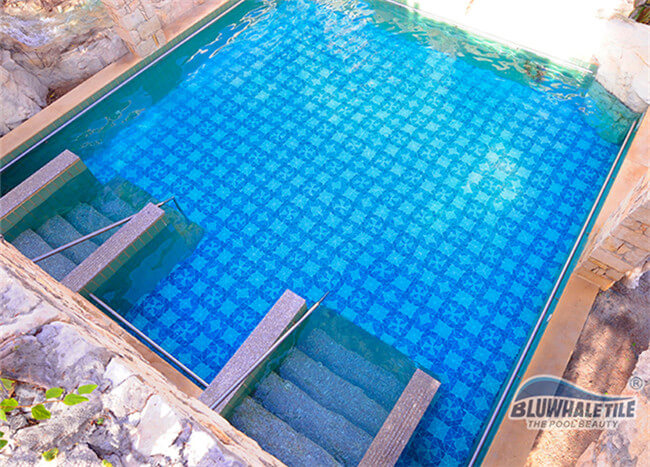 If you have a backyard pool to remodel, limited space, then choose this geometric mosaic tiles, you small pool can have more possibilities and surprise for your family.
6. Santorini Glass Wheel TRG-SA-WH
Rendering in 2 kinds of blue shades, the tile pattern features delicate wheel design. It finish is matte and anti-slip, suitable for any swimming pools and piscine projcts. Repeat tiling to create numbers of wheels and squares, adding timeless geometric beauty to your pools.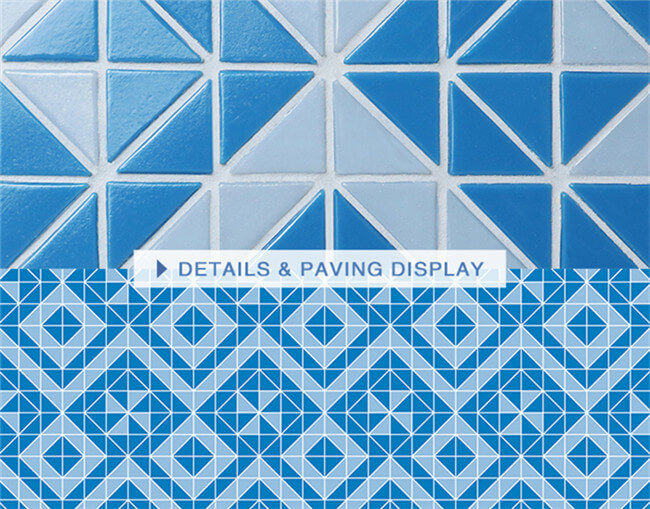 Featured product: Santorini Wheel TRG-SA-WH
Do not leave your rooftop unused, take good use of it and install a pool for the summer days. You can relax yourself after busy works and spend more time with your family.
Find that the 6 geometric tiles make a rotation effect, that works wonderfully to add movements to any pool spaces. They come in 2 inch mosaic chips in blue shades, mesh backing for easy tiling. Bluwhale Tile provides triangle porcelain mosaic tiles and triangle glass mosaic tiles in our Triangle series, pure color and geometric patterns, you can find one right for you. If you are looking for a reliable pool tile company for mosaic tile wholesale, we are here for you. Feel free to contact us for product catalog and best price.