In a big old city, life is so convenient. Daily necessities and luxuries are widely and readily available. Meanwhile, strivers from all lands coming for a dream come true have to bear the stress of traffic jam, public security and expensive house prices. Particularly, the reality forces them to make the utmost use of every inch of land. In their dwellings, maybe the place left for entertainment is not immense. However, it does not mean they will give up the tasteful lifestyle. We have perceived a new trend, that is, small swimming pools. While we cannot say all of these pools small for sure, we are seeing more and more people abandon competition-sized pools and choose some other smaller, grotesque and personalized. These pools take up less space, cost less on construction and maintenance, which well serve the need of people living in developed city and have a great demand for daily workout.
If you also think your backyard is not big enough for a pool but you desperately want one, it might be time to take another thought and get inspirations from the following small swimming pool designs that BluwhaleTile collects.
They can be Fit into Your Small Backyard
In many city dwellings, there exist some measurement issues about how to fit a pool into a tiny garden. But once you start to find a way to get over it, it really comes further possibilities of having a pool that can meet your requirements.
This small pool is designed in the middle of the backyard, right under the existing deck. The irregular shape is catering for the owner's need of a bigger place where family can have party and sunbath, as well as enough room to do some swimming. Choosing plot plants instead of aligning shrubs also work well to save more room. For easier entry, owner leaves a lower walk-in. It looks nice and safe.

Lap Pools are the Best Choice of Exercise Lovers
If you happen to have a narrow backyard and love having workout routinely, consider building a lap pool. Long and narrow, these pools are specially designed for swimming lovers and professionals for muscle building and training so they have the most similar performance with competition pools. Lap pools even overmatches in occupied area. They don't require much in the way of space.
This narrow pool makes good use of the narrow shape of the backyard. The width is right for one person swimming front to end and also perfect for two persons playing water polo. The square wading platform can serve as the rest place and paddling pool for small kids.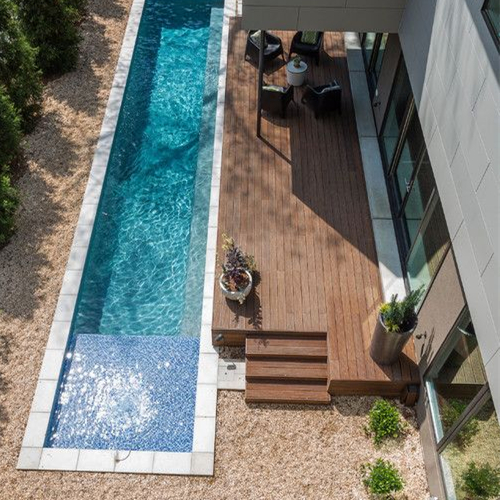 They don't Need to be Regular
Most pools are rectangular or square, but you don't need to follow the old fashion. Round pools take up less place than the rectangles. If you just need a pool that is large enough for a warm spa or cool-off in hot summer, a smaller, circle-shaped pool might be a priority. Also, round pools are safer than the squares because of the blunt edging.
This irregular pool is designed with stone deck and rock waterfall that make the scenery natural. The irregular shape is casual and looks well designed, from which can see the taste and character of the pool owner. The spa beside gives another option when you feel tired, it is a good place to get refreshed.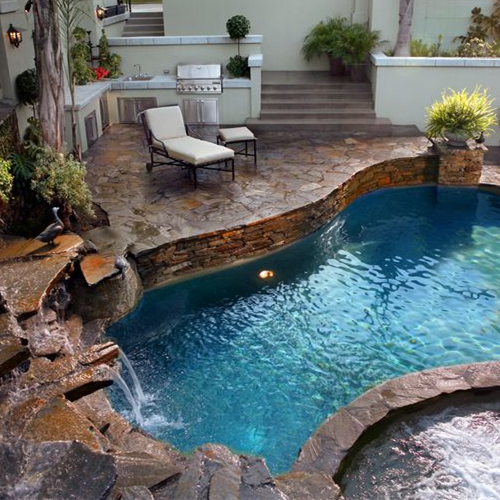 They can be Built in Your Half-open Balcony
Small pools can be a comfortable oasis too. They are small but well equipped, and often converted into a hydrotherapy-spa with the installation of heater and bubbler. The most important part of these pools is the measurements of the stairs, which should be designed in proper width and height for cozy sitting.
In this half-open balcony, the pool is three-side surrounded by the perimeter wall. This means you can only access to it in one side. However, this could be a great solution subjecting to the constraints. The owner also puts a wooden counter beside the pool. It is a good place to do a foot soak while reading books and drinking tea.

Opt for a Small Indoor Pool
An indoor pool is another option if you don't have a courtyard. Also, it is a good choice for people who put emphasis on privacy. The construction of an indoor pool, generally speaking, needs less time and effort so this tends to be a more budget-efficient project.
This pool area is designed by a newly-married couple, using glass screens to separate from the dinning space that creates a see-through design. Wine and feast, flower and candle, innovative space design, all decorative elements are romantic. It is a good example for you to think outside the box and have a personalized pool area.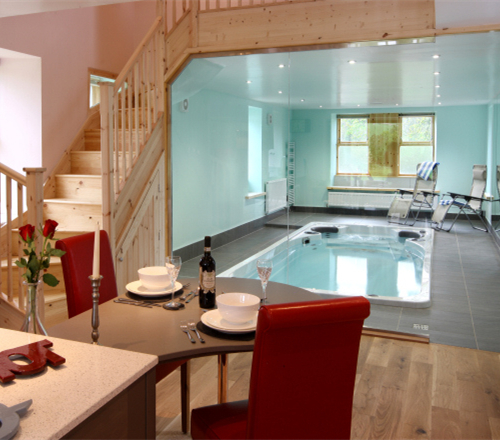 Fit It Into a Unique Space
You might happen to have some space left in your house, whether indoor or outdoor. Why not plan a private pool? Many people would love to remodel their long-deserted place and have it converted based on the style of the existing main building once budget in hand permits.
This warehouse was piled with sundries and the air smelt moist. The house owner remodeled it before summer-restructure the roof and leave three windows that let the natural light penetrate, add a rectangular small pool and pave a stone flooring. All the decorative details look eco-friendly by making the most use of nature, which is also energy-saving.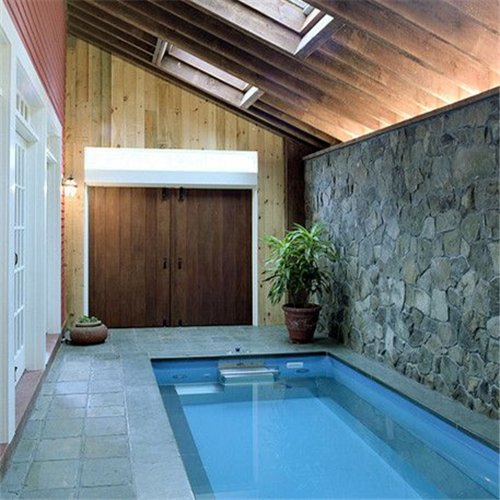 Take it to be a Artistic Decor
Have you ever thought a pool can be used for other purpose? You may ask how can a pool not a pool? Well, this is workable though it sounds kind of ridiculous. It is a trend people love collecting natural things for interior design. The quite water surface has the purest form of beauty.
This shallow pool is sealed by a crystal PVC covering. The blue mosaic pool tile can give an illusion of cleaner and brighter water. Not only for decoration, people can also walk on the pool as if standing in the midair, which adds so much fun to your living area.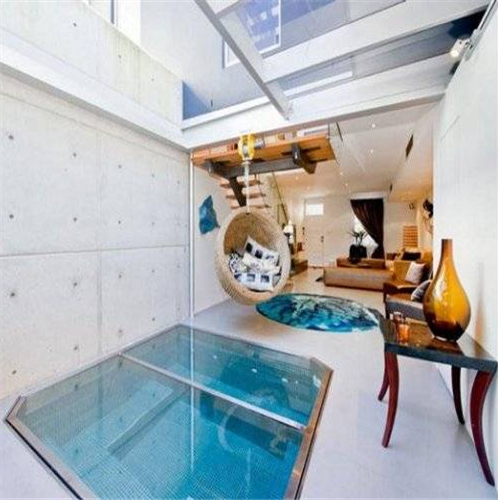 No budget? Then Grasp a Basin
Hahahahaha, just kidding. But it is such a great great joy with your cute guys, don't you think?
BluwhaleTile specializes in premium swimming pool mosaic tile supply. We offer customized service on pool tiles, pool art and any related pool accessories for any small and large swimming pool projects. Welcome to contact us TODAY at http://www.bluwhaletile.com/ for more info.