With a new summertime comes positive change and the latest trends! With that said on an outdoor trend that is increasing traction is the use of thick porcelain pavers for swimming pool decks, garden, parking spaces and etc.
If you don't really know that private swimming pool leisure areas are becoming increasingly welcome and it's very easy to see why. Home additions such as tranquil garden leisure spaces can give various benefits to households such as more gathering time with family members and friends and of course the extra increase in house value. The durability, practical, and esthetical beauty of porcelain paver is a definite trend to commit to memory when designing your pool deck spaces. Reading on for more pool deck design inspirations: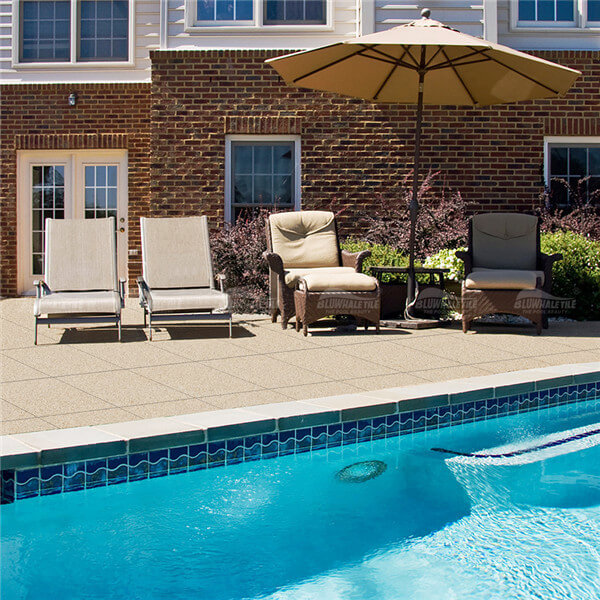 Featured Product: 18mm Pool Deck ZME7905
Incomparable Beauty With Economical Price
It comes in a wide range of appealing surfaces, balanced colors, sizes, and thicknesses. The homeowner can choose from a natural wood texture mimic and something with more minute shades or complicated pattern details, or select a piece that is minimalistic and simple. Each thick porcelain paver is characteristic and will compliment any pool landscape style.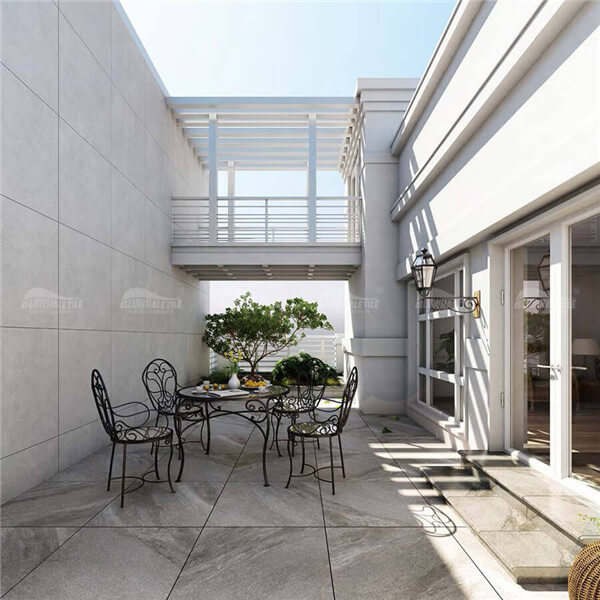 Featured Product: 20mm Pool Deck ZME6302-2
Perfect Performance
Porcelain pavers are excellent in terms of safety, strength, wear-resistant, and reliability, which can withstand remarkably high breakage loads and can be installed or placed in anywhere - sand or grass ground. The matte high breaking strength finish is incredibly durable, so unless you frequently carry heavy loads back and forth in your backyard, just like driving a big truck up and down. What's more, even in the most intense heat sun exposure, the porcelain paver does not easily color-fading. 20mm thick porcelain pavers even needn't sealers, resins, or glues and you can put it on the sand ground directly, which makes them almost the ultimate in eco-friendly outdoor floor materials.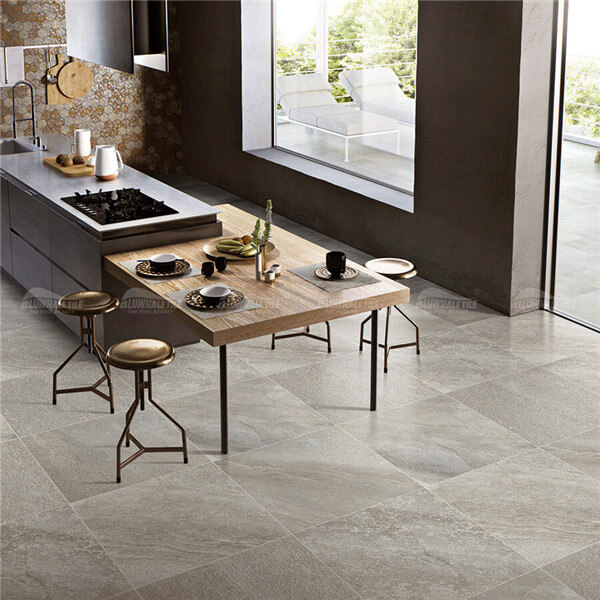 Featured Product: 20mm Pool Deck ZME6301-2
These high matte surfaces are inherently anti-slip, even when wet so that they don't require periodic treatment to hold them safe to walk on - a significant consideration for a pool deck area or garden.
High Durability
The pattern and texture techniques used in the manufacture of porcelain pavers make you create a wonderful natural stone look for your pool deck, parking, or patio without the expense or maintenance headaches that these conventional materials require. With natural stone pattern finish porcelain tiles, for example, you get the beautiful look of a natural stone look deck without ever having to worry about spending lots of money. And it goes without saying that outdoor thickness porcelain tiles are fireproof, so if your home is anywhere near potential fires, your pool deck will be safe from burning.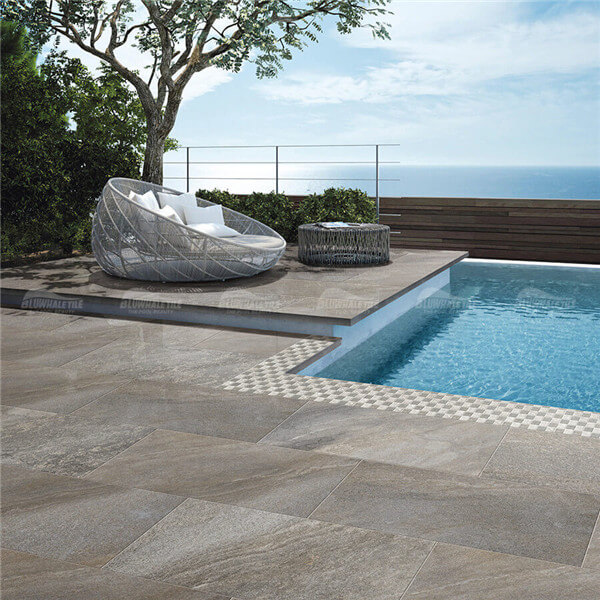 Featured Product: 20mm Pool Deck ZME6303-2
Secondly, outdoor porcelain decking is impervious to water, so you get the aesthetic beauty of a natural stone look without the problems of water absorption (our outdoor porcelain tiles are below 0.5%) or weathering stains. For example, if you live in a place that occasionally freezes, water absorption will become an especially big deal. Water will expand while it's freezing and can easily crack the natural stone.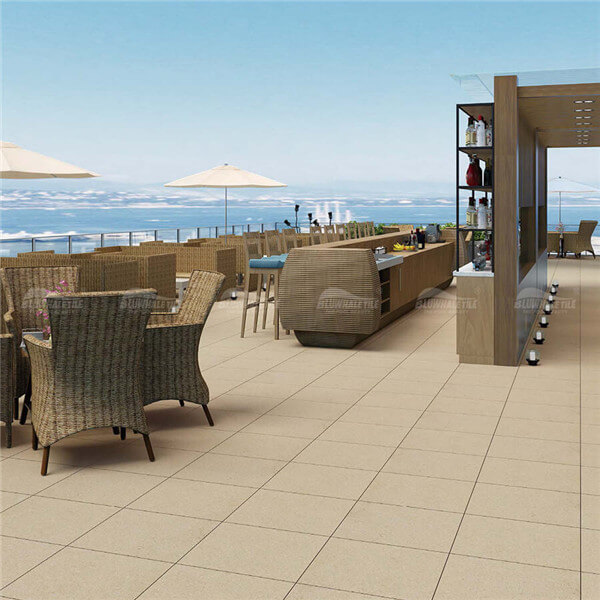 Featured Product: 20mm Pool Deck ZME6901-2
Thirdly, wear-resistant and durability make outdoor porcelain pavers perfect, making them suitable even for high foot traffic residential and commercial spaces such as parks, squares, or big shopping malls.
Beautiful outdoor porcelain pavers and interior tiles continually come in matching surfaces, allowing the households, designers or architect to continue and interior surface right out to the backyard, like this example:
Featured Product: 20mm Pool Deck ZME6902-2
Install It Gets Cozy Floor
Thick porcelain outdoor tiles can be installed in various ways, including a conventional mortar. For our client's pool deck pavers installation method of choice, we prefer to put them in the sand or little stone road and utilizing sand or little stone joints between thick outdoor tiles. This installation way allows a little flexibility, which insures against damage or cracking due to the weather change.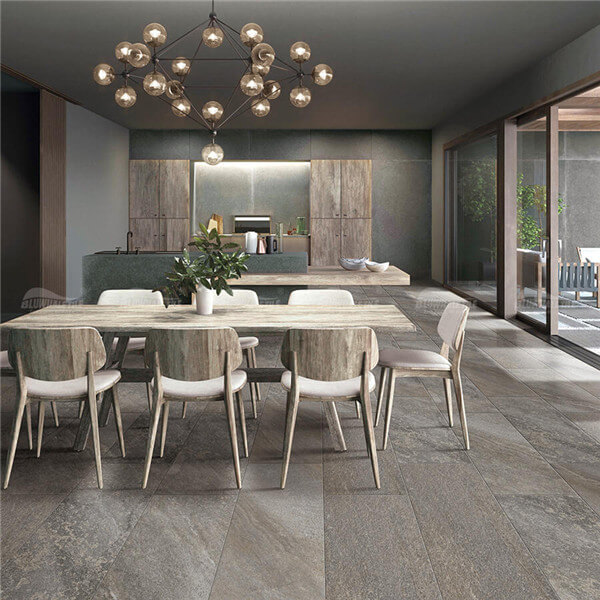 Featured Product: 20mm Pool Deck ZME6301-12
Be Good For Solving The Heat Island Effect
Many swimming pools around areas in the summertime is nothing if not hot, and the amount of heat that a finish absorbs and then radiates back into your environment makes a big difference to how cozy it feels. Your swimming pool around floor areas or garden might not get hot enough to fry eggs, however, a concrete or natural stone finish baking in the afternoon sun lightly gets hot enough that your family members don't want to walk on it barefoot. What's more, this heat floor material will bath your house in unwanted heat that improves your budget of air condition and can make your backyard uninhabitable on hot days.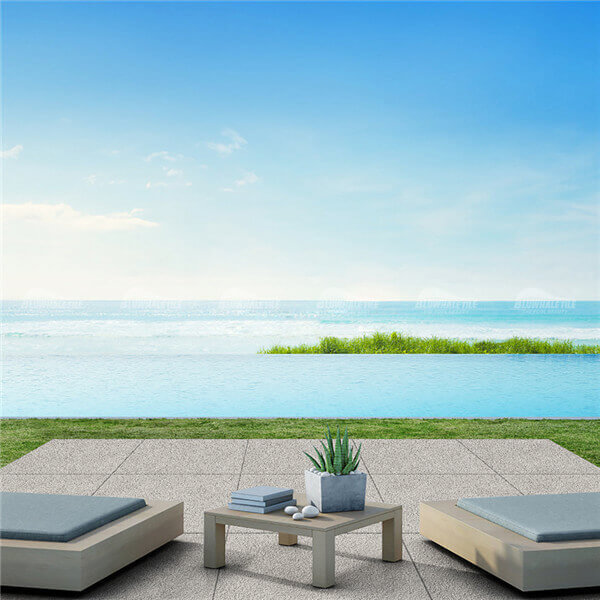 Featured Product: 18mm Pool Deck ZME7902
How better or barely the pool deck material absorbs heat also elements into this, and it turns out that porcelain has huge heat resistance. It warms up very little in comparison to either natural stone, concrete. Therefore, thick porcelain outdoor tiles reduce that heat island effectiveness more than enough to many traditional materials and keep your house environment a lot more comfortable!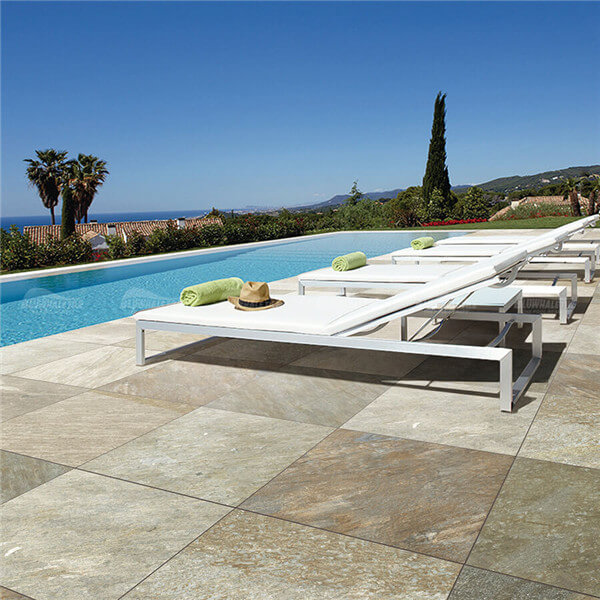 Featured Product: 20mm Pool Deck ZME6904
Love It?
Are you interested in our latest outdoor porcelain paver collection? Bluwhale Tile designers are glad to show you how porcelain pavers can improve the look of your backyard and excited by the eco-friendly, new design and economical options they can offer. For more pool deck design, you can contact us immediately!
For another eco-friendly pool deck design, check out our blog: 3 Types Wood Plastic Composite Create Perfect Pool Decking Areas >>
If you're interested in the pool project, our latest France hotel project might appeal to you: Swimming Pool Project: Appealing France Hotel Pool Design >>