For this playful fan-shaped series of crackle glaze ceramic mosaic tile, the selling point is, absolutely, the distinctive and eye-catching fan shape. Yes, like a handheld fan, an implement used to induce an airflow for the purpose of cooling or refreshing oneself.
People seldom think about hand fans nowadays, because we seldom see them in our daily lives. Electric fans and air conditioners are everywhere now. We only occasionally see them used in some decoration occasions. Nevertheless, we should know the fact that handheld fans have a long and rich history of both ventilation and decoration. Even though we're not uncertain about the origin of this common but unique artifact, we don't know when and how the very first fan was invented, it's interesting to assume and imagine. Let's go back to the ancient times, one day, when sitting on a rock in the scorching summer sun, the first humans felt very hot and wished for a refreshing breeze, one of them picked from the ground a large leaf or palm frond, and when he hold it in hand and wave, it worked really well! Then the basic operating principle of handheld fans was born has barely changed to nowadays.
Pictorial evidence shows some of the earliest fans date from around 3000 BC, and fans were used as cooling and ceremonial devices by the Greeks, Etruscans and Romans. In the history, fans were regarded as a status symbol, they were once the expensive toys for royalty and nobility. For instance, Elizabeth I was a keen fan of fans. And as time went by, fans become an ornamental object that has a distinctive meaning.
With the inspiration from the shape of fans, our fan-shaped series of crackle glaze ceramic mosaic tile was designed and created, and it comes with four colors, green, blue, dark blue, and light gray. Please check the image below for details.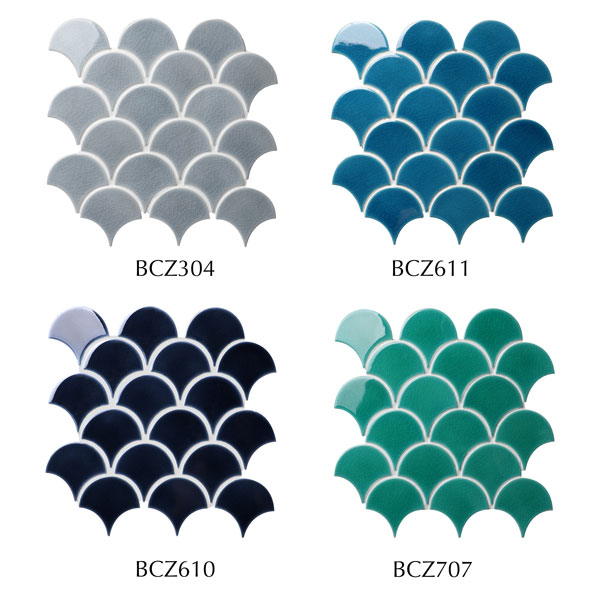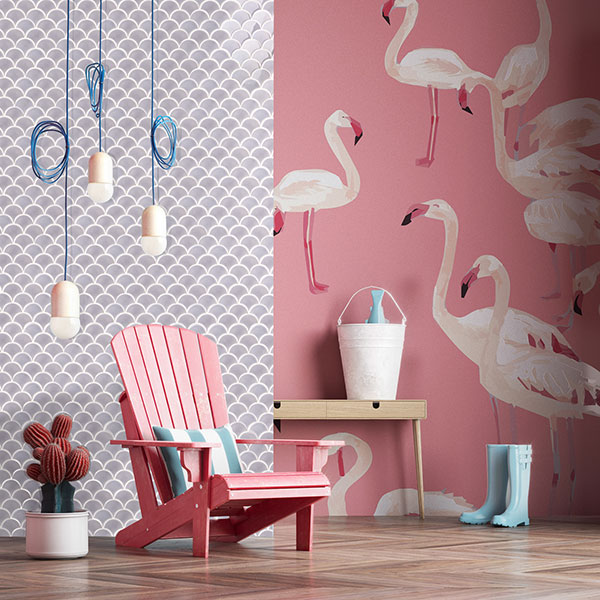 Tile Shown: BCZ304
Stylish is the keyword for this fan shaped mosaic tile, the light gray color creates some kind of elegance for the space. Large scale application as mosaic wall tiles makes the wall look stunning, yet you don't feel too overwhelmed in the meantime. Because of the light gray color of the mosaic tiles and the pink mural picture on the light go very well, and the combination of these two elements creates a harmony of tints and hues. The fan shapes and the cranes share the same characteristic of elegance, which creates an elegant ambiance for the space.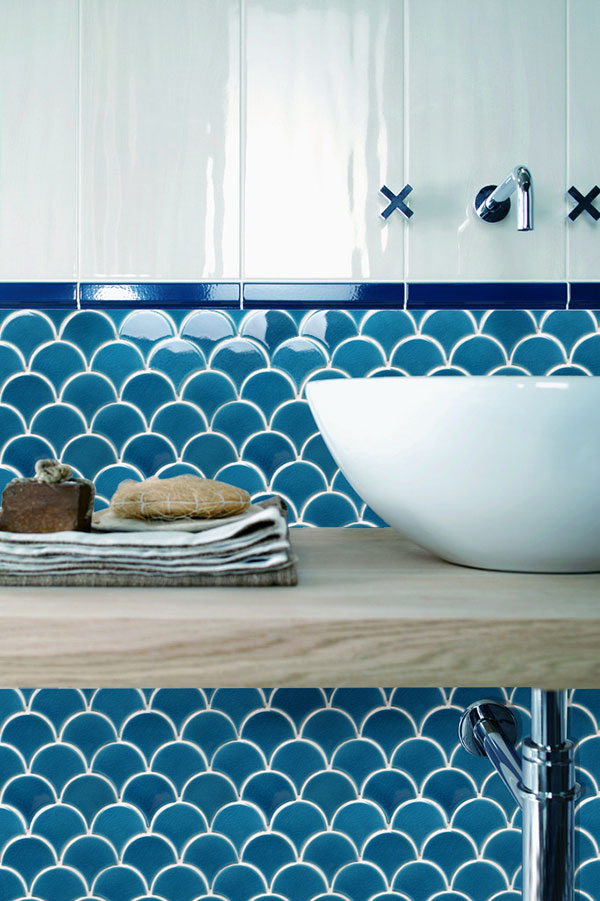 Tile Shown: BCZ611
Using the blue crackle glaze of this fan shaped mosaic tile in the bathroom is a playful choice. Exuding vitality from the inviting high glossy finish and unique crackle effect, these spectacular tiles create something truly wonderful for your bathroom. You'll have a good mood for the whole day when washing your hands or face in front of the washbasin in the morning.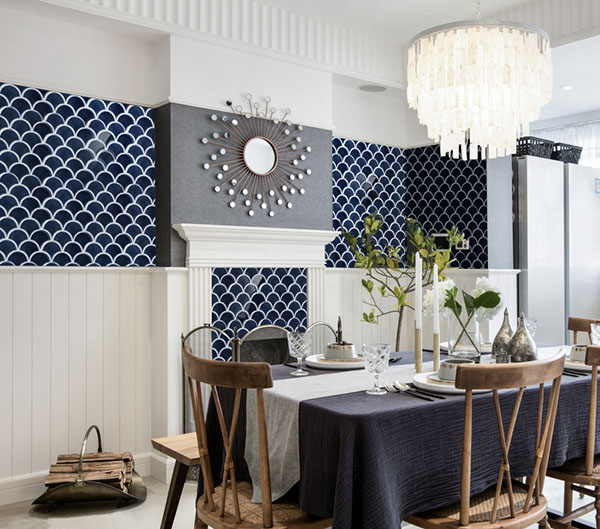 Tile Shown: BCZ611
When this elegant fan shape is in dark blue color, richness and sophistication are added to the elegance that it already has. In this case, applying the tiles for the whole wall would not be a good idea, because it'd make people feel a little bit overwhelmed. So, a small scale application of the mosaic tiles, leaving enough white space on the wall, creates a strong and inviting contrast for the dining room.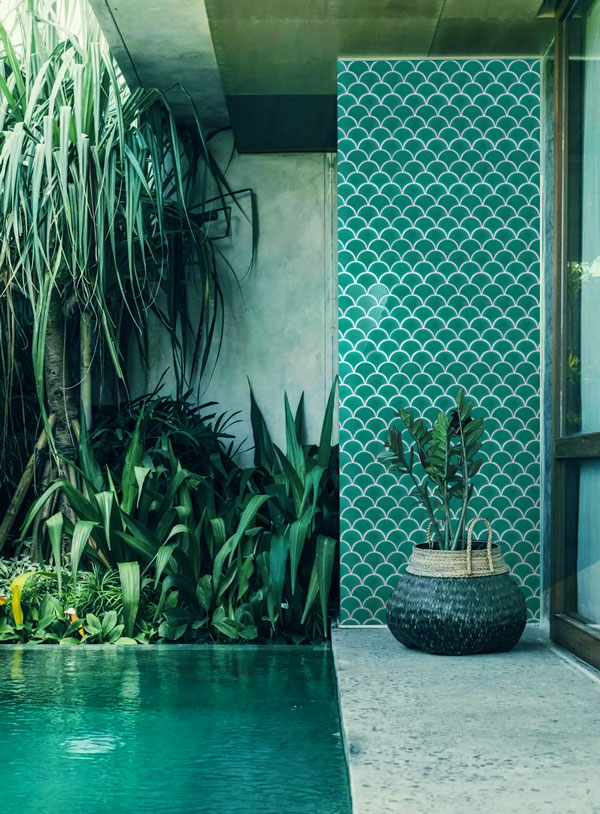 Tile Shown: BCZ707
The green tile color goes perfectly with the surrounding plants in this space. In the meantime, the combination of the unique fan shape and the white grout takes the vitality to a higher level for this space, creating a fantastic oasis for your backyard.
Bluwhale Tile, as a professional pool tile supplier, provides a wild and comprehensive assortment of high quality wholesale pool tiles, for instance, porcelain pool tile, ceramic pool tile, glass mosaic for pool, pool art collection, coping and decking, and all kinds of swimming pool tile accessories. We're also dedicated to offering friendly and knowledge service for our customers. For more mosaic tile supplies, please feel free to contact us.
Like us on Facebook: https://www.facebook.com/bluwhaletile/
Follow us on Linkedin: https://www.linkedin.com/in/bluwhaletileant/
Instagram: bluwhaletile
Twitter: https://twitter.com/BluwhaleTile
Google+: https://plus.google.com/u/1/101821340989943290093