You must be familiar with all classic pool tile form such as square, rectangle, subway, penny round or even hexagon shapes. But do you consider another design, the one that few used but with lots of personality, like fish scale tiles? Fish scale mosaic tile if mostly used for kitchen,bathroom and living rooms, but rarely in swimming pool or other piscine projects. As it is not common to use as other pool tiles, fish scale tile can make your swimming pool more interesting and unique. And today we are going to share our popular blue fish scale tile for you, an amazing mosaic tiles that can beautify your swimming pool as well as other spaces.
If you are a fan of fish scale tile, you should not miss this post: Are You A Fan Of Mosaic Tile? >>
Ice-crackle texture + fish scale design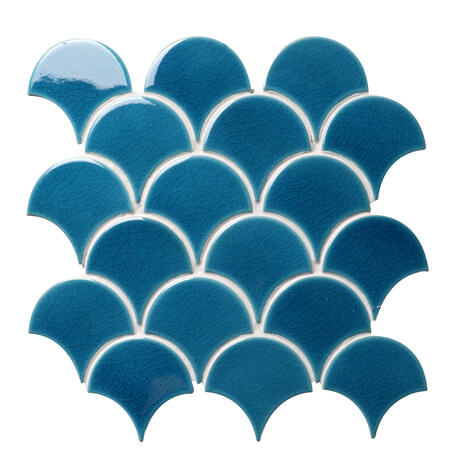 Featured product: ice-crackle blue fish scale mosaic tile BCZ611
Crackle mosaic tile is a popular product for swimming pool covering for its delicate and stylish texture. It is simple crackle finish, while heavy crackle texture can also be manufactured by us. The blue color is pure to create a sea-like swimming pool. There is no doubt that the swimming pool style will be enhanced with the fish scale pool tile, and you can choose white grout color to make the tile shape as focus, or choose blue grout color to have a seamless look. The tile surface is high-gloss, which is reflective to sun, water and light. Mesh back design will help your installation easier and more convenient. And read on to find an inspiring pool example with this tile.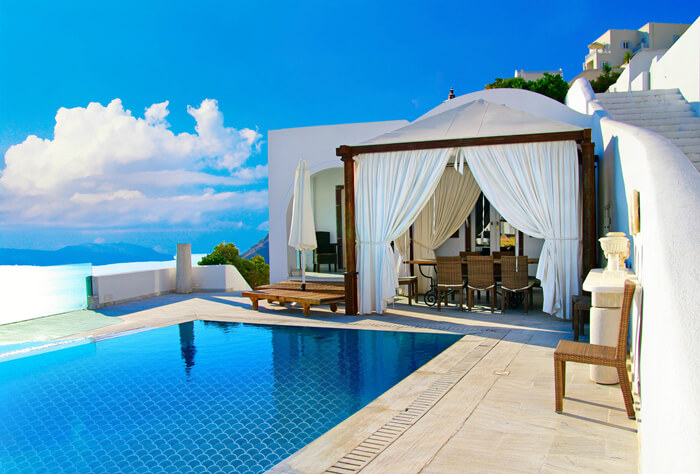 The swimming pool above can answer you the question why fish scale tile is also name " fish tile, mermaid tile or sea tile". The fish scale shape has added personality and features to the bottom of inground pool built outside. The blue-white hue creates Mediterranean vibe from the pool to the whole place, where i wanna spend my holiday here.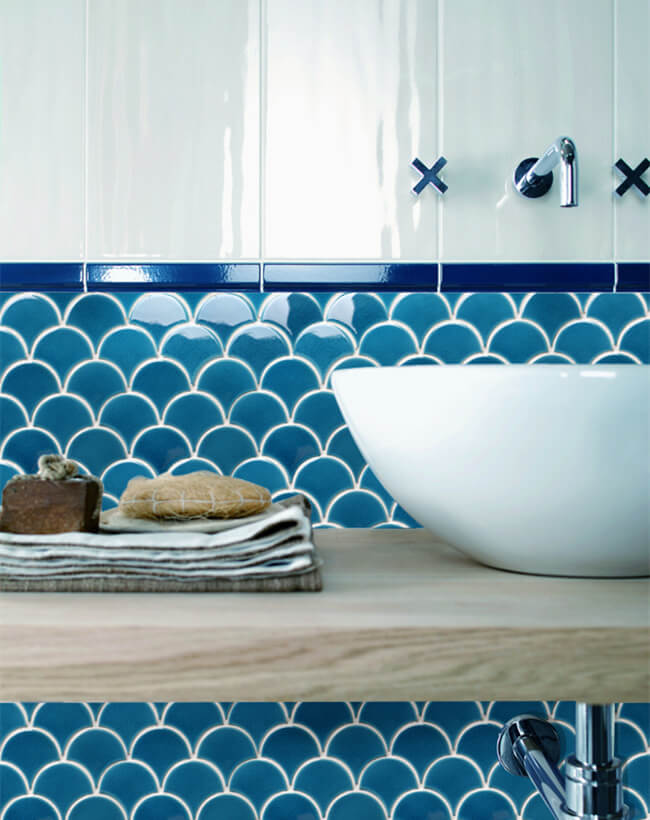 The fish scale design is versatile, you can basically use it as other mosaic tiles. In the bathroom, you can have a blue tiled backsplash which looks clean and eye-catching. The combo of color and shapes makes your bathroom stand out, and you can highlight the shape with white grouting color. The blue-white tone makes your bathroom comfortable and welcoming, even the space is small.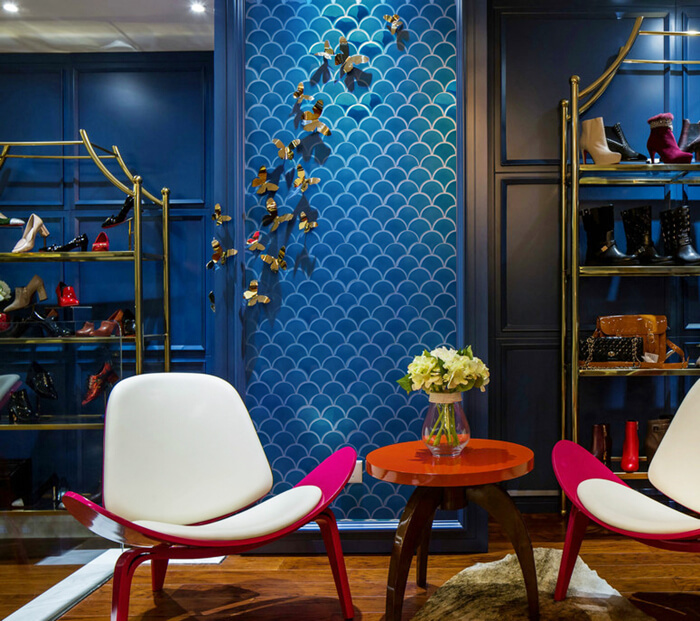 For commercial shop, the interior decoration is so so important. For fashion shop decor, you need something different to highlight your personality and style, that will make your store more inviting and welcoming. The blue fish scale tile installs a feature wall to make a statement, blended wonderfully into the space, level up the whole taste.
Feeling inspired? If you are interested in this blue crackle fish scale mosaic tile, welcome to contact us for best pricing and sample details. For more choice of crackle mosaic tile, please click to our frozen series.
Bluwhale Tile is specialized in pool tile wholesale for many years, we are committed to supply quality service for all customers worldwide including distributor, retailer, designer, architect, etc. If you are in market for our products, chat with us today, we are looking forward to forming a long time business relationship with you.