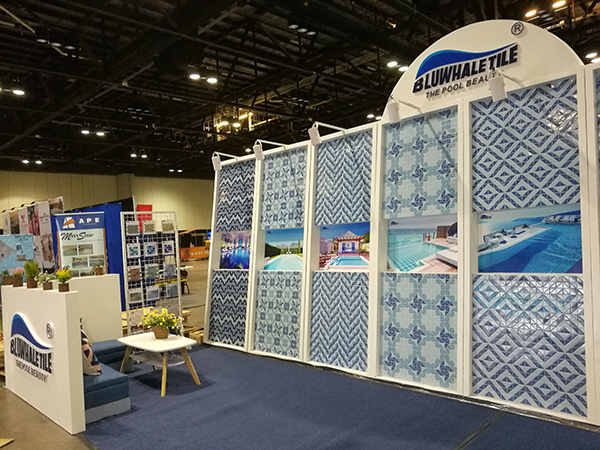 Bluwhale Tile attended the 2017 PSP Expo in Orlando, FL as an exhibitor. We exhibited our latest geometric collection of artistic pool tiles and received very good feedback from our vistors. It's ok if you were not at the show, now let's take a look at the review. The picture below is our booth. As you can see, the products shown on the display boards are our new geometric pool tile series. Please read on to take a closer look.
This geometric collection is made of triangle elements, which means all the patterns are created with triangular chips. Triangle is a very common shape in our daily lives. It can be seen almost everywhere. When designing and developing this new product line, our designers got inspiration from this simple element. We received good and positive feedback from the visitors, they were like "Wow, this is so unique, I've never seen anything like this in the market before!" Yes, it's bold and unique to use this new design, but triangle is gonna be the new fashion, and this triangle pool tile can bring a special personality to your pool.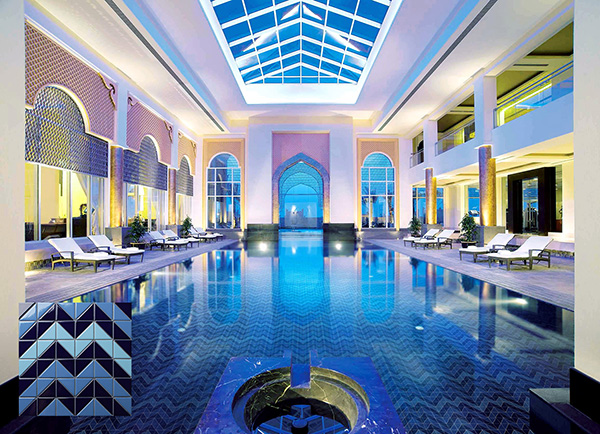 Featured Product: TR-SA-CV
Different patterns spell out different effects. Chevron has been a very classic pattern nowadays and is now used in many different fields. When this Chevron pattern (Featured Product: TR-SA-CV) geometric pool tile is used in an inside swimming pool, it creates some kind of ambience that matches the luxury and aeathestic characteristic of the pool surroundings.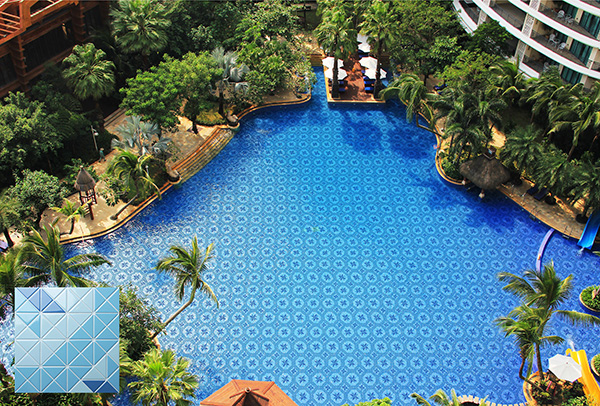 Featured Product: TR-SA-TBL2
Look at the photo above, it's like the diagnosis of the tile looks. Isn't it amazing that such a simple single sheet can create such a gorgeous Blossom pattern?

This Santorini Blossom pattern TR-SA-TBL2 is a twist pattern, which means the sheets need to be rotated correctly to form the pattern accordingly during installation. Please check the instruciton below.
Twist Pattern Instruction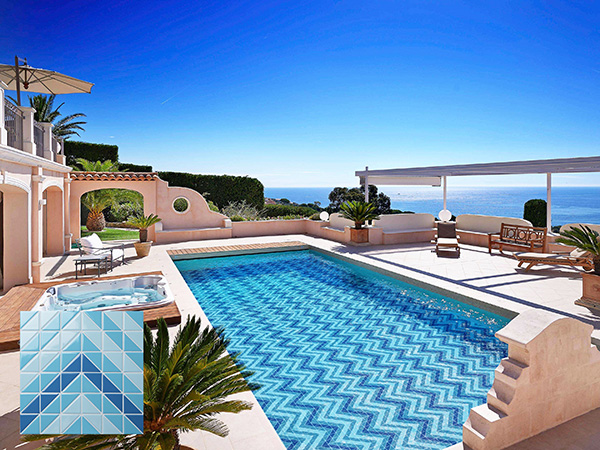 Featured Product: TR-SA-CV2
The featured product TR-SA-CV2, another chevron pattern from the geometric pool tile series. Imagine yourself swimming in the pool. Hear the water splash as you move your feet and hands through it. Feel the water as you glide through it. Isn't it lovely to have the stunning pool tiles to look at when you're facing down and swimming? I don't know about you, but it makes me wanna jump into the pool and have a good swim.

Featured Product: TR-SA-WH
This Santorini Wheel Pattern TR-SA-WH looks nifty and dynamic in the pool, especially when the pool is near the sea, you'd feel like swimming in the sea. Even when you are just lying on the louncher, or walking around the pool, it'd be a nice thing to see those playful pool tiles like rolling wheels in the pool, isn't it?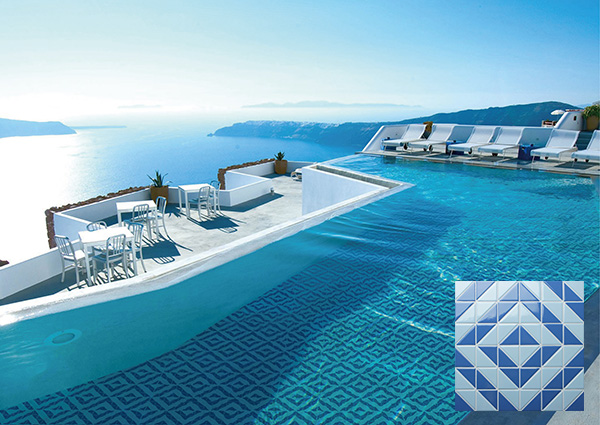 Featured Product: TR-SA-TT
Blue represents both the sea and the sky, and is associated with open spaces, expansiveness, freedom, imagination and inspiration. This Time Tunnel pattern, royal blue pool tiles with geometric shapes, look how perfectly they are blending in with its surroundings. When you're swimming in this pool, whether you're facing down, looking at the pool tiles at the pool bottom, or facing up and looking at the sky, you'd feel so relaxed, it feels like you're swimming in the time tunnel, and time is stopping for you!
If you are interested in our new product line geometric triangle tiles for swimming pool, please feel free to ask us a free quote. Bluwhale Tile as an experienced swimming pool tiles manufacturer from China, is committed to supply high quality pool mosaic tiles to our customers including distributors, retailers, architects and pool company with quality service and product.