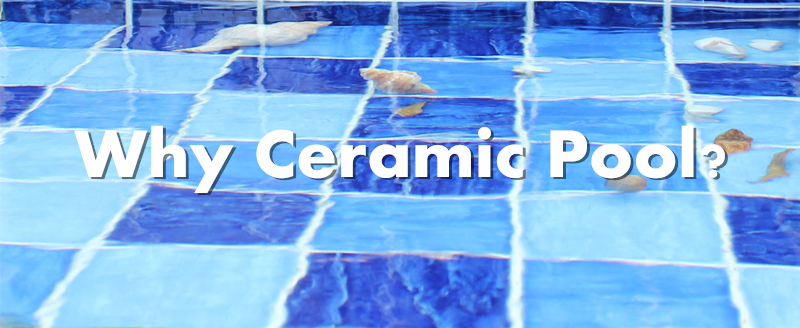 Is Ceramic Swimming Pool Mosaic Tie Anti Slip Enough?
As it is known to all, ceramic mosaic tile is most widely used in swimming pool, for its high performance and durability. That is also the reason why most people choose it.
So, when ceramic mosaic tile used in swimming pool, is it anti-slip?
Anti-slip feature is not most important for a deep-adult pool, but when it refers to hospital pool, hotel pool, spa pool, and children pool, the ceramic mosaic tile must be anti-slip enough.
Porcelain mosaic tiles do good at it.
First of all, swimming pool mosaics is one small mosaic chip is smaller than our feet. There is one standard gap between each chips, the groove enhances the pool's coefficient of friction. Conversely, large floor tiles in 600x600mm and 800x800mm is not as safe as the small mosaic.
Secondly, swimming ceramic pool tiles have a glazed surface, dislike the polished floor tiles in home decoration,
Moreover, blue is the main color of swimming pool mosaic tiles, with a designed gap, it is clear to see in water.
Why ceramic tile popular used in a swimming pool?
Ceramic tile is another hot building material for swimming pool for its variety of good feature and high performance, including high-temperature resistance, non-fragile, good thermal/electric isolants, high chemical stability, inorganic, non-metallic, brittle-proof, etc.
Why ceramic tile going environmentally-friendly for pool?
More and more pool builders are choosing the environmentally-friendly ceramic mosaic tiles in their projects as the world is going green. Ceramic mosaic tiles not only look nice when used in swimming pools, it is a good way to make sure the environment keep beautiful for time to come.
From mining to installation, ceramic tile is environmentally-friendly, this material is easy to mine and manufacture, which reduces fuel consumption and ensure that precious resource are not consumed during the manufacturing process. Moreover, ceramic tile features recycled content to reduce the environmental impact. They offer a long life time, easy to clean and maintain with simple soap and water.