Designers would never stop the effort to create mosaic tiles that have inimitable style and excellent performance. Most building materials such as concrete, cement, marble, wood, ceramic, porcelain, glass and metal have been widely used and designed to produce tile products that meet market demand. Mosaic tiles have many specifications and offer a wide range of patterns to match different color schemes and decoration styles. Sometimes people are easy to overlook what material the tile is made of and make purchasing decision judging merely by appearance. It is not true however. Not all mosaic tile is the same. Each of them have their own application scope, in which they can work for the best effect.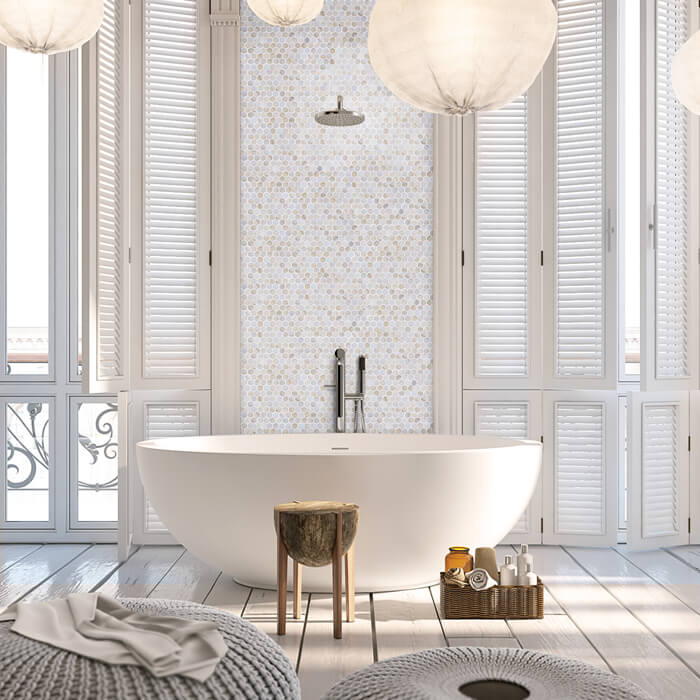 Wet and moist surroundings is a litmus test to know how well the tile can perform in a specific condition. Some types of tiles, like marble and porcelain, can become very slippery when humidity gets higher, many drops clot attach on walls and floors. Wood tile is not a good choice in moist areas as well, for it easily get mildewed and distorted when liquid stained. To select the most fitting tile used in wet places like shower, bath and pool, it is necessary to learn the differences among tiles of various materials.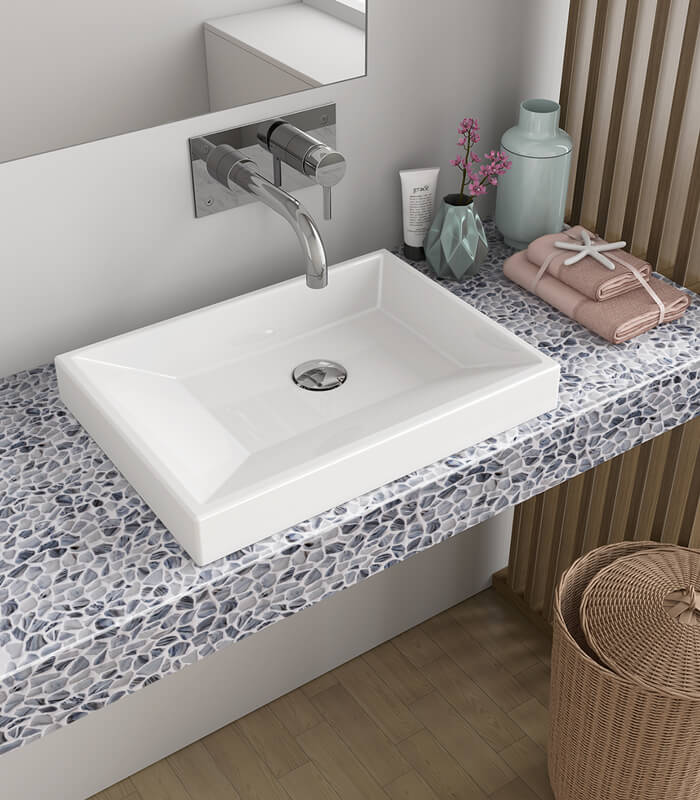 Some types of tiles have higher ability to absorb water. It a great deal depends on the material. Provided tiles that have a higher water-absorption rate is tagged "absorptive", it is not suggested using them for backsplashes beside kitchen sink and bathroom washstand, walls and floors inside shower cabin or any other places that are frequently sprinkled with water and other liquids. This is because water will penetrate easily into the supporting structure behind the absorptive tiles.
"Semiabsorptive" tiles work better on preventing water seeping in the body than absorptive ones, but the fact is they still absorb a little. However, they are theoretically allowed to be used in the areas that are sometimes wet. Water is not a big deal and is far from ruining them but surely, as less as water is better for their service life. Showers and pools are totally prohibited as those tiles are not be able to endure "immerging" water for a period of time.
High density water-seal mosaic tiles, like tiles made of ceramic and glass, let's tag them "low or non absorptive" tiles, are often the popular choices for pools, showers and any places that are frequently immersed in or stained with liquid. Some homeowners love the look of marble and want to use it in the wet places. Although some types of marble can be impermeable, they are easy to leave scratching marks. So if you insist using marble in your bathroom, avoid it using on floors. Someone may ask if granite is suitable or not. The answer is yes undoubtedly because granite is one of the hardest stone. Its high density is qualified for wet areas. If you want your bathroom look vivid by adding color, then mosaic tiles made of ceramic and glass may be a good selection. Pay attention to the surface, cannot be too smooth and flat especially for glass tiles. Choose some tiles have waving pattern or uneven surface. And don't forget to ask sealing techniques and tiling tips to make them adhered to the surface effectively as low-absorptive tiles may have a problem on combining with the substrate.

Also, to know more about the grade of tile is important. It can help you choose the ideal tile. Class 1 is capable enough for ordinary residential finishing. Class 2 is good for somewhere there is no heavy traffic such as sundry room and basement. Class 3 stands out in thickness so they are suitable for the places that have heavy traffic like living room. If you have a garden or courtyard, class 4 may become your preference as they are qualified to be used outdoors. Class 5 is designed as commercial or public use as they have the highest durability and performance value that meet the need of public places.
Still, there are some other specific conditions and details you have to be noted. For example, if your family members have allergies, you would like to have the tile that does not grow molds, catch dust and produce scraps. What's more, your budget will affect the type of tile you purchase as the price depends on the thickness. Provided the other conditions are the same, the tile is the thicker, the more costing. Also, as we mentioned before, some people are focusing too much on the style rather than the overall performances. You will be unsatisfied with the tiling if you cannot balance the quality, budget and style.
BluwhaleTile have 10-year experience in supplying tiles that are qualified for wet rooms. We also offer customized service on pool tiles, pool art and any related pool accessories for any small and large swimming pool projects. Welcome to contact us TODAY at http://www.bluwhaletile.com/ for more info.