Pure blue colors are widely used in a classic swimming pool, while a mixed blue one also can make your pool impressive! So, let us look at another best-selling classic collection at Bluwhale Tile, all the pool mosaic tiles have 2 to 3 same kind of blue colors mixed. The mix of light and dark color, can easily add a sense of level to any swimming pools, especially with the tricks of lighting and shadows.
Classic never goes by as times do! These classic glazed mosaic tiles will make your swimming pool last forever and never out of date! 48x48mm is a common and popular size in our customers, which is easy to install and clean.
Ceramic mosaic tile would be nice, it is a welcoming option in building material. When used for flooring, it has high performance at wear-resistance, crush-resistance, corrosion-resistance and low-water-absorption as well as anti-slip. Apart from swimming pool design, it is thought to be the best decoration material for bathroom, kitchen, park, SPA center and fountain.
Following are our 7 best-selling blue mix patterns for you, see it and contact us freely if you like it.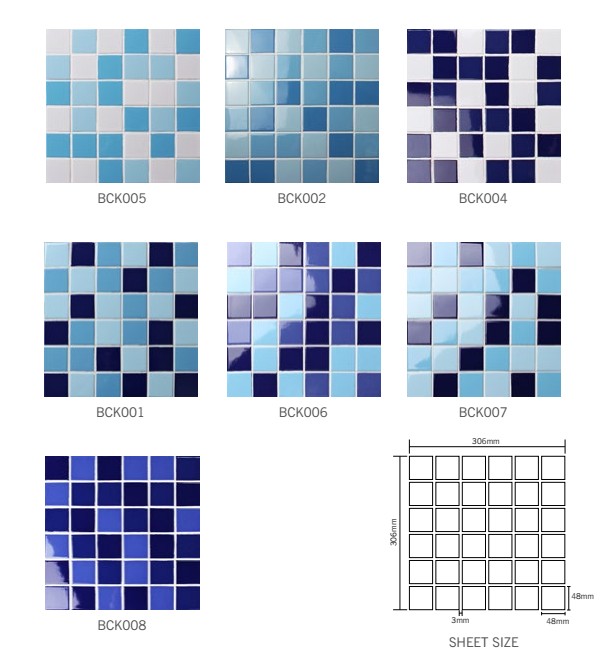 Bluwhale's blue mix mosaic tiles adds shades to the pool, can well enhance the depth of the pool and make a nice visual effect! Do not miss it if you are going to create a pretty pool!

If you are seeking for wholesale swimming pool tiles from China, welcome to contact us for best price and more product details.