Swimming is one of the most popular sports as well as recreations done by many people today for the purpose of staying healthy. Also, swimming pool is considered a splendid establishment that can add pragmatic and aesthetic value to your property, so it is important to ensure that the material used for pool construction is long lasting and has a beautiful appearance. Compared with other pool finishes, glass mosaic pool tiles are more attractive and cost effective. In the following BluwhaleTile is about to show you four new pool mosaic glass tile designs. You will find some feasible solutions for your pool improvement.
Nowadays glass tile for swimming pools are gaining flavor from many households who love water-based recreation because of the colorfulness and durable quality of glass. Glass mosaic tile sheets are not easily subject to fading if installed properly. They are not supposed to be used in pools that will expose to strong sunlight. If have to, filling up the pool with water in summer time and sealing the pool with cover during close-up seasons will increase the serve life of the glass tiles. As shown in the attached picture, it is a great example of wear resistant pool glass tile. Look at the gradient blueness and the delicate texture. Your pool will be freshened up if thoroughly decorated with this brisk tile.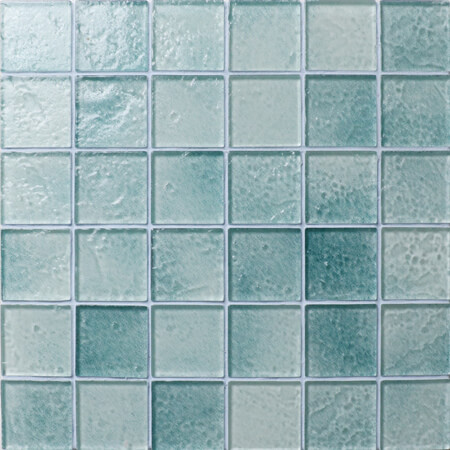 blue glass mosaic tile sheets BRK002
What's more, with glass pool tile installed, swimming pool surface double reflects light in a way, through water from different angles, that sparkles the entire pool with a particular iridescent effect. The interweaving of ambient light, pool water and glass mosaic tiles create an inimitable marvelous appearance. If you want to choose tiles that have eco-friendly quality, the glass is a perfect choice again. Glass tile for pool is at low maintenance cost because dust and algae are hard to piled up on it. That further reduces the use of chemical additives and is regarded environment-friendly. In the attached glass tile pictures, they are two outstanding options that have identical characteristics with the glass pool tiles mentioned above.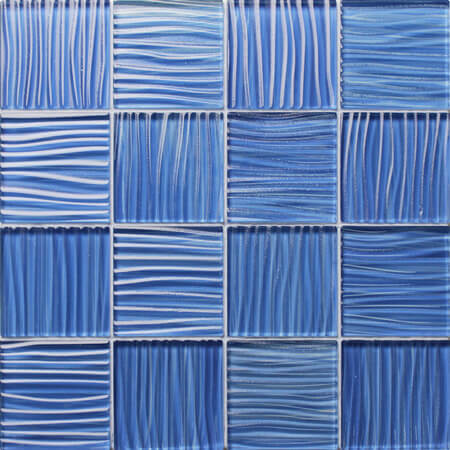 blue pattern glass pool tile BRO002
Glass mosaic tiles come in a wide range of colors and patterns. Some are crystal, some glister mixed with other materials like pearl, some can glow at dark and others even have an extraordinary color such as gold pool tile. Different colors exert different effects to the outer appearance of your pool. With various glass mosaics, you can personalize pool design that is matching to your own taste and style. The attached inground pool tile picture shows a great color scheme to create a unique swimming pool. Also, this tile makes a feature of fine texture spreading on some of the square chips randomly, which is a further enhancement based on the tile color.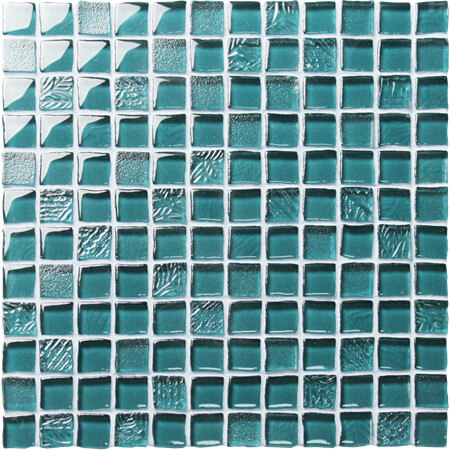 green blue inground pool tile picture BRH002
Besides many advantages listed above, glass mosaic pool tiles can create a luxury and high-class look readily in a way of converting common pool into artwork. They can be installed on almost all parts of the pool – border, steps and surrounding area. It is one of the greatest ways to bring chic vibe to a swimming pool that is ready for remodeling or buildup. The possibilities you can use glass mosaic tile in a pool are endless and you are free to make your imaging design in mind a reality.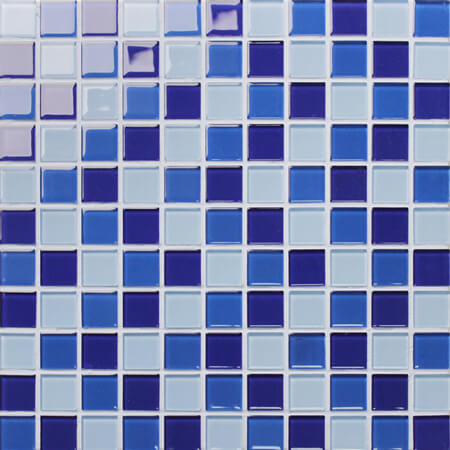 blended blue glass mosaic pool tiles BRI004
BluwhaleTile is an experienced pool tile suppliers providing different designs of mosaic pool tiles. Welcome to visit our official website http://www.bluwhaletile.com for more advice on the selection and maintenance of swimming pool mosaic tiles now.