It is the end of the winter and spring is coming on its way now. Guess you had closed your swimming pool in a valid manner before weather was getting cold. Now it is turn to reopen and prep it up for a new cheerful summer swimming time. Then you might find there occur some intractable problems: equipments cannot work efficiently; pool water is leaking; pool tiles cracked and fell off. Especially, pool tile replacement needs considerate planning as you might want to give a brand new look to your swimming pool, which is not limited to resurface with classic pool tiles. So in this article, BluwhaleTile is going to show you some replacement pool tiles that are stylish and innovative.
Waving Surface Blend Blue
If your swimming pool is already covered with the pure type and you think it is too ordinary, then replacing swimming pool tiles with a color-mixed type is a good option. Different shades of blue color combine randomly. A design like that will make pool water look like the real sea, which appears different shades of blue due to the depth of water. Also, there is another highlight of this light blue pool tile. That is the waving surface. It is a very important trait as a pool tile because it has an excellent performance on slip resistance.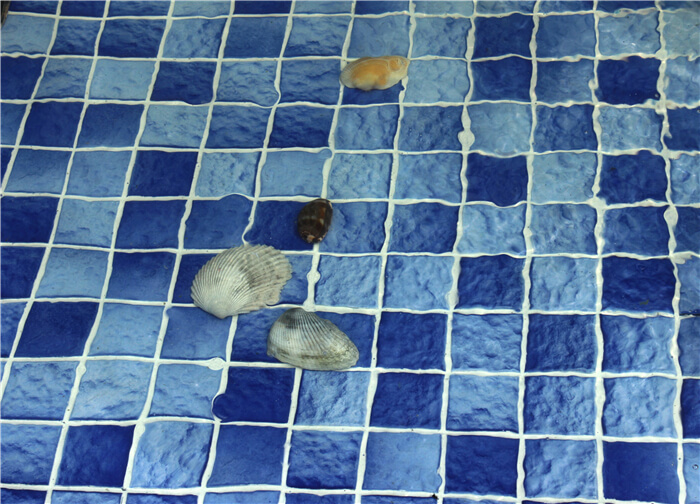 Waving Surface Mixed Blue Pool Step Tile CKO014Y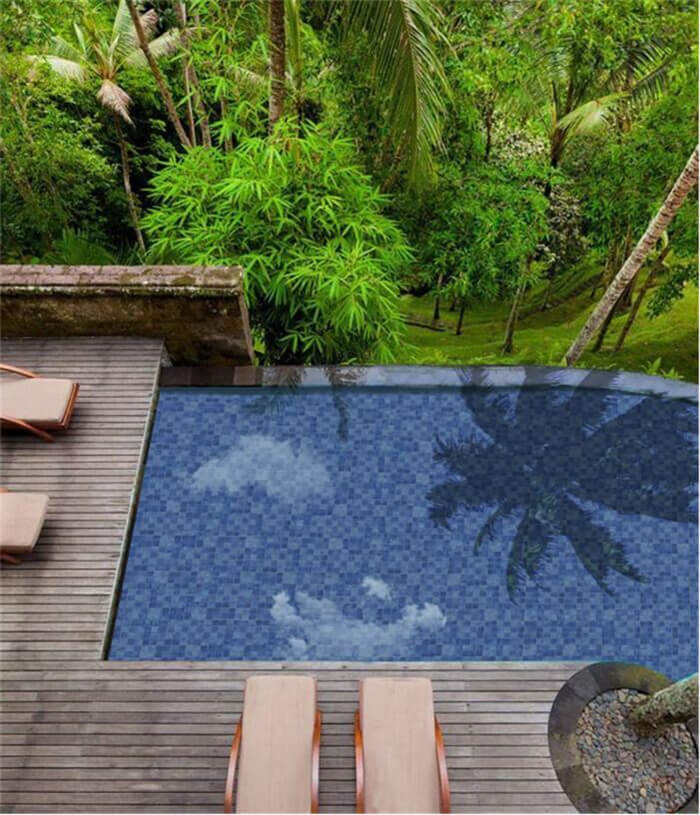 Blend Blue With Gold Line Pattern
Pool tiles have much more flexibility in color and pattern if made of glass. Just as the pool glass tile shows below, it has a unique blue touch and luxurious golden texture. Only glass can achieve such an extraordinary effect. A swimming pool covered with this tile no matter brightens up the water but also makes it clean and fresh, as you see in the attached bird view. And because it is a glass pool mosaic tile, its surface is friendly with sunlight so it is very suitable to be installed in an outdoor swimming pool. This tile will reflect the light dramatically penetrating the water.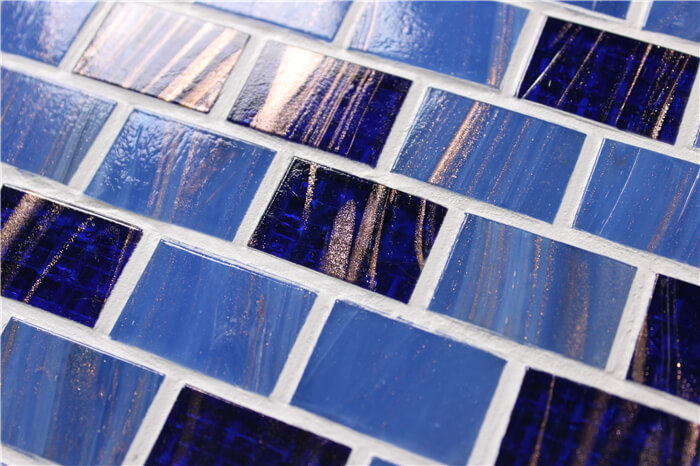 Golden Textured Pool Glass Tile BGZ014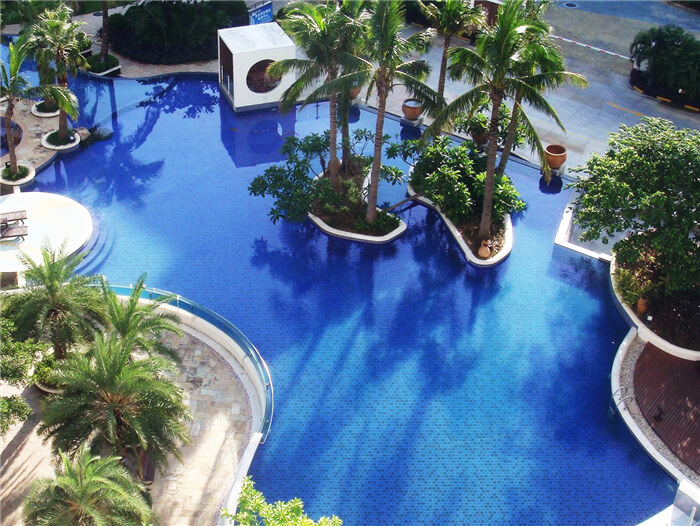 Frozen Surface Cobalt Blue
Porcelain is a common material in swimming pool tile manufacturing. Porcelain pool tiles have a glazed layer, so they are low absorptive and reflective. You might also find there are plenty of colors though they belong to the same color scheme, each of them gives an unusual look distinguishing by subtle details. Take the attached blue tile for instance. It is a rare blue color. With the addition of a ice cracked surface, it makes a look beyond your imagination and so it does in the pool water. Crystal water will be endowed a wipe of blueness. This kind of tile is especially good for indoor pools, as they don't have a blue sky to reflect the color.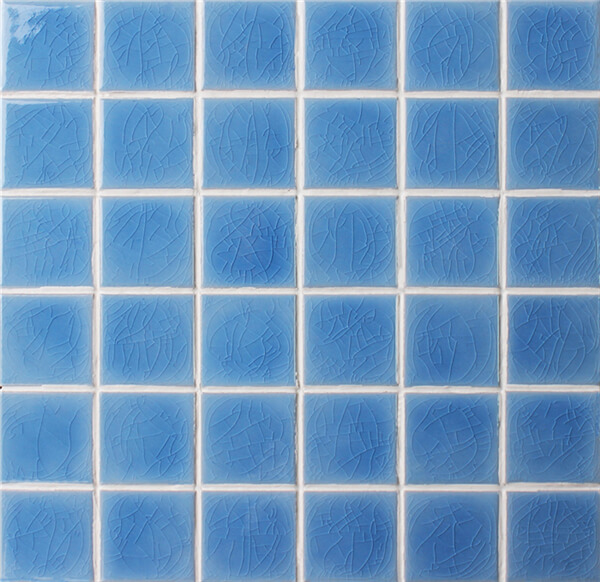 Ice Cracked Ceramic Tile For Pools BCK643
Frozen Surface Green Blue
This pool tile has a very special tone, which is mild and mellow. You can imagine how clear the pool water will be like if installing this tile on the pool inside. Pool owners always want to explore more possibilities to make their pools look improved, using peculiar pool ceramic tile designs is an advisable way. You may question why swimming pool must be decorated in blue, it is truly not a must-do thing. Pool absolutely can be other colors than blue. Look at the attached lake green pool tile, do you feel inspired and want to have a try in your own pool?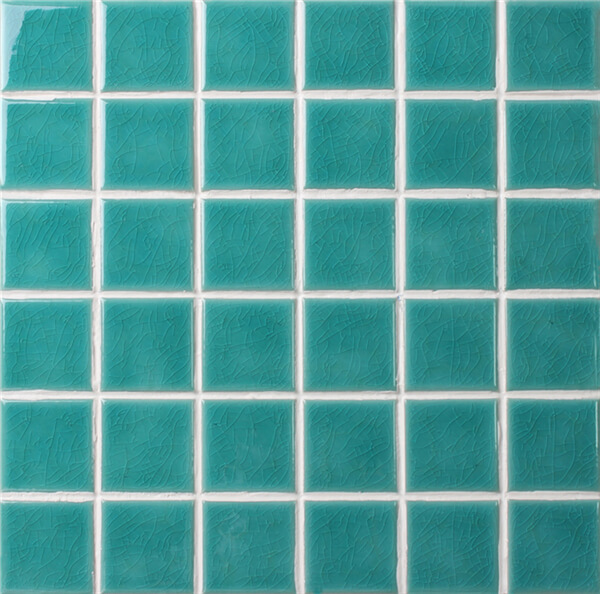 Ice Cracked Green Pool Tiles BCK711
Heavy Cracked Surface Terracotta
Another distinctive pool tile color. This brown pool tile has unlimited possibility in swimming pool decoration, and it is not necessary to be used all around the pool, just a small part for highlight is enough. If you have a spa-like small pool, then you can use them as spa tiles, which are very fit to create an exotic style. Small ceramic chips with ice cracked pattern make the tile sheet delicate and chic. This is only a pickup color out of many, there are other colors, such as black, white, gray, red, waiting for you to discover how to blend them perfectly in pool design.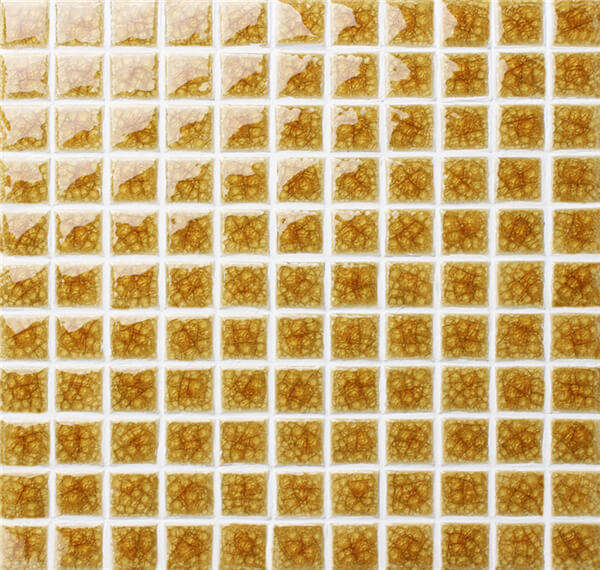 Heavy Cracked Terracotta Pool Tiles BCI503
BluwhaleTile is the pool tile company that commits to providing customers innovative yet practical ceramic pool tiles, spa glass tile and any other pool tile accessories. Welcome to keep a close eye on our blog update for newest pool tile design ideas.