Swimming pool is a blue oasis. Home owners are dreaming to own one so every time they want to play at a cool place they do not have to drive a long way to the downtown stadium. Once construction plan settled, there are many details need you to consider, such as what mosaic pool tiles should be used and where to get them. And you surely want some unique yet decorative types. If you think traditional blue water mosaics are unimpressive, BluwhaleTile here is going to introduce you some pool tiles which are classic but a little bit different, more delicate, crafted and noble in appearance.
Navy Blue Blend With Gold Line Pattern
This pool mosaic is made of oblong chips, which are brickbond-arranged. The random gold lines endow the tile with a fascinating look, and make it fantastic and mysterious. This blue glass tile mosaic is very suitable for creating a luxurious swimming pool as it will make the pool water deep and profound. Look at the attached design sketch, it is a seaside villa pool. The reason why designer uses this tile is that he would like pool water look as secret as the ocean. Also, it is an outdoor pool. When sunshine penetrates, glass tile can double reflect the light through water and appear sparklingly.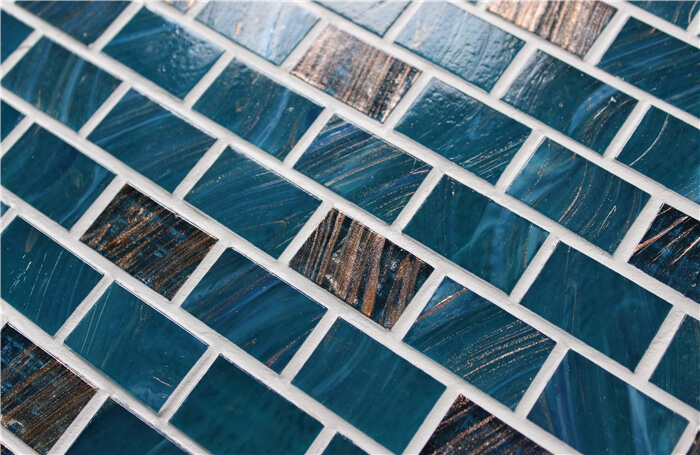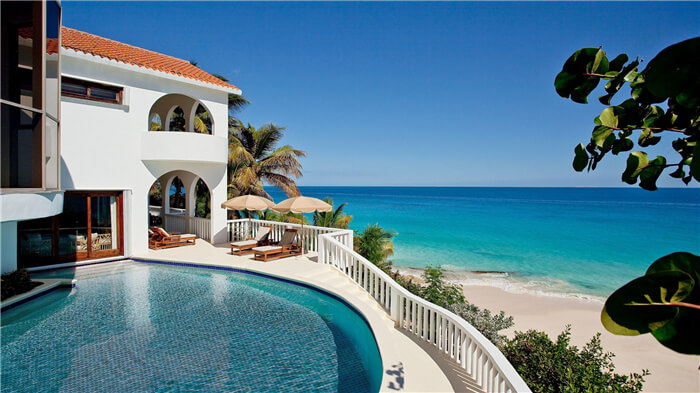 Fresh Green Blend With Gold Line Pattern
Who says swimming pool tiles should be used inside? They also can be installed on the outside of the pool or in the pool area like deck, fountain and plant pot. As the picture shows below, it is a great example of using those green pool tiles in the pool area ingeniously. Designer takes full advantage of the fact that the pool is shallow and artificial rock landscape surrounds. He does not wrap the pool in the same color but uses different materials in harmonious colors-pool deck is marble, pool tile border and pool periphery stay coincident and extends to platform where decorative flowers are placed.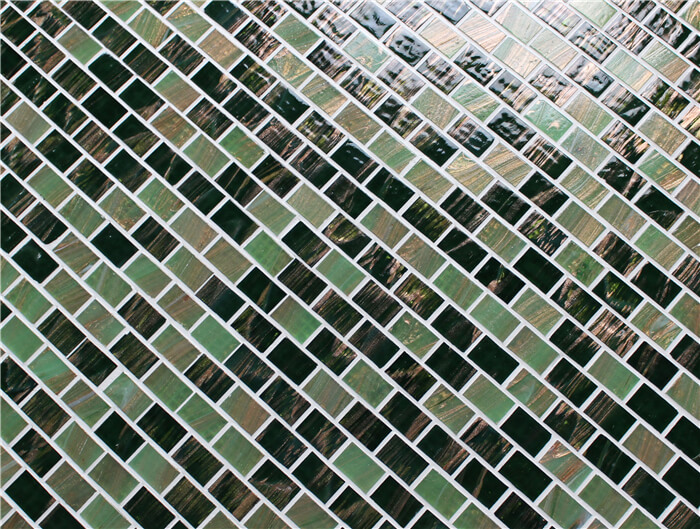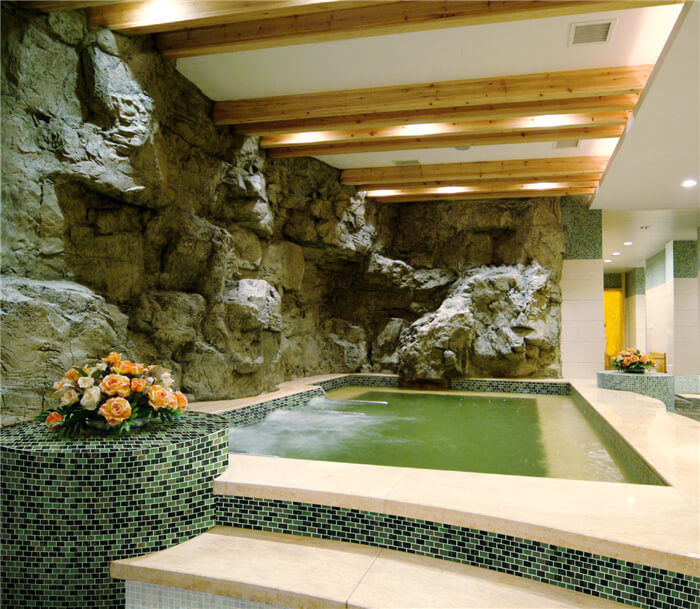 Soft Blue Blend With Gold Line Pattern
If you are not interested at the dark pool tiles, light colored ones might would become your favorite. Light tone means tranquil and elegant. Although it cannot make water deep and profound, but just clear and fresh. Especially in hot summer, such a swimming pool can give you a salubrious vibe. Look at the campaign pool below, it is covered inside light blue pool tile. The tile make the water look clean and crystal and to some extent make the dimension spacious visually. So it is very recommended to be used as the finish of small swimming pool too.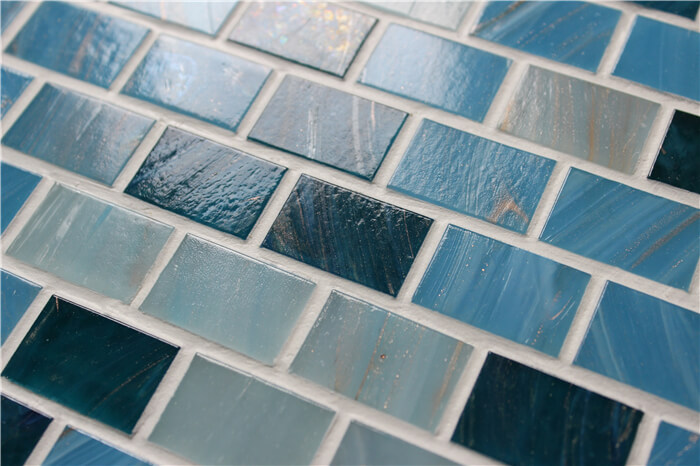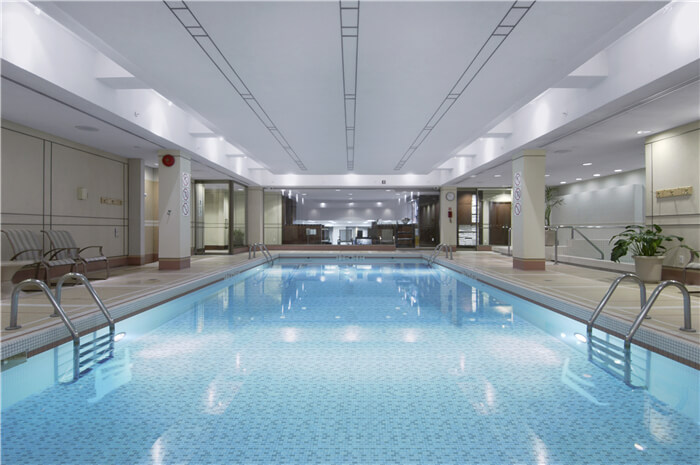 Iridescent Blue Blend Square Mix
Most pool owners expect their pools can be artistic and don't look as uniform as the public ones. To achieve this goal, one of the cost saving and effective way is to use iridescent pool tile, which is vivacious and diverse. The following glass pool tile has a charming blue tone. It is not a pure blue. It is a combination of different shades. What can I say, it is really an integrated one. You would not think the colors are unmatched. Distinctive pattern and color scheme create a very aesthetic surface on this tile. Beg your pool would look extraordinary if used this tile on.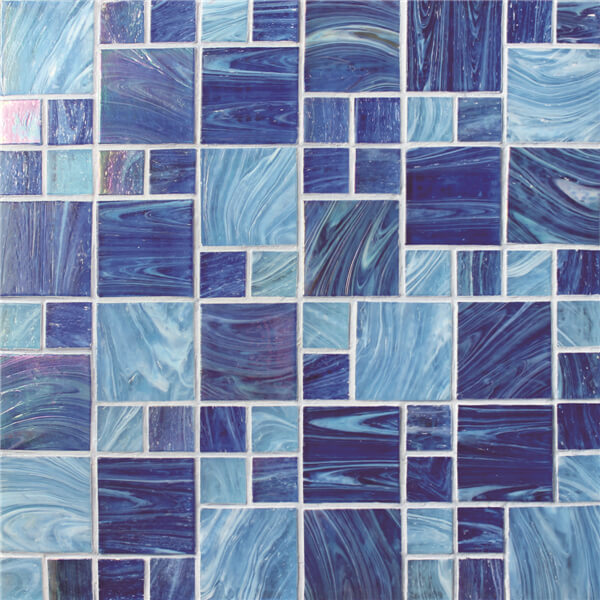 Blue Tone Iridescent Pool Tile BGZ002
Blossom Gemstone Blue Square Classic
The surface of this tile just looks like Chinese brush dancing on the water and leaves misty texture. It is a ice crackle pattern that benefits from a craft called fambe. This craft endows a pure dark blue pool tile some distinguish qualities, that is, the ceramic like cracking inside and some part fading. You see the fuzzy part as if never stop dispersing and keep spreading as time goes by. Imagine how your pool is like if used this tile inside. Guess it would be a nice match. By the way, it is very great for deepening your pool visually so take use of it well.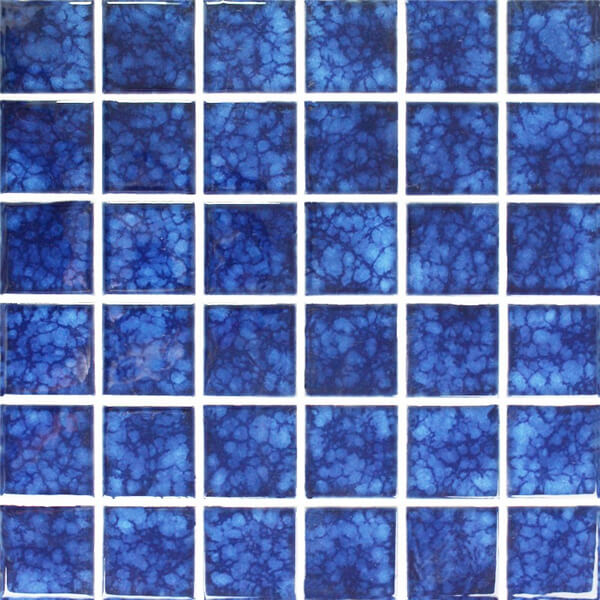 Fambe Cobalt Blue Square Classic
Not a breathtaking type but qualified enough to be put on your candidate list. It is a rare color, so deep that often reminds me of nobleness. This cobalt pool tile is the most simple one-square chip, regular size and glazed surface. So how can it outstand? I would say the color. Don't you think it has a magic of drawing you attention closer and never permit a loophole for distraction? Worry those pool tiles with a bold design would dissatisfy you? Then take the safe one. This classic yet a little different pool tile is right for you.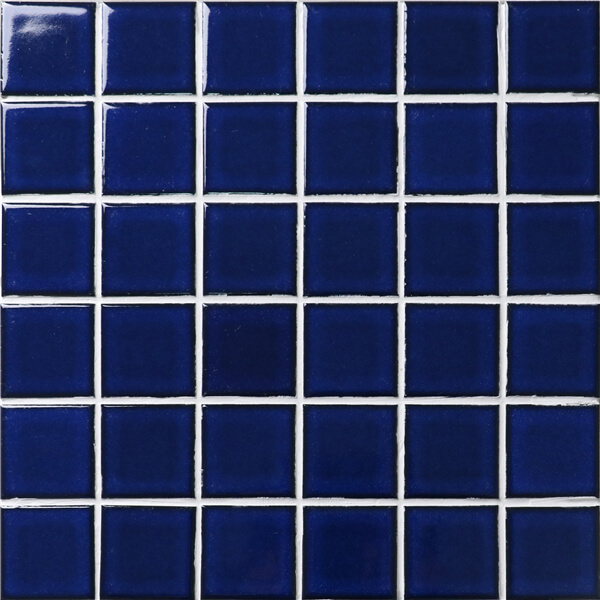 BluwhaleTile is one of an outstanding pool tile manufacturers and trend leaders in pool tile industry. We commit to providing customers innovative yet practical ceramic pool tiles, glass mosaic pool tiles and any other pool tile accessories. Welcome to keep a close eye on our blog update for newest pool tile designs.