Do you dream of enjoying great pleasure in your swimming pool during hot summer, but worry that you will only be able to use it for a few months a year? In effect, well-designed pool will entertain you all year round, giving you four-season satisfaction. It is a sapphire in oasis, adding aesthetic value to your backyard landscape; it is a private sanctuary, soothing your restless heart; it is a meeting place of soul, letting families and friends exchange thoughts and daily issue.
Spring
When winter frost gives way to sunshine, melting slowly day by day, it is the best time to prepare flourishing plants that will wow the coming summer. Your swimming pool is often surrounded by different kinds of plants, which in return will level up the pool by adding natural fresh colors. It seems unlikely to reopen your pool at the time, as the water is still too cool for a dip. However, you can opt for a stroll around pool area after meal, holding hands of your lover and kids. Spring sunshine makes you feel good. Pool deck can be a cozy place for you to have leisure reading and meditation.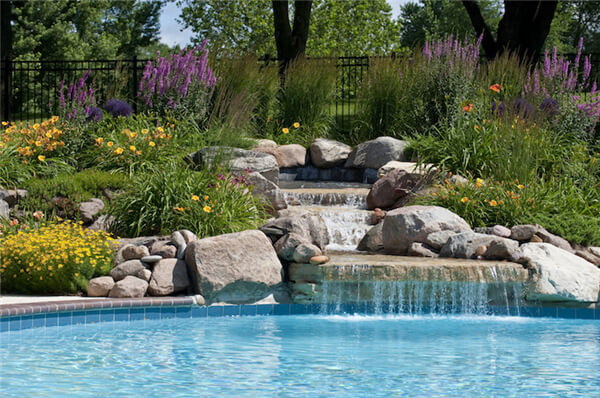 Summer
Summer, hottest time in a year, can evoke the most original ardor of human. It is a fanatical and wild time to relax the body – by exercise, by social contact. It is also the time that is considered has the highest possibility to develop a relationship. Imagine in a long summer day, you will greet a new day with a morning swim; hold a barbecue party with your families; appreciating marvelous LED lightings sparkling the pool at night. If you are a big fan of swimming, it is great to spend many hours enjoying the cool water of your swimming pool in the backyard as much as you like. Often, your pets love playing with water very much as well. How about inviting their friends, whose owners are your neighbors, to join? You will be excited to see their smile face.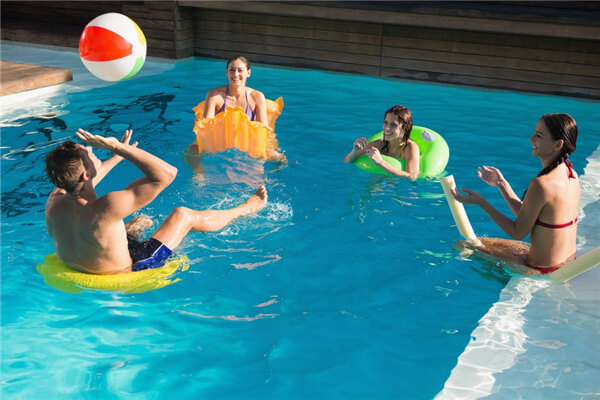 Fall
Cool wind starts to blow in autumn. It will be perfect if you can have warm bath sometimes. In fact, it is not hard to make it come true, only if you have a detailed plan before your pool construction. Now, there is a trend to build such called twin pools connected together. One is standard pool for swim, the other is oval or round pool for bath. Installing a reliable heater is essential. Imagine how beautiful to enjoy the night scene while soaking half in the water. Muscle and spirit relief all at once. Also, fallen leaves can be a problem. To protect leaves from your pool, consider installing a pool cover through the fall and the winter months.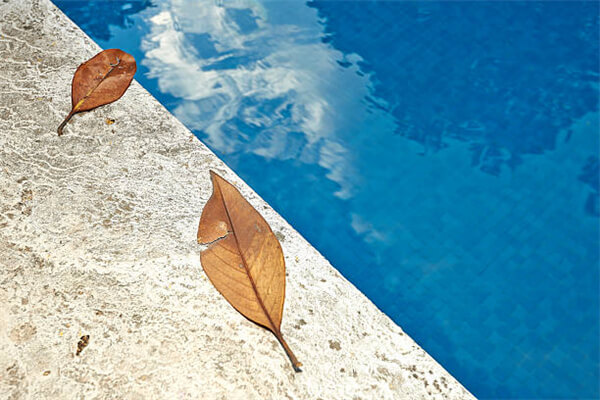 Winter
Depending on your climate, it is not bad to add a fireplace around your swimming pool in chilly winter. Your families will gather around the fireplace while holding hot cocoa in hand, watching the snowflake start to whiten the garden. Plants will look understated in cold weather. Everything seems so peaceful. Well-covered pool is sleeping, waiting the time of waking up again. You will pray coldness is not severe and when you reopen the pool next year, nothing will go bad, especially for swimming pool tiles. If repair is a must, read this post that may be helpful: You May Have To Retile Your Pool In Reopening Season.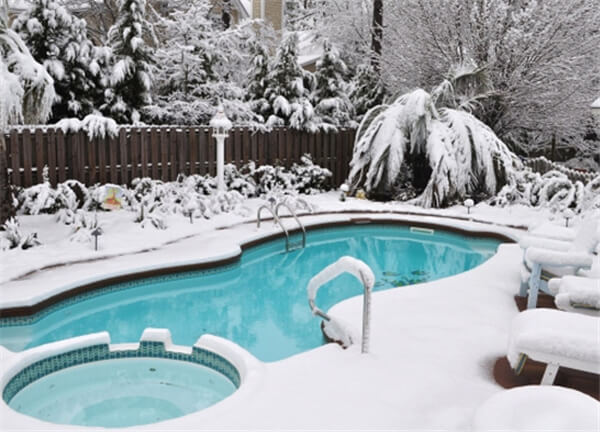 By the way, such a year-round pool needs your wise selection of swimming pool tile. BluwhaleTile is a pool tile company that can absolutely appease all your needs. Contact us today for a free quote and sample is available for quality check. We feel so excited to see your private pool achieve a fabulous appearance with our premium mosaic pool tiles. Customized wholesale orders are welcomed.