They can be tony, fanciful or elaborate…what BluwhaleTile talking about is glass mosaic pool tiles. You might think they are not suitable for any other home decorating project except concrete pool, but the fact is absolutely no. From kitchen backsplash to drawing room fireplace, these tiles are gaining more and more attention among constructors and homeowners who want distinctive beauty and affordable glamour for their ingenious houses.
You might be wondering how to use glass pool tile for interior walls and floors especially they are mostly in cool colors such as blue, green and purple. These are the colors that interior designer would not suggest being applied indoors excessively. Also, most of them have a shimmering surface, which means they might make the room look too flashy if abused. However, they have potential to act as a focal point of the design as long as you grasp the rule of color scheme and use them in a proper way. Below are some examples about the same glass mosaic tile applied respectively in two occasions: swimming pool vs. interior spaces. Through these, you will know how pragmatic and decorative to incorporate pool glass tiles into your living areas such as entrance, living room, kitchen, bedroom, etc.
Home Entry Planter And Floor
Some glass tiles can be used on floor, though you might think it improper because the smooth surface decides they work better on walls, particularly those in bathroom and kitchen where is easy to stain with water or other liquid. In some cases like the attached design shows, the edge of the entrance floor is installed with wave glass tile. The possibility of slipping down is reduced if you choose the slip-resistant type and pave it partly in a suitable position. This blackish green mixed aqua glass mosaic tile match perfectly with the dark green antique cabinet.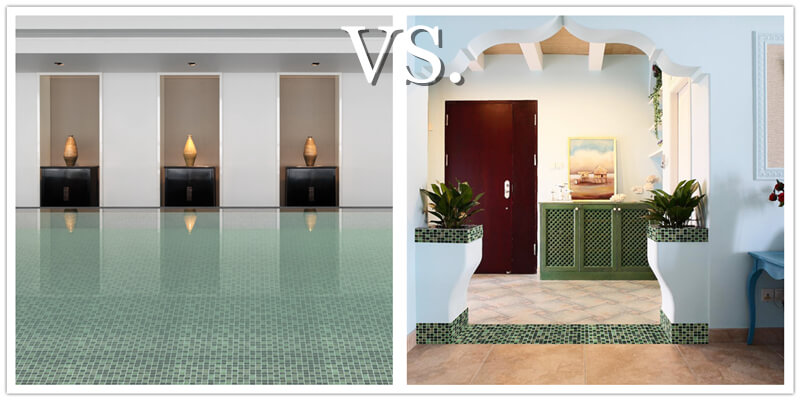 Reception Room Ornamental Hearth
Glass tile fireplace is not a kind of tile that is particularly categorized. Believe it or not, most glass tiles are very adaptable to high temperature places, for they are made of durable material and well processed before shapeup. Moreover, they have the ability to capture and reflect light from the fire, which produces a growing passionate vibe, especially in severe winter when family members surround to thawed out. If your hearth is not built for getting warmth, then this purple glass mosaic tiles would be also well blended in your decorative fireplace design, as shown in the attached picture. It produces out a harmonious result with the azure furniture.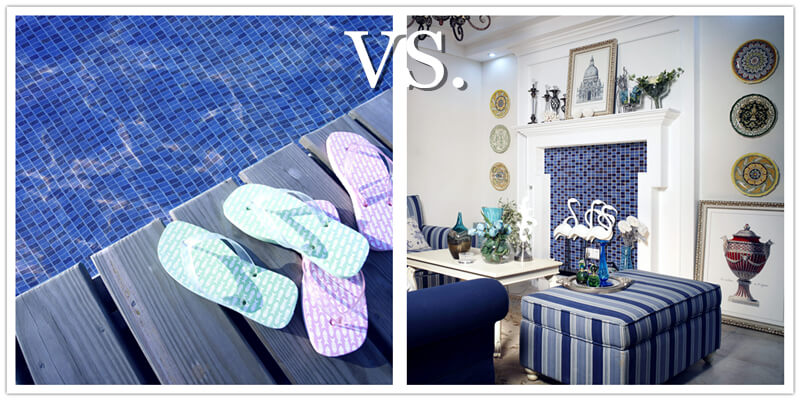 Purple Glass Mosaic Tiles BGZ015
Kitchen Cupboard Backsplash
Glass tiles are versatile. They do not absorb water, making them practical for areas in high moist atmosphere like kitchen. What's more, they are easy cleaning because glass is not porous. Only with clear water and a few wipes, they can regain their brand new looks. The design below is a bold example of using blue brown glass tile on the backsplash in a kitchen. The tiles create a elaborate design and enhance the look of dinning area.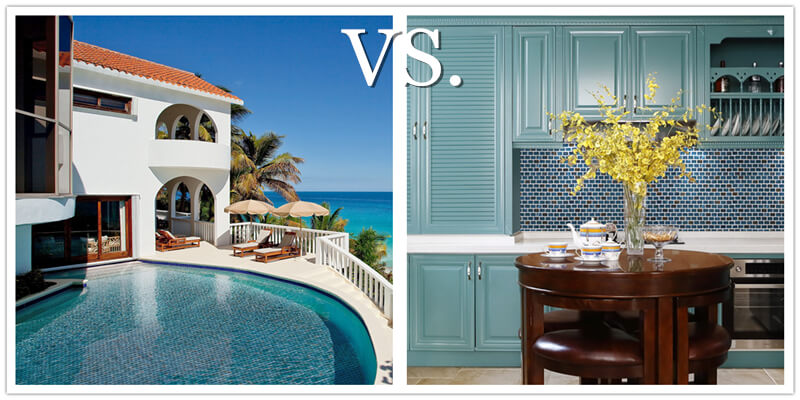 Bedroom Sea-themed Wall
If you are designing your bedroom featured ocean element, why not extend the blue green glass tile all over the wall beside headboard? Below is a kid room design. You can see there are decorative anchor and sheering wheel hanging. The quilt and pillow are cobalt blue. So when the wall is designed with light blue color, the bedroom is surrounded by sea elements. Of course, this tile can be a good coating choice for a seaside spa as well. Installing it on can really create an eye-catching design that also serves to enlarging the glittering effect of the natural light.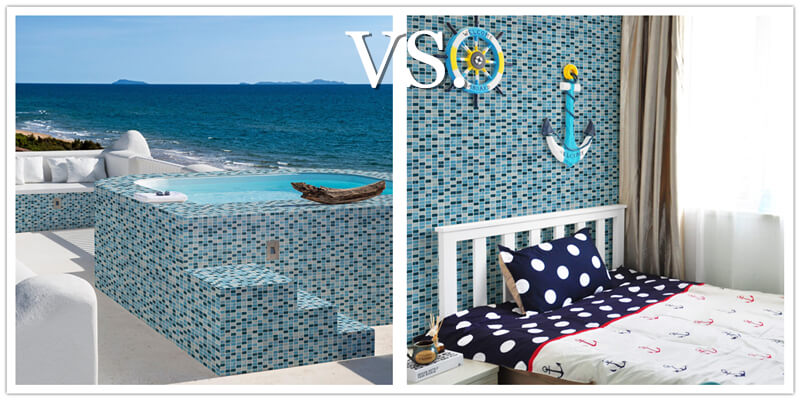 Perhaps the most beneficial aspect of pool tile mosaics glass is that they are extremely versatile! If you haven't tried to use them indoors before, why not purchase some from BluwhaleTile, one of a swimming pool tile companies that provide unlimited possibilities of in and outdoor project renovation? You might get a stunning look in your house.