Integrating some glass mosaic elements to your swimming pool does have many advantages. It is not only functionally beneficial but also working to achieve various designs and visual effects that are beyond your expectation and imagination. It is unbelievable that just some small mosaic chips can make your pool vivid and outstanding in the neighborhoods. Say no to mediocrity. Glass mosaic tile seems to born this way to accomplish extraordinary pool designs.
Cementitious materials are too common to a distinctive pool project. Even those, which are tinted in different colors for more surfacing possibilities, will wear and tear and fade as time goes by. You will never need to worry this problem if using glass mosaic tiles as the glass dyestuff is highly blended with substrate so that you don't have to resurface your pool frequently and also save you quite a bit of expense in maintenance.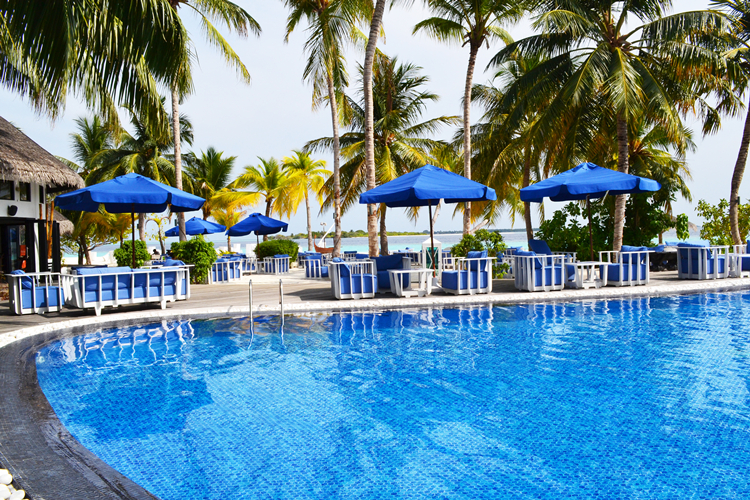 Glass mosaic tile can keep its look long-lasting. It will never dim and erosive even exposed to the burning sun and immersed in the pool water in which chemical ingredients are complex. Maintenance is a piece of cake, for glass mosaic tile is impervious and outer colored objects cannot stain and penetrate. Moreover, glass mosaic tiles have smooth and crystal surface. It means dirt and algae cannot be rooted.
Glass mosaic tiles come in a great variety of shapes, colors, patterns, surface processes and it really provides unlimited options for designers, house owners and commercial project commanders. We can tell the differences from the appearance easily. Some have high-gloss surface and some are bumpy matte. Some reflective ones are processed using a coat of transparent colored glass with a reflector on back; some are like rigid gel having a see-through look. Glass is a great material for three-dimensional tile designs as it has an excellent plasticity and ductility in shaping. Also, there is a new-type glass product called luminescent tile that absorbs light around the environment in the daytime and gives out that light in the evening. The reason why glass mosaic tiles are all-pervading is that they need simple craft but have the greatest decorative effect.
Many contractors love using glass mosaic tiles to decorate pool border. They are experienced and will give house owners professional insights to find their favorite and the most suitable waterline tiles for new-built swimming pool or remodeling projects. Some of them even offer advanced technology to design tailor-made mosaic border for every unique pool construction. One reason why glass mosaic tiles are great for pool design is the vanishing edge. Swimming pool normally leaves one side without covering coping. It is flat or below the horizon. With transparent glass mosaic tiles installed, pool water flows over the side and reflow back, it gives an illusion water just vanishes over the edge. Another reason is the nature of glass. This material has an overwhelming capacity in making pool-use mosaic tiles, for they yield to the high demand for corrosion-resistant quality.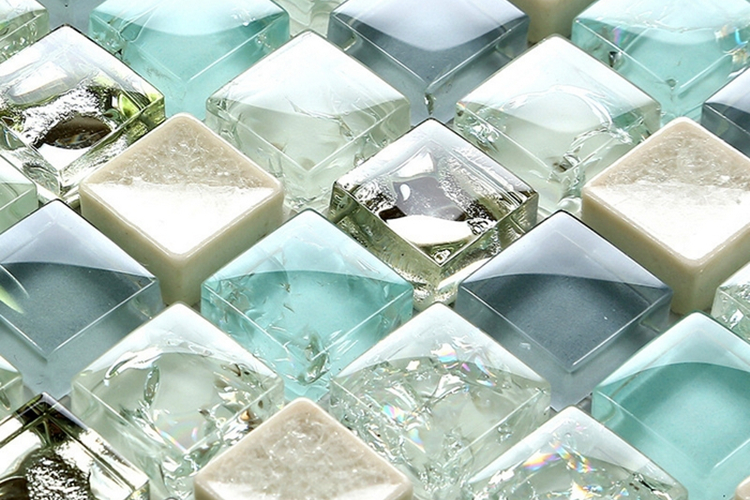 It is really cool to add a glass pebble-shape walk-in to your pool if you are planning no steps or metal stairs. The design gives you feeling like walking on the beach. To make it vivid, pool bottom to the entrance should be constructed oblique so you can gradually step forward on the pool deck the same as coming out of the sea to the sand. This can be so nice for people who are wheelchair-bound. It gives them a chance and another option of recreation to spend an enjoyable summer.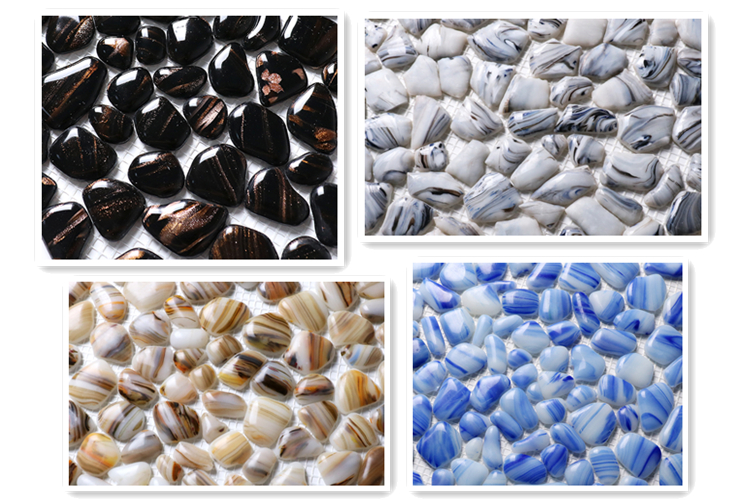 Some pool owners love decorate the pool with shinning glass mosaic tiles all around. The tiles reflect light and the color is gradually varied from dark to light and become the similar color when it ends with pool deck. Some just use glass mosaic tiles as small part of the pool for emphasis. For example, people like having alcohol drinks would love to upgrade the pool with a swim-up bar counter. To highlight this design, they often choose to tile it with shimmering effect in the light. They enjoy sitting around the bar with their family and friends while chatting little daily issues if feel tired of swimming and want some rest.
The colorful and reflective glass pool tile also work well to avoid the unexpected accidents when people entering into the pool. If the pool is plainly decorated blue all around, it is hard to make out the depth between the entrance and the interior so people would be likely to hit the wall or sprain ankle. This can truly be an accident if you jump in and do not notice there is a protruding edge. The solution to this is to tile a border or make a colorful paving along the pool edge and the middle of the pool bottom. Just remember glass mosaic tiles have a lot of benefits and do a great impact in the issue of pool design and safety. Be thoughtful before you are planning a new pool or remodeling project.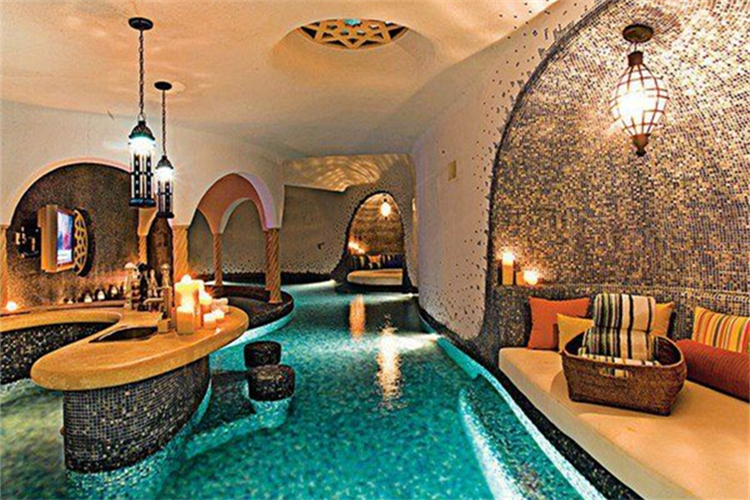 BluwhaleTile specializes in premium swimming pool mosaic tile supply. We offer customized service on pool tiles, pool art and any related pool accessories for any small and large swimming pool projects. Welcome to contact us TODAY at http://www.bluwhaletile.com/ for more info.