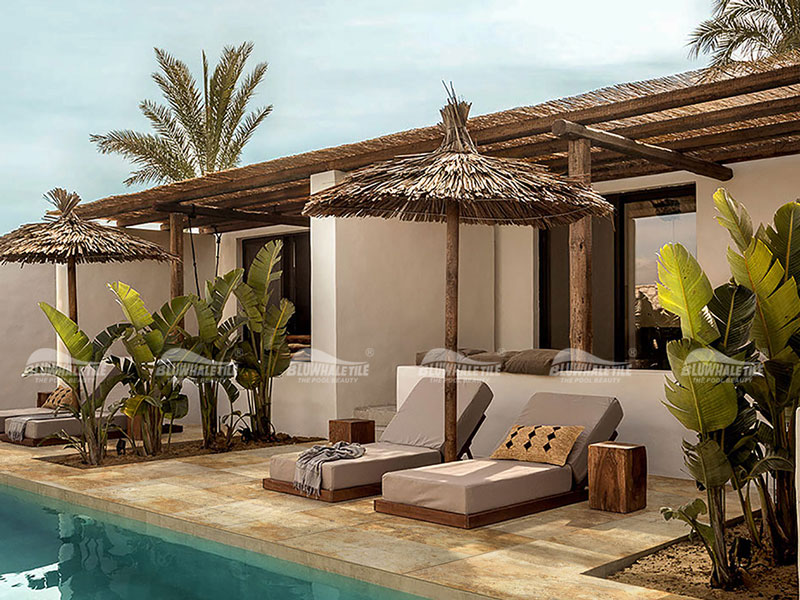 Poolside areas, patio and other outdoor spaces beckon, especially when the warm weather comes. Not only adding the overall available space to your backyard, but this leisure space holds the promise of relaxation, enjoyment, and overall more entertainment. Choosing poolside furniture involves many similar ways as considering interior furniture, but there are some additional factors to consider. Here we list some smart pool furniture ideas for you:
Make The Weather a Priority
Is the weather where you live hot and dry, or do you near the cozy coast? Does it always rain? All these are significant questions to answer before choosing poolside furniture. Why we put weather in an important position? Because hot and dry conditions can make the wood materials splinter and crack. Heavy and sustained high winds can send the lightweight furniture flying, and the rattan won't withstand continuous exposure to moisture.
Appropriate Size is Better
Make sure that how much space you have and how it is shaped. Is it aboard and open decking area or a long and narrow space? Utilizing the space and shape of your pool decking, garden or patio to confirm the appropriate size of your outdoor furniture. Ensure that leaving enough space around your furniture to be able to walk expediently. Apply the similar principles that you would use interiors.
Just like for a relatively small space, a versatile bar or coffee table set may perform well than a regular dining set, because coffee tables are narrower, and small stools take up less room than sun loungers. You can also pay more attention to cafe shop tables and chairs as they have a smaller profile.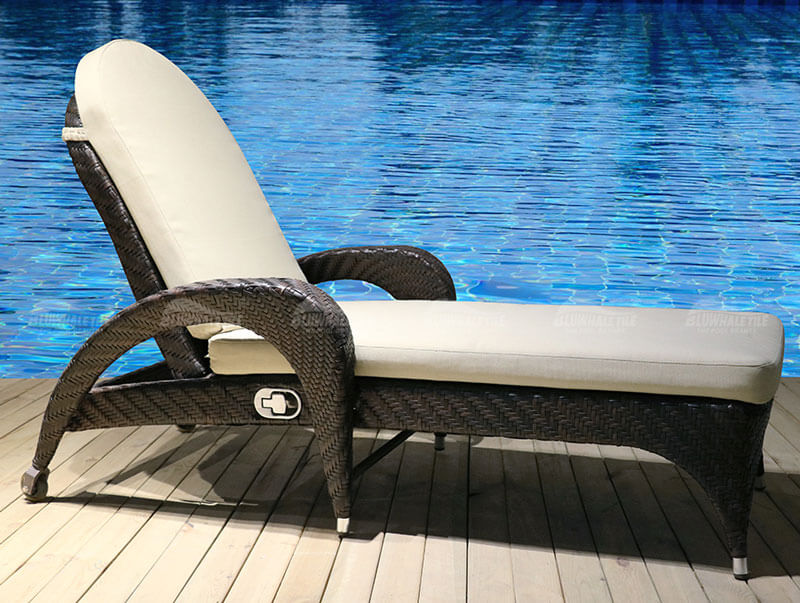 Where to Put Them?
Is your swimming pool decking space or patio exposed to the elements or do you have any overhead covering? Will your outdoor furniture rest on soft green grass or a hard finish such as a slate decking or a wood-plastic composite decking? This helps you consider materials that are a good match for your actual pool surroundings and environment. For example, don't try to place natural teak or pine woods on a grassy ground and in an exposed area, because the moisture from that ground can make the woods rotting. By the way, Heavy moisture can also make some metals corroding. If space, where you decide to put the outdoor furniture, will get too much direct sunlight or prolonged exposure to sunlight, the outdoor patio umbrellas should be considered, which will extend the service life of your furniture.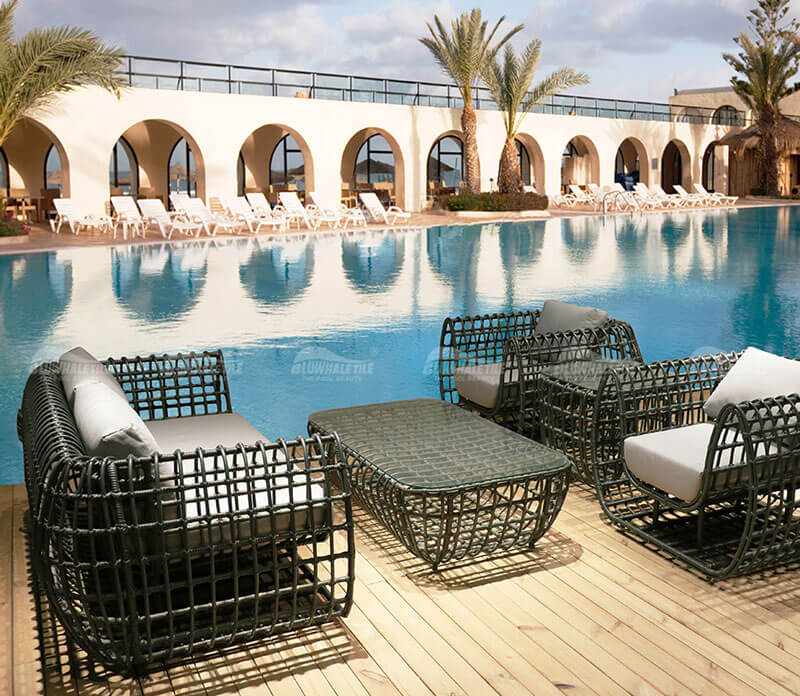 Which Materials? Rattan? Metal?
Here is a general formula "comfort plus durability means value." Get the right poolside furniture that both comfortable and weather resistant. If the outdoor furniture you buy isn't cozy, nobody will use them. What type of outdoor furniture materials do you like for poolside, patio or other outdoor spaces? These three tips can help you make a decision, which is weather, appearance and the amount of care required. As the first tips mentioned above, the weather plays an important role in making decisions if a material is a good fit. Without a doubt, nobody wants to choose a material that won't suit to their weather conditions. Secondly, the amount of care and maintenance that materials need is also something you should consider together. For example, aluminum or rattan don't need too much time and money to maintenance, such as rattan outdoor sofa sets or sun loungers. Besides, wrought iron can be used for a long time under any conditions either heat or moisture.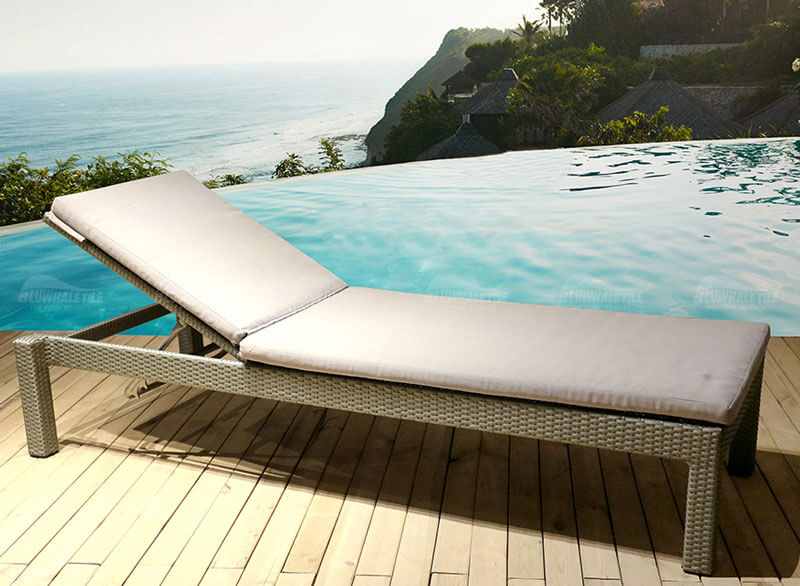 Soft, Cozy! Comfortable!
The poolside furniture will be used to relax, so make it cozy, cozy and comfortable. Someone might like the pure rattan sun loungers without cushion because they can feel cooler. Inversely, somebody prefers to rattan with soft cushion. If your poolside lounge chaise doesn't come with cushions, you can buy or make by your self, which is a great idea to choosing outdoor furniture outfitted with cushions that you can lie on it comfortably. But just make sure that the outdoor cushions are fade resistant and mildew resistant and it's better to choose the cushions with vents that encourage airflow and quick drying. Love seat sofa with coffee, sun loungers, and UV resistant patio umbrellas are also great for relaxing outdoor spaces.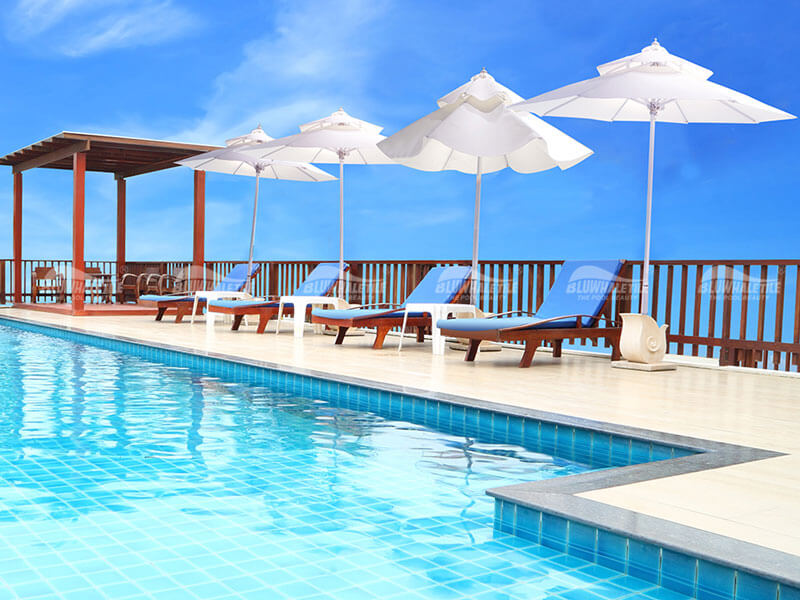 Where to Storage Them?
Maybe in winter, you prefer to spending more time in the interiors. Generally, you might choose to use a cover to protect outdoor furniture, but for wickers, the covers might can not offer enough protection. Therefore, you should make sure that you can provide storage for your poolside furniture during the cold weather, which will add years to the life of your outdoor furniture such as a basement or garage. Even the durable furniture, like aluminum outdoor umbrellas or a rattan chaise, will last longer if it's placed in storage when not in use. However, if your storage space is limited, the folds and flexible one might suit your patio. There's another way is that choose something that you will be able to use interior space during this cool season.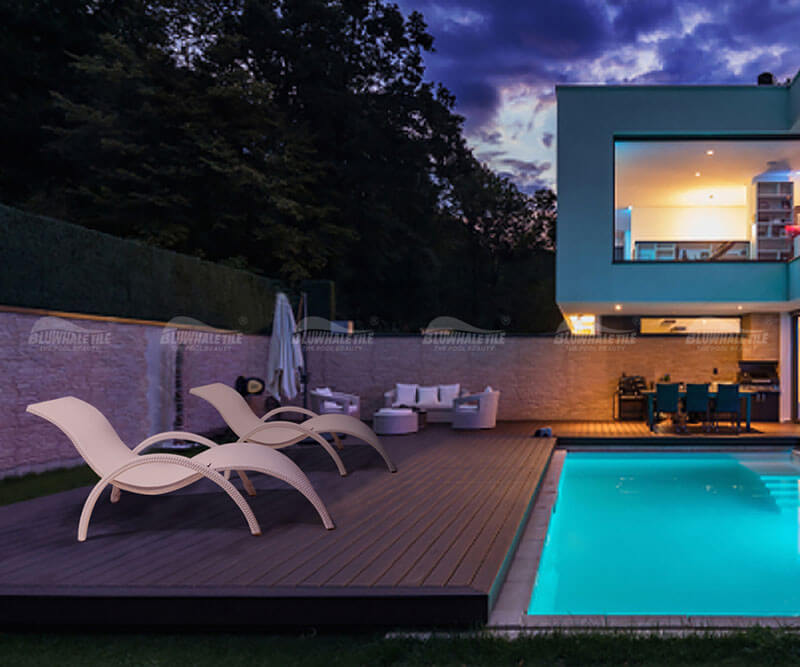 Last Thing - Budget!
Last but not least, don't forget to consider your budget, and it will determine what you can buy. We can't stress enough the significance of choosing the perfect outdoor furniture you can afford. If you're economizing, these tips we prepared might help you get the high-quality poolside furniture within budget.
Few people know that the end of July and August is a suitable time to get appealing outdoor furniture. Because as the autumn approaches and the temperature is down, many suppliers will make discounts to clean stock.
Consider cost-effective materials, such as aluminum or wicker, which will save for further maintenance.
The reliable pool furniture supplier. Choosing the one-stop supplier might reduce more annoyance during the pool or patio renovation project. Bluwhale Tile is specialized in supplying a one-stop service for any pool projects. From beautiful and versatile swimming pool tiles to cozy and stylish outdoor furniture. We will keep extending our product line to fits any type and style swimming pool or patio building projects!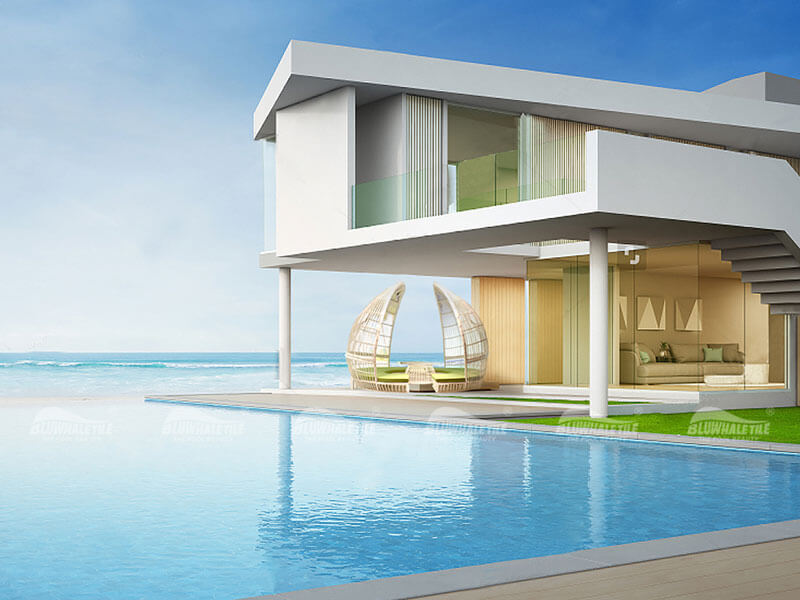 Get Ideas?
If you have any ideas about your future pool building plans, please leave them below or contact us immediately! We're glad to hear your creative inspirations and share more professional projects for you!