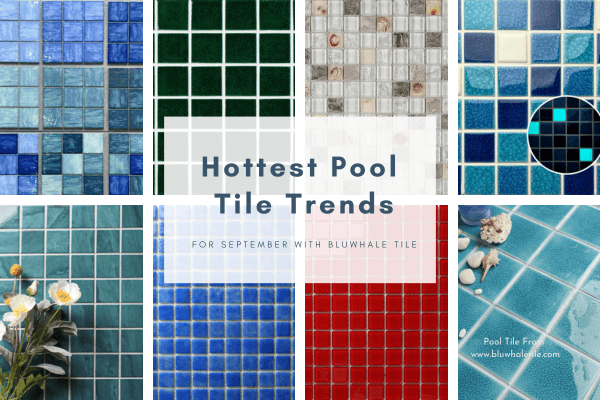 As summer gently transitions into autumn, it's the perfect time to refresh your pool's look and feel. At Bluwhale Tile, we're thrilled to unveil our scorching hot sellers for September. From innovative textures to dazzling colors, these pool tiles are designed to transform your aquatic haven into a true masterpiece. Join us on this journey as we explore the top trends for this month.
#1 95x95mm Ripple Surface Glazed Porcelain Pool Tile
Kicking off our September showcase is the 95x95mm ripple surface glazed porcelain pool tile. This tile's unique texture adds a dynamic element to your pool, creating mesmerizing ripples on the surface. The ripple effect not only looks stunning but also enhances slip resistance, ensuring safety without sacrificing style. Available in an array of shades, this tile effortlessly elevates your pool's aesthetics.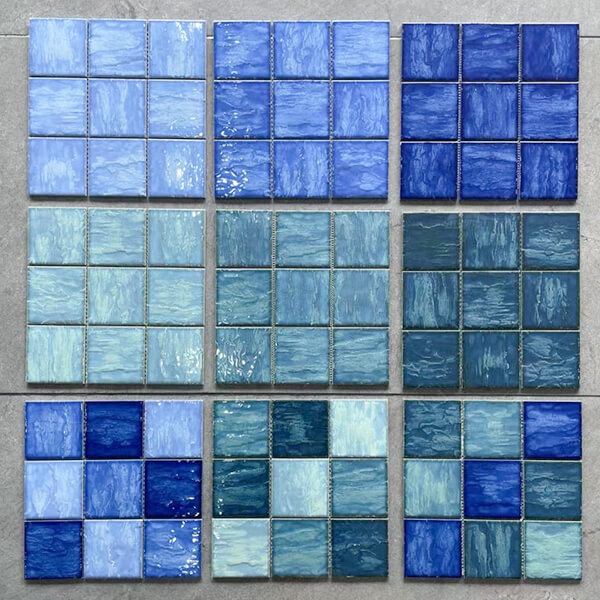 Featured Product: 95x95mm Square Ripple Surface Porcelain Pool Tile
What sets this tile apart is its captivating texture. It creates a sense of movement and dynamism in your pool, with ripples gently caressing the water's surface. It's not just about looks, though - these ripples provide an added layer of safety by increasing slip resistance. After all, we know that style should never come at the expense of safety. But what truly makes this tile shine is its versatility. It comes in a wide range of colors and styles, making it a seamless fit for any pool design. Whether you're aiming for a sleek modern look or a more traditional aesthetic, this tile has you covered.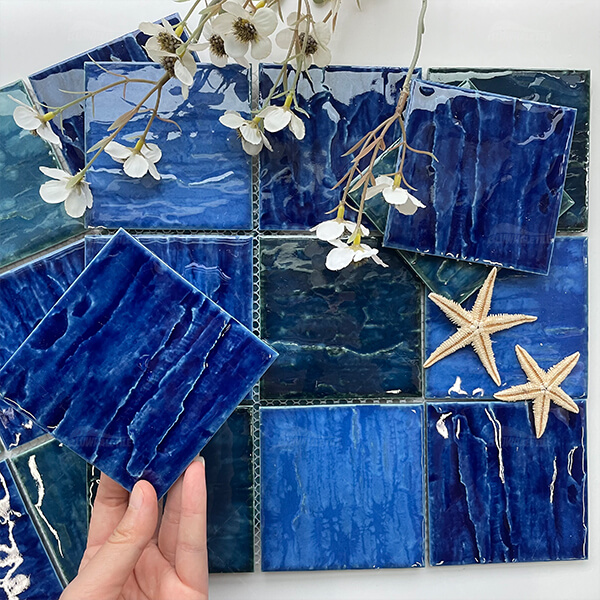 #2 Heavy Ice Crackle Surface Square Glossy Glazed Pool Tile in Lake Blue
For those seeking a serene yet captivating pool atmosphere, our 100x100mm heavy ice crackle surface square glossy glazed pool tile in lake blue is the answer. The heavy ice crackle finish reflects light in an enchanting manner, producing a subtle play of glimmers across your pool's surface. The soothing lake blue color adds a touch of tranquility to your outdoor oasis, making it the perfect choice for relaxation and leisure.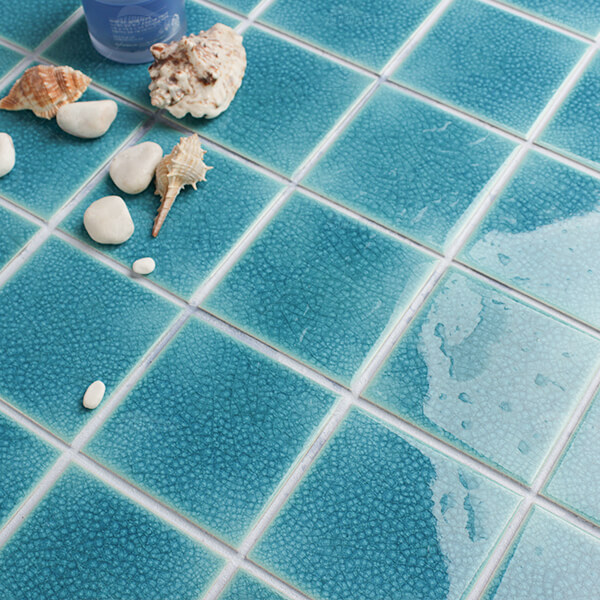 Featured Product: 100x100mm Heavy Ice Crackle Surface Square Glossy Porcelain Lake Blue BCQ608
Prepare to dive into the world of pool perfection with our exceptional 48x48mm heavy ice crackle surface square glossy porcelain green tiles. These remarkable tiles are more than just a surface; they are a testament to style, durability, and innovation. The heavy ice crackle finish not only adds a distinctive texture but also provides an intriguing visual depth that will make your pool a stunning focal point. The lush green color exudes tranquility and natural beauty, creating a serene ambiance around your swimming area.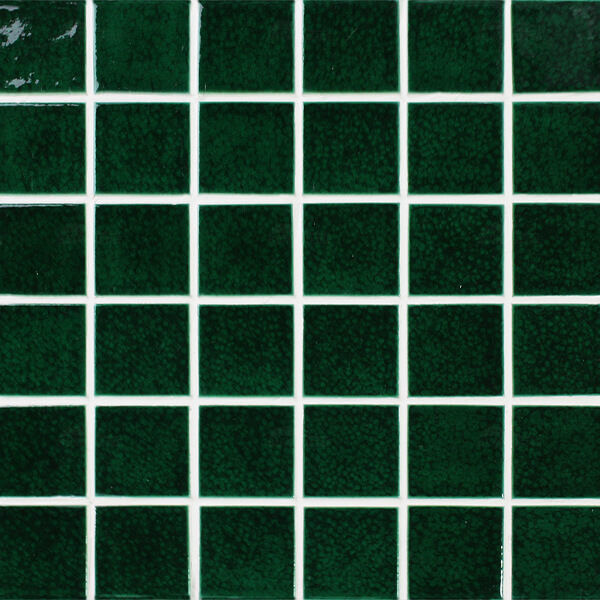 Featured Product: 48x48mm Heavy Ice Crackle Surface Square Glossy Porcelain Green BCK713
#3 Luminous Pool Tile
Illuminate your pool with our luminous pool tile collection, available in both 25x25mm and 48x48mm sizes. These tiles possess a special glow-in-the-dark feature that transforms your pool area into a magical spectacle after sunset. Crafted with the highest quality materials, they charge during the day and radiate a soft, inviting glow at night. Experience the enchantment of a starlit poolside soirée with these exquisite luminous tiles.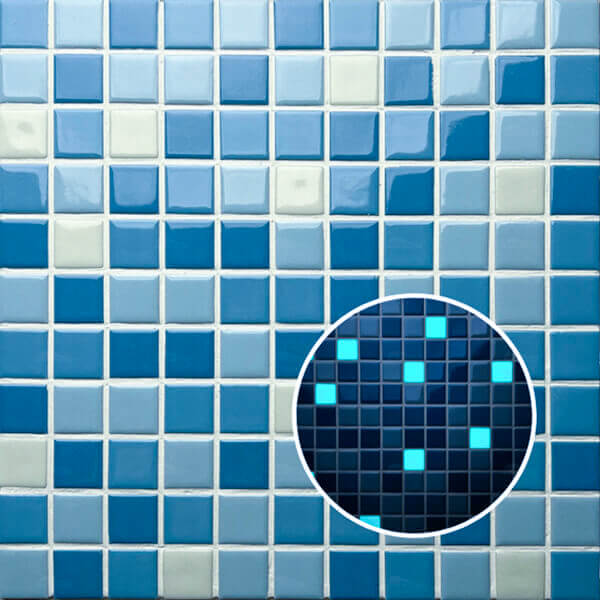 Featured Product: 25*25mm Square Porcelain Glow in the Dark Blue IOH6004
Get ready to embark on a journey into the enchanting world of pool design, where innovation meets aesthetics. Today, we introduce you to the captivating 48x48mm square porcelain glow in the dark blue swimming pool tile, a true masterpiece that will redefine your aquatic paradise. Imagine your pool illuminated with a mesmerizing, ethereal glow after the sun sets. These square porcelain tiles are not just tiles; they are a testament to the magic of poolside nights. Crafted with precision, they capture and radiate the light, transforming your pool into a beacon of tranquility and beauty. During the day, they adorn your pool with a serene shade of blue, reminiscent of the clearest ocean waters. As dusk falls, they come to life, emitting a gentle, soothing radiance that creates an atmosphere of serenity and charm.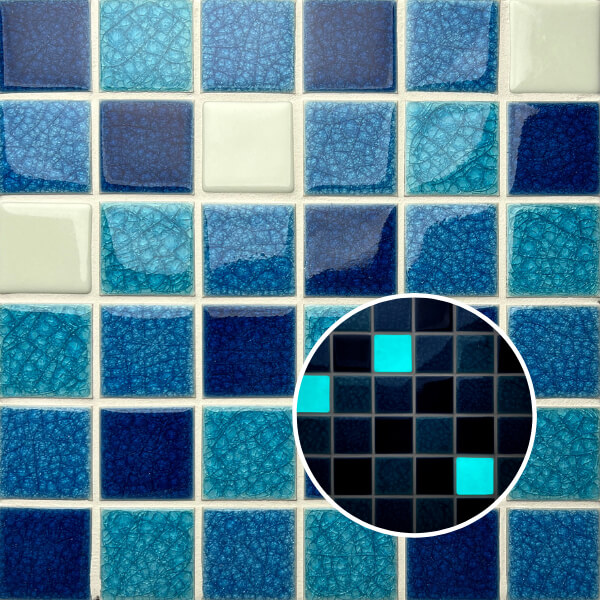 Featured Product: 48*48mm Square Porcelain Glow in the Dark Blue KOH6005
#4 Green Bali Pool Tile
Bring the lush beauty of Bali to your pool with our 48x48mm inkjet pattern square porcelain green bali pool tile. The rich green hue and intricate inkjet pattern evoke the verdant landscapes of this tropical paradise. These tiles are not just a feast for the eyes; they also provide durability and resistance to pool chemicals, ensuring your pool remains a vibrant oasis for years to come.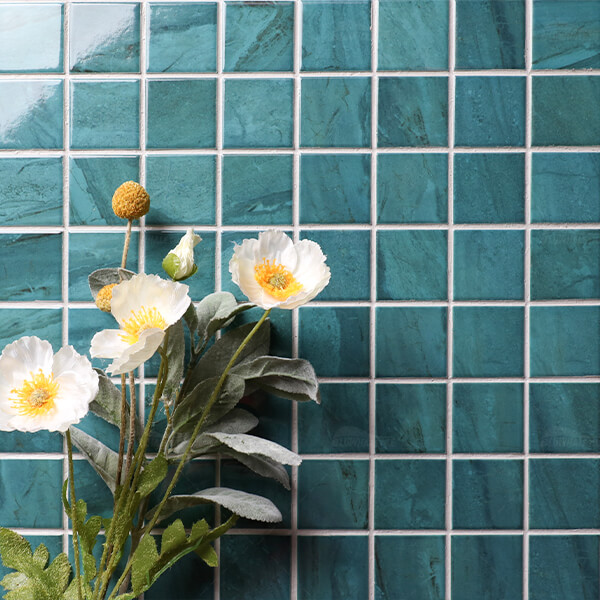 Featured Product: 48x48mm Square Porcelain Ink-Jet Green KOA2701
#5 Euro Glass Pool Tile
For a touch of European elegance, explore our 25x25mm square euro glass pool tile collection. These tiles feature a glossy finish that adds a touch of sophistication to your pool's design. The square shape creates a timeless look that complements both modern and classic pool styles. With a wide range of color options, you can let your creativity run wild and design a pool that reflects your unique taste.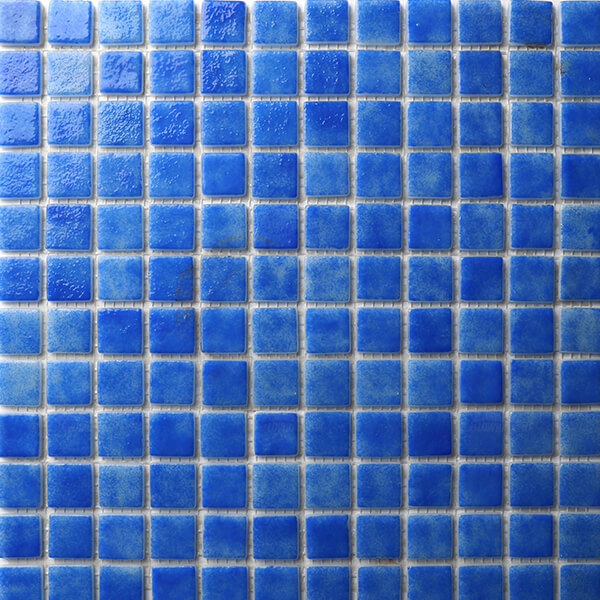 Featured Product: 25*25mm Square Euro Glass Dark Blue GIOL4602
#6 Red Crystal Glass Mosaic Tile for Pool
Make a bold statement with our 25x25mm square red crystal glass mosaic tile for the pool. This striking red tile infuses your pool with passion and energy. The crystal glass material adds a touch of glamour, while the mosaic pattern brings depth and texture to your pool's appearance. It's the perfect choice for those who want their pool to be a true showstopper.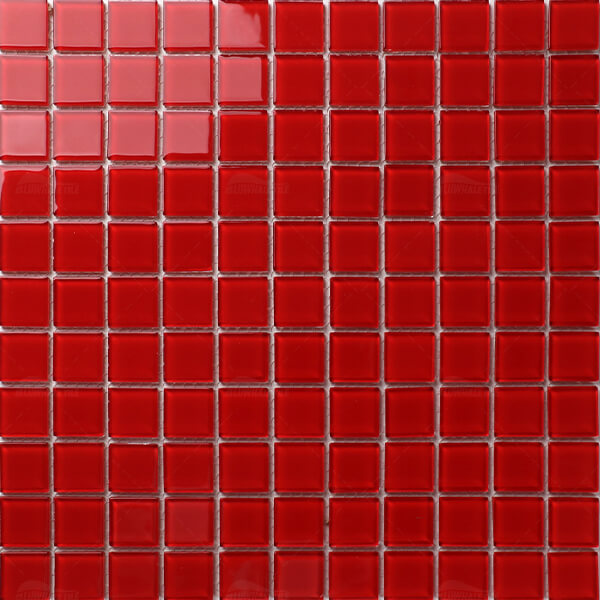 Featured Product: Crystal Glass Red BGI401F2
#7 Stone Mix Glass and Natural Shell Conch Glass Tile
Experience the harmonious blend of natural elements with our stone mix glass and natural shell conch glass tile for the pool. These tiles incorporate real shell conch fragments and glass, creating a unique, textured surface that mimics the beauty of the seaside. The earthy tones and organic textures provide a tranquil, beachy atmosphere for your pool area.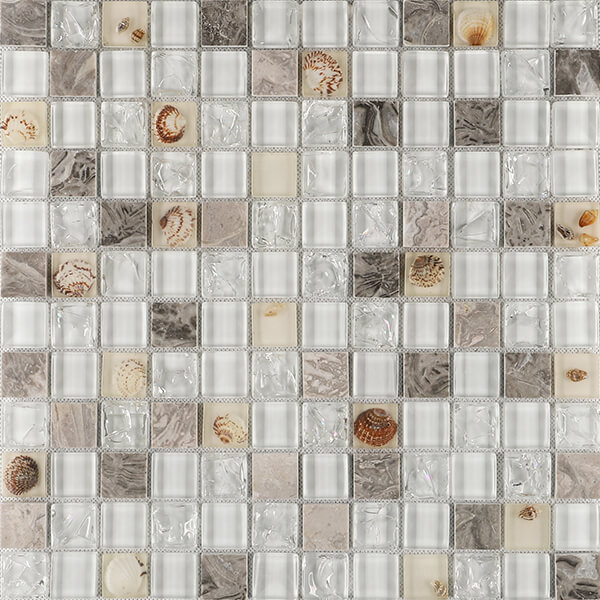 Featured Product: Stone mix Glass Conch Resin Tile GHGH8902
#8 Dolphin Pattern Blue Waterline Pool Tile
Last but not least, add a touch of whimsy and playfulness to your pool with our dolphin pattern blue waterline pool tile. This decorative waterline tile features delightful dolphin patterns, adding a cheerful and aquatic theme to your pool's perimeter. It's a charming way to bring a smile to both children and adults as they enjoy your pool.

Featured Product: Blue Dolphin Pattern BCZB001
Bluwhale Tile is your trusted partner for transforming your pool into a stunning masterpiece. With 17 years of experience in the industry, we are committed to providing the highest quality pool tiles to meet your every need. We invite you to experience the excellence of our products firsthand by requesting a sample. Dive into the world of Bluwhale Tile and let us help you create the pool of your dreams. Contact us today to discover more about our September hot sellers and