A residential swimming pool brings lifelike details to your property in a way no other housing revolution can. It often acts as the focal point in most backyards. Pool design trend is changing over time so that pool owners always can get latest remodeling inspirations. Also, as pool systems and materials start to age, you may find that your pool needs an upgrade. It's recommended that you should weigh your options carefully before plunging in, and get the part you want to upgrade while controlling your remodeling cost within affordable range. There are some of the things you need to plan ahead if you're considering a pool upgrade.
Average Pool Remodeling Cost
Usually, if coming up with a pool remodeling idea, you may think about exterior renovation only. However, if the equipment does not function smoothly, you may also need to repair or replace some of its working parts, such as the pump, filter and heater. The cost on the whole job will rely on how much you plan to be done. If only cosmetic upgrade needed after a throughout checkup, renovation expense could be less than $1200. If most of the working systems need to be repaired or even replaced, you could be facing a bill of $15,000 or more. Partial pebble maintenance job can cost less than &500 and a full might cost at least $3500. Coping often requires mending. The cost can be ranging $3500-$10,000 depending on what the material is your coping and how is the aging extent. Also, if you want to add some new features such as a combined spa, saltwater system, landscaping, then you may be looking at a budge of at least $20,000. Cost and prices in this article are roughly estimated and should be used as a reference guide. Many other elements like location and market should betaken into consideration.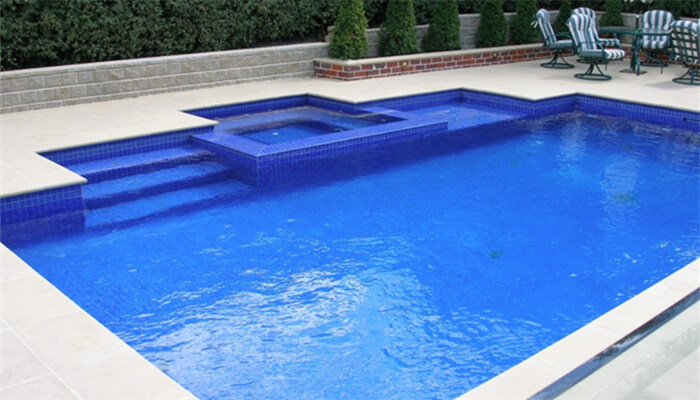 Factors that Differentiate Pool Remodeling Cost
Tile
There are a great variety in swimming pool tiles. They vary in material, pattern, color and texture. Ceramic/Porcelain and glass mosaic tiles are durable and can resist aging as long as possible in a complicated chemistry environment. There are tiles you can select imported from various countries. Italian design, modern look, classic style, etc. There are many elements you can accommodate for your options.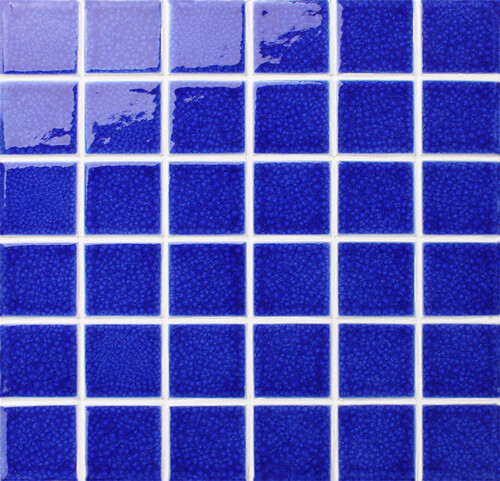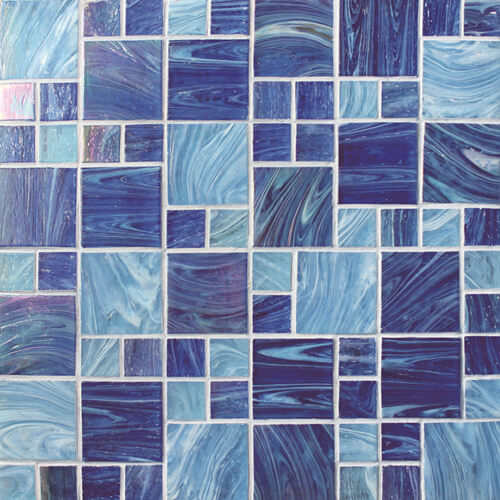 glass tile pool designs BGZ002
Plaster
Usually, this part just need a partial mending and can be a do-it-yourself job. There is one part you need to notice and keep in mind: If you suspect your pool leaking, successive steps to detect the leaking traces on plaster and cover them over as soon as possible are urgent measures you should take.
Coping & Decking
You can choose swimming pool coping in square or round edge. You can make the coping tile consistent with the existent paving or different from it. You can choose pool deck materials such as porcelain tile, natural pebble, marble, plank, etc. All these options vary in pricing that will reflects in your pool remodeling bill.
Size
A bigger pool absolutely cost much higher than a smaller one. And if you want to alter the shape or the size of your swimming pool, that will be a huge engineering.
Features
Are you planning to add a combined spa or hot tub to your swimming pool? Install a saltwater system? Upgrade the landscaping? Class up the mood with floating decors? Light up with LED lightening decors? These are the options popular among pool owners who want personalized experience, and will escalate the cost as options added.
A great swimming pool remodel needs your careful consideration. There are many things you should know about before groundbreaking. Tile replacement is one of them. BluwhaleTile is a pool tile supplier that provides a great variety of swimming pool tiles in reasonable price. Welcome to visit us at http://www.bluwhaletile.com for more info. Get the best quote TODAY and customized service available.