If you're going to build a custom pool in your house, one of the most important thing your should consider before groundbreaking is what shape the pool should take. Having a pool that is aesthetically pleasing in your courtyard can help your property easily stand out from the neighborhood, and at the same time it is practical for swimming exercise after every daylong work, great for meeting friends and enjoying nice time with family around the pool. The shape of your swimming pool is relying largely on how your dream pool is like in your brain and what shape of land you leave for pool construction.
1. What is the shape and size of your available space for pool?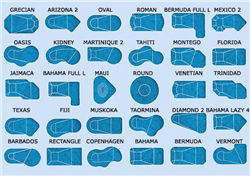 How large and what the shape of your available space leaving for pool construction is the first question you should ask yourself. If your house is a villa-type and you intend to build a luxury pool, then traditional competition pool might best fit your requirement. Yet you think it is a little conservative, then try something artistic such as a violin shape, geometry-combined shape, etc. By the way, geometry-combined shaped pool is often multifunctional – the long and narrow rectangle for swim training, the small square or round for hot spa and the shallow one for kids to play and paddle. Enough place and budget makes your swimming pool free from limitation. However, not all people can get it. What most of us have is an ordinary dwelling, which we always want to add more features to and make it better. Limited space does not mean you don't even have a chance to have a pool. There are many pool shapes suitable for smaller spaces such as a Roman or Grecian pool and a circular pool. Even, if your house has curved edges, there is a great opportunity to create a pearl-like oasis. Making best use of the landform is an ingenious way to achieve a creative pool design. If you're still unsure about what shape you should take, BluwhaleTile suggests you consulting professional pool contractors or builders. They will give you a satisfied solution based on their experience. With insightful advice, your pool is already a half success.
2. In which way are you going to use your pool?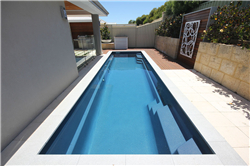 It is also important that how you answer this question. The way you use the pool decides wha t type and shape of the pool you have. If you are a big fan of swimming and regard it as an indispensable bodybuilding exercise, a long rectangular pool, that is lap pool might be your priority. For more lap pool design, you are recommended to read article Grasp The Trend – Build A Lap Pool For Recreation And Stay Healthy. If you think much of enjoying hot bathing, then a customized round or square swim spa is great for you to relax after a long day of work or having a nice bathing time with your family. During bathing, you can have a long talk each other. That's beyond the expectation a good way to keep an intimate relationship with your family. If you have kids and elders, you might also have to consider safety problem. Small and shallow pool with water feature is a good choice. It is a fine option for kids and elders to enjoy fun in hot summer safely.
3.How much are you going to input in the pool project?
Of course when we are talking about budget, things are going to be more tougher as many details will cost you. It is a factor you have to take into account. For large pools like those decorated with many additive features, you have to consider the maintenance cost as well. The bigger the size is, the higher the cost. It is a fact that you cannot ignore. Also, completed shape of pool will lead to greater difficulty on maintenance. Imagine which will be more easier to clean, a classic rectangular pool or a violin shape pool? The answer must be the classic, for there are no curl edges and any other delicate structure. Generally, larger pools are more expensive to build and maintain than smaller ones. However, it is not necessarily right. Some elaborate designs on smaller pools can be more costing than those traditional larger pools. For more budget tips about pool construction, you can refer to article What You Don't Know About Pool Construction.
4. Who will be the users of your pool?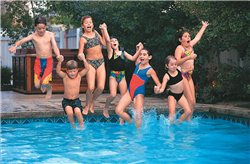 Kids and elders are the two main groups you have to pay attention if they are included in the swimming activity. For kids, it is paddling pool that best fit them because of its shallow depth and small size. However, it is not the best way to get cool in boiling hot summer. Many kids have learned to swim at their very young age. It is not so good to prevent them plunging into the pool to get utmost fun of swimming. Just add considerate safety measures such as anti slip tile pool stairs or handrails, alarm clocks and of course your close supervision most counts. For elders, maybe the best joy they can have is sharing leisure time with the family around the swimming pool, so it is better leave ample space for deck, where party and special celebration can hold there. Believe they will feel good lying on the long bench for sunbath. In order to achieve it, your pool can't be too large and too close to the main body of the house.
For better know how to choose the most suited shape, you have to consider four main questions listed above. In this way, your house will be greatly enhanced with a swimming pool that has a right shape and size. If you want to update with the newest pool industry trends and swimming pool maintenance tips, visit BluwhaleTile, a pool tile manufacturer in mainland China who has over 10 years in supplying quality pool tiles.