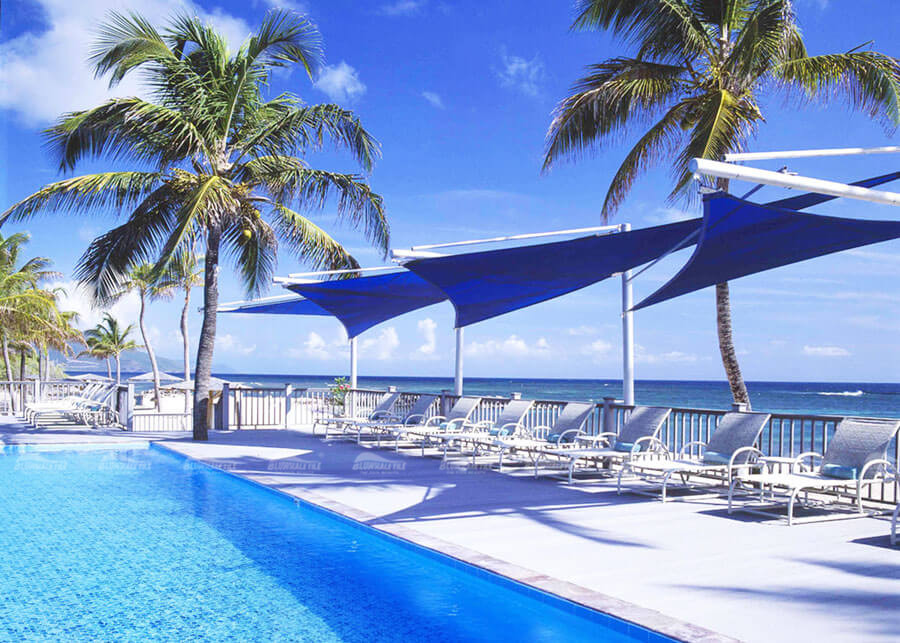 A swimming pool is not just a common hole with water and pool tiles, which is also a entertaining place. Many other elements are needed to be considered while building or renovating a new swimming pool for examples of LED landscape lights and many other surface materials to choose from. Now, we pay more attention to the pool decking!
As we all know, your backyard pool is not just a hole full of water, which needs to combine with characteristic surrounding decorations.
Moreover, when it comes to pool peripheral decor, it's pool decking that will make your swimming pool more outstanding. And a practical decking has the ability to provide a safe walking space between swimming pool water areas, slides, and relaxing space. Therefore, the suitable pool decking will add brilliance to your backyard, which also pairs with every pool decor materials and landscape to achieve your dream backyard design.
Before beginning choosing a pool decking, you should know more about what's the different decking and swimming pool coping. As its name implies, pool coping like a cap around the edge of the swimming pool, which is usually made from stone and generally about 30 centimeters wide. Contrary to pool coping, swimming pool decking is much bigger and enough to lounge tables and chairs.
Materials of Pool Decking
Your family members are normally bare feet when they come up from the pool, hence, it's necessary to choose a nonslip material for pool decking. In addition to security, the comfortable capability should be considered:
Concrete
Due to its durability and water resistance, concrete has become the ideal decking material for many years. While finished with polishing treatment, concrete provides a smooth surface to swimmers to walk bare feet without being scratch and falling down.
Outstanding Features: concrete can be made and formed in actually any shape as you like such as circle, rectangle, and kidney-shape. This frequently-used material is also fairly economic, which will cost 5 dollars to 6 dollars per square for professional installation and only need to cost 2 dollars to 3 dollars for those who prefer to do it themselves. Maybe this project will inspire your swimming pool building plan: How Does the Lodge from Queensland Remodel the Backyard Swimming Pool >>>
Disadvantage: Here you need to know that DIY is just suitable for small areas such as 6 inches by 6 inches or less and you have experiences with these materials. For larger areas, you'd better find professional works to do this job because concrete can start to concretion within minutes on hot and dry weather. And if you have no ideas to smooth it quickly, you might have to break them out and resurface it.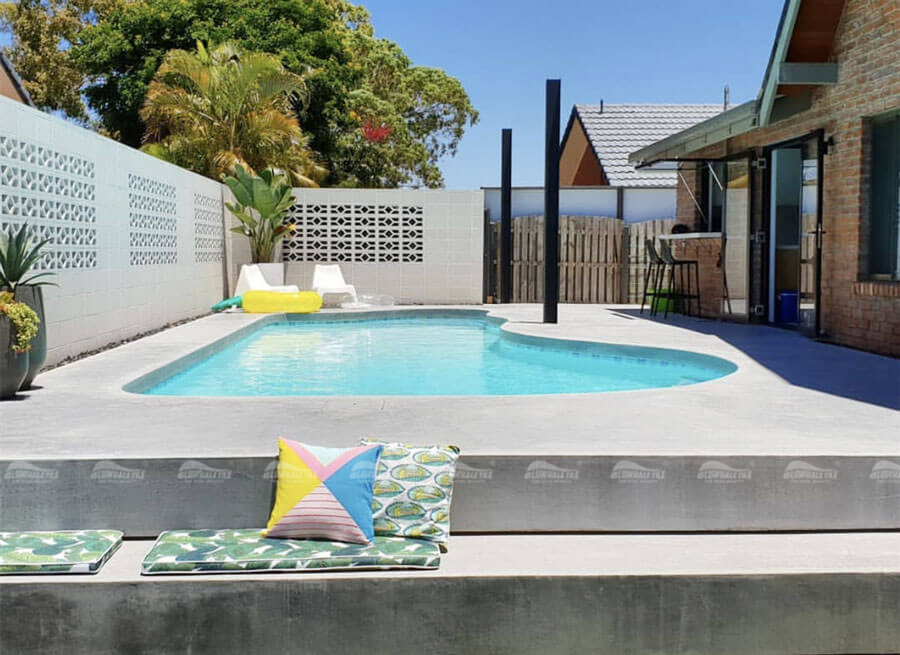 Pavers
Made from concrete or stone, bricks are laid into an interlocking pattern and placed on the top of either sand or either base, which is a good alternative material to concrete.
Advantages: with a wide range of geometrical shapes, this material also has slip resistance and just cost 2 dollars to 4 dollars per square.
Disadvantage: the pavers will sink if you don't have them installed exactly over an excavated bed of sand, which will form an uneven decking finish.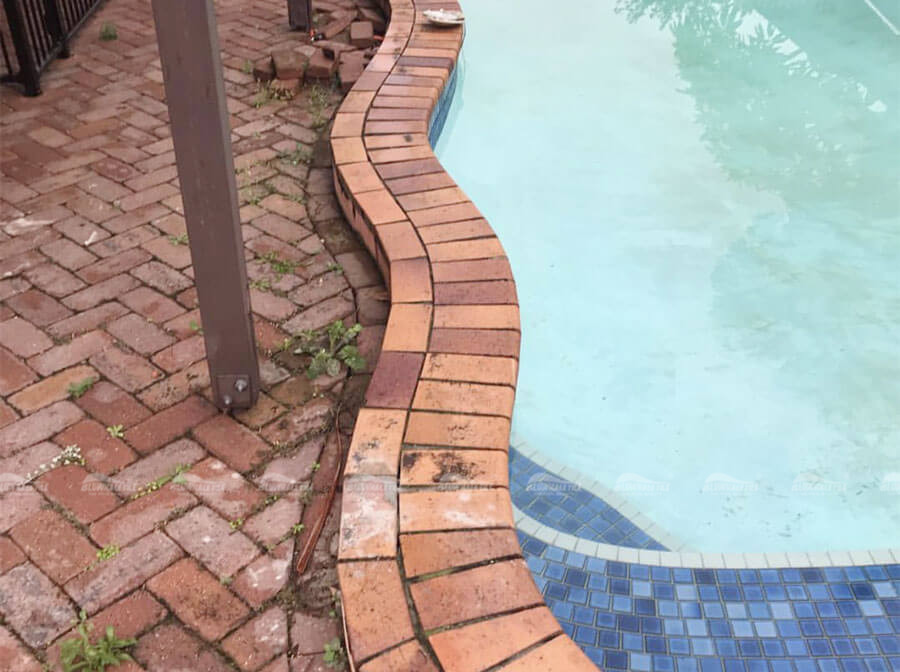 Natural Wood and Composite Wood
Wood is another welcome material that feels comfortable underfoot. However, not all wood can be used for swimming pool decking. We suggest you consider redwood, teak wood or cedarwood, which are water-resistance and protection against termites. What's more, you need to build a floor joist frame before installing the pool decking boards. It will cost 3 dollars to 5.5 dollars per square if you have some experience in building a basic frame and like to do this job yourself. For professional installation will pay more than 5 dollars to 10 dollars for workers. But the actual cost depends on the wood types. Check this post for more wood swimming pool decking application:A Hotel Resort Swimming Pool Project at The Seaside of Philippines >>>

Pros: Natural wood is a perfect way to renovate an existing concrete surface because it can be installed right on top. And it's also the ideal material for stairs and the above-ground pool's decks.
Cons: Need more maintenance costs. Wood is the spontaneous material and requires regular maintenance with sealant, as well as, wood decking might need to refinish every three to four years and don't forget to sand down the surface and using a sealant. Wanna cut down the maintenance cost? You can consider the composite wood.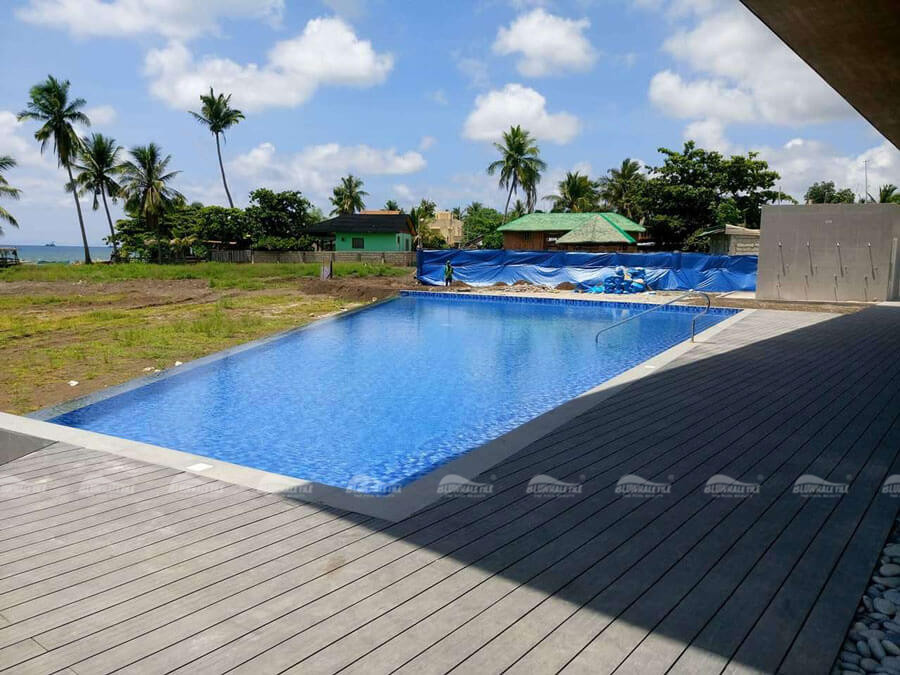 Look like the true wood, composite wood may the good alternative material, which made from plastic-like materials. And it needn't much maintenance, and even if exposure to sun and water for a long time it will not fade and discolor. But the disadvantage of composite wood is the high upfront cost, which is strongly more expensive than natural wood.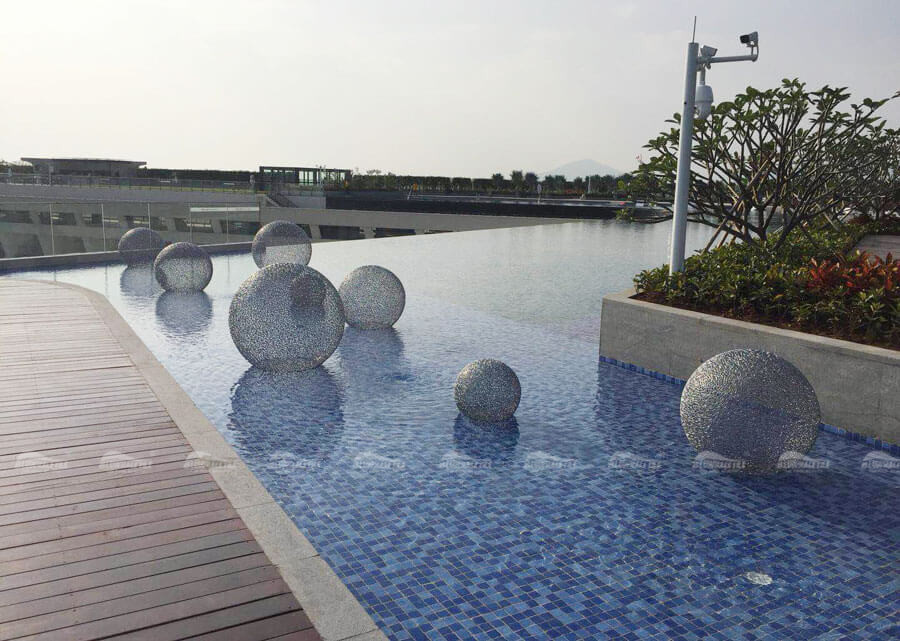 Stone
Stone is another natural material, which has enough rough surface to protect bare feet from slipping and improve the aesthetic features. Many shapes are available easily, and the prices of stones normally depend on the situations in your areas. Moreover, getting these materials will spend less than those came from other countries.
Tip: everyone knows that one must work to gain what they want so you should pay more attention to the too cheap stone. Some artificial stones are so cheap and many merchants will sale the inexpensive man-make stone to customers.
Swimming pool decking plays a significant role in the whole backyard look and improves the safe capability of your pool. Bluwhale Tile will share more knowledge about building, renovating and decorating a swimming pool. Wanna more backyard pool helpful ideas? Contact us now!