Selling a property can be a nerve-racking process. Properties that have a stylish swimming pool can be both eye-catching and appealing to potential buyers. The size, shape, function and design features of your pool play a significant role in your property's market value. If budget permitted, in-ground swimming pool would be the best choice, semi above-ground swimming pool with wraparound deck following. To help raise your property's market value and make it more attractive, BluwhaleTile here provides some useful tips about how to resell your property a good price by installing a pool.
Why Having A Swimming Pool In Your Property So Important?
Based on an authorized real-estate market research, an in-ground pool can increase about 7.5% in the original property value because home buyers usually think it as an added benefit. Whether you have a standard or innovative design, a pool perfectly blending in the landscape with some unique features that other on-selling properties lack can become the crucial reason potential buyers make their final decision.
Elements You Should Consider To Make Budget Efficient
Building a pool can absolutely be costing. Paying more attention to your options of anything about the pool, including type, size, shape, material, time and maintenance, can make your money more effective.

Type – In-ground, above-ground or semi above-ground? Concrete, fiberglass or vinyl liner?

Size – Often depending on the dimension of your courtyard.

Shape – The configuration of a pool; The more complicated, the more expensive.

Time – The time you need to finish a pool project.

Maintenance – Average fees you and buyers need to spend on pool so that it can be running in a good condition, including pool tile repair, chemical additives, etc.
Added features such as deck jet, natural rock, swim-up bar table, floating decors may make the cost roar but also more appealing to potential home buyers. Think twice before action.
What Are The Best Economical Feature That Adds Value To Your Pool?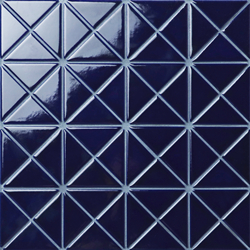 Pool finish is the mainstay of the general design. Ceramic, porcelain and glass mosaic tiles are the three most popular pool surfacing materials. They vary in a wide range of size, shape, color and pattern, which present different images. Whether you want to build a pool with classic pool tile or other innovative options, make sure it'll be a striking part that highlight the general design. Meanwhile, material quality should be your another concern. Don't be silly property buyers can't tell the quality and craftsmanship of the tiles. Market research shows that home buyers prefer houses with a pool having used unique-pattern tiles such as creative triangle design pool tile. It's better to do some research to know what style of pool home buyers would like before the installation.
Moreover, a pool with updated functions may increase the possibility that house seekers will buy your property. For example, market research indicates that buyers prefer a cost and energy efficient pool. And a pool with automatic system or a natural pool without using any manmade chemicals to maintain can help you meet the need.
Home Buyers Like Houses That Already Have A Pool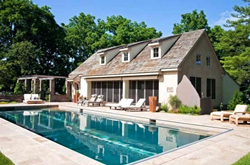 Swimming pool not only can greatly increase the aesthetic value of the house, but also cater for the need of homeowners who want their families and friends have fun in the swimming pool area without waiting a long time. Pre-installed pool saves their time and energy. Buying a house with pool already built, then nothing can disappoint your spirit to have a nice place to hold parties, play games and other recreations.
BluwhaleTile is a swimming pool tile manufacturer supplying different kinds of tiles that are made of ceramic, porcelain, glass, mosaic and stone. Welcome to visit us at http://www.bluwhaletile.com for more pool mosaic tile designs and pool maintenance tips.