A swimming pool newly built in your backyard can give a new look to your house and bring a huge improvement in your way of life. A well-designed pool can make your personal space an oasis of tranquility. Swimming is a splendid exercise not only of the body but also of the mind. Having a swimming pool at home means a great convenience to maintain your health. You will find it unnecessary to waste time searching for a credible swimming center or troubled running miles away to do exercise if no gym nearby. Apart from helping you to get a healthy body, swimming also relaxes your muscle and stress after daylong hard work.
You can construct your pool in the ground or above the ground. Relatively, in-ground swimming pool looks more decent as a functional and aesthetical home facility. If budget permits, concrete pools are highly suggested because they can be custom-made to fit any shape of backyard area and meet your personalized need of unique pool design.

Reasons Why a Concrete Pool May be the Best Choice for Your Backyard
Mainly, concrete pool is extremely durable, for it takes mixtures of shotcrete or gunite as material. In other words, when you decide a concrete project, you expect the pool can last long and will seldom get damage, making it a money-effective investment on construction and maintenance. Moreover, malleable materials like concrete are best for those who expect an unusual shape of pool and innovative pool designs. It allows you to have more freedom at style creation.
Another advantage of a concrete pool is that it gives you a chance of creating a lounging space as it makes pool steps or baja shelf most possible to be built inside. Other types of pool like vinyl liner and fiberglass have difficulty with an interior entrance. If entrance can only be exposed outside the pool, that might alter the entire shape and lower the aesthetic value of the pool. Also, it takes up part of the room that was left for a lounging space where you can enjoy leisure time with your family and friends.
What's more, concrete pools have more options of finish. Unlike vinyl liner and fiberglass pools, which feature in their bald chemical coating and transparent surface, concrete pools present a vivid look with the unlimited use of mosaic tiles in different size, shape, color, texture and pattern. You are free to add your favorite mosaic tiles to your lap pool or replacement pool tiles for recondition. It assures the appearance of your residential pool turns out exactly to be what you have visualized hundred times in mind.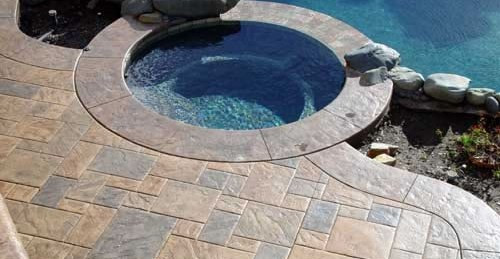 Important Considerations about the Wraparound Deck
Firstly, leave an ample space to deck constructing. It is highly suggested to have room around the pool as much as possible for entertainment use. Imagine what a great inconvenience a small deck will cause if you want to have party with your family and friends. There will be few room for picnic table, lounging chairs, BBQ grill, etc. Despite all of the necessities are settled, your guests will feel uneasy because they can not move even an inch in such a crowded place, which also bring safety issue. What if they slip down into the pool and get hurt? Secondly, choose a deck color and style that will best fit your house and the general design of your pool area. Safe and comfortable walking surface should deserve your most concern. Materials like natural pebble and non slip porcelain tiles are your top choice of pool pavers. Keep in mind to choose simple deck that is easy to maintain.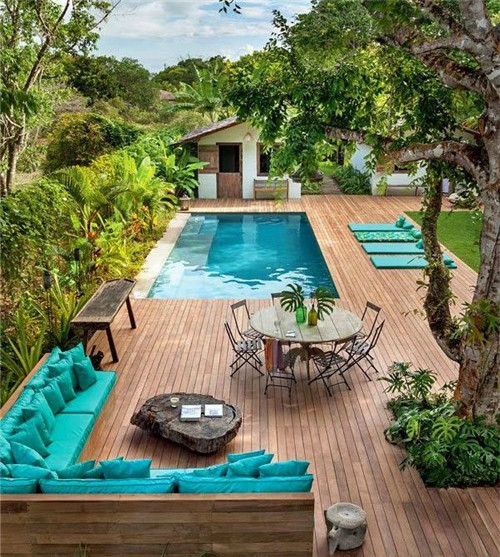 Important Considerations about the Design of Landscaping
Firstly, don't include trees that are too big alongside the pool, for this will make pool maintenance inconvenient. Also, messy trees might block your view towards the pool, which will make you fail to know about the situation outside. That means a huge safety problem especially when your kids are playing in the pool area alone. Therefore, to place medium pot plants or prune the trees regularly would be much better. Secondly, create features by adding some popular pool decors such as waterfall, beach umbrellas and benches. BluwhaleTile has published some articles about the landscape design of pool area, more details at Top 8 Design Trends for Swimming Pool in 2017 and 5 luxury Decors You Can Afford to Class Up You Pool. Finally, hide the pool facilities like pump and water circulation system in a shed behind the plants or other decorative covers.
BluwhaleTile is a swimming pool mosaic tile professional supplying ceramic pool tile, glass tile swimming pool, swimming pool accessories, etc. Welcome to contact us today for more pool tile design ideas and helpful pool repair tips.