Beautiful and high quality mosaic tile is helpful to make your swimming pool unique and dreamy. Many clients at Bluwhale Tile always give latest feedbacks to us, we are glad to gather these information and does our best to upgrade our product lines of swimming pool tiles. Last time, we shared our fambe new design 1x1 ceramic pool tile in blossom texture, and today we are introducing other ceramic 1 inch pool tile designed with unique finish, which is a great option for your next welcoming pool design.

The 1 inch ceramic moaics features 25x25mm mosaic chip size, the mesh backing mounted technique makes the tile sheet is easy to install around the sides or bottom of swimming pools. Made of durable ceramic, the product can serve a long time, it is waterproof and highly resistant to chlorine and chemicals in pools. Read on and take a closer look at 6 special finishes.
1. Blue Blended Glossy
Featured product: 1 inch ceramic pool tile, fambe glazed blue BCI912
Blue is always the most common and popular color for swimming pool design. Pure blue is too simple to be different, and we choose to create the tile pattern in blended blue shades, which is going to add dimension to swimming pool space, extremely ideal for those who has a small pool. The color is gradient and the texture is stylish with lots of small dots. The glazed surface is high-gloss, that requires less cleaning and maintenance.
2. Brown Blended Glossy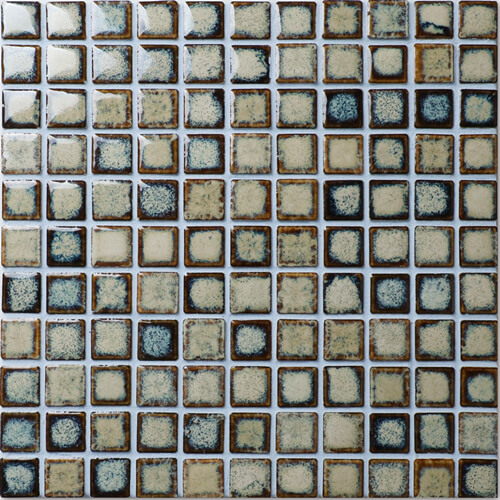 Featured product: 1 inch ceramic pool tile, fambe glazed brown BCI907
Fambe ceramic mosaic tile is produced to have a darker shade in the edge than tile center. Your swimming pool can be exclusive and out-standing with other tile colors, this brown-blended color can be used to install a vintage pool as well as kitchen backsplash.

3. Blooming Blue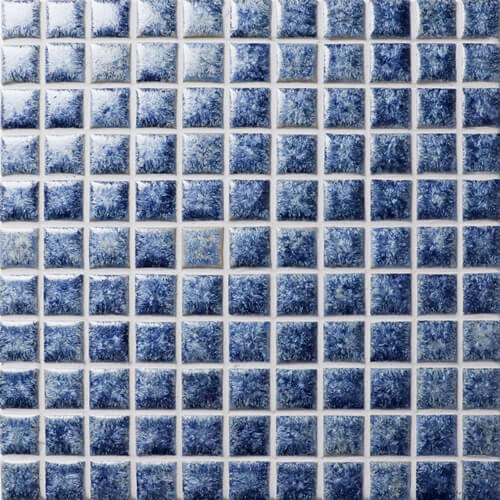 Featured product: 1" ceramic pool tile, fambe glazed blue BCI910
One of the best way to cretae a unique swimming pool is to use pool tile with texture or patterns. The blooming texture makes the blue color distinctive, the grain also looks like snowflake, perfectly to add characters to your any pools or piscine projects.
Brown color is not well-accepted in pool design, especially in residential pool, blue is top-used. While for most commercial projects like hotel swim pool, these rarely-used color like red, black and brown would be trendy and well-liked. A beautiful and extraordinary pool will add values and make statement to the hotel, making the hotel more inviting to visitor. That's an awesome investment. Click to read the post "Pool Style: The Wackiest Red Hotel Swimming Pool In The World", you will find how remarkable when a pool finished with red tile.
We believe you will love the two brown pool tiles below:
4. Blooming Light Brown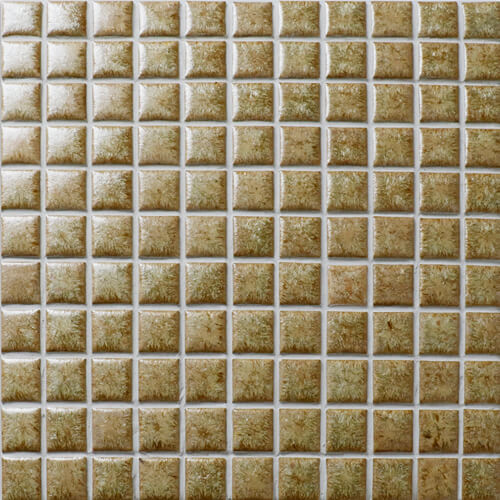 Featured product: 1" ceramic pool tile, fambe glazed light brown BCI615
5. Blooming Dark Brown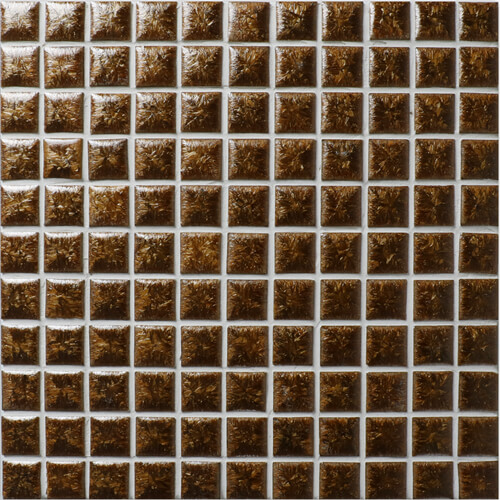 Featured product: 1" ceramic pool tile, fambe glazed blue BCI913
6. Blooming Rust Color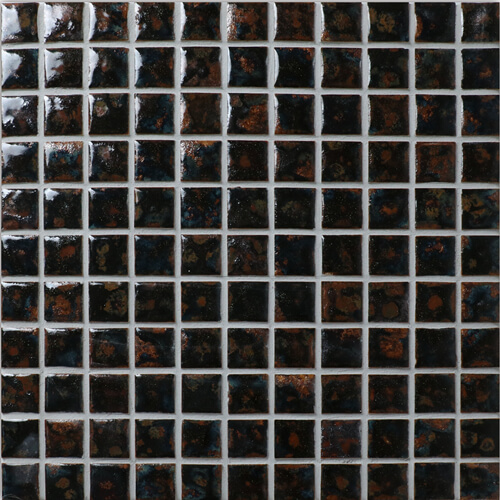 Featured product: 1" ceramic pool tile, fambe glazed rusty BCI916
What a stylish color and finish! The tile color looks like rust, it is an uncommon and bold color for pool mosaic design. The surface is rough and uneven, providing a feel of cave stone or travertine tile. The rough surface makes the tile less slippery and can even used in pool side and around areas. It is a great surface pattern to install a natural landscape in your swimming pool. That would be impressive and striking!
If you are in market for these 1 inch fambe surface, do not hesitate to contact us for best pricing. Sample can be offered for quality check. Click to our fambe series to see more designs and colors. If you are looking for professional ceramic pool tile manufacturers, Bluwhale Tile would be a great partner for you. We have estalished long business relationship with distributors, retailers and architects, whether you are new or experienced in pool tile market, contact us if you are in demand for these products.