Never stop discovering new tiles for pool, no matter who you are, pool tiles sellers, pool contractor, designers or homeowners, if you have a swimmng pool, then you need something new and different to keep your pool in best conditions and fashionable.
Are you ready for something new? Bluwhale Tile has brought you all a new surface ceramic pool tile with stylish blossom texture in our Blossom Series. Your swimming pool can work in a more sophisticated way with this ceramic pool tile pattern, that comes in 4 colors, 25x25mm chip size and high-glossy finish. This item is not only suitable for swimming pools, it is also perfect for any piscine, spa center, backsplash, bathroom, kitchen and any interior decoration. Following we are showing details to you, you can get a closer look and get design inspiration for your next project.

1. Sky Blue

You know sky blue is a clear color. It is common to see in pool tile color, that is to say, it is also a very popular one. There is much more to this blue than you think, thanks to those unqiue textures. And take a look at the finish, actually it is a blend of blue and green. These beautiful texture is more eye-catching because of the green as a base. We would like to see you take it to make a statement to your siwmming pool. The pool bottom can have a classic blue color, even interesting and artistic blue.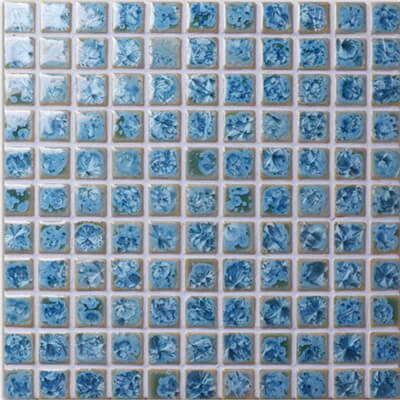 Featured product: Sky blue fambe blossom ceramic pool tile BCI909
2. Light Blue

Light blue is another good-added to our fambe series. This surface can create a fresh and smooth feeling to both indoor and outdoor swimming pools. You can find some dark shades on mosaic chips, that is helpful to make dimensions and personality to pool space. If you like it, you can also consider using it for backsplash application, that must be a bright spot in the space.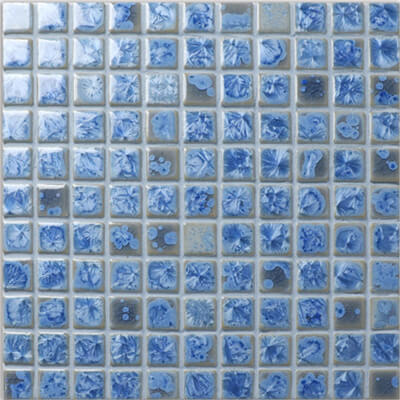 Featured product: Light blue fambe blossom ceramic pool tile BCI908
3. Turquoise Green

Are you going for green pool mosaic tile, but want a more charming one or a bit more texturs? Then this turquoise green is an awesome choice for you. The texture and color is natural and smoothly gradient in a subtle beauty, ideal for make a bright new look to your pool as well as other spaces.

Featured product: Turquoise green fambe blossom ceramic mosaic pool tiles BCI917
4. Elegant Brown

Brown is not common used in pool, but it can create an unique appearance. If you wanna remodel your swimming pool of different pool style, just be bold to change the blue color into brown. The tile sheets is composed of gradient shades of brown, with delicate texture to make a strong visual effect to your project. The finish is glossy and easy to clean, mesh backing for simple installing and cutting.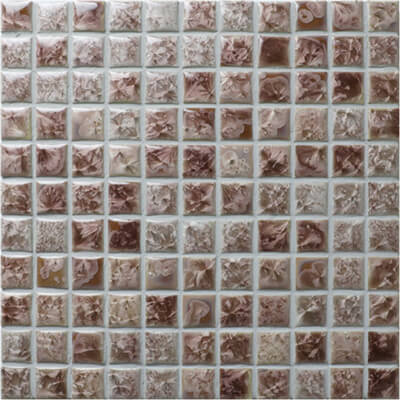 Featured product: Brown fambe blossom ceramic mosaic pool tiles BCI911
If you are in market for this new collection, welcome to contact us for best price and sample details. Bluwhale Tile is into pool tile mosaics wholesale for many years, can supply you wide range of premium swimming pool tiles. Cutomized service is available here.