Pool tile mosaics have variety of colors, sizes, shapes and textures to choose from. Right pool mosaic tiles will affect the whole apperance and style of your swimming pool. Bluwhale Tile is going to share you the main kinds of tile mosaics for pool finishes and some of our popular items, including ceramic pool tile, glass pool tile, custom mosaic art, pool edging tiles.
Ceramic mosaic tile has become a staple for swimming pool finishes for years. These stunning tiles are cost-effective and features lots of textures. Textured mosaic tiles are widely used in the surrounding landscape. Compare with glass mosaic tile, ceramic mosaics provide greater durablity and highly-resistant to scratch, wear and moisture. If you are selecting new ceramic mosaic for your pool covering, read on to find some hot-sale item at Bluwhale Tile.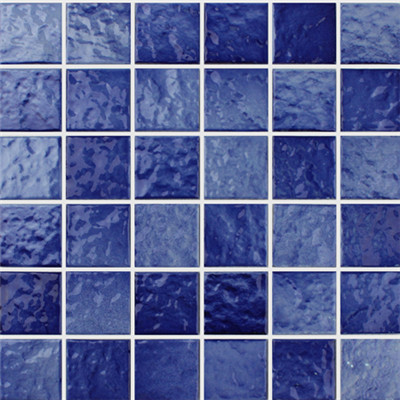 Featured product: 48mm wave pattern blue classic pool tile ceramic mosaic
The first recommended item is our 48x48mm ceramic mosaics in waving surface in blue mixed color and glossy finish, which is a great option to add dimension and strong visual effect to pool, the wavy surface makes your pool floor less slippery.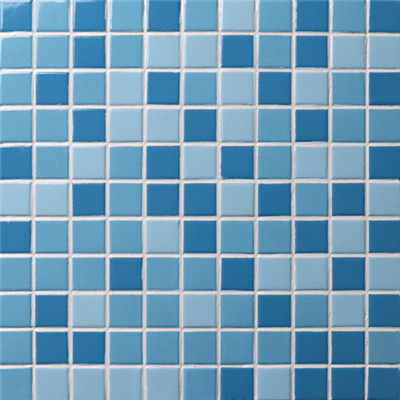 Featured product: 25mm blue mixed ceramic pool tile mosaic
The swim pool can go in neat way with blue blend mosaic tile in a regular size 25x25mm chips.

Featured product: 25mm blossom ceramic green tiles for swimming pool
Pool with green tiles brings a feel of nature and freshness. With fambe blossom texture, this green mosaic tile adds features to any pool and piscine projects.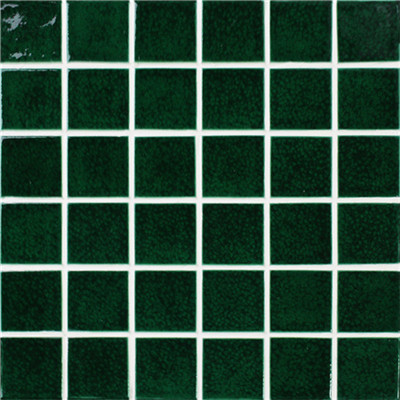 Featured product: 48mm ceramic vintage green crackle tiles
Ceramic crackle glazed tile is best-selling in different types of pools. Simple or heavy ice-crackle texture gives different looks. Frozen green crackle bck713 is well-received by our customers, the color is bold and unique, creating a vintage style to pool as well as other spaces.
Glass tile mosaic is getting more and more popular in recent years. While glass mosaics will cost you more than ceramic mosaics, as result most customers choose ceramic as alternative. Glass mosaic tile is durable, nonporous and eco-friendly due to recycled materials. Clear glass tile gives the transparent nature to pool water, relective and looks brilliant underwater. And irredescent glass tile gives more shimmers under the changing light and as water flows over the surface.
Glass mosaic tile comes in large variety. Super quality glass tile has excellent shine, color and depth. In all-glass-tlied pool and spa, the space is mesmerizing and has a gem-like luster. Glass pool tile is another main line of Bluwhale Tile, and following are some beautiful items for you.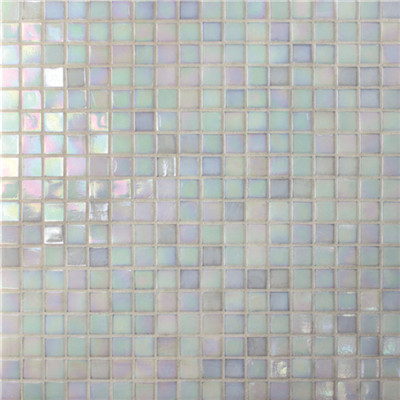 Featured product: 15mm mini square glass iridescent pool tile
Iridescent glass mosaic tile is not only common to see in pool design, but also any bathroom, kitchen, backsplash covering. The white mosaic in glowing surface helps to make your swimming pool brighter and more eye-catching.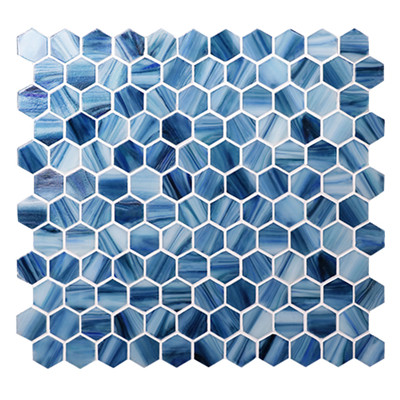 Featured product: 25x25mm textured glass hex tile mosaics
Hexagon tile gives geometric beauty to any space, if you are seeking for tiles for a featured pool look, try to consider our hot melting glass hexagon mosaic tiles.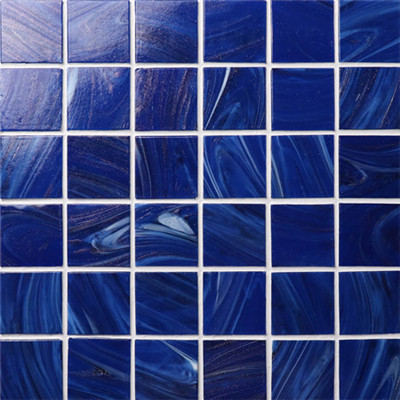 Featured product: 48mm hot melt blue glass pool tile
Our venus cloud melting 2" glass mosaic tile is a new addition in our glass series, it's texture is handmade, light-reflective and ocean-like luster, works beautifully to install a luxury pool style.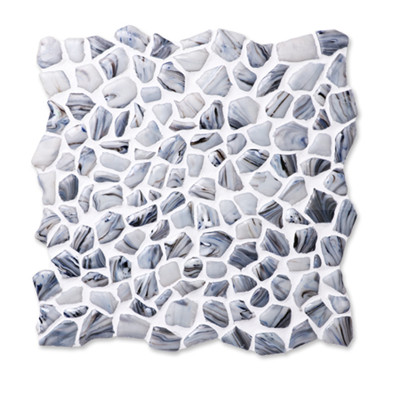 Featured product: Free stone mosaic glass tiles for pool
Irregular shape such as pebbles makes a free style. This gray glass tile works versatile and functional in pool bottom, pool deck and bathroom countertop design. Free pattern with lots of gaps, your pool floor would be non-skid with this product.
Featured product: swimming pool dolphin mosaic art
For more inspiration from our dolphin mosaic patterns, click to see this article: Pool Mosaic Art: Enjoy Swimming With Lovely Dolphin! >>

Choosing mosaic art patterns is great way to add personality to your pool. Underwater animals pictures are mostly used to beautify and liven up pool space. Our dolphin pool mosaic is lovely and can reactive your lifeless pool. Customized service is available and welcome to send us the mosaic picture you want.
If you are interested in our products and wanna know more options, do not hesitate to contact us now. Bluwhale Tile has into pool mosaic wholesale tiles for many years, is commited to offer best service to all customers worldwide.