It is frequent to hear more and more news about kids accidentally drowning in swimming pools by the negligence of supervising adults. Many pool owners take great pride in the affair of having a decent pool at home while don't see the fact that swimming pool can be a silent killer, especially for small and unsupervised children. According to the U.S. Centers for Disease Control and Prevention, around 350 kids under five years old drown in swimming pools, with many of these occurring in residential pools. What's more, an estimated number of 2,500 kids under five are emergently sent to hospital due to drowning-related injuries and most of them will suffer permanent damage to brain and nerve trauma.
Swimming is ranked as the number one enjoyable recreation activity at summertime and as summer is coming, necessary measures must be taken to ensure the safety of kids. It should be kept in mind that children are not allowed to swim without adequate supervision. Adult supervision combined with effective protection, such as anti slip deck and pebble paving, barriers and fences, shallow depth of pool water, make sure all necessary measures are included and your kids will be fully protected from drowning accidents.
Factors that may Increase Drowning Risk
Lack of Supervision & Barriers
It is particularly important for swimmers, especially young children, to have adequate supervision in and around the pool. Supervised adults must not fail in their duty to keep their kids safe. Most pool contractors would advise people to add a fence at the very beginning of a pool project. However, there are many residential pools without being installed a fence or other safety measures. It was unnecessary, that's probably what you thought at the time, but you may need it now. Barriers like wraparound fences should be used to prevent young children from gaining access to a pool area without the awareness or supervision of a caregiver. Authority recommends you build a fence that is no lower than 48 inches and has automatically closing and locking gate. Also, the gate itself would better to 2 inch or below, making it very easy to be opened and closed. According to CDC statistics, there is an 83% reduction in the risk of childhood drowning with a four-sided isolation pool fence, compared to the three-sided property line fencing.
Slippery Deck & Pool Entrance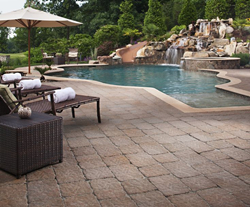 As swimming pool deck surface ages because of sunshine and rain, they will develop algae and become very slippery, especially in wet condition. To reduce the risk of falling or slipping on a pool deck, you should pressure wash your deck yearly. Additionally a silica sand can be added to your concrete sealer to provide a more textured and slip resistant surface. Moreover, pool entrance should be carefully designed with durable non slip floor tiles so that kids and the elders will not accidentally fall down and get hurt. For more tips about pool entrance tiles, please read our published article How To Choose The Right Pool Step Tiles?
Senescent Ladder & Steps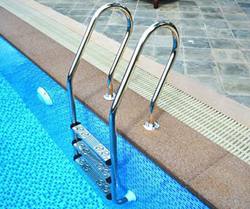 Stairs and ladders are a very common place for injury in a swimming pool. Colored nosing tile is used to accentuate step edges in many pools, which helps to define the step edges under the moving water. The likelihood for a fall or injury increases at night, and also even more so if there is no underwater swimming pool light to illuminate the water. Ladders often have hand rails installed into the pool deck which can become loose over time. If the ladder rails shift as you are climbing out of the water, this will greatly increase the risk of a fall. In addition, steps is the most common pool entrance. Its width and height should be designed based on safety elements to avoid kids getting injuries when they are frolicking around the pool area.
The best way to ensure the safety of your kids in and around the swimming pool is your eyes. We all know this but it's getting a little hard when you also want to enjoy fun in the pool. In case you are distracted for a second, make sure you have a Plan B, that is, install a fence, make floor anti-slip and check the pool entrance.
BluwhaleTile is a brand that enjoys high reputation among pool tile manufacturers. Welcome to visit us at http://www.bluwhaletile.com/ for more pool tile designs and useful pool maintenance tips.