Ceramic VS Glass Pool Tiles
Compared to other tile products, swimming pool tile has higher quality requirement. It would be best if the tile is not prone to crack due to easy bump and long-time soaking. When you buy pool tiles, remember ask sample for quality check and focus on their hardness and toughness. Pool tiles that have a great performance on these two indexes are less likely to chap after installation and their brand new look will last long. Generally, glass mosaic pool tile is hard but insufficient in tenacity, so it is easier to break. Ceramic pool tiles are manufactured at a very high temperature, nearly 1200 degrees celsius, so they are vitrified, which is a symbol of strong hardness. Then you may ask what makes them flexile? The secret is hid in the glaze. There is a misunderstanding that vitrified glazed ceramic pool tiles, also known as porcelain pool tiles, are thoroughly waterproof. Actually, they are able to absorb a small amount of water and this helps make the tile look mellow.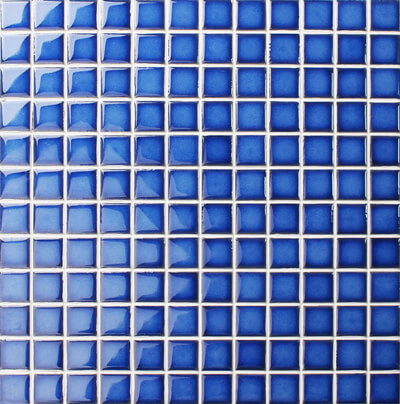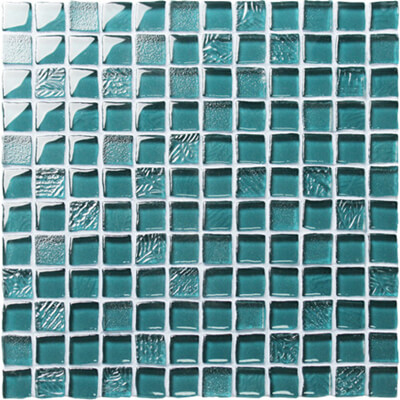 blue pool tile BCH608 green glass mosaic tile BRH002
Choosing Pool Tile Color & Pattern
Most swimming pool tiles are blue. There are light blue, sky blue, lake blue, deep blue, etc. Generally, pool tiles in multi shades of blue blend do not look that boring. For more swimming pool tile colors, you may like to read That's Not Always The Case Swimming Pool Tiles Must Be Blue. It is more attractive to use mosaic art for kid pools. Mosaic art patterns include turtle, dolphin and any other cute designs. Glass tile mosaic art is colorful, pigment integrating perfectly into transparent glass. It is a top choice if you want your pool dazzling and exotic. Ceramic pool tiles usually bring in various surfaces – solid color glaze, crystalline glaze, single crackle, double crackle and full body. Solid color glaze has high performance cost ratio; crystalline glaze are widely seen in resort pools, hotel pools and villa pools; ice crackle have beautiful cracks underneath the crystal glaze, which are noble and luxury; full body are often non slip pool tiles, which are versatile and also can be used as shower flooring.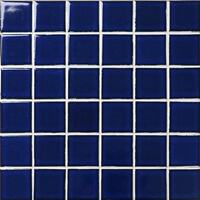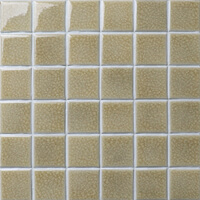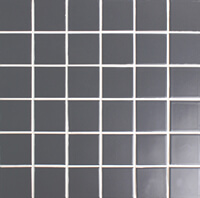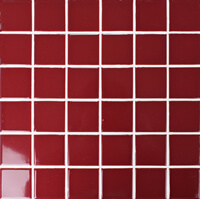 Blue BCK602 Brown BCK502 Grey BCK301 Red BCK401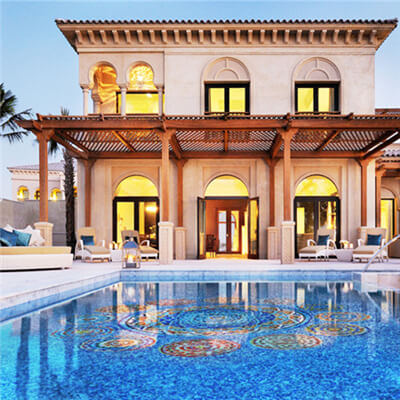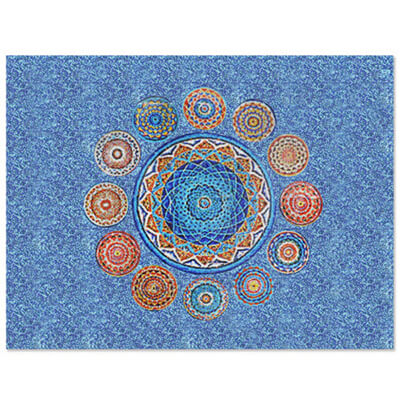 Swimming Pool Tile Size
Common sizes of swimming pool tile are 23×23mm, 48×48mm, 73×73mm and 98×98mm. Thickness are between 5.5-6.0mm, and glass pool tile is 4mm. Thicker tile means bigger space for grout. In this way, grout is not easy to peel off and that further help the tiles stay in place. For more info about the relation between grout and tile, you are advised to read Grout Problems Are Likely To Cause Swimming Pool Tiles Crack And Fall. 48×48mm is the most popular size for swimming pool tile, because it makes installation easy with back mesh and pool tile factories can ensure the tile of this size moderately priced. Though smaller pool tiles like 23×23mm cost a little higher on installation, they are good to fit corners and space where are irregular. Bigger size pool tiles such as 73×73mm and 98×98mm look deluxe and meanwhile their market prices are the highest, so they are not quite suitable for residential pool construction but the commercial like upscale recreation club and five star hotel.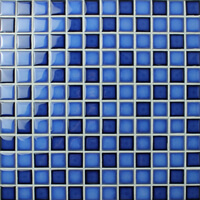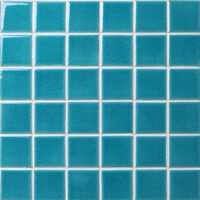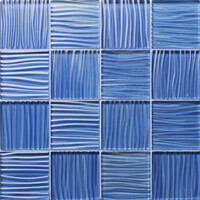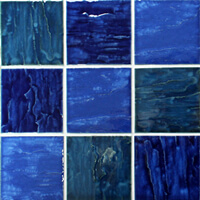 23×23mm BCH004 48×48mm BCK701 73×73mm BRO002 98×98mm BCP002
Tile means a lot to the appearance of a pool. It is worth you to spend more time choosing the best mosaic pool tile. BluwhaleTile is one of the leading swimming pool tile suppliers in mainland China, specializing in pool tile supply for over 10 years. You are sure to dig out more pool tile ideas here. Free quote and samples are available.