This series features crackle glaze porcelain mosaic tiles with a popular 4"x4" (100x100mm) tile size, in four shades (sky blue, dark blue, green and light green). And what's unique about these tiles is, of course, the crackle glazed surface. Now let's take a close look at the details. See the photo below.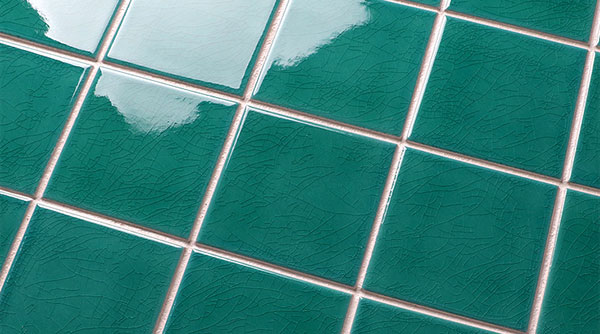 Featured Product: BCQ702 Green
As you can see, there are crackles on the surface, but the finish is even and smooth. And when you touch it, you will find the crackles are actually under the surface. That's why you can see the high sheen in the light.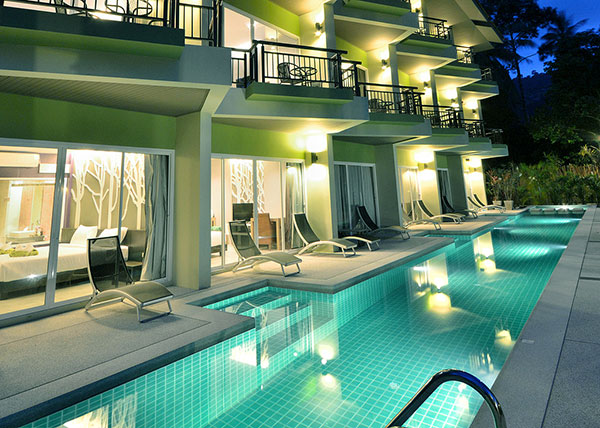 Featured Product: BCQ702 Green
Even though this pool is not big but long and narrow, it's still a summer evening's dream. Especially when all the lights around are turned on in the evening, the pool tiles look so neat and fresh, creating a quite and pleasing ambiance.
Below is a similar color-light green, same pattern, just in lighter color, offering one more option for creating your own style and personality for your pool.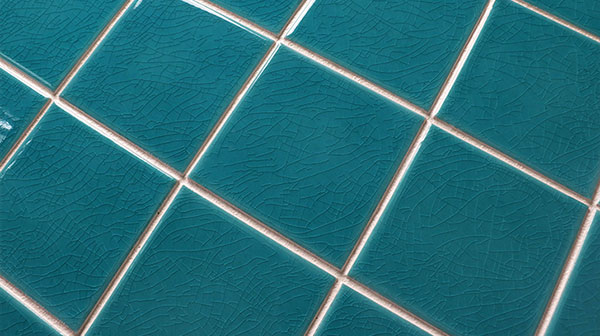 Featured Product: BCQ703 Light Green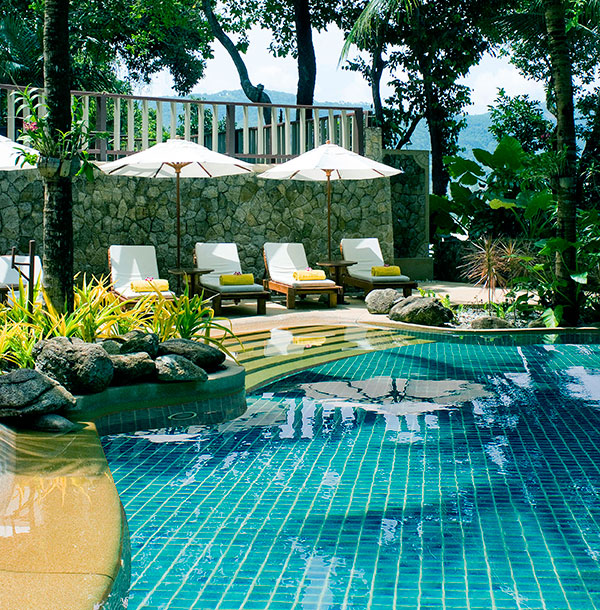 Featured Product: BCQ703 Light Green
This pool has got all the amenities, loungers with umbrellas, plus a green view. With the green pool tiles going so well with the trees, this space has been turned into such a wonderful outdoor retreat.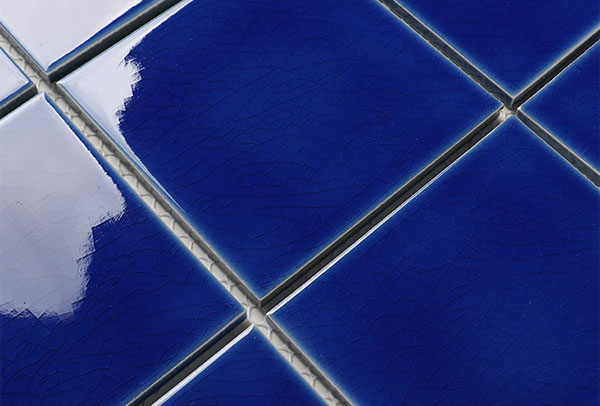 Featured Product: BCQ604 Dark Blue
Maybe most people would think blue is more of a swimming pool color. Yes, it's true that most pool tiles are blue. Now, let's take a look at this dark blue crackle glaze porcelain mosaic pool tile.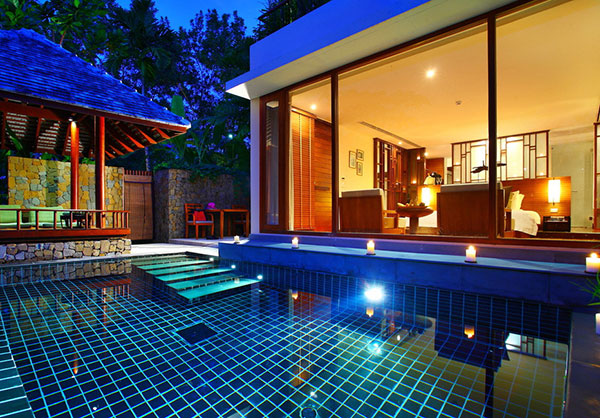 Featured Product: BCQ604 Dark Blue
Besides pool tiles, lights also play a very important role in decorating your pool, especially at night. And like the pool tile color, the color of the lights also reflect your own style and personality. Dark blue pool tiles, the light on the wall of the pool and the lights from the candles on the deck, the combination of all these elements create some kind of mysterious and serene ambiance.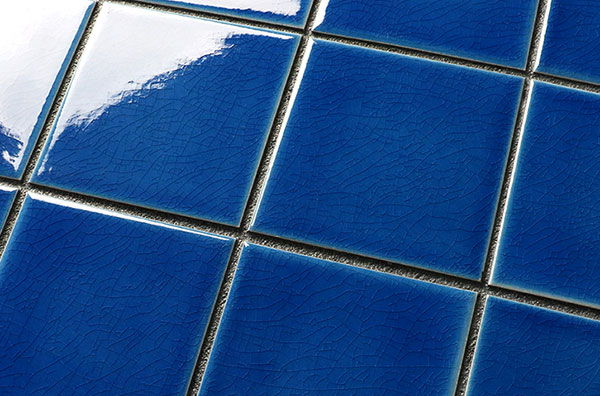 Featured Product: BCQ605 Sky Blue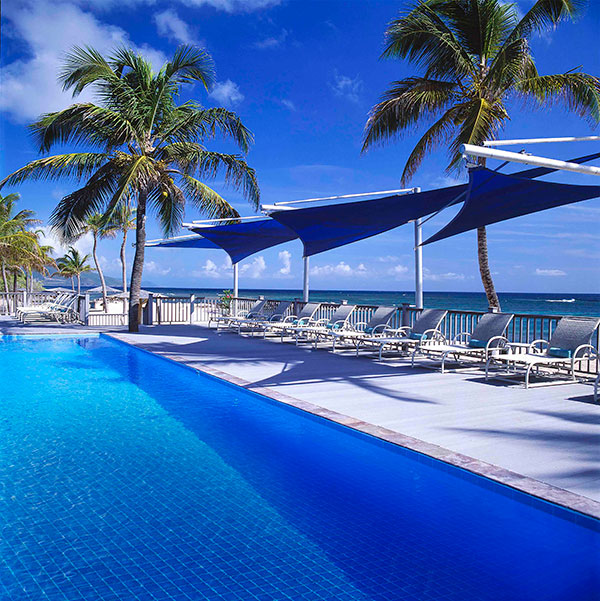 Featured Product: BCQ605 Sky Blue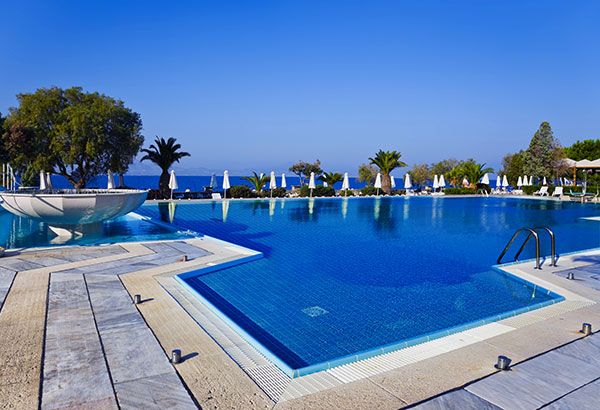 Featured Product: BCQ605 Sky Blue
The two pools above are both near the sea, which creates a great view for both. For outdoor swimming pools like this, sky blue pool tiles are just perfect for sprucing up your pool spaces! They enhance the look and feel of the ocean, the pool's waterline as well. And the pool water looks bluer than it really is.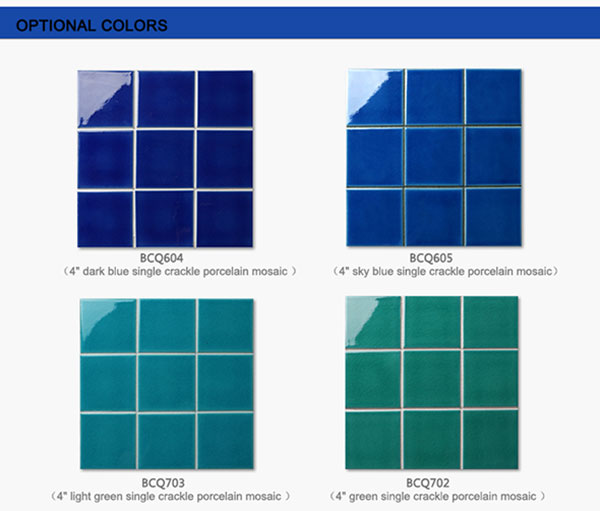 Which color do you like most?
Bluwhale Tile, as a professional pool tile supplier, pool tile manufacturer, provides a wild and comprehensive assortment of high quality swimming pool tiles, for instance, porcelain pool tile, ceramic pool tile, glass mosaic for pool, pool art collection, coping and decking, and all kinds of swimming pool tile accessories. We're also dedicated to offering friendly and knowledge service for our customers. Any questions, please feel free to contact us.