Metallic mosaic is an aesthetic surface and fashionable to space design. When refers to metallic tile, words come into your mind might be sleek, high-tech, modern, sophisticated, glamorous and graceful, etc.
Today we are introducing our new Metallic Glazed Series, composed of silver, golden colors in different shades and sizes. These metallic finish is perfect for modern kitchen and bathroom design. They are so practical and wear-resistant that can be used in both residential and commercial projects. Now read on and view our new collections here.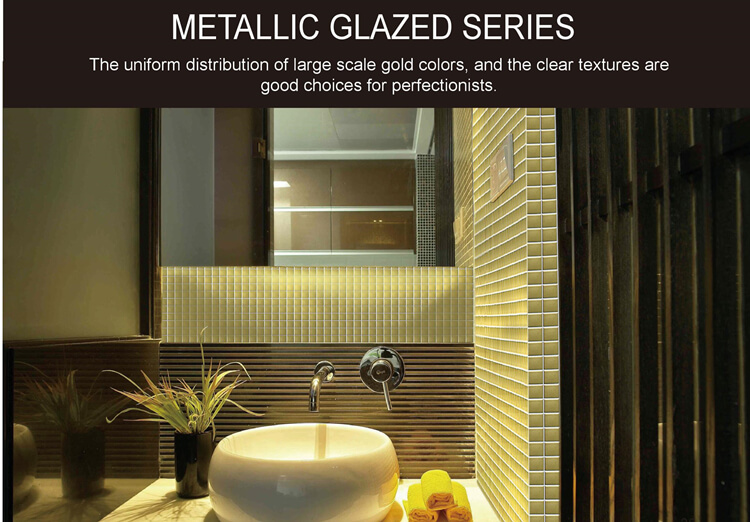 Bright Gold Tone
Golden color is a typical color in metal series, and always can be used to make a luxury style. This golden pattern features regular chip size of 48x48mm and 25x25mm, glossy and matte finish. It is bright and sparkling when installing a backsplash and wall in shower.

Featured product: 48x48mm golden metallic glazed BCK910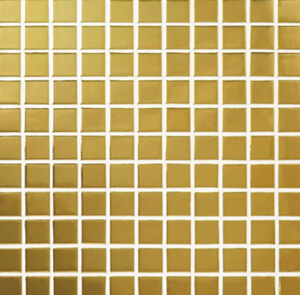 Featured product: 25x25mm golden metallic glazed BCI903
Cool Silver Tone
Another popular metal color is the silver. Silver is a lighter one than gold, and it will not be too dazzling and overbearing. This color is close to gray, it is one kind of gradient gray color, perfectly make a peaceful and elegant space. Chip size features 48x48mm and 25x25mm, glossy and matte finish for entirely different touch. Mesh mounted on tile back, providing you a very simple installation.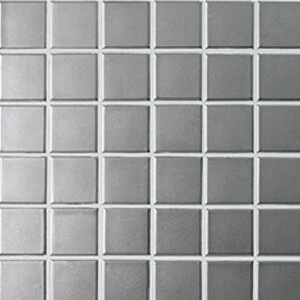 Featured product: 48x48mm silver metallic glazed BCK909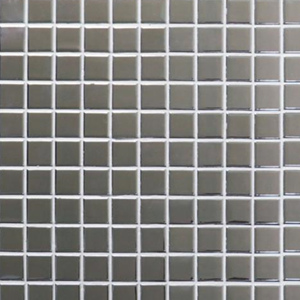 Featured product: 25x25mm silver metallic glazed BCI901
Rose Gold Tone
Rose gold color is a common-used color in many product designs, not just for the metallic tile. It is a modern color to give your home space a stylish look. Mosaic chips comes in 48x48mm and 25x25mm, its clear textures make it suitable for backsplash and wall cladding.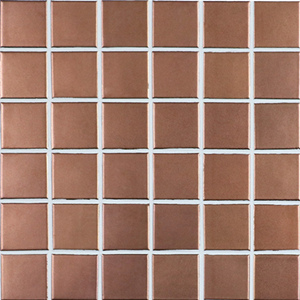 Featured product: 48x48mm rose gold metallic glazed BCK915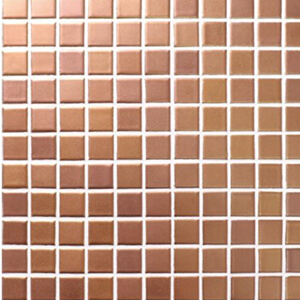 Featured product: 25x25mm silver metallic glazed BCI905
Mixed Color
Metallic tile in a mix of colors and shades is a great choice to add dimension and characters to your projects. Each mosaic provides a general size of 25x25mm, 5.2mm thickness. Ideal for bathroom and kitchen backsplash decor, adding shimmer to your designs.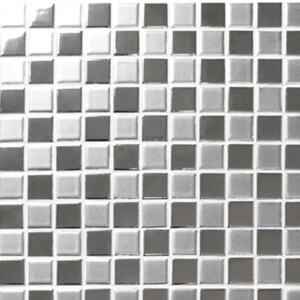 Featured product: 25x25mm blended metallic glazed BCI921
3D Metallic Pattern
This 3-dimensional pattern features a round cap in each mosaic chip, that give you good sense of touch and strong visual effect. Each tile sheet has a hig-sheen and brushed-metal finish. This 48x48mm 3D surface is recommended for wall and backsplash decoration.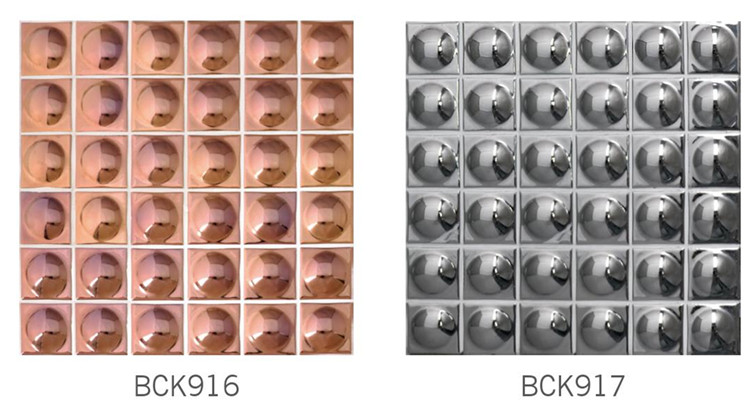 Featured product: 3D effect BCK916, BCK917
Uneven Surface
Featuring 25x25mm mosaic chips and an uneven glazed finish, these metallic tiles can create a totally different apperance to your space. We have three hot-sale colors for option, including gold, silver and blue-blended color.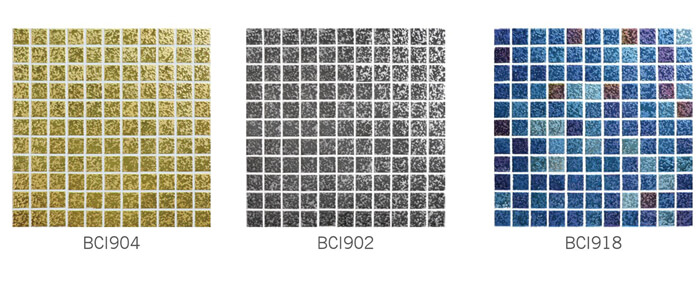 Featured product: Uneven surface BCI904, BCI902, BCI918
To spruce up your interior design, metallic mosaic tile is a good choice. Sample can be sent for ensuring quality. Bluwhale Tile as a professional mosaic tile manufacturer with rich experience of export, is commited to provide best service for all our customers.