Swimming pool art denotes a combining tile design usually on the pool bottom or serving as a background around your interior swimming space. Generally, pool wall art is less expensive, easier to install and maintain than the pool bottom art because it's not dipped in water. There are numerous art images that are durable and easily apply to your swimming pool to bring lifelike details.
Categorized by material, there are ceramic/porcelain, glass, stone, shell, stainless steel mosaic tile arts. Due to the fact that swimming pool is a moist and wet place, stone, shell and stainless steel are not the best materials to make swimming pool mosaic art. This is also the reason why most pools you have seen are applying ceramic/porcelain or glass made mosaic tile arts. They offer a way to add vitality and detail to the pool.
Generally, there are pool bottom mosaic tile art and pool wall mosaic tile art, according to the part it is going to installed on. Most people prefer adding a mosaic tile picture on the pool bottom, other parts with pool tiles or pool mosaic tiles decorated. If your pool has a large bottom, then it may need more than one mosaic tile art to cover. For wall, people often use pool border tile. Yet it is a creative way to use mosaic tile art both on wall and floor for a vivid visual effect of underwater world.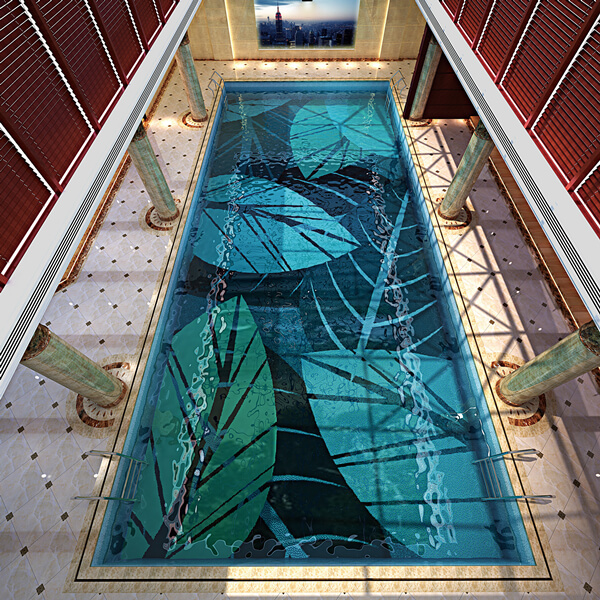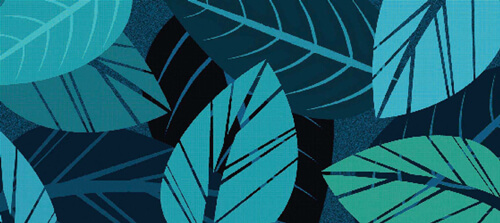 leaf pattern swimming pool mosaic art BGE020
Ceramic/porcelain Mosaic Art For Pools
1. Ceramic/porcelain mosaic pool arts have went through high-temperature firing, which is the key to get vitrified surface. Vitrified finish prevents water penetration so the mosaic tile art will not subject to crack and break easily. Also, ceramic/porcelain has strong viscidity to cement and other pool wall substrate, so the mosaic tile art is less likely to peel off and has a long service life.
2. Ceramic/porcelain mosaic tile arts for pool are covered with a quality layer of glaze, which is acid and alkali resistant and protects the tile from color fading.
3. Ceramic/porcelain mosaic tile arts have a smooth surface, which is stain resistant and easy cleaning.
1. There are actually limited chip sizes for swimming pool mosaic arts. Chip sizes must be very small if the mosaic tile art has a small specification. This is because larger chips combined together is not enough to achieve a lifelike pattern.
2. There are few color options for pool mosaic tile arts too. That means mosaic tile art patterns could be a little bit anamorphic.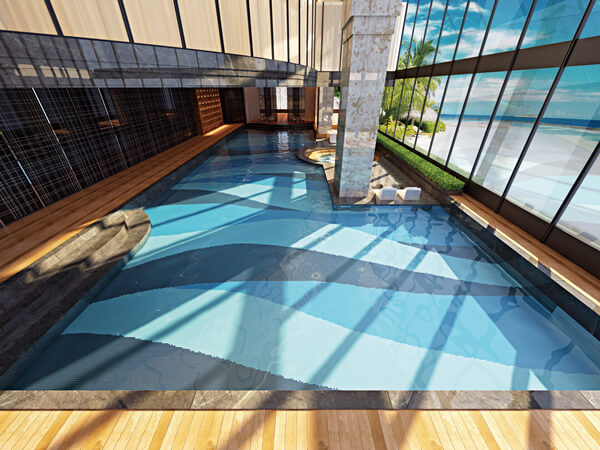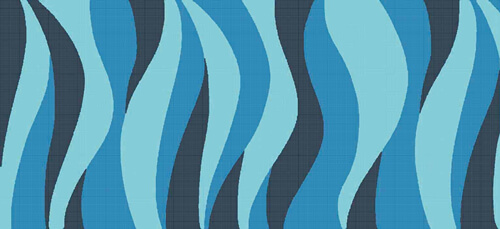 wave pattern mosaic tile art for pools BGE019
Glass Mosaic Art For Pools
1. Glass mosaic pool art comes in a great variety of colors. Nearly all shades of colors can be modulated for a mosaic tile art that has a complicate pattern.
2. Glass mosaic tile arts for pool have unlimited choices on the tile chip size, so there is no problem to create a vivid pattern.
3. The material of glass is even and smooth. That decides that it is very easy cleaning.
1. Glass is fragile. It need your carefulness when installation proceeds. Also, remember to pick out the broken glass chips, as they may cause harm to your skin and bring up any unexpected accident.
2. Glass mosaic has weaker viscidity to pool wall. If soaking in water for a long time, it will be easier to fall off compared to the ceramic.
Although ceramic and glass pool arts can adopt plentiful themes and characters, three main themes gain the most popularity.
Pool Art Themes
1. Underwater World: coral reef with beautiful color; a great variety of marine animals, including turtle, dolphin, shell, jellyfish, whale, starfish, etc. This theme often presents a complicated composition, which require some skills and patience to install.
2. Seaside Scenery: tropical flowers and trees, coconut tree and palm are the popular choices; slender women enjoy sunbath on he cane chair. This theme presents the most touching image that make you feel you're going on holiday in tropical country.
3. People Playing Water Sports: swimming, sailing, rowing, canoeing, etc. This theme is often applied in designated occasion, such as training centre and pools that water sport lovers own. This swimming pool art requires elaborate craftsmanship to ensure its lifelike appearance.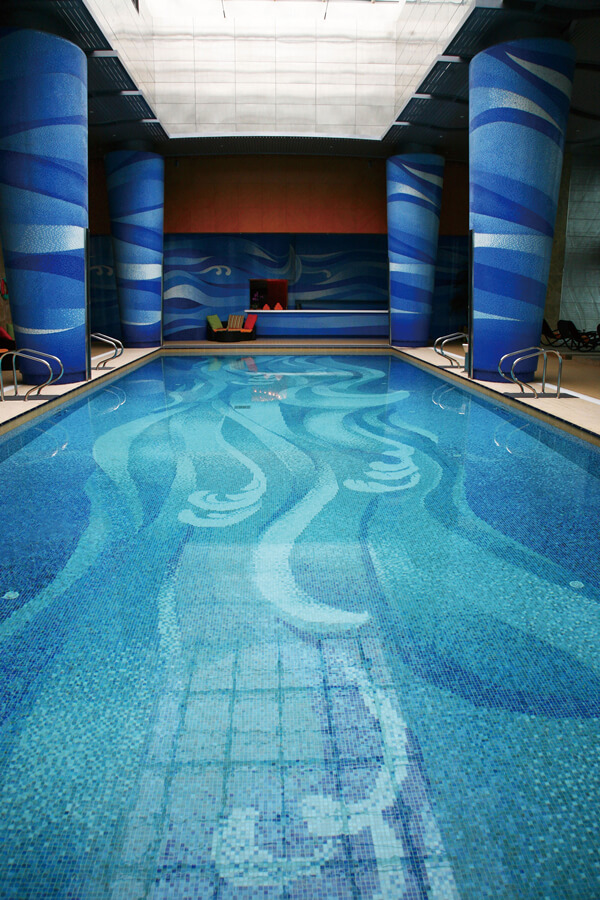 sea wave pool mosaic tile art BGE037
All in all, ceramic/porcelain and glass mosaic pool arts have its own advantages and disadvantages. You can choose one of them based on your needs. However, there is a trend that ceramic/porcelain has been gaining more and more popularity because of its durable quality. Also, the special luster of porcelain glazed surface can beautify your swimming pool and enhance its appearance to another level. BluwhaleTile is such a art mosaic tile company, who is dedicated to produce all kinds of splendid, safe and eco friendly swimming pool mosaic arts. Get the best quote TODAY and customized service available.