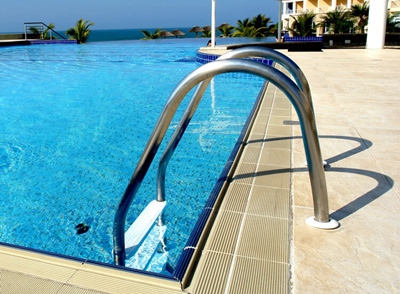 Choosing the right pool tile is a vital part during pool renovation, which will affact the whole appearance of your swimming pool. Before you make a decision of buying a specific type of mosaic tiles, you should make sure what result you want to get from them. There are many factors you need to think about before you start purchasing the pool mosaic tiles.
Ceramic mosaic tiles and glass mosaic tiles are the two most common type of pool tiles. They come in variety of colors, shapes, sizes and textures to choose from, they are shimmer and sparkle, bringing your pool to life.
Ceramic mosaics are the more traditional pool tiles, most tilers love it for they are very dense and low water-absorption rate, can stand the test of time. Moreover, ceramic mosaic will cost you less than glass mosaic. However, glass mosaic can provide wider optional colors and is getting popular in these years.

Factors to Consider When Choosing Pool Tile:
1. Size
The general size of pool tiles is from 20mm to 58mm. Ceramic mosaic pool tile features popular size 25x25mm, 48x48mm, 95x95mm square chips, and glass mosaic pool tile comes in common size of 15x15mm, 20x20mm and 48x48mm squares. People prefer to use a mosaic than larger tile, because smaller mosaic is easier to make the pool look good and achieve a delicate surface.
2. Color
Blue is the most well-received color for swimming pool, followed by the green. Blue tiles are available in light to dark shades in both ceramic and glass mosaic. People also select bold colors to make their pool stylish and unique, we also sold black, white, brown and yellow. Some hotels take red mosaic tiles for pool project, that's so striking and impressive for customers, making a statement to the hotel! Maybe you can get inspiration from this post "The Wackiest Red Hotel Swimming Pool In The World", the red pool from the Library, Koh Samui, Thailand.
3. Shape
Pool tiles are traditionally squares and rectangle, while Bluwhale Tile has created our geometric pool tiles to make a brand new look to any pools. This collection is composed of triangle chips in both porcelain and glass materials, pure color or geometric motif, you will find something neven seen before and get endless inspiration for your pool installation.
No matter how the shape changes, swimming pool tiles need to be manufactured under high temperture and highly waterproof, that's different from regular tiles. Mosaic tiles supplied in a sheet format(mesh backing)would be a great choice, which is easy to install and repair. Grout color will make a great effect on tiling work and pool look, so choosing the right grout color also needs great concern.
4. Trendy Today
The use of blended mosaic is increasing, inclduing a tile sheet contains at least 3 shades, such as our Classic Blue Shades BCK001 Ceramic Mosaic, Luxury Blue Gold Line BGZ012 Glass Mosaic. Iridescent surface in mixed color is also good-selling, the surface can reflect the water and light perfectly. You can find a series of good examples in our Rainbow series.
Mosaic mural is another good item to show your personality in a swimming pool. Most of our customers including designers and builders choose to customize an unique motif for pool project. People love mosaic art for its wide options, colors and shapes can be created, you can get what you like.
5. A Pool from Magazine
Magazine is one of the best way to find what the pool style you want, especially good for those who have no ideas for pool design. Look at some pool magazines and choose one pool style you prefer, and you will know what pool tile you need.
6. Waterline tile
After you decide your main pool tile, do not ignore the waterlines, which will influence the entire pool finish a lot. These tiles are decorative and wide in patterns. One of the most popular choice for pool waterline tiles is to pick a tile color that contract to the water color.
You will get losts of benefits from tiling a pool. Beautiful look, high durability, easy maintenance. What's more, it is an good investment that has enhanced your house resale values. Bluwhale Tile as an experienced pool tiles manufacturer, here supplies wide range of ceramic mosaics, glass mosaics, pool tile accessories, border tiles and customized mosaic service. If you are in market for it, feel free to contact us for more details.