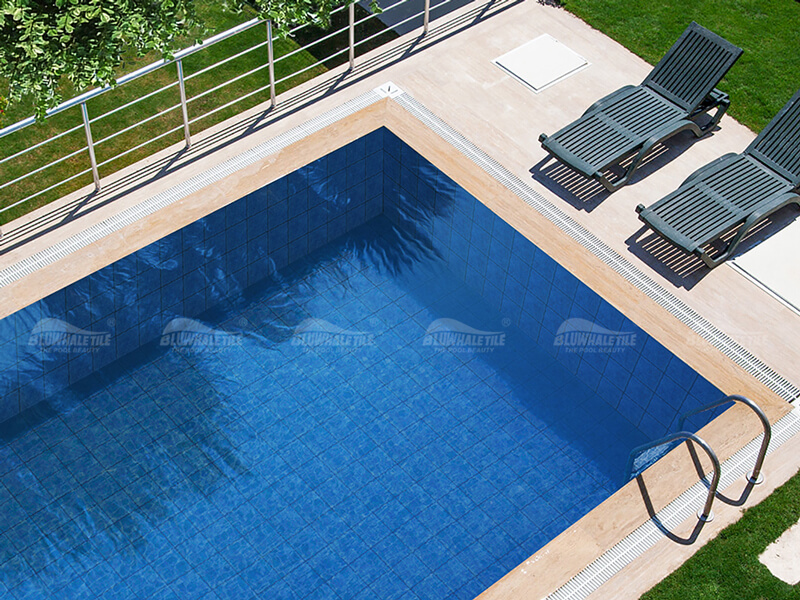 When starting pool designs or redecorating your swimming pool project, there are so many pool tile options for your reference. As we all know that, tiled swimming pools are one of the great ideas to highlight a trendy and feature tile - you love how it looks in your interior space, so why not bring it outdoor private backyard areas? Whether you prefer to the appearance of glass mosaic tiles, chic interior decorative tiles, newly design pool tiles, or other creative shape tiles, you have a wide range of choices when it comes to finding the ideal swimming pool tiles for your personal taste.
Pool tile is a versatile and perfect material that can be used in numerous ways throughout your pool projects. Whether using tile for practical purpose in pool interior walls or pool stairs, or for the decorative reasons, like on a landscape waterfall or poolside shower, Bluwhale Tile is a wonderful fit for your next project. Take a look at just some of the many ways you can use our beautiful one-of-a-kind tile in your pool.
1.Glass Mosaic Mix New Materials
The swimming pool area can be the perfect place to add timeless and iridescent glass mosaic tiles, because of their beautiful sun-reflecting shine and nice ocean-inspired tones. It's highly recommended to utilize our new strip crystal glass tile to decor your pool waterfall areas! Aluminum, marble, and crystal glass tile combine to form a union of style and multifunction that will look appealing and attractive in your personal pool waterfall. Plus, the natural water-resistant of crystal glass makes it a suitable choice for outdoor use. Who wouldn't love to relax after a long workday in this charming backyard space?
Get more details of this marble mix metal crystal glass tile here: Strip Crystal Glass ZHM2903 >>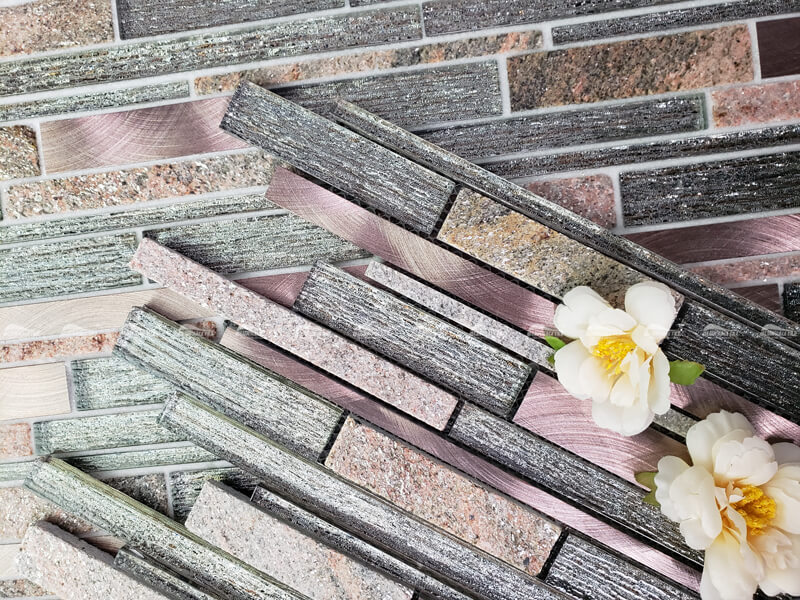 2.Interior Decorative Tile
Let's pay more attention to your poolside shower space right now! Many pool owners might overlook their poolside shower wall decor. This space is an important area to show your unique taste and it's the necessary space for the pool design. Our newly interior decorative tile series is perfect for those who love a vintage-style, chic pattern and kiln surface style. Perfect for bath interior bathroom walls and poolside showers, they have a glamour look and smooth touching glazes that add real character to your whole pool design.
Who doesn't love this beautiful kiln finish? For more details here: New Series kiln Finish ZOD9901 >>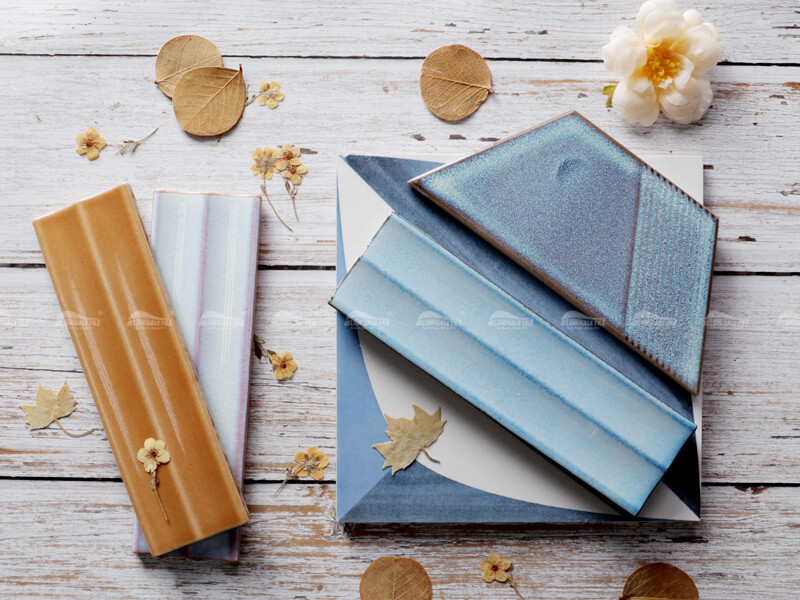 3.Ink-Jet Pattern Porcelain Mosaic Tile
Available in small and large formats, square tiles always take the prize in the trendy and chic category. Classic square tile never out of style in the pool tile design and have recently become welcomed in the pool design world. This minimalist and simple shape with various glaze do wonders as a pool wall tile. Different glazed palette suit your different pool project style.
We recommend Ink-Jet Dark Blue 2'' Porcelain Pool Tile. This new arrival pool tile features the much sought after dark blue pool tile hue with the bonus of a unique ink-jet pattern on each individual 2'' chip. This product also looks amazing if you've ever taken tiling your whole pool in porcelain tile into consideration.
For more on how to use our ink-jet pool tile, visit our blog: 2 Inch Ink-Jet Pattern Mosaic With Chic Palettes >>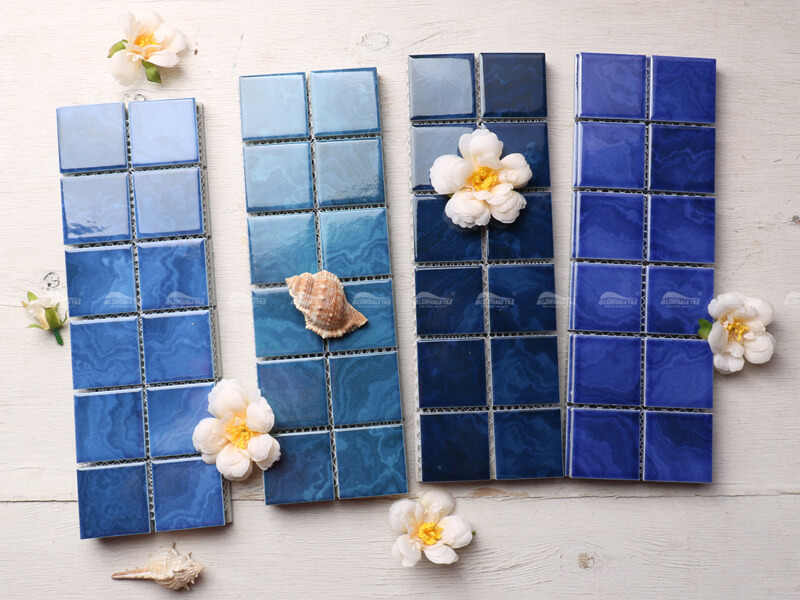 4.150 Large Size Blue Tone Pool Tile
Although 150x150mm large pool tile is technically square tile, we wanted to give it its own category because we just can't get enough of this pool tile. High-end large size pool tile has excellent optional clarity, glaze, and surface. The aesthetic look and feel of a finished installation that has a high-class large size are significantly different and more vivid than the appearance of the common size pool tile designs. In all-tiled pools and spas, the overall effect of 150 large size porcelain pool tile is mesmerizing. By the way, it's also suitable for waterline border areas and the blossom pattern of tiles will combine well with pool water, making your pool look more vivid.
For more large pool tile ideas, click here: Blossom 6 Inch BCW601E7 >>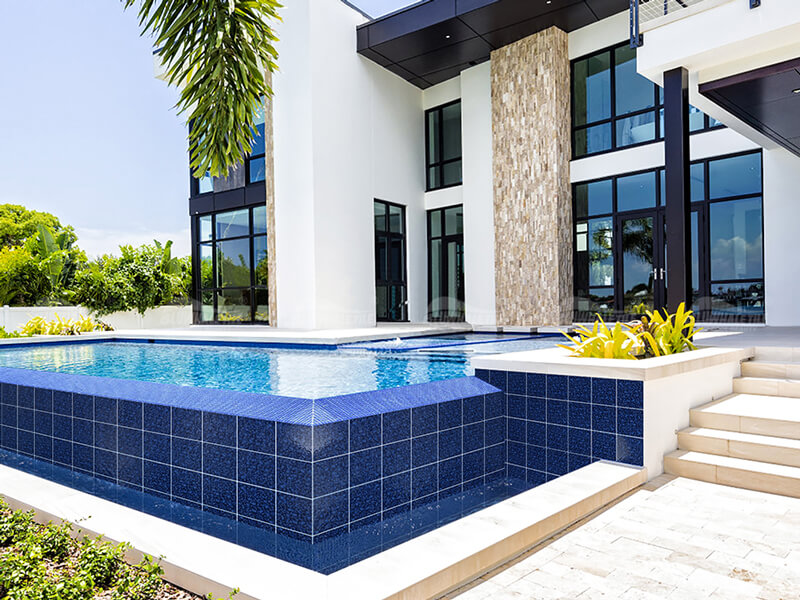 5.Refreshing Ice-crackle Subway Tile
When it comes to subway tile, many people might think of kitchen backsplashes, bar wall decors, bathrooms, and other interior spaces. However, our new refreshing ice-crackle subway tile not only perfect for any interior space but also ideal for swimming pool projects. Subway tile is probably the most popular of all due to its versatility and with opts like herringbone, stacked, vertical, the ideas are limitless when we take about getting inspirations with subway tile.
For more refreshing pool tile projects, visit our blog: Ice-Crackle Green Tile Makes Tropical Pool >>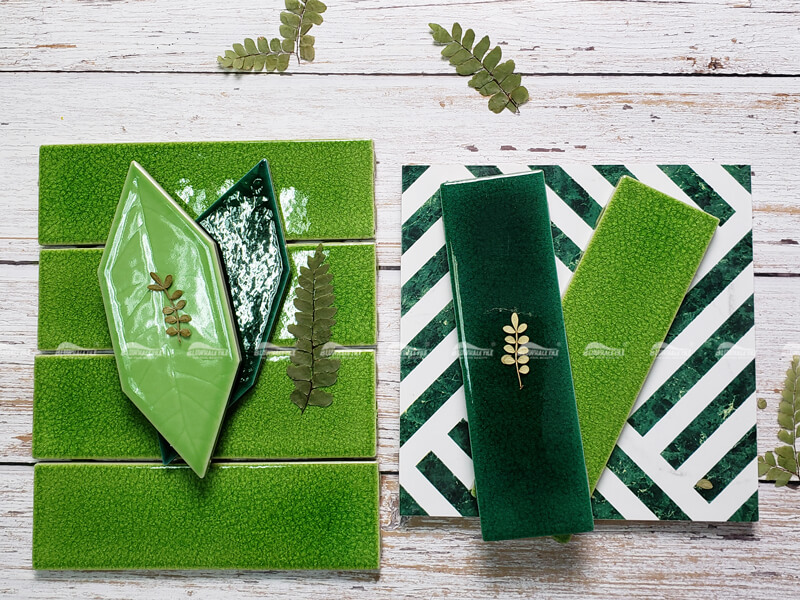 6.Moroccan Fish Scale
If we had to choose one pool tile shape for the chic pool design project, it would be our new arrival ice-crackle Moroccan Fish Scale Tiles. This creative shape automatically changes any pool style into a tropical oasis, especially for green palettes. We're used to receiving many clients flock towards these fish scale tiles for their interior space. But this pool which uses green fish scales leaves a deep impression in our minds. This pool design idea is one of our favorites - It shows that you can bring refreshing greens and fan shape into a pool, still give off natural ambient.
Know more about how to use fan-shaped pool tile with our blog: Turquoise Green Fish Scale Tile For Featured Pool Design >>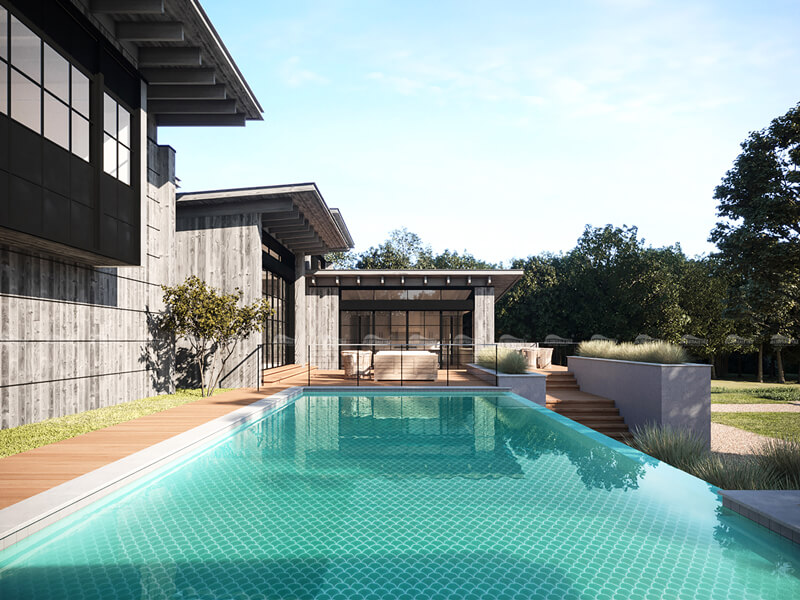 7.Pool Mural Design
One of the smart ways to help create a charming and tasteful pool project is using the customized pool mural. There are various patterns that can be chosen, such as sea world animals, beautiful flowers, personal design patterns. Go bold to use an impressive swimming pool underwater mural to show your taste right now!

For more pool mural projects, visit our blog: Flower Pattern Mosaic Mural In Hotel Lap Pool >>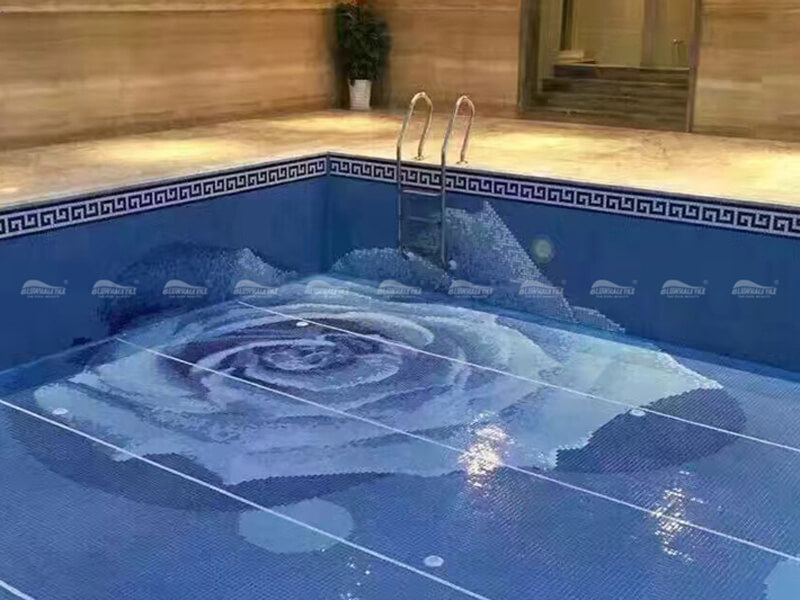 Get Inspired?
Bluwhale Tile always love to hear what inspires your future pool project! Why not tell us more about your creative ideas? What's more, order tile samples to see, feel, and touch in person. You might fall in love with our timeless and chic pool tiles!