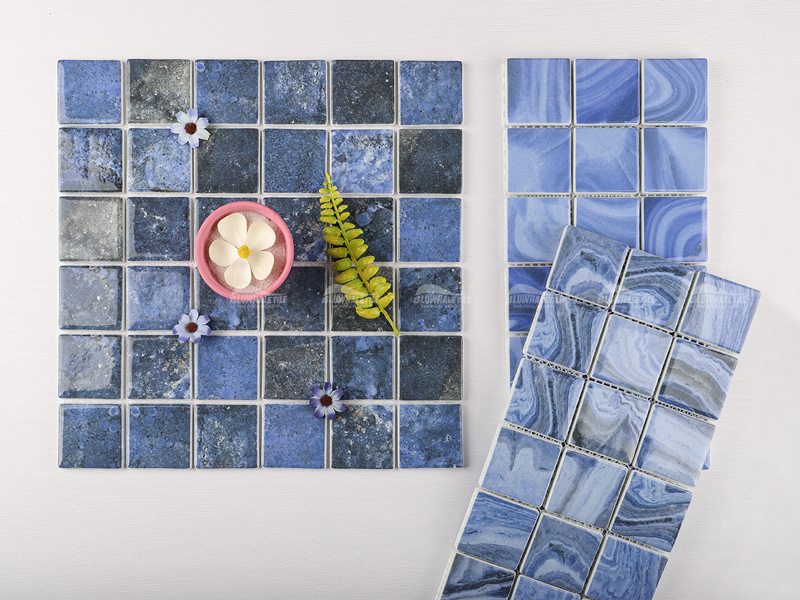 Did you know that all the earth people throw away enough glass bottles every week to fill a standard swimming pool? What a monumental waste of recyclable materials. As crystal glass is one of our most appealing and eco-friendly materials, knowing more about it will do our natural environment a large favor. Utilizing recycled glass has become a significant part of going green, such that recycled glass mosaic tiles are not only a hot trend, but also a fresh customer niche in rebuilding and pool project decor. With more people seeking environmentally friendly solutions for their remodel jobs, there is a continuously growing demand for crystal recycled glass in pool remodeling projects. Eco recycled glass pool tiles are on the rise!
Keep reading to learn how we use these recycled materials to decor beautiful pools or interior spaces right now:
2x2 Recycled Glass Tile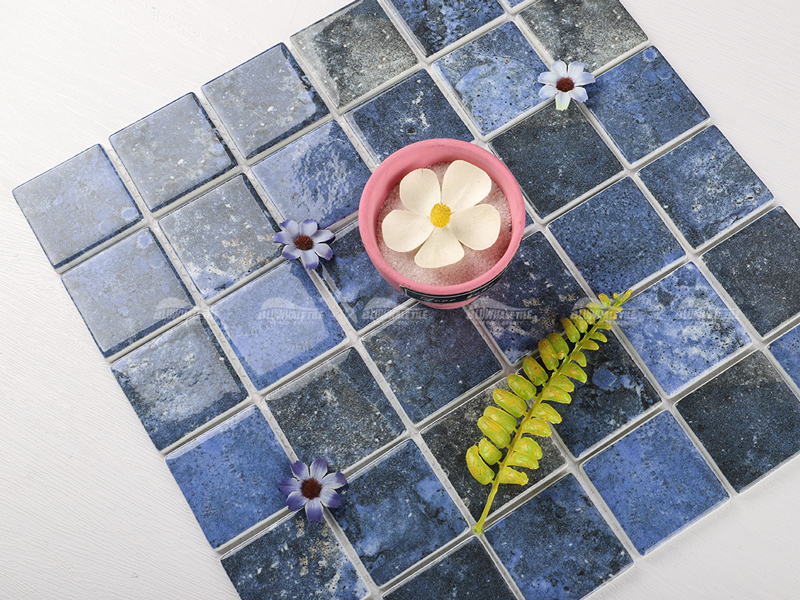 Featured Product: 2x2 Recycled Glass GKOM9902
Recycled glass pool mosaic tile blue tone 2x2 for the modern swimming pool, spa, waterfall featured wall, as well as interior space applications such as shower walls, kitchen backsplash, and living room accent wall. This mosaic tile has a chic and vintage blossom pattern and back-meshed design, creating a 300mm by 300mm sheet for an easy installation. Each square meter covers 11 sheets. The pool tiles are 6.0mm thick, each individual piece measures 48mm by 48mm, and they are made of one hundred percent recycled glass. Its crystal glossy surface and abundant colors play beautifully in wet applications, including submerged ones where sunlight or LED light is rich.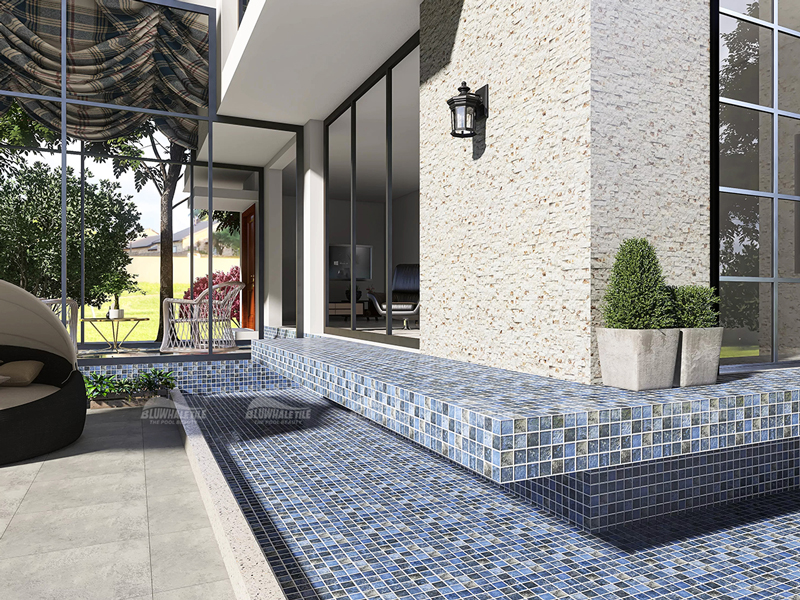 One of the popular and chic trends in design is the use of recycled glass tiles. Recycled glass from beer bottles, jars, or broken windows is now put to better use to beautify swimming pools. Instead of going to the landfill, these are processed through melting and are stamped into a specially-made mold from our chic recycled glass tile, quite distinct from a porcelain mosaic tile. Recycled glass is exquisite due to how it highlights the colors of the pool.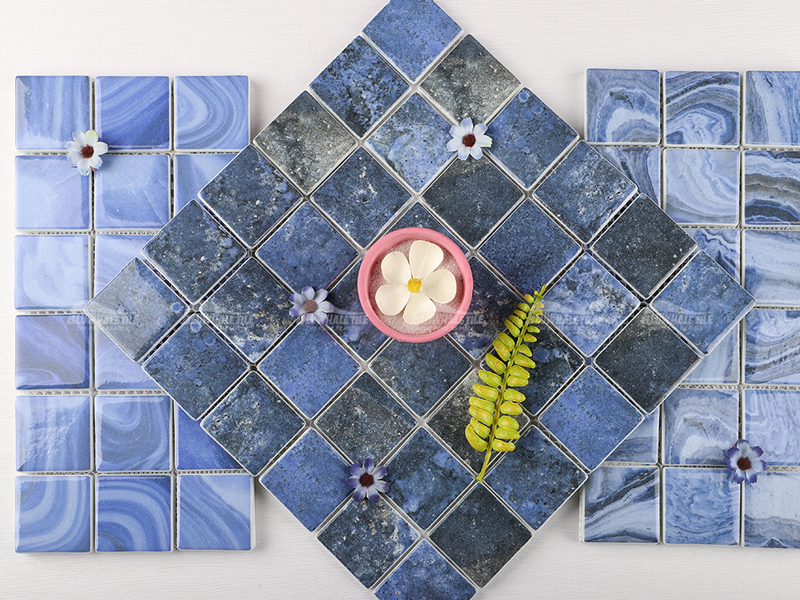 Recycled tile can be used on floors, walls, or a feature wall in combination with other materials. Some can also be installed outdoors for swimming pools or spas, just like our new arrival 2x2 blossom pattern recycled glass tile, always look for the area of use while deciding which materials are suited for your project.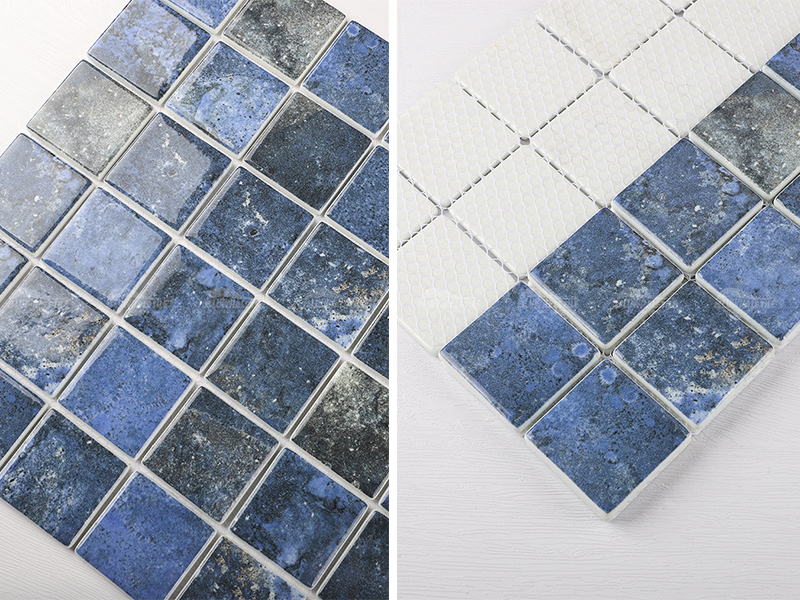 As we knew, glass tiles are known to be non-absorbent, meaning they do not hold water or splotch and are resistant to chemicals, These advantages make them low-maintenance and easy to clean, decreasing the use of severe cleaning materials and improving another eco-friendly benefit. Unlike porcelain materials, recycled glass tile can reflect light, giving any pool project a glimmer of elegance. Recycled glass also can be used as a highlight for kitchen backsplash, a featured decor for the shower or front door stair flooring, and wall decor. Just like the below project show: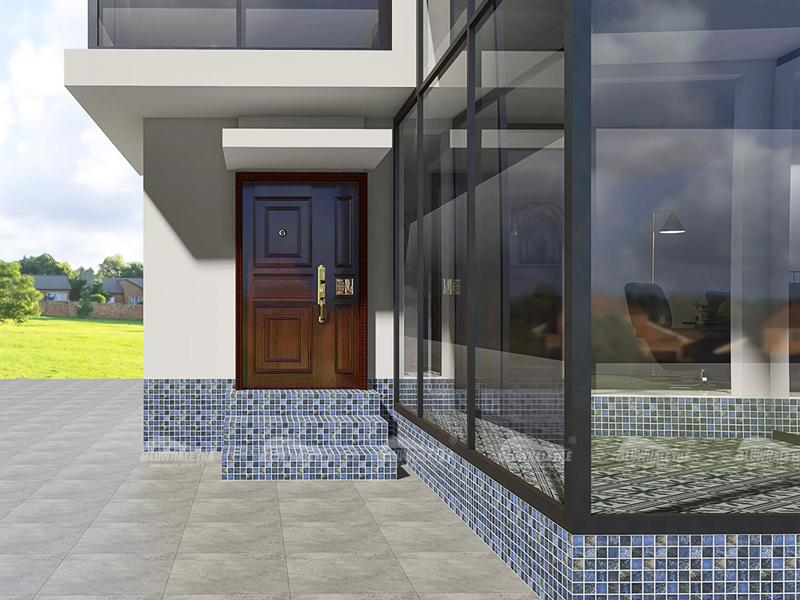 1x2 Brick Bone Recycled Glass Tile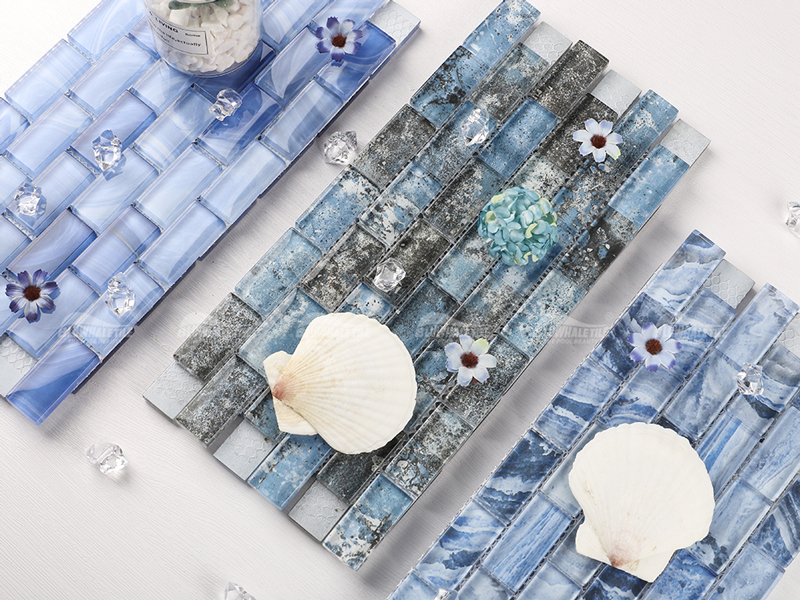 Featured Product: 1x2 Brickbond Recycled Glass GZOM9902
Bring complexity and modern style to your swimming pool project with our 1x2 brick bone blossom pattern of recycled glass crystal glass tile. The tremendous brilliance of these three styles of glass tile is suitable for your poolside decor and they will be the best pool waterline or as a border for stair steps.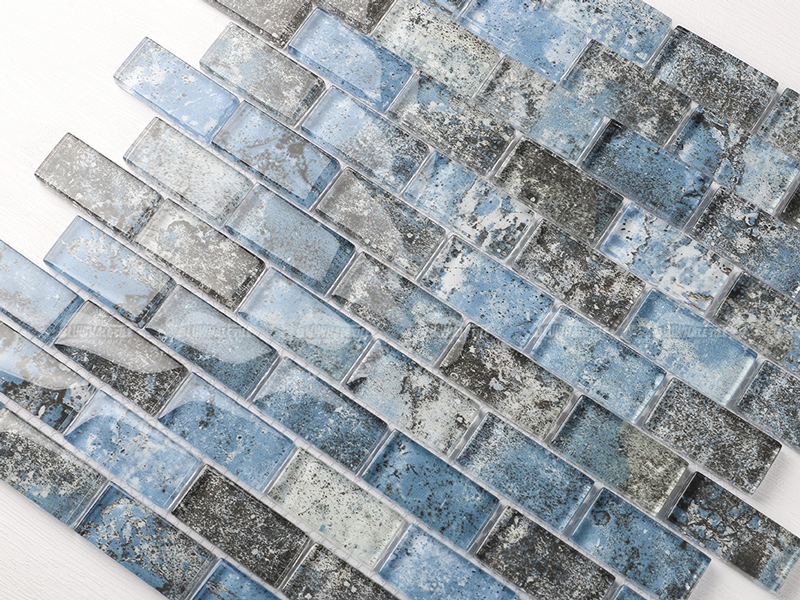 Glass pool tile crystal blue 1x2 has a blossom pattern and yet glossy finish, shimmering the sunlight through the beautiful crystal glass colors. Perfect for wet and dry applications such as backyard or interior swimming pools, waterline decors, stair floors, and showers. This brick bond design recycled glass pool mosaic tiles, with back mesh design, are easy for installation.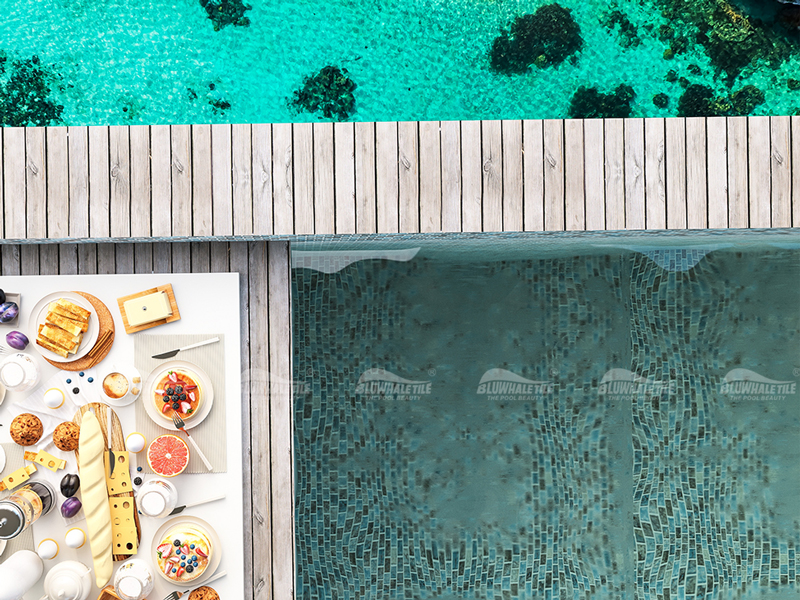 Create a little sparkle to your pools courtesy of Bluwhale Tile! We produce only the most contemporary and inventive pool tiles, so that no matter the pool project, we will also help your interior space look modern, clean, and never out of style. Our premium quality brick bone recycled glass tiles are 6mm which makes them more durable than other 4mm or 2mm glass mosaics widely available on the market. These pool tiles come in a glamorous blossom pattern and vintage colors with a glossy surface, which means there is a tile that fits in perfectly with every style pool.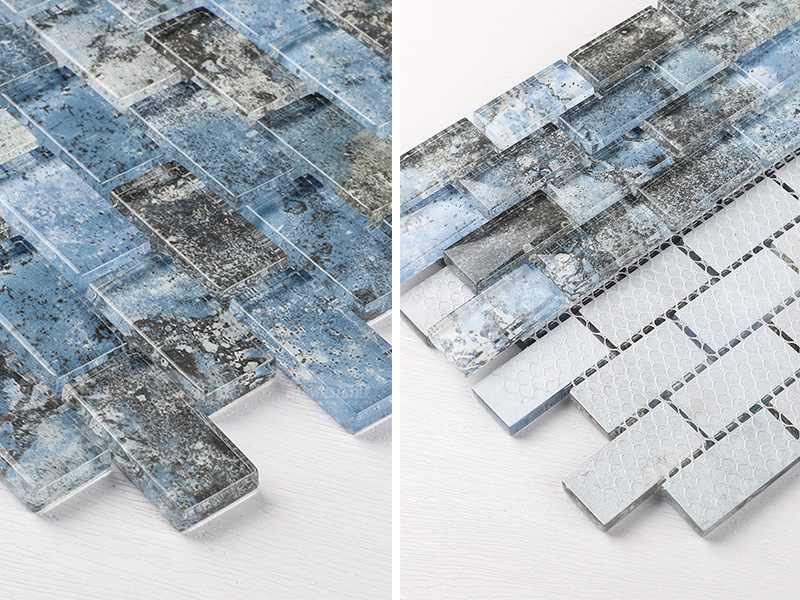 The brick bone shapes give the recycled tiles a clean and orderly feel, so you won't need to change them for a long time. The tile colors are durable so that they won't fade, age or have important color variations. They're mesh-mounted which makes them easy to install with thin-set and grout. These glass tiles are specially designed for the swimming pool projects, therefore, these back mesh and glue that withstand submersion in pool water for a long time.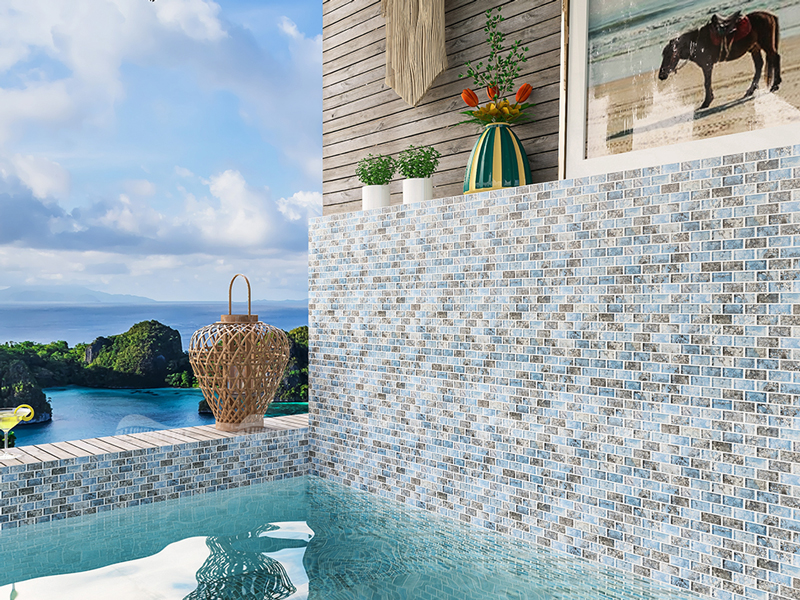 Recycled glass is a beautiful art. Different from traditional crystal glass, recycled glass creates unique visual aesthetic values for each chip. The eco-friendly recycled glass material makes these mosaics look stunning in natural sunlight and artificial LED light, giving your swimming pool a beautiful appearance no matter the time of day. Not only perfect for pool walls or pool waterlines, but they also ideal for pool waterfall decor!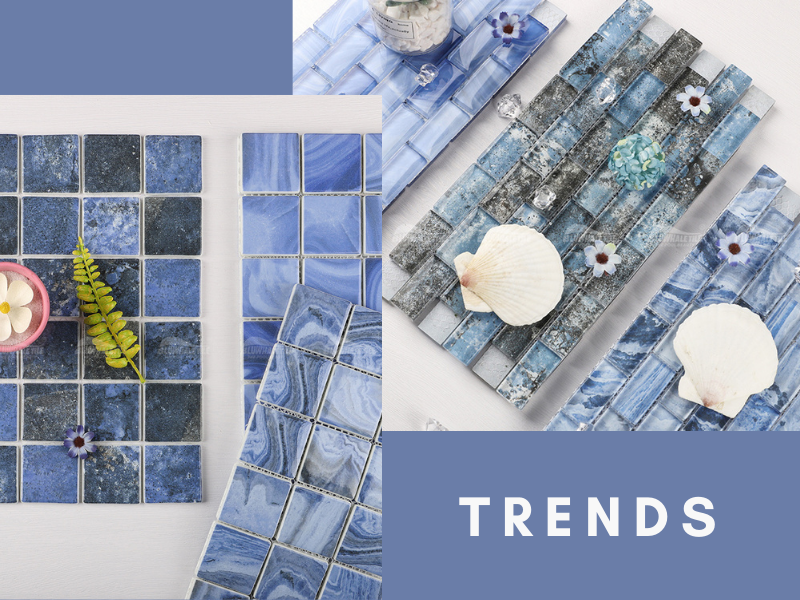 Get Inspired?
Order pool tile samples to see, touch, and fall in love with our recycled glass tiles in person. We would also love to hear what inspires your future project! Contact us and tell us more about your creative design ideas and get the trendy pool design new right now!