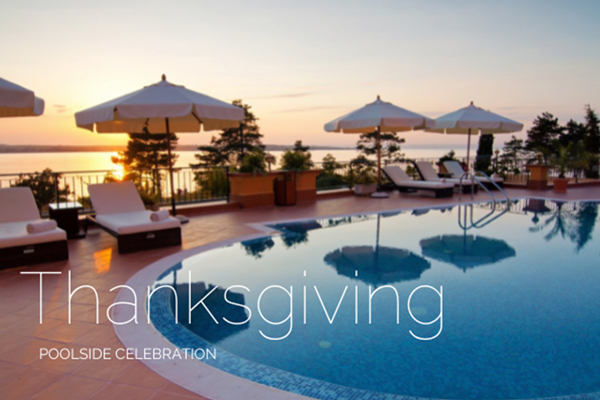 Have you ever thought of beginning a swimming poolside on Thanksgiving Day? Maybe all these years, your family members and friends have gathered around a formal indoor dining table. However, do you know that you can celebrate these holidays near your pool? That's a great idea and you can have a nice Thanksgiving Day poolside.
Yes! Weather permitting, your family and friends can make amazing memories poolside all while enjoying cozy fall festivities and treats. Here are 5 ideas to help you prepare a significant family tradition that everyone will treasure:
1 Redecorate Poolside Space
Since autumn is in full swing, therefore this time is an ideal time to redecorate your poolside space. Decorate for the autumn season or Thanksgiving Day. For inspiration start with the Earth Nature's color tone: brown, maple, deep reds, and bright yellows.
If you have a specific plan for Thanksgiving Day, you can add some autumn tone pool tiles to your pool interior walls or pool waterline at the end of the summer. Moreover, bring some pumpkins, mums, and baskets of apples around the poolside area, or maybe even a scarecrow or two. Lanterns and stunning string lights can set a cozy vibe for the warm festival night.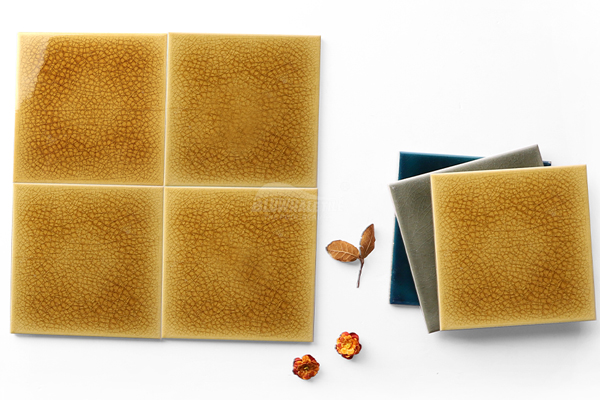 Featured Product: 6x6 Large Square Crackle WBB2601
If your swimming pool is still not closed, the multi-color pool lights also bring a comfortable mood to your poolside area. You can choose the pool lights which have solid colors and abundant preprogrammed light shows to add a festive flair to Thanksgiving night. Along those same lines, with a high-quality pool heater, your family and friends can also enjoy swimming during Thanksgiving and you can enjoy your swimming pool through the autumn.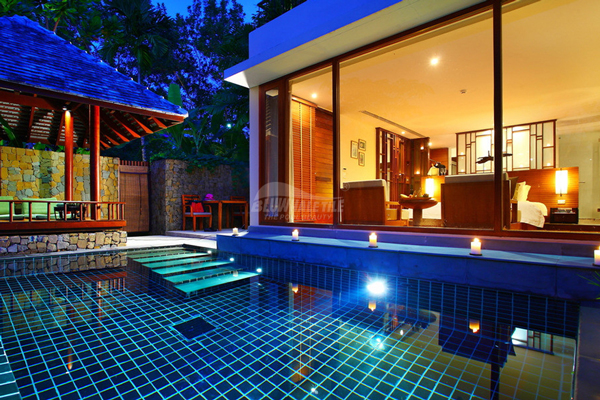 Featured Product: Frozen Blue Crackle BCQ604
2 Cozy Poolside Up
First of the list: hosting a Thanksgiving dinner outside can get a bit chilly for your liking. There is also a possibility of rain. Under the circumstances, plan for inclement weather beforehand and create a solid backup plan to move your party indoor spaces.
Even though the weather cooperates, the outdoor is still colder than indoors. Make sure that your friends come dressed for the weather and keep some warm blankets. You can also plug in some comfy warming machine to successfully entertain your guests for Thanksgiving by poolside. With a covered patio, it gets easy to make your outside living space an easeful dinner spot by your poolside. Add some loungers, cushion sofas, pillows, and get the outside fire pit going all night.
For more details of poolside decoration, visit our project "Swimming Pool Project: Ice-Crackle Green Tile Makes Tropical Pool"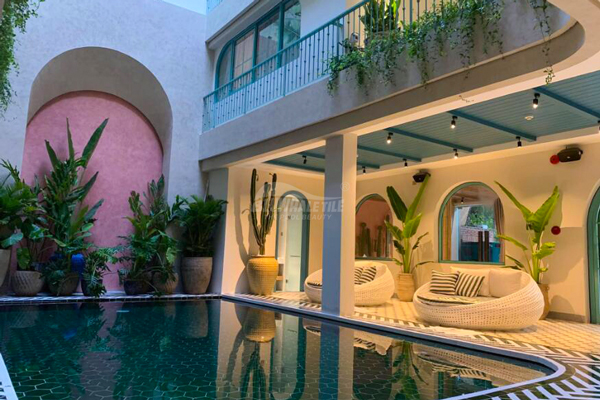 3 Preparing Some Cocktails
What's a Thanksgiving party without special cocktails? We love to add a twist on classic apple cider with apple cider mojitos or for apple pie fans, these apple pie bourbon shots. Just don't forget the cinnamon sticks. Serving the guests who love the pumpkin spice, you can try some pumpkin-flavored wine. For a cozier choice, provide hot buttered rum to warm things up. What's more, don't forget lots of children's drinks like some hot cocoa and delicious apple cider.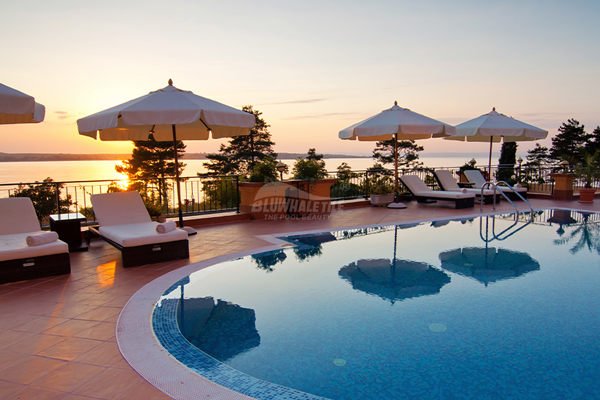 Featured Product: Hot Melt Glass GEOM9002
4 Cooking Now!
While you cook the delicious food inside and bring it out for dinner, the first few foods will be alright, but keeping the other courses warm can get tricky. Particularly, when you lay out all the food on the outdoor poolside dining table, they get cold within seconds. Therefore, make arrangements to keep the dishes warm enough throughout the night.
For more details of the outdoor poolside project, browse our project "Swimming Pool Project: The Trendy Finishes For A Modern Pool Design Project"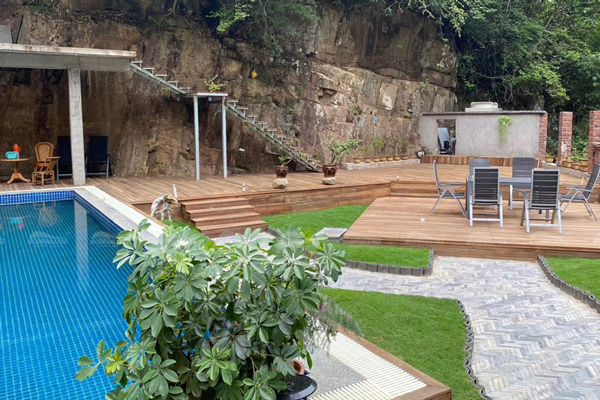 Tips 1: Grill Up Delicious Thanksgiving Fare
Don't think of grilling as a summer season activity, limited only to burgers or hot dogs. Use it for Thanksgiving poolside such as stuffing, mashed tasty potatoes, pies, and snacks. You can even cool the whole turkey on your grill. Tasty or deliciously grilled Thanksgiving turkey also has a distinct flavor to it.
Tips 2: Try New Things
Your poolside Thanksgiving is an excellent opportunity to show your culinary skills. If there is a fun recipe you have had your eye on, now you have the company to appreciate your cooking. Try new things that might not be associated with this Festive. For instance, still, keel the jello salad and sweet potatoes, but try to mix it up with a bowl of soup in the first dish or serve delicious pudding as the dessert.
Tips 3: A Little Fun
Enjoy delicious finger food by your poolside in the cozy and fresh air. Pre-dinner snacks, cupcakes, pies, candy, and square chocolate can be intriguing fun. Perhaps, hand the skewers over your friends and make them have fun toasting marshmallows on the poolside fire. That's a great try!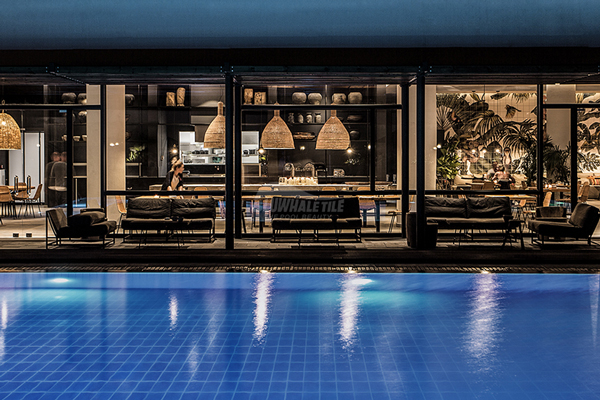 Featured Product: Frozen Navy Heavy Crackle BCQ606
5 Remember Thanksgiving Crafts
Last but not the least, though you're doing things your own way, you can also make your family and friends involved. After the delicious dinner, you can gather them around and begin making Thanksgiving crafts. Get to work with a glue gun and scissors, you can make brightly colorful centerpieces or photo frames. Just need simple things, such as dried branches, pine cones, and paters. After the Thanksgiving party, you can give these crafts to the guests.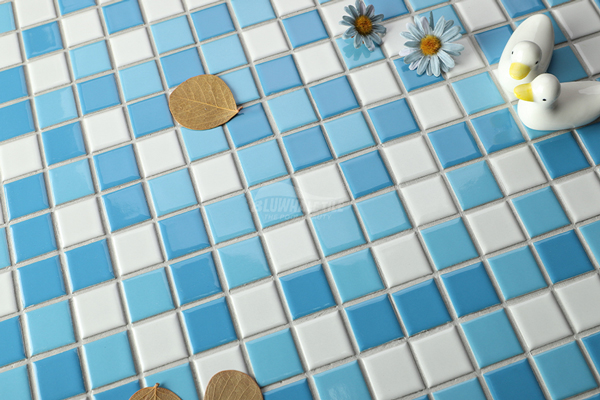 Featured Product: Classic Blend Blue IGA3003
Get Inspired?
If Thanksgiving Day by the poolside is one thing no one in your friend circle has done before, then grab this chance and be the first one to make it click using the above 5 tips. Not only do the festival dinner, activities, and decoration stand out but it will leave a deep impression on others for years to come. By the way, if you're interested in remodeling the pool interior walls with Bluwhale Tile, feel free to order tile samples to see and touch right now!