Your swimming pool has been given you a great pleasure to stay for each scorching summer, but it may get tired over the last few years. The pool is brownish, the tile is cracked and the facility is not going smoothly. It is time to think about a renovation before everything gets worse. Here are some tips you should bear in mind.
There are many ways for you to gather pool remodeling ideas – magazine, internet, contractor, etc. Collect beautiful and distinctive swimming pool designs that you would like yours to be. Pay close attention on the tiling, water features and landscaping.

It is better you can have guidance from professionals. Pick up some renowned contractors around the local area and compare them carefully on representative projects, number of specialist, licensing information, etc in order to find out one that most meets your requirement. Also, it is suggested choosing pool remodeling company who has advanced technique like 3D software to help show the final look of the renovated pool. It is great to make sure everything go right before groundbreaking.

Is it a good time to change the tile inside the pool and the wraparound deck? Many old pools just take rough cement flooring as stone, wood or ceramic deck, is it possible to add another layer of different materials on the existing floor? If permitted, what material is the best according to your case? And what about those who want to enlarge the deck area? It largely depends on the purpose you will use the enlarged part for. All changes touch upon many technical problems. You would better ask professional advice from contractor or building company first.

How does the waterline tile look? Is it broken or missing? Pool border tile plays an important role in distinguishing your pool from the others though it takes a small part in all the decoration elements. Today's waterline pool tile selections are numerous and you are free to choose any one of them. If you want shimmering effect, reflective glass made waterline tile is the best choice. It glows in the sun light and can make the pool marvelous. If you aspire exotic style, then choose those have contrasting colors and delicate patterns. That will become a focal part of your pool.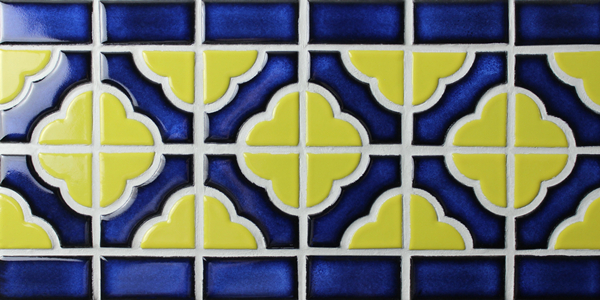 Ceramic Border Tile For Swimming Pool BCZB009
Should the pool inside need to be resurfaced? Common blue mosaic pool tile combined with mosaic pool art is getting increasingly popular today and provides a durable yet decorative surface for many years of use. Swimming pool blue tiles have many variants – light blue, middle blue and dark blue; small, medium and big sized chips; glossy, matte and fambe effect surface, etc. Similarly, mosaic pool art is customized. Dolphin, turtle and any other marine organism are usually taken as design themes. Yet, you can incorporate your design and make your pool personalized. If you want to know more info about pool resurfacing, read our published article Inspect Your Pool Thoroughly to Decide Resurfacing or Remodeling.

Waving Pattern Mosaic Tile Art For Swimming Pool BGE037
Last but not least, pool equipments need your attention as well. There are pump, filter, generator, heater if you have, etc that you should take into consideration. Make sure all of them work well and once something goes wrong, ask help from professionals, as this is often not the simple problem that you can handle by yourself. For pool renovation, it is not only about getting all things back to track, it is also about adding appealing features such as LED light, fountain, beach-like entrance, slide, sunbath bench, etc. You can get more by reading 5 luxury Decors You Can Afford to Class Up You Pool.
Read the tips above carefully, it will be helpful to your swimming pool renovation plan. BluwhaleTile is a mosaic pool tile professional that specializes in swimming pool tile supply over 10 years. Welcome to visit us on http://www.bluwhaletile.com/ for more pool tile design ideas and swimming pool remodeling tips.