One of the easiest way to add endless art to your home space is to install a mosaic mural to your wall, backgournd, splashback and flooring. Mosaic picture is a piece of art, they can features a home in ways that other standard tiles cannot. Today we are introduing you one our colorful glass mosaic art design, it is named after River Vitality.
You can imagine what it look after its name comes into your mind, inspired by the beautiful scenery of valley, we makes efforts to restore and save the nature scene by glass mosaic art, and the finished look is unique and amazing. Choosing hot melting glass mosaic tile as main materials is a right determination, for glass mosaic supplies rich colors and transparent surface, which can help you to find the best color for each mosaic chip, that is crucial to achieve the colorful result.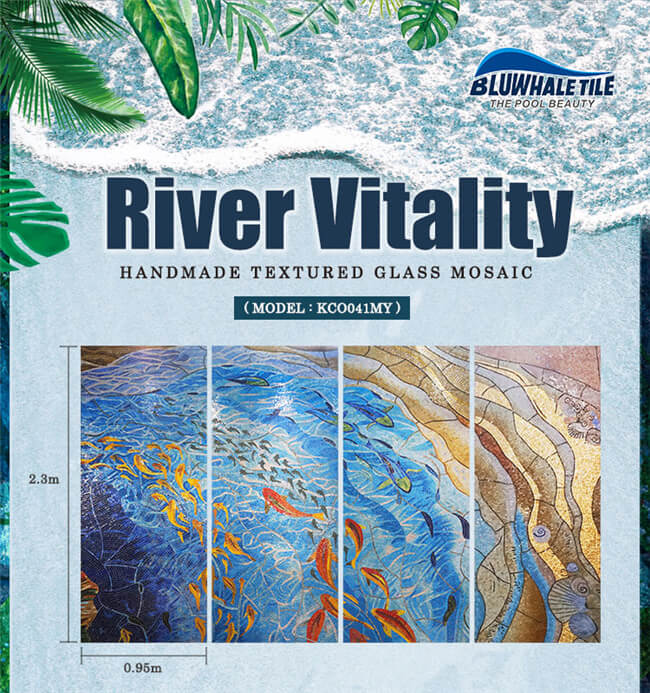 Featured product: River vitality glass mosaic art KCO041MY
The chip size is 15x15mm, the smaller the mosaic chip is, the more vivid finished look you will get. The gap is irregular, so that it won't create a stiff apperance, it is random and natural. Glad to tell you that this hand-cut glass mosaic art is mesh mounted on back, that means you don't need to install the picture chip by chip, the mounted technique makes your installation easier and much more convenient.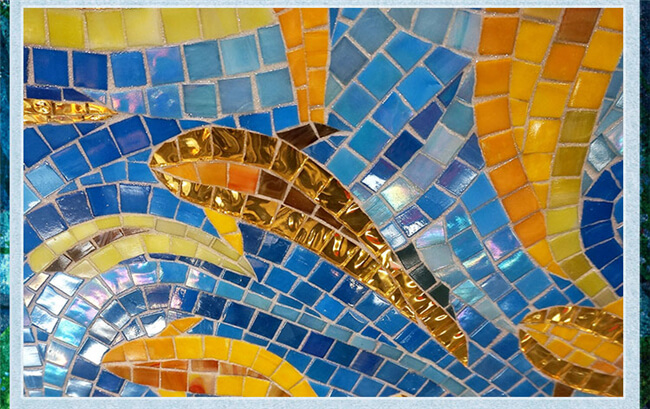 We would recommend you to use the mural on wall, due to its uneven surface, it is not so friendly as a floor tiles. Read on to see how they applied on a wall with a striking look.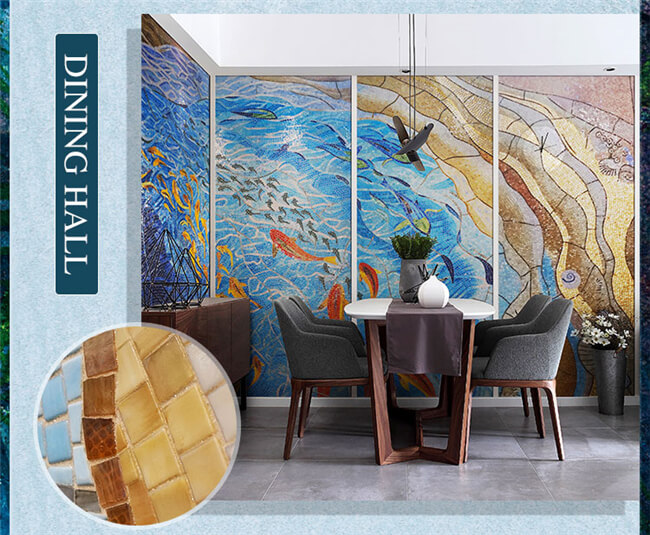 Tiling most area of the wall for your dinning space, this glass mosaic picture helps to pull things in the space toghter and make it feel complete. It is fascinating and can stand the test of time.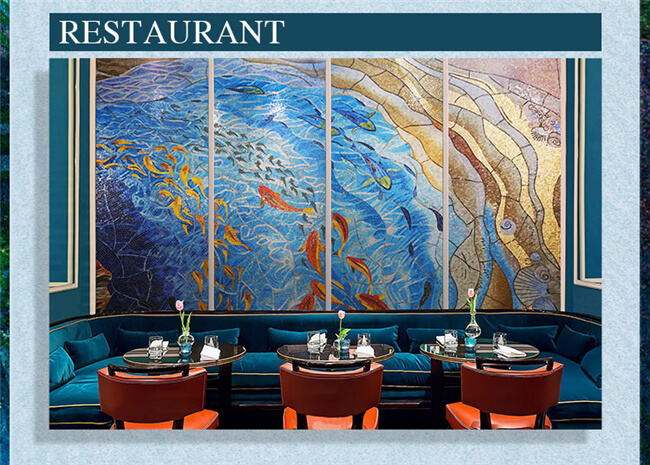 Going to remodel your restaurant at an artistic vibe and if the wallpaper is not so appeal to you, mosaic art can be as a great alternative. You can customize the look you like and add your personality to the design. Its aura will build a more positive environment your customers, making your restaurant inviting and customers impressive.
Mosaic art design is not only popular in interior design, it has become a swimming pool darling for years. This article "Mosaic Art Tile Makes Your Pool Playful This Summer" will tell you how these tiles turn a pool brilliant and out-standing.
Bluwhale Tile as one of the most professional swimming pool tile manufacturer from China, creating a mosaic mural for swimming pool, bathroom, kitchen and any other spaces can be customized from us. Each mosaic chip is selected strictly by our factory staff to guarantee the best result. If you are going to make one, feel free to send us the pictures and ask us a best quote.