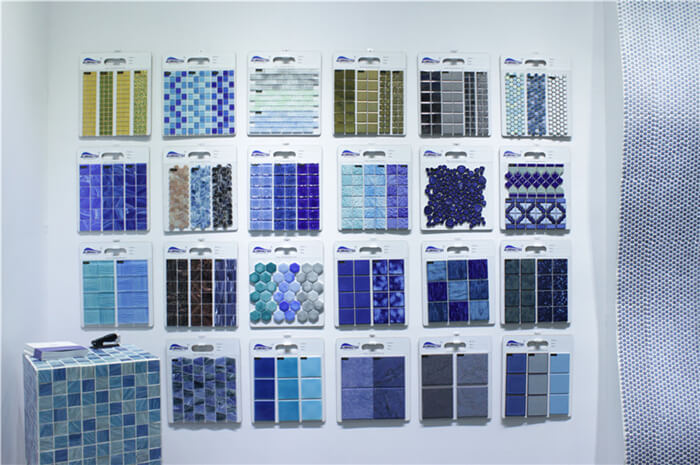 Asia Pool Spa Expo 2018 had just finished and much thanks for all visitors stopping by our booth and showing interests on our product lines of swimming pool mosaic tiles. And today let us look back to the exhition, if you were not at the show that time, this post will take you have a closer look at our popular items that gets good feedbacks from buyers worldwide.
Ocean Beach Mosaic Art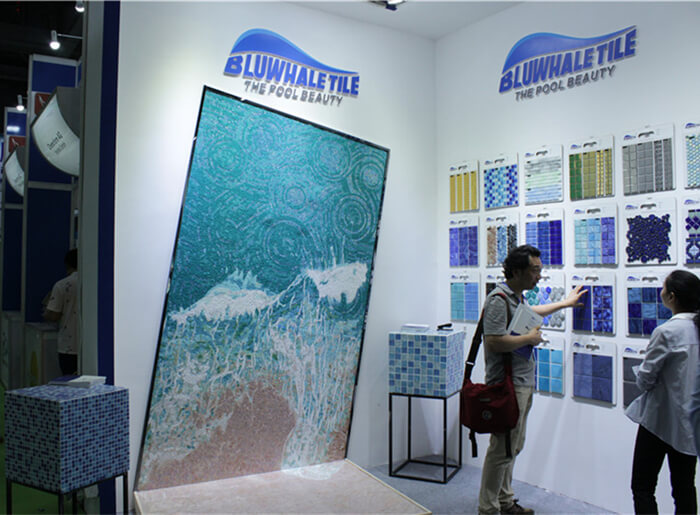 This time we have showed one of our mosaic design tile in ocean picture that an area of sand continue to the water of ocean. It is a composition of blue, white, grey and brown color. The mosaic chips is small at 15x15mm size, which is perfectly to imitate the big ocean and sand with a real effect. It is made of quality material hot melting glass mosaic, the color is rich and iridescent finish is relefective to light and looks beautiful under pool water. The handmade craftsmanship is vivid and delicate, each mosaic chip is selected strictly to make sure the best result.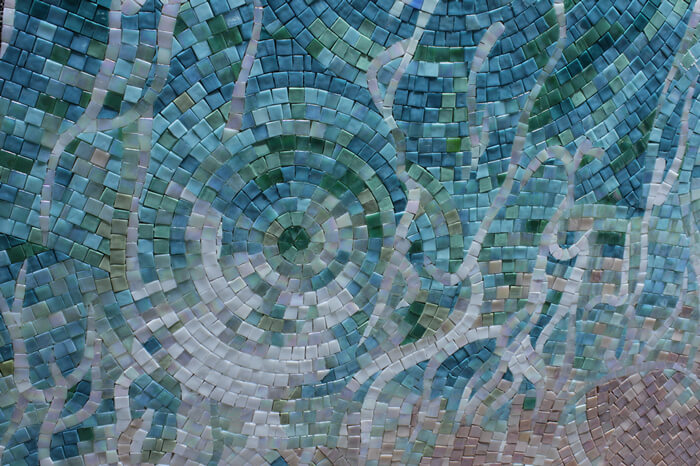 Glad that most visitors loves this mosaic picture design, and they are happy to take a selfie in front of the picture, it does works wonderfully as a wall background. Mosaic tile mural is always a good option for home decor as well as swimming pool installation, for this product can be customized as request to add personality to your space.
Bluwhale Tile customized lots of mosaic picture art for space projects, for some design inspiration, click to see our pool art collection for more details.
Classic Design, Never Out-Of-Date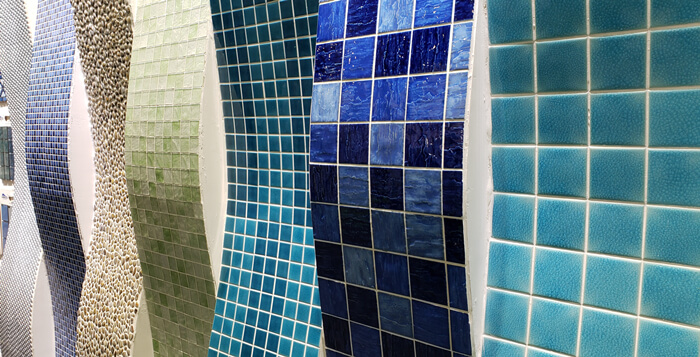 Swimming pool tile mosaic in classic design is still the popularity in the show. We have introduced our wave pattern 48x48mm, 95x95mm, ice-crackle pattern 100x100mm, fambe series 100x100mm, 48x48mm, free style pebble tile, hot melting glass mosaic 25x25mm, 48x48mm, some geometric pattern including hexagon, penny rounds, strips and trapezoid. Golden color is still well-received for those who want a luxury style for pool.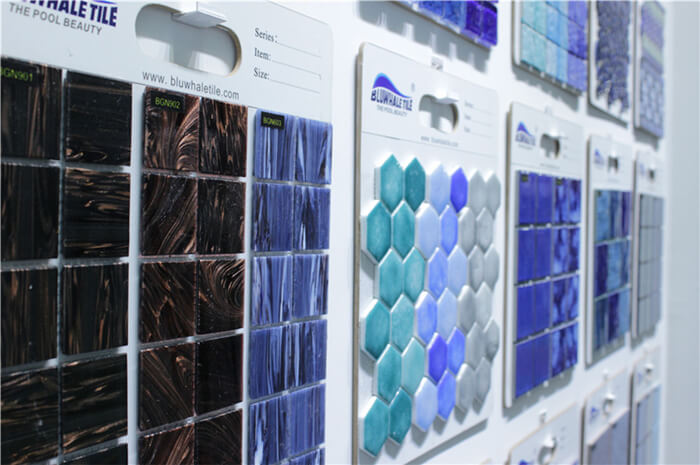 Featured product: Venus Cloud Series Melting Glass Pool Tiles
Our Venus Cloud Series provides a matte finish with special golden lines, the texture is natural and vivid, great for install a modern and luxurious space as well as pool project. It is made of hot melting glass mosaic in 48x48mm chip size, the color is optional, and if you want a obviously transparant design, the lighter color would be your best choice.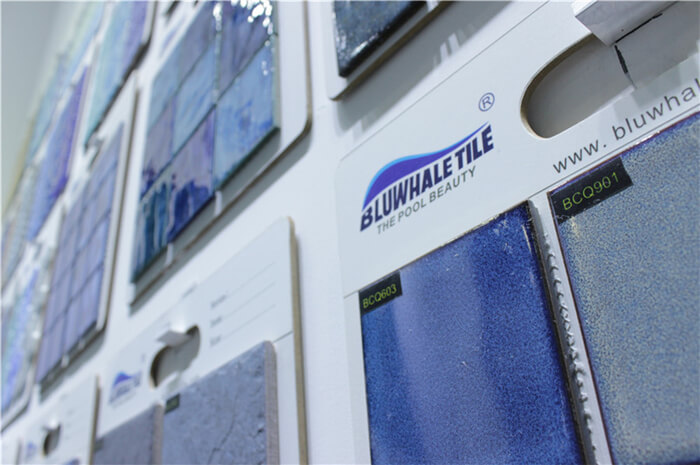 Featured product: 100x100mm Fambe Ceramic Pool Tile
Larger pool mosaic tiles is also well-liked because these tiles are easier to install and can successfully makes your pool more spacious. 100x100mm size is great option in our fambe series, there are tiny dots in the surface, the color is gradient and beautiful, it is smooth and glossy, easy to clean and maintain.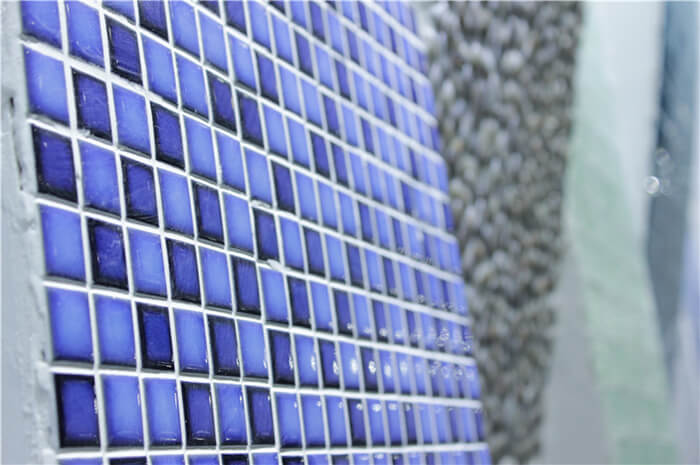 Featured product: 25x25mm Fambe Blue Blend Ceramic Pool Tiles BCH004
A blend of 25x5mm blue shades is ideal for creating a traditional indoor and outdoor swimming pool, however it can be along with sense of modernness and simplicity. Different blue shades can add characters and dimension to any spaces.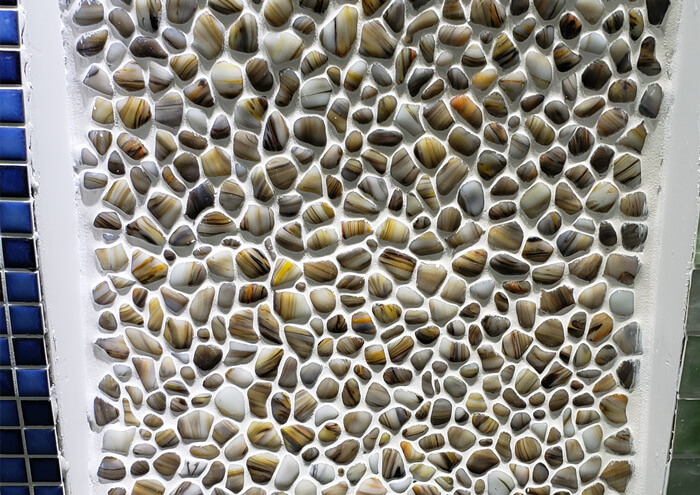 Featured product: Free Pebble Glass Pool Mosaic Tiles BGZ902
This light brown pebble mosaic tile is made from hot meting glass mosaic, superb design for building a warm and comfortable place. The gap is free to achieve a reasonable look. With an uneven surface, this mosaic tile product is anti-slip and excellent for floor decor and wet areas. Try to create your distinctive shower area by having such a pebble tiled floor.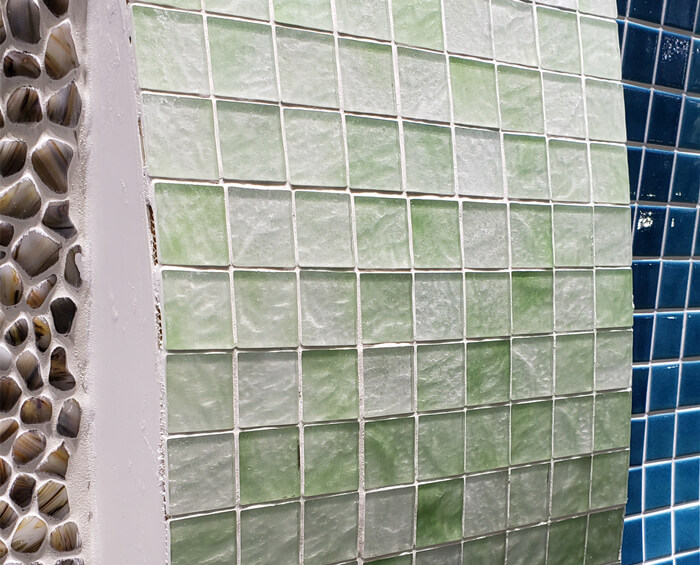 Featured product: 48x48mm Crystal Glazed Glass Pool Mosaic Tile BRK001
This green crystal glazed surface is a highly-recommended one. It is produced with a sparkling and matte finish, naturally gradient color and uneven surface. The color is fresh and unique, wear-resistant and water-proof, so suitable for making a clean pool and bathroom space.
Tile Accessories, Must Have For Pool Finish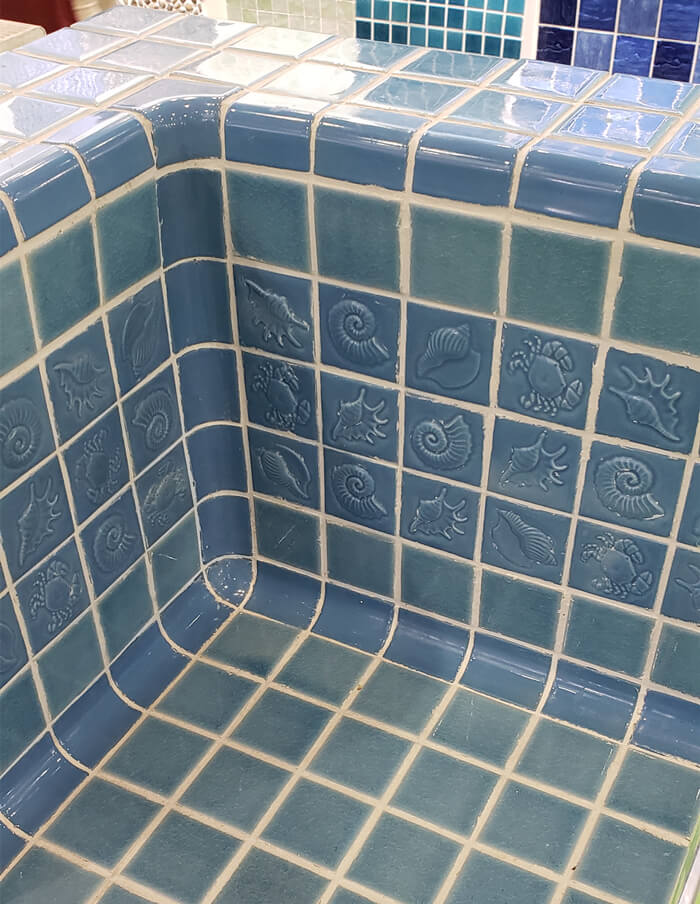 Featured product: Pool Corner Tile BCZB626, BCZB624, BCZB622
and Ceramic Border Blue Seashell BCKB702
Never ignore the tile accessories - swimming pool tile borders and corner tiles, which plays an important part in embellishing pool finish. The different tile accessoties you choose, the different pool style you will get. Our ceramic border tile in blue seashell pattern works wonderfully with our light blue pool corner tile to create a beach style to any swim pools.
Bluwhale Tile has into swimming pool tile mosaics wholesale for many years, we have established long business relationships with pool company, distributors, retailers and contractors worldwide with quality service. If you are in market for more pool tile mosaics, welcome to inquire us for best pricing and sample details.