As weather heats up, people start enjoying swimming in their own pools, and each year at this time pool professionals are pleased to exchange experience and catch the market information and industry trend. Customers are always seeking something new – design ideas, latest technology and maintenance tips to make their pools better. Here are the five new trends about pool design you are supposed to know. Catch them to know your customers' preference, a successful summer is waiting for you.
Small-size Spa-like Pool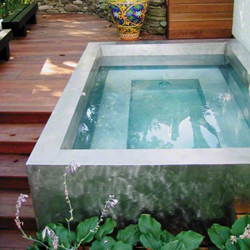 In crowded city, it seems less possible to own a large size pool like that's usually seen in the stadium. But that doesn't mean there is absolutely no chance. Considering that making the utmost use of land is the only principle of most city dwellers, spa-like pool is a good alternative. Half-sheltered balcony, small courtyard and even indoor bathroom…small pools are so flexible that can fit in almost all limited spaces. This is also the main reason why small pools are getting popular and having one has become a trendy thing for every urbanite. BluwhaleTile also published an article putting small pool design in details, if you're interest please go to 8 Small Swimming Pool Designs for You to Catch the Trend.
Exercise-oriented Lap Pool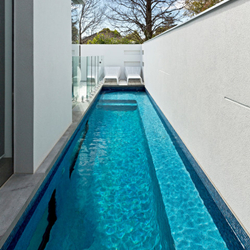 Lap pool is often considered as exercise pool because of its long and narrow shape, which is very convenient for you to swim from end to end continuously. If you're a swimming lover, you must have an eager interest in it. Lap pool actually provides a great way that helps you with bodybuilding. It's no wonder that more and more people falling in love with this healthy life style. Owning a lap pool at home means you can save a lot time on the driving way to public pool, and ticket the gym or club charges you. You will feel beneficial particularly in boiling hot summer that induces you to swim every second. If you want to get some lap pool design ideas, article Grasp The Trend – Build A Lap Pool For Recreation And Stay Healthy can help you.
Eco-friendly Pool & Landscapes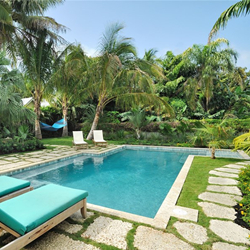 Frankly speaking, private swimming pool is not environmentally-friendly essentially. It needs plenty of water and that also needs to change at regular time; circulation and filtration systems have to run around the clock in order to keep water in consistent good condition; chemical additives are necessary as no one wants a cloudy, algae blooming pool, but this at the same time means a discharge of polluted water. We can see that environmental awareness has increased over the years. People are becoming eager for a pleasant living environment. It's not hard to reach a conclusion that eco-friendly pool & landscape is the reflection of their earnest demand. For detailed design tips of a residential pool please refer to article Do You Know How To Build Up A Pool That Is Eco-friendly?
Artistic Mosaic Pool Bottom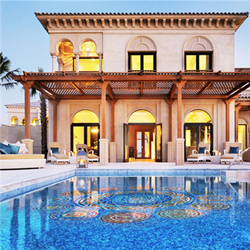 In fact, many swimming pools today are designed with neither features nor originality. Solid blue color is the most common element we can see in a pool. It is somewhat tedious if your pool looks the same ordinary with that of your neighborhood. Mosaic tile art can help your pool outstand in an affordable and cost-effective way. And this is a growing trend that people tend to choose mosaic pictures with abstract pattern or based on a specific design theme. Read on this article called Mosaic Art Tile Makes Your Pool Playful This Summer you will get more inspirations. Of course customized service is the prominent competitiveness of mosaic tile art. As a pool owner, you should have a singular vision so that you can customize one that is most suitable for your taste.
Unique Pool Finish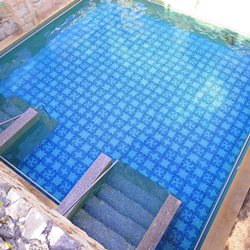 There are may materials for swimming pool finish – tile, pebble, vinyl and others. Amongst, mosaic tiles have most diverse variants. They differentiate by materials, shapes, colors, etc. Pool owners are free to select one according to their pool design plan. Many pool tile companies, such as BluwhaleTile, devote to providing customers with a great variety of swimming pool tiles and launching creative products regularly. Triangle pool tile is a new collection featuring various triangle-combined patterns. It is a project carried out by our design team between 2017-2018. If you're looking for some distinctive pool tiles, this collection is a good choice. It can easily create an unparalleled ambiance in your pool. More application examples please refer to article Triangle Series: The Geometry of Beauty.

Pool business would better align customer demand by catching up the latest industry trends – small-size pool, exercise-oriented lap pool, eco-friendly pool & landscapes, artistic mosaic pool bottom and unique pool finish. Pool professionals that has acute market sensitivity will develop faster, make more profit and have more loyal customers. BluwhaleTile is such a professional in pool tile industry as well. Welcome to visit us at http://www.bluwhaletile.com for more updated pool tile design ideas and pool maintenance tips.