Have you ever thought of using swimming pool mosaic tiles to decorate the interiors of your property such as kitchen backsplash, bathroom accent wall, dinning room wall decor and living room television background? As we all know, swimming pool tiles are mainly blue and green in different grades of shade. So you may think it is a little weird for interior decorating, and although you really want to remodel your house with these tiles in a bold way, it is still difficult without professional design guidance. However, mosaic pool tile is an excellent decoration to add natural elements into your living places. If you wish to give a modern, yet natural look to your dwelling, then explore the unlimited possibilities carefully selected by BluwhaleTile in the following couples of unique pool tile designs that can both be applied in pool project and interior furnishing.
The reason why swimming pool tile is superior than other tile type is that it has an excellent performance in water absorption, durability, wear resistance and damp proof. You may think there is few options of color, texture and pattern if choosing pool tiles, it is just partly true however. Every year there launches many innovative pool mosaic tiles as market demand is growing increasingly diversified, from which you even can find one that you have never seen before in the home improvement material market. Still feel confused? Look at the following examples and get inspired.
This bathroom looks tidy due to the furnishment of simple style. Ceiling, wall, floor and bathroom, all design elements are in a white hue. It is so friendly with the ambient light, which means your bathroom still looks bright and spacious despite you turn off the light and just let the ambient light in. The focal part is the riverine blue ice-crackle bathroom backsplash tile. It has a vivid color that has an ability to catch your eyes at the first glance. Moreover, the green element refreshes the room style and stay it from sterile. To add such a tasteful backsplash can really enhance your enjoyment during bath time.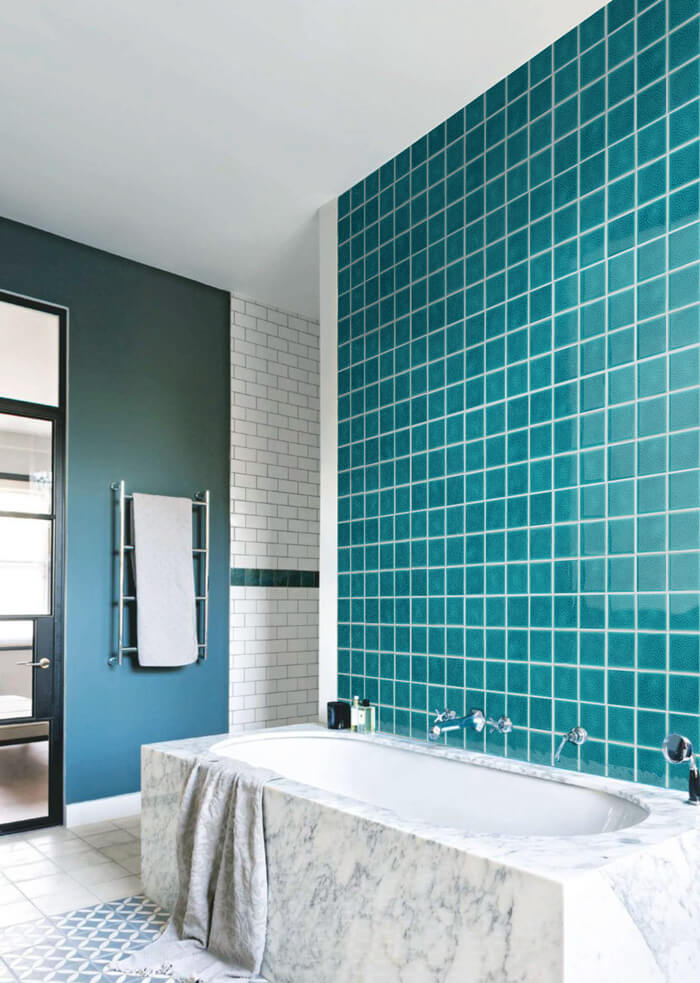 Featured Product: Bathroom Backsplash Tile BCQ607
When asked how to define rural style, many people may first come up with wooden flooring and brick wall. They are traditional and have been universally used in the interior design industry many years. Although everything is less likely to go wrong if choosing the classic, it is mediocre, especially for those who love pursuing new things. Here is the example of rural dinning room design using malchite green mosaic swimming pool tiles. You will be surprised to see tile of this color is really a distinctive way to create rural style and make the room look natural and fresh.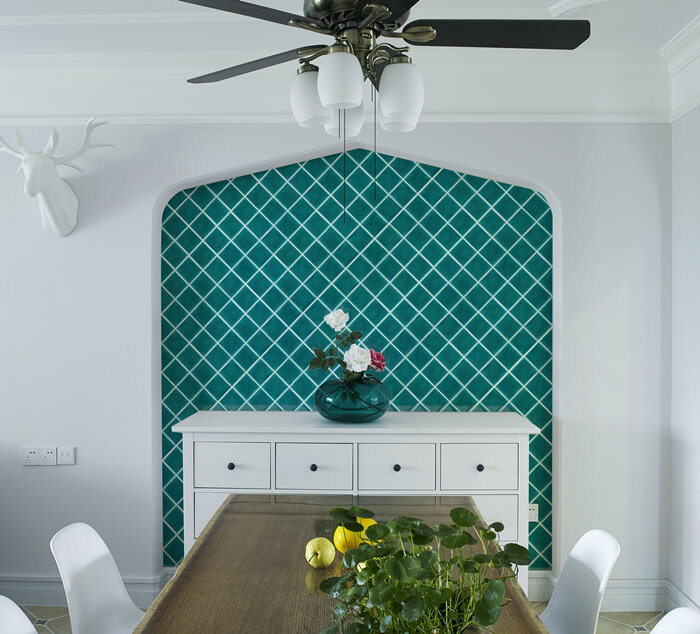 Featured Product: Mosaic Swimming Pool Tiles BCQ704
If you happen to have a set of cupboard that is in green tone, then this glossy green single crackle porcelain pool tile may help you to create an interesting, yet natural space. Look at this well-furnished kitchen, the green backsplash is integrated with the cupboards and the chairs. Also, what we can see from the kitchen design is that the home owner may be a optimistic person, and he may have young kids who love little funny things. Embellish your living space with an alive mosaic tile wall that can reveal your story, that would be so nice.

Featured Product: Porcelain Pool Tile BCQ702
Another kitchen design that decorates with light green 4 inch pool tiles and also at the backsplash part, but it looks so different. This kitchen is well furnished with lots of wooden furniture such as the long table, chairs, cabinets and door and they are light brown tone. A bright green cooking panel embeds well in and highlights the tedious brown, which further improves the cooking environment. Also, you will benefit from the anti-moist swimming pool wall tile because kitchen is easy to be stained with water and oil. Use these tiles, you will find that the glazed surface not only is easy cleaning but also can stay brand new for a long time.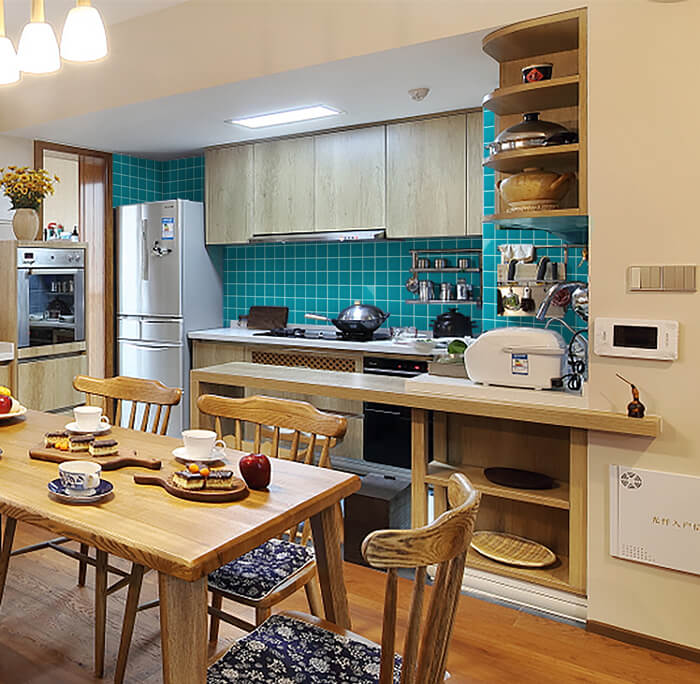 Featured Product: Swimming Pool Wall Tile BCQ703

Living room is the place that has the big traffic. You and your family members every day spends most after-work time there. Also, it is a reception place where you enjoy a leisure time with friends and handle business affairs with customers. So it is so important to design it in a unique style that reminds people about you. Blue crackle mosaic is a top option due to its expected effect. Blue backsplash tile is set behind the television, a vital area that attracts people's attention to a large extent.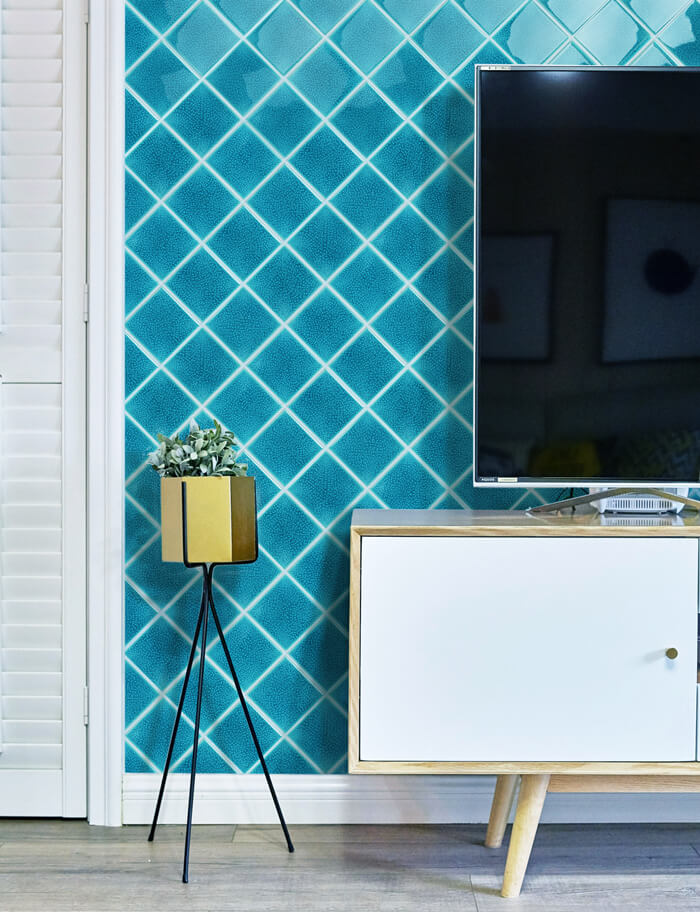 Featured Product: Blue Backsplash Tile BCQ608
Mosaic Pool Tile covering is regarded as one of the best materials for residential construction because of its easy installation, low budget and remarkable visual effect. Believe there are many more in the market If we search, then we will find they are also perfect for home renovation, simply because they offer endless design alternatives to most surfaces and spaces.

BluwhaleTile is one of an experienced swimming pool tiles manufacturers that offer pool tile for sale online and customized design service on pool mosaics and any related pool accessories for residential and commercial, small and large swimming pool projects. More info at http://www.bluwhaletile.com/.