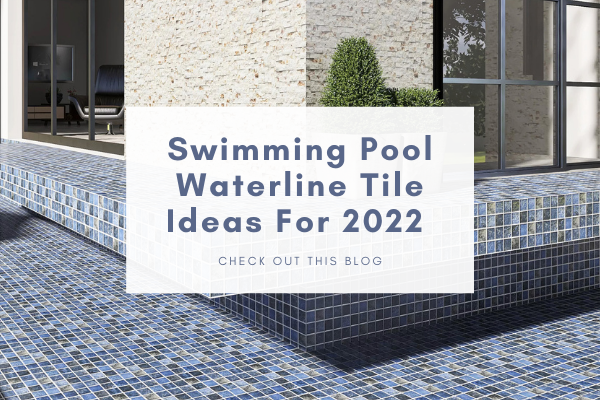 Want to have a comfortable and charming escape in your backyard or hotel? Building a swimming pool might be a perfect idea. For some, the pool design can be a reflection of their favorite getaway. The swimming pool can be built to remind a tropical paradise like the Caribbean, the aqua pool waters of the Mediterranean, or the neutral tones of a Tuscan villa.
As one of the most aesthetically pleasing aspects of a space, the swimming pool can also become your favorite place to hold a party with friends and family members or simply fire up the grill for an outdoor dinner. A wonderfully designed swimming pool is more than just an extension of the architecture of a space, moreover, the pool waterline is the focus area of the whole project. Therefore, remodeling a stunning pool waterline is an important thing.
Featured Product: Brickbond Glass GZOM9902
One of the first design elements to leave a deep impression on a swimming pool waterline, of course, is the waterline tile. However, choosing the ideal one to suit your space style and needs can be a little intimidating. You still have a lot to make a decision even after you have set your budget and chosen your preferred style. Which tile materials can you use for a pool waterline tile? What are the most common options? How about the latest tone trends? To help you design the swimming pool for your dreams, we listed what we believe are the most significant aspects to think of when buying waterline tiles. Continue reading to see this blog...
Do I Need a Waterline?
Pool waterline tiles are adhered to the finish of the swimming pool, usually as a 6 inches strip running along the waterline. This strip of tiles helps you achieve a premium surface in your swimming pool by lining it, and serves as a perfect design element in your swimming pool design.
To consider if waterline tile is something essential to your pool, think of the beautiful picture: how does the pool deck design, copying, or surrounding landscaping influence the overall aesthetic? Pool waterline tile is generally half-submerged in the pool water allowing for the top 3 inches to be visible, however, 3 inches can have an important impact on the whole landscape design.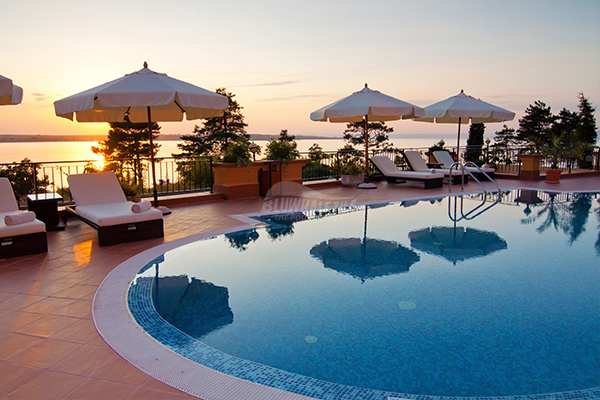 Featured Product: Hot Melt Glass GEOM9002
It's not just about looks when it comes to choosing pool waterline tiles. There's a practical element to this detail. Discoloration can occur at the point where the pool water ends, thanks to sunscreen, pool chemicals, etc. Kind of like a ring around the collar. Installing waterline tiles around the pool is a nice way to camouflage this transition and trick your eye, therefore, you will never see a difference in color. If you're working with a budget but prefer the look of an elegantly tiled swimming pool, simply tiling the pool waterline can be a smaller investment than fully tilling the pool interior wall. The determination is yours.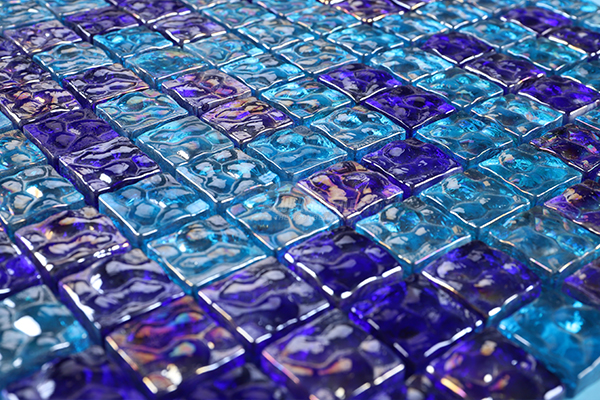 Featured Product: Iridescent Glass Tile GZOF1001
Pool Waterline Tile by Material
As we know, there's no golden rule when it comes to choosing a tile material for your swimming pool. A variety of options await you and you will certainly find something that will suit your personal style and your budget.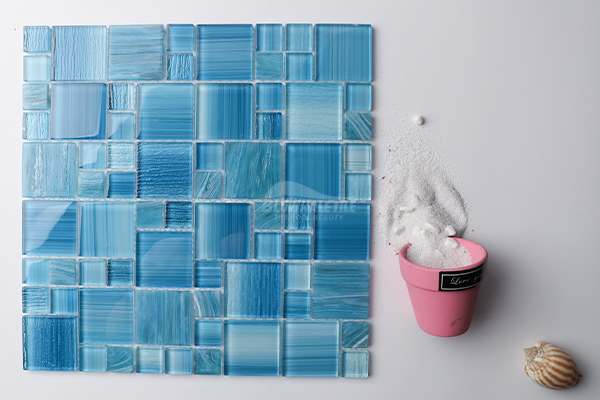 Featured Product: Blend Size Hot Melt Mix Crystal GZOM9603
Glass
With its mesmerizing sheen and a huge range of color options, glass tile is like the jewels of artistic pool waterline design. From tranquil green tones to vibrant dark blues, shimmering golden palettes, and pristine white colors, there is a lot to love about these stunning tiles for your pool waterline. The reflective property of glass makes any pool a beautiful glow even in small pool projects. A slight sparkle from the waterline area can add interest to your space in a snap.
While it's often associated with shiny beauty, this luminous material is more than just a pretty face. In terms of performance, durability, and hygiene, it brings an impervious finish that inhibits stains, mold, and mildew. The benefits beyond its gorgeous appearance look are often overlooked, however, we can attest it deserves extra credit for all the functional benefits that ensure its beauty lasts a lifetime.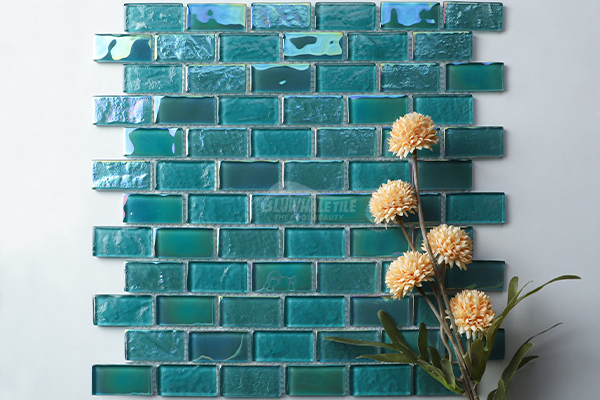 Featured Product: Iridescent Glass Tile GZOF5001
Porcelain
Porcelain pool waterline tile is less porous and stronger than their ceramic cousins, making them a great choice for almost all climate conditions. Easy to install, easy to clean, but are they perfect pool waterline tile? Smaller-scale porcelain waterline tiles follow the recommended guidelines for the pool waterline area. What's more, the larger format porcelain tile is the trend this year. You can create a minimalist and outstanding pool waterline look with this new collection.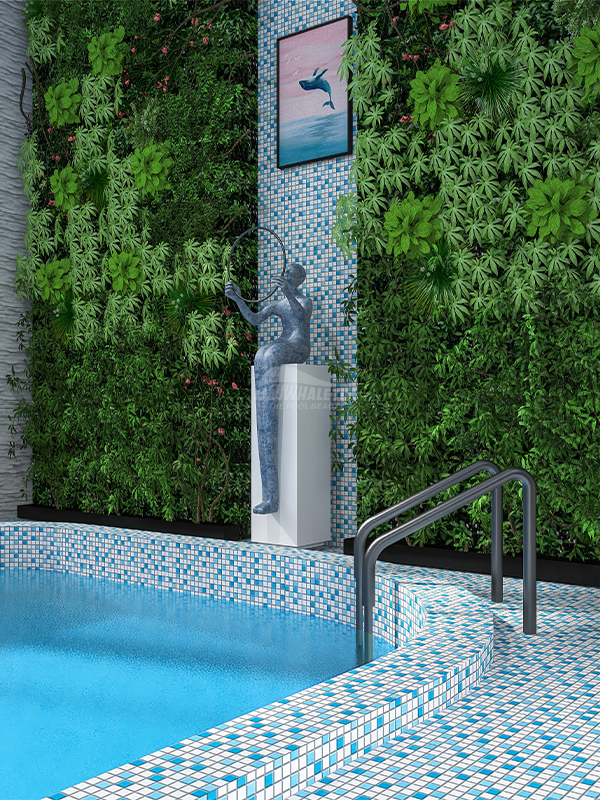 Featured Product: Classic Blend Blue IGA3003
Natural Stone Look
You can achieve a vintage, rustic, and retro look by your swimming pool with natural stone look tiles. The result is always a natural appearance that blends in with your pool deck. Compared to real natural stone materials, ink-jet pattern ceramic tiles are an economic and ideal option. Their biggest advantage is durable and easy to clean. In the end, stone look pool waterline tiles do offer an airy natural appearance that specifically complements pools with a natural pool style.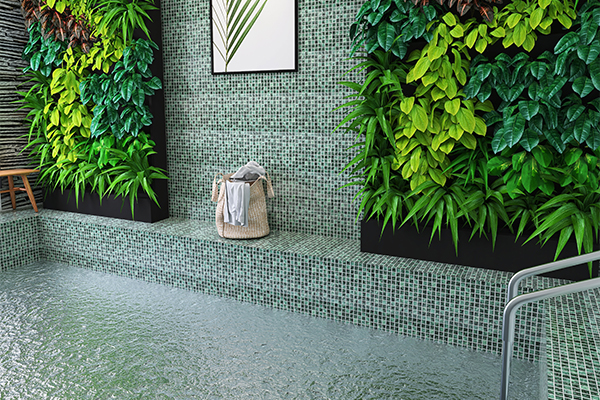 Featured Product: Ink-Jet IGF8701
Pool Waterline Tile Color Ideas
It's not enough for you to pour water into the swimming pool to make it look good. The swimming pool waterline tiles can speak volumes about your aesthetic abilities and style. Swimming pool waterline tile options offer ample opportunities for design creativity.
Selecting tile size is one thing, however, deciding on the color that best defines the swimming pool's mood is critical. The tone matters due to the reflective effect that water has on swimming pool waterline tiles. You might also want to think about what color will suit your surrounding landscape and the color of your pool deck and feature walls if you have any.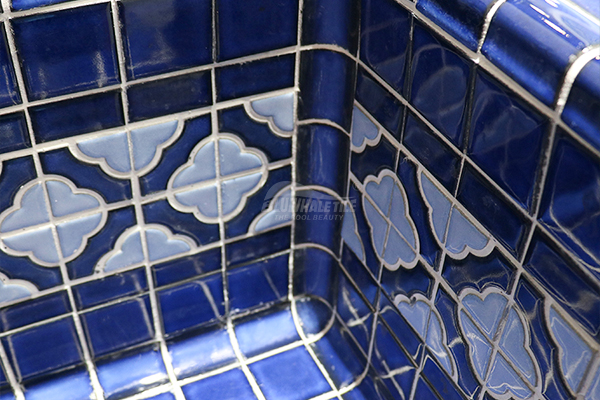 Featured Product: Border Tile Flower Pattern BCZB002
Show Your Personal Shine!
Customized waterline tiles are your chance to let your waterline areas shine in your pool. Pairing personal design ideas with functionality, these waterline tiles are not only suitable for pool waterline, but also perfect for shower areas or bathroom vanity wall decoration. If you prefer to natural style, bring the sea features inside the waterline tile to make your swimming pool a gorgeous statement. You can also highlight the waterline areas by choosing from thousands of fish, mermaid, or turtle murals to make your pool waterline design stand out. This pool waterline design is the perfect thing with a mosaic pattern of shells.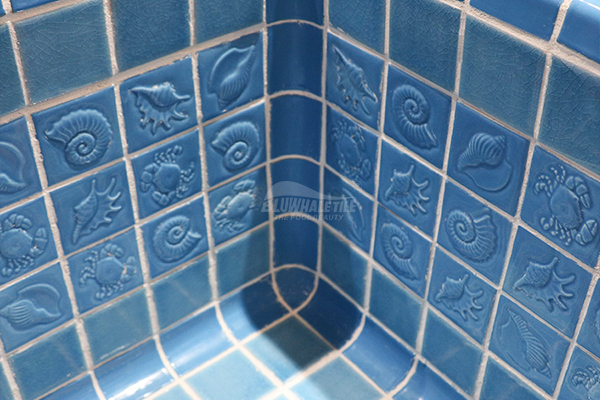 Featured Product: Blue Seashell Pattern BCKB702
You can even add your own personal design to your pool by adding your favorite picture, a customized pattern, a unique logo, or a custom shape of your option that will last a lifetime. The artistic look of a glass waterline pattern design brings you significantly more dynamic results than a traditional glass mosaic sheet. Design your personal pattern right now!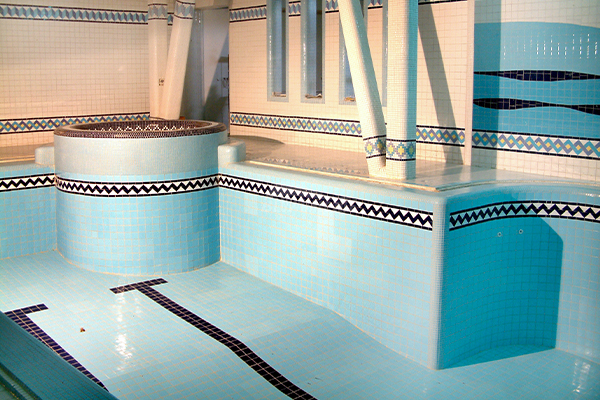 Featured Product: Client Custom Pool Project
Get Inspired?
Get ready to step into your own personal pool waterline! Order free waterline tile samples to see and touch now! Selecting your pool waterline tiles can be an enjoyable journey, but it can also be challenging when you know about how many options there are! Having considered all these factors above, we believe that you now have a better thought of what works for you. Whenever you're going to remodel your pool waterline, you can contact Bluwhale Tile and let us help you with your design ideas.