In most people's eyes, swimming pools are supposed to be blue. There are many reasons for this: pool water will look more colorful against cobalt blue pool tile, and glittering against glass mosaic pool tiles. For indoor pools, this is also a must because ambient light alone is hard to make the water look fresh and attracting though it is clean judging by the index of chemistry balance. However, it doesn't mean pool tile colors are restricted in blueness only. In fact mosaic pool tiles have many more colors and designs that can achieve a magical visual effect the same as the blues.
Frozen Snowflake Pool Tile
This snowflake ceramic pool tile in blended blue of different shades are chips of star, hexagon and rhombus piecing together, which create a fairytale design not only can be applied in swimming pools but somewhere like living room and bedroom. If you are a trendsetter who ventures using unusual tile mosaics to remodel your indoor or outdoor concrete pool, then this tile undoubtedly is a choice. And when you look closer, the tile surface is featured ice cracked texture. It is a delicate craft in need of effective control on temperature and glaze. BluwhaleTile is a pool tile company who pays very careful attention to details to ensure premium quality.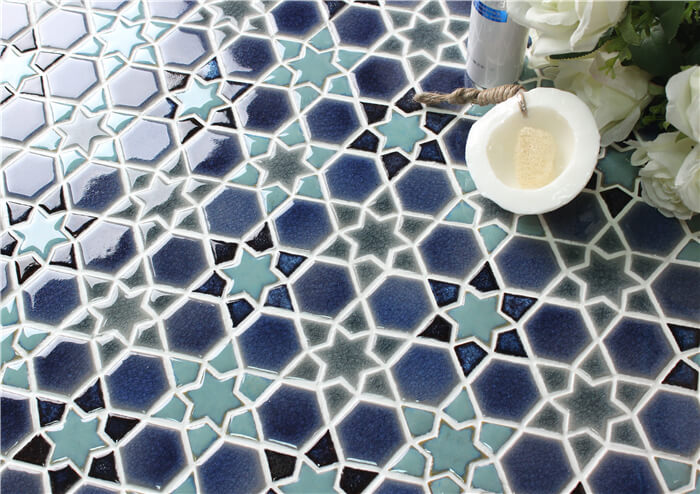 Snowflake Blue Ceramic Pool Tile CZH001TM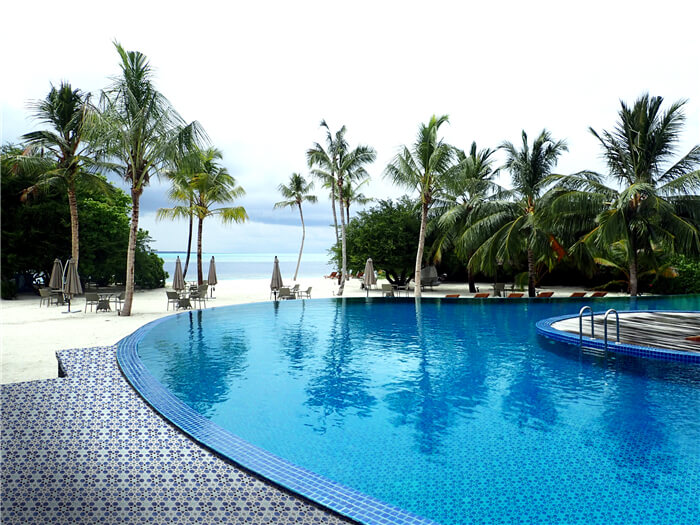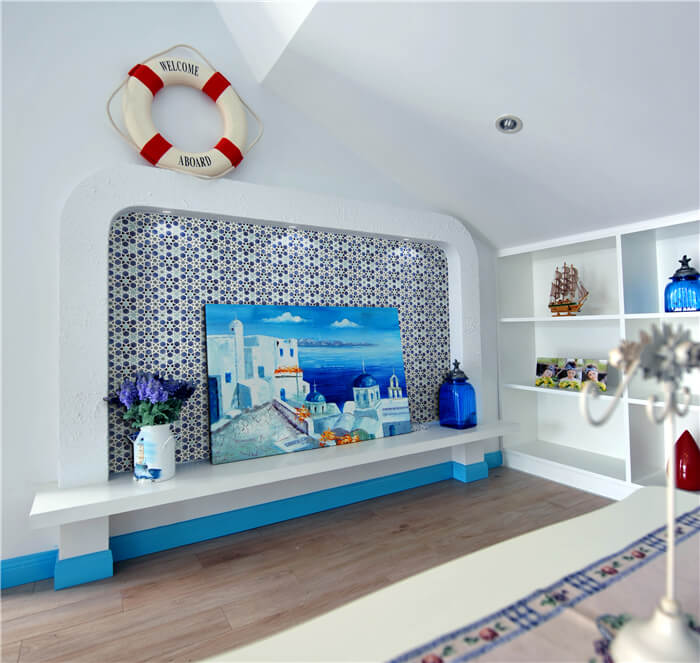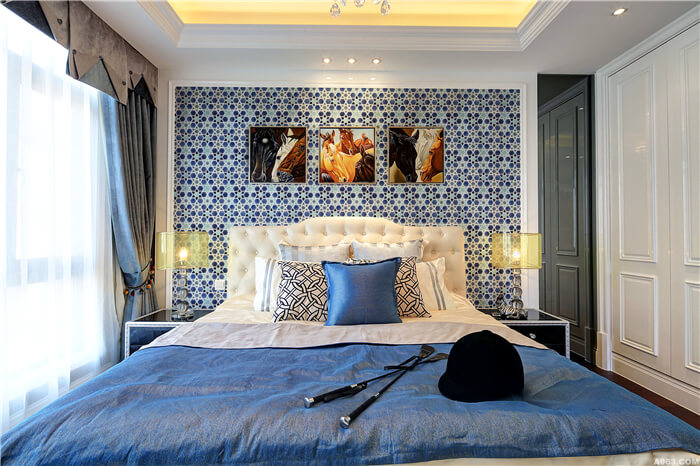 Windmill Geometric Pool Tile
This triangle tile is our newly developed product that is inspired by the free matching capability of geometric pattern. At the very first start, we also worried if the pattern is so stiff that surface would not appear artistically when many put together. But the truth is it works out a decent result. Look at the attached bird view picture of a swimming pool design using one of our triangle series Santorini Windmill glass pool tiles. It really makes the pool water tempting. Who don't want to swim in a pool like this? The answer is absolutely no one.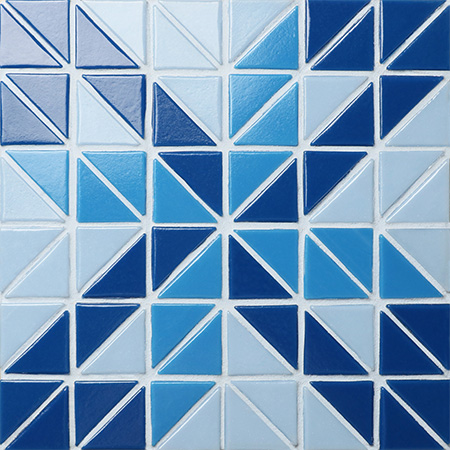 Triangle Glass Pool Tiles TRG-SA-WM1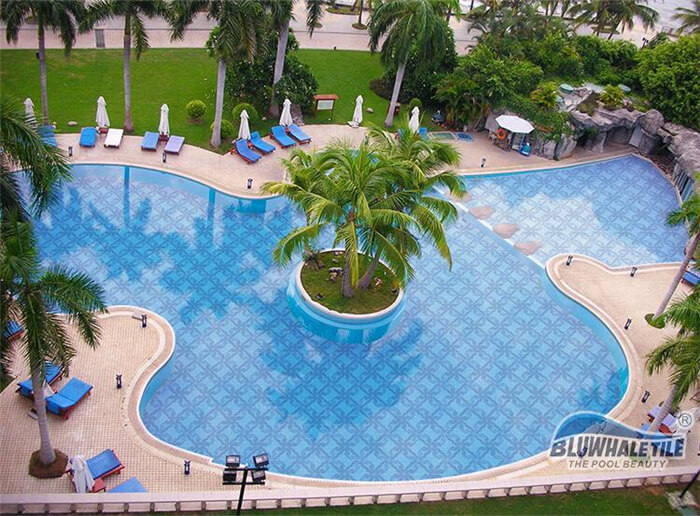 Iridescent White Pool Tile
You might think it is utterly crazy to use those called white swimming pool tiles because you cannot imagine how the pool will be like if decorated in such a sterile tone. Your worry is unquestionable as dirt and debris will appear obvious on white surface after a certain period of pileup. However, this is not an excuse for an innovative pool contractor or pool lover to push them away. There is only bad pool designer but not bad pool tile. Many of our customers feel satisfied with the rainbow glittering luster of the attached glass tile for swimming pools. For fear of making the pool weird, you can use it in some ingenious ways like installing only as border or partly on the fountain counters.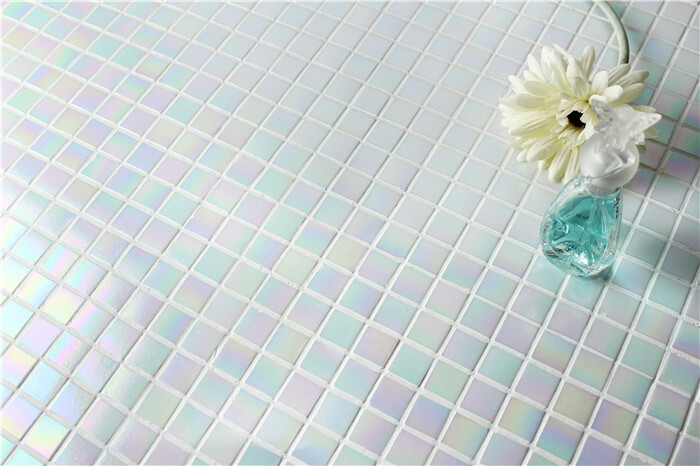 Glossy Dark Red Pool Tile
This red pool tile is very suitable for creating a luxurious style. And the reason why we design it in large chips rather than the smalls is that we want to make it solemn and decent. So accompanied with the dark red tone and glossy glazed surface, the tile is extremely fit to the decoration of those swimming pools in villa, starred hotel and recreational club. Similarly, red is not a common color just as the white that previous paragraph mentions. You should be careful for where and how large area to use it on and remember not to overuse it.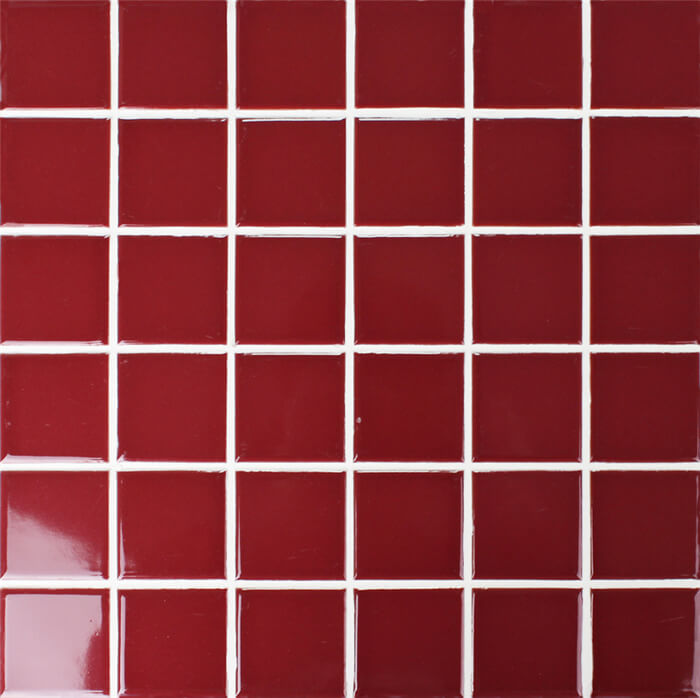 Shimmering Gold Pool Tile
Sometimes you can think out of the box. What I mean is that pool tiles do not have to be used as one of the part of the pool like bottom and wall. It can also be used on other parts of the pool area just as the bench area shows below. There is a queue of long chairs for sunbath and the narrow platform surrounds not only dividing the sea and the rest area but also protecting people from falling into the sea. So the tile installed on the platform must be anti slip and bright. This gold pool tile is made of glass, which is durable in spite of being immersed in salty sea water all the time. Furthermore, it has a textured surface as well which means you don't worry the platform is slippery.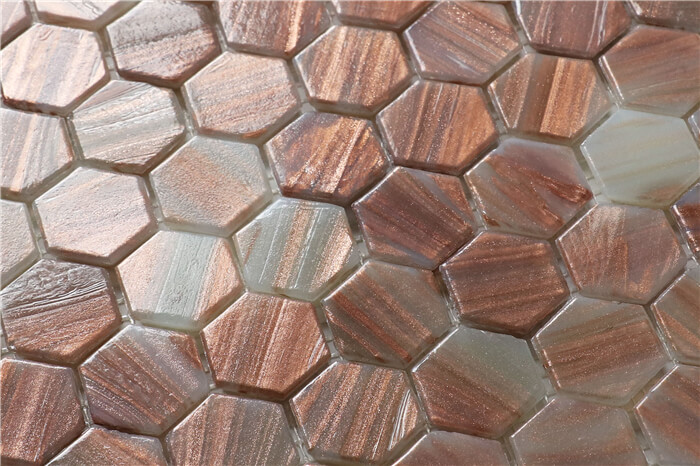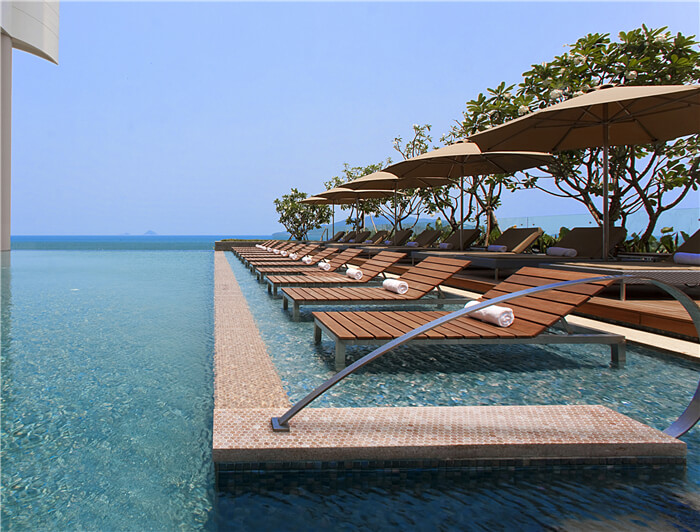 BluwhaleTile is one of an outstanding swimming pool tiles suppliers and trend leaders in pool tile industry who devotes creating innovative yet practical ceramic pool tiles, glass mosaic pool tiles and any other pool tile accessories. Welcome to keep a close eye on our blog update for newest pool tile designs.