Thinking what color of mosaic pool tile best fits your swimming pool could be the most troublesome process when you are planning a pool project, because you are not sure about the final look of pool water. Clear, fresh blue or turquoise? You keep asking yourself many times which kind of pool tile can achieve each effect. This article is going to tell you the principle and give advice for choosing the perfect tile.
First you should know water is a transparent neutral liquid. Pool water that you often see it appears blue color is depending on many factors. One is owing to the "Rayleigh Scattering" effect. The basic theory of this effect is about wavelength. Water tend to fully absorb longer wavelengths such as red, orange and yellow. And short wavelength color blue is partially absorbed. The part of blue wavelength that is not absorbed is reflected by pool water and at the end is seen by our eyes. The source of blue wavelength in the pool area is often from sky and swimming pool blue tiles. For this reason, you may have found outdoor pools look extraordinary added with an unspeakable blue touch.
There are many other reasons that result in a pool of blue water such as pool depth and surroundings. Generally speaking, pool water will be deeper in color with increasing depth of water. When water is no deeper than 50 cm, the principle becomes invalid and water will appear transparent without being affected by whatever color of pool tile you use. Also, surroundings of the pool area can affect the water color. If it is a shiny day, that means abundant light pouring, your pool water will show lighter. On the contrary if it is a rainy day, water will appear darker shade and this is also about muddy water that falling rain will cause. For indoor pools, it is about the artificial light and its water undoubtedly will be less affected than outdoor pools. By the way, landscape is one of the important element. If your backyard has flourish plants, pool water will take on green color.
Last but not least, of course pool water color is closely linked with the color of tiling. Want to see the effects that different mosaic pool tiles act on swimming pool design? Following passages will show you in details.
Blue mosaic pool tiles are commonly seen in the market and eat up the biggest pie in most swimming pool tiling. People tend to use a safe solution, but sometimes they think it is a little bit boring however. That requires pool tile companies make creative change on blue tile design such as a special material combination, a particular pattern or a decorative texture. Below attaches a swimming pool design that is using wavy swimming pool ceramic tiles, from which you find it make the pool stand out. Pool water appears blue, the most ordinary color, but not sterile at all. Thanks to this blue mixed wavy pool tiles, pool water color is strengthen to a deeper blue tone, coefficient with the blue sky.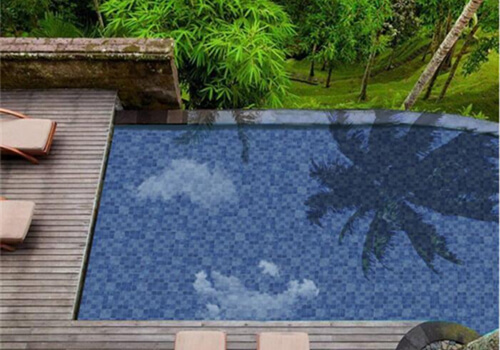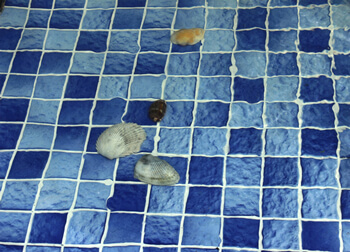 Green mosaic pool tiles are gaining more and more popularity these years in swimming pool tiling, as people always want to try the new yet beautiful things. They are surprise at the natural look that green pool tiles bring to the pool. Pool water, thanks to green decoration, appears fresh and clean, just the same as people see in lake or very healthy water body. In order to make the tile more appealing, BluwhaleTile chooses ice-cracked surface treatment. It is not a regular green glazed porcelain pool tile anymore. It has an outstanding feature on the glaze coat, a delicate ice-cracked pattern. Green pool tile is really perfect for those who want their pools undergo a great transform. For more green tile designs, read on our published article Concrete Pool Tiling New Option-Green Pool Tiles.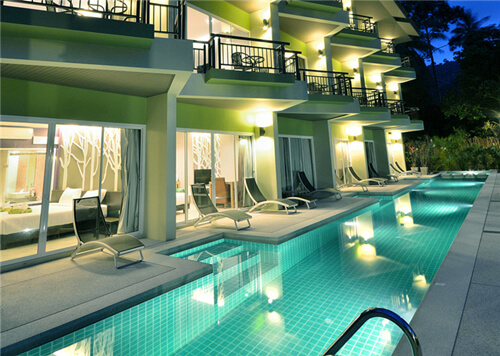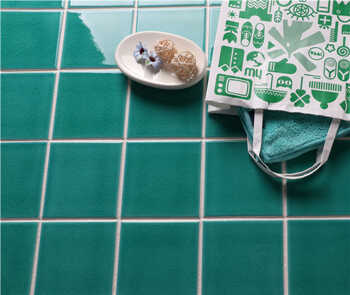 Above are two common pool tile colors. If you want moiré particular, then BluwhaleTile Triangle Pool Tiles is a good option. Though it is mixed blue, it has some splendid patterns that make the color mixture harmonious and interesting. Attached is a great example. Four different shades of blue combine randomly and create a peaceful balance. Swimming pool that is using this tile endow with marvelous effect. It is like mosaic pool art in the bottom but in a melting way. you don't think it abrupt and destroy the overall pool design.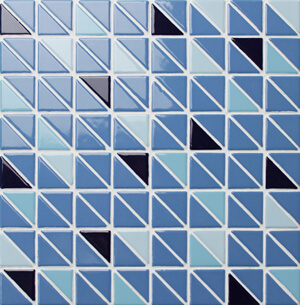 The colors of the pool tile are very important to the outer appearance of your pool. Think twice what look of pool do you want to have before decide the pool tile color. For more inspiration, visit BluwhaleTile, a professional tile company that offer different kinds of modern swimming pool tiles. Free quote and best price here.