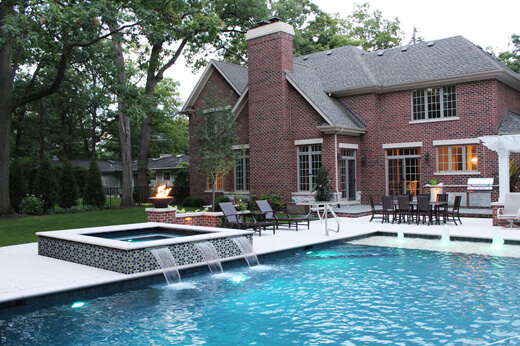 Swimming pool as one of the area in your home can provide relaxation and beauty, so you should keep it best all the time. Or, the pool can also cause health issues if it is not well maintained. Once it starts looking old and out of style, it is time to remodel your swimming pool and bring it back to life.
Following are some great tips that can update your pool both lively and functional. Read on and get inspiration for your projects.

Add A Spa To Pool
Soaking in a hot spa after your work time is a extremely relaxing thing. It is good to have a relaxing jet in the pool, which is useful to ease muscle tension and get rid of your day's stress. A hot tub or spa would be helpful to enhance your pool features and values. And believe it or not, most people will love it and spend more time in the pool.

Choose New Pool Tiles
To remodel your pool new and different, one of the best way is to change the pool tile. The post "Tile Means A Lot To A Classic Pool" tells you that a distinctive pool mosaic tile will make great difference on your fabulous pool design. If you do not want to resurface the whole space due to the high cost, then simply choose a decorative waterline tile, that also can make your pool interesting and new look. Bluwhale Tile here supplies wide range of swimming mosaic pool tiles, you can find one kind of tile to fit your pool style.
Create A Waterfall Feature
Adding waterfall feature is adding a fun factor to your swimming pool. This feature adds new beauty to your pool, it makes both adults and kids enjoyable. Pool builder can be more creative with the water feature, and it is not hard to install during the project.

Install A Misting System
Consider to install a misting system to your pool, mister is effective to keep you cool when you out of the pool, especially in hot summer days. The system can be added to your lounging areas around the pool, which can greatly improve the functionality of your pool.

Find A Professional Contractor
Hiring a pro builder is important to finish your dreamy pool. A experienced contractor can keep you feeling secure during the whole remodeling project, he should have worker's compensation insurance too to deal with any accients during the progress. A good contractor will not only handling your project sucessfully, but also be creative to give your ideas to level up your swimming pool.
Pool remodeling request you to consider many factors, just make sure what you want and find a good contractor to make your idea come true. For more details and ideas about swimming pool, welcome to visit our blog page.