Your know, tile you choose means a lot to your swimming pool, which will makes a big difference to your pool project. Pool tiles comes in variety of choices in materials, shapes, colors, texture and sizes. And ceramic mosaics are one of the most well-received surface patterns for swimming pools. If you are going to install a swimming pool, ceramic mosaic tile would be on your tile list for your projects. Why does ceramic mosaic tile so popular in both outdoor and indoor uses? There are endless reasons for you.
Pro of ceramic mosaic tiles
1. Wide colors, shapes and sizes. Ceramic mosaic tiles as one of the most traditional mosaics has a long history. They have been widely used for years and got high popularity in different space decorations for its changeable and various styles.
2. High durability. Compared with other flooring materials, ceramic mosaic tiles have low-life-cycle cost. The glazed surface is resistant to chipping, breakage, wear, and abrasion. Porcelain mosaic tiles mounted on mesh back is easy to install and repair, providing a long lifetime of structure.
3. Environmentally-friendly. Each porcelain mosaic chip is formed by molds, while glass mosaic and stone mosaic are cut into certain shapes. It takes less loss of raw materials to ceramic mosaic production, which is more cost-effective.
4. Recycle . Composed of natural materials, ceramic mosaic tiles can be easily recycled and be reused for producing new mosaic tiles.
5. Low-water absorption rate. Water absorption rate is the key factory to tell a mosaic's quality, which related with the suitability of porcelain mosaic for applications. Generally, the water absorption rate of porcelain mosaic tiles is lower than 0.5%, which is highly stain-proof.
6. Highly resistant to stains, scratch, marks, and chemical agents
7. Versatility. With variety of great features, Ceramic mosaic tiles are ideal for any spaces including bathroom, kitchen, living rooms, showers, backsplash, etc. This tile makes more possibilities to you, especially in swimming pool covering, they are booming up! What kind of ceramic mosaics you will choose for pool design?
Following We would recommend our 48mm tile surface for you if you want your swimming pool waving and dynamic. 48x48mm Ocean wave mosaic pattern at Bluwhale Tile is hot sale and designed for pool marketplace. With a glossy wave surface, it can make a waved visual effect to your pool although the water calm as a mirror, reflecting lights at any angles and adding shadows and depth to a pool! The chip size is 48x48mm, approximately equal to 2"x2", a common and classic pool tile size. The product is mesh mounted on back, easy and simple to install and cut. They can adorn the most beautiful swimming pool and will be stylish for years to come.
Different kinds of mosaic colors create you a full different pool styles, and this mosaic tiles have three colors (dark blue, sky blue, light green) to choose from. They are affordable and readily available. Find the surface you like below and imagine how you will use it in pool. If you have no idea, Bluwhale Tile also gives you some great advice for inspiration!

Wave Light green pool mosaic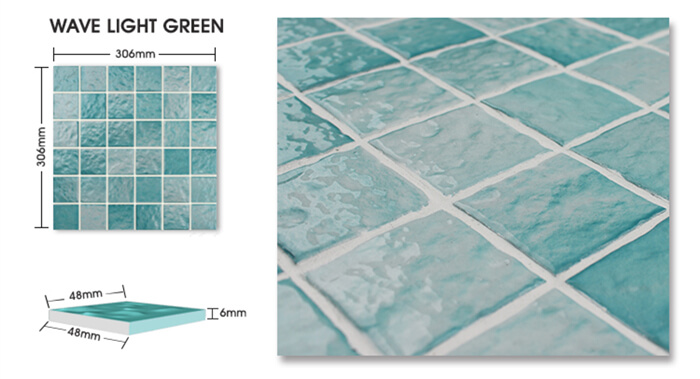 Featured product: Ceramic mosaic tile wave pattern BCK705
Green is the fashionable color for pool palette. The color is gradient in green shades to adds features and characters to your pool cover. The light green color feels comfortable and it is perfect for install a pool like a lake. It would be also awesome to create a tropical world to an outdoor pool, you know, green plants, stone coping tiles, decorative waterfall, green wave mosaic pattern, it completes, it moves!
The wavy pattern can be also used for pool side covering, the uneven design makes the tile less slippery.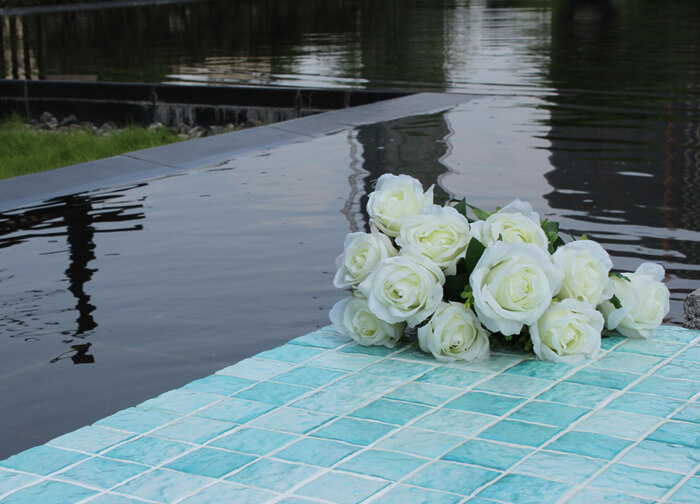 Wave dark blue pool mosaic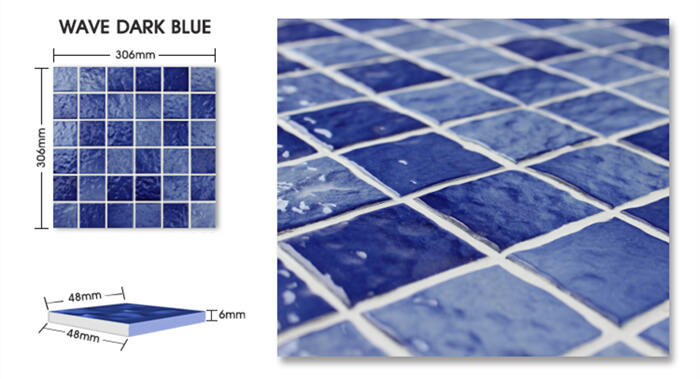 Featured product: Ceramic mosaic tile wave pattern BCK623
Blue is the soul color for an ocean pool. The wave mosaic design gives a good touch and uneven surface, it is non-slip and suitable for pool bottom and pool around areas. Made of ceramics, the surface is waterproof and durable, long lifespan. Blend of different blue shades, this dark blue mosaic creates levels of depth to any pool spaces, it works well with other tiles, even the wood decking.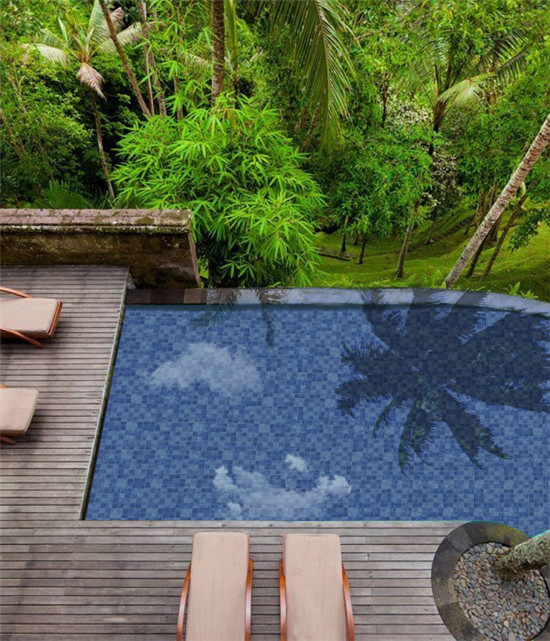 It also looks great for bathroom decor, the dark blue wave surface used on wall creates a mediterranean vibe to any bathroom spaces.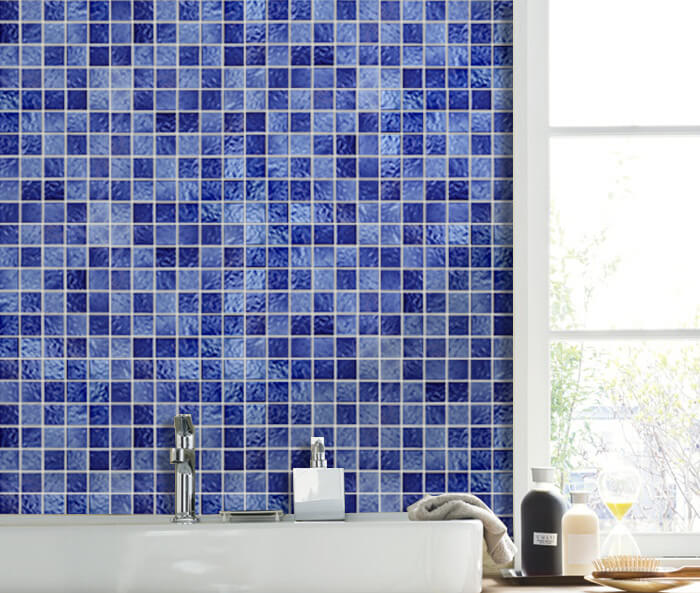 Wave sky blue pool mosaic
Featured product: Ceramic mosaic tile wave pattern BCK704
Choose lighter color sky blue if you want your pool water looks cleaner. Look at the sky blue waving surface, it is best selling for house pool projects. Bright color and dynamic texture, your swimming pool will be livened up easily.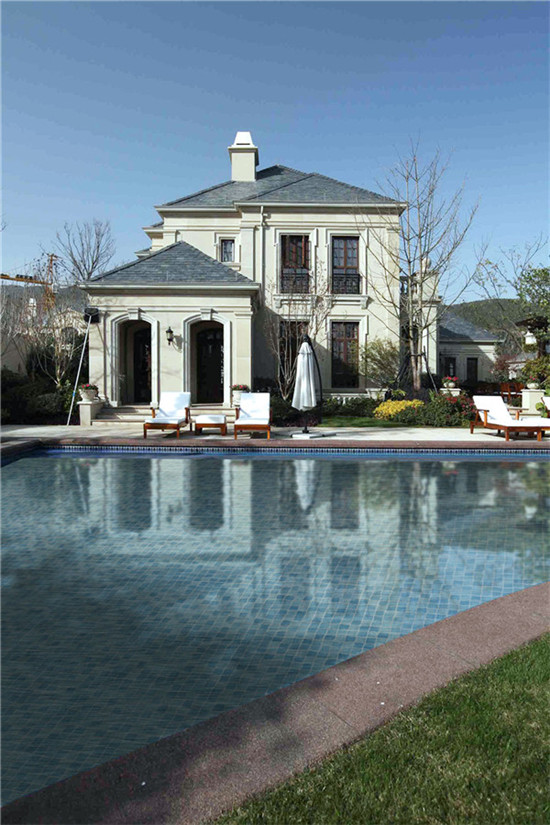 Why not use your pool tile for your bathroom backsplash if you have pool tiles left? Take good use of it and try to apply it on your splashback remodel, it will feel fresh with the light blue hue.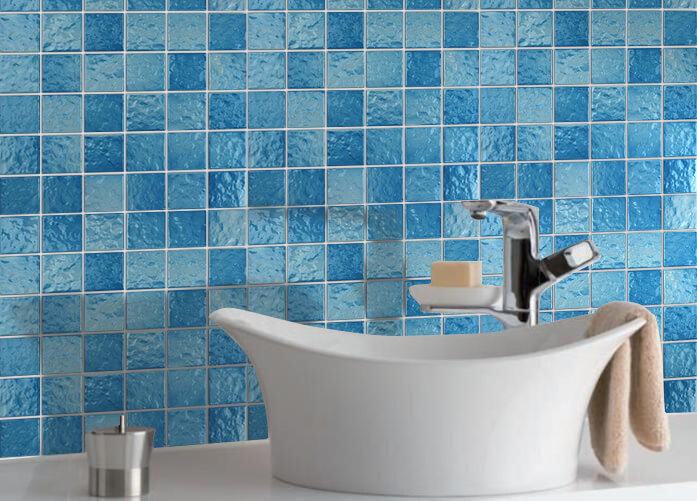 In simple tone and delicate style, our wave ceramic mosaic tiles are you best option for indoor and outdoor decoration, especially ideal for swimming pool surfacing. If you are in market for high quality mosaic tile wave pattern, welcome to contact us for more details. As professional swimming pool mosaic tiles suppliers from China, Bluwhale Tile is committed to produce superb quality and best price beautiful pool tile for all customers worldwide.