BluwhaleTile is excited to introduce four new porcelain swimming pool tiles. They have vintage colors and dot patterns, which are great tiling options for magnificent inground or above ground pools.
Fambe Black Porcelain Pool Tile
As for swimming pool tile, black is not a common color. Most house owners, especially those who have little knowledge of pool, would prefer to choose a soft-touch solution, that is using blue pool tile, or resort to contractor for popular trends. No matter tiled or painted, people are getting too comfortable in the established way of thinking – swimming pools cannot be any color but blue. However, renovators is never yielding to mediocrity. There are some architectures or contractors who are making effort to create more distinctive pool designs. Amongst, black swimming pool is a new trend that suddenly rises. By installing black pool tiles all around the pool or just some parts of it like on the pool border or on the above-ground counter of the pool, style of dignity and mystery is created spontaneously. As shown in the attached new pool tile, you may think it an impractical pool mosaic tile, but take a bold try, there will be a surprising result.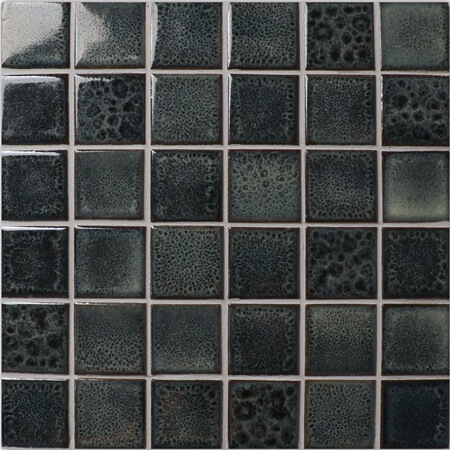 fambe black porcelain pool tiles BCK016
Fambe Blue Standard Pool Tile
The first glance you see on this gradient dark blue pool tile, which part impresses you most? BluwhaleTile would say the color scheme. On each square piece, there shows a nice gradient between black and deep blue – some are all black, some are all blue and others are appear highly integrated that we cannot tell which is dominated. Such a delicate surface requires quality glaze, master hand, accurate control on temperature and many other complicated elements. But some of you may say pool tile texture is not important, since pool mosaic tiles look alike from a distance if immersed in the water. This is wrong, however, premium pool tiles are far more different to those cheap and rough. A nicely crafted pool tile can make your pool outstanding undoubtedly.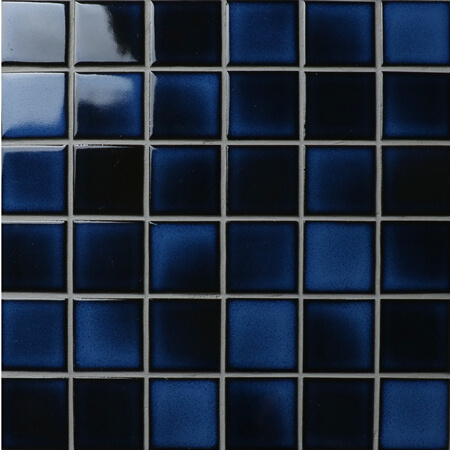 gradient black blue mixed pool tile BCK017

Fambe Crystal Glazed Pool Tile
This porcelain pool tile has a so special color that BluwhaleTile cannot pick up one specific word to describe. The surface is light blue and like being washed out, which makes it a retro and rustic style. Chip is 4 by 4 inch, a medium size for swimming pool mosaic tile. This type is 9 square chips combined with mesh on back, which is very convenient to installation. What's more, we suggest grouting this pool tile mosaic in light grey. It is a color that can enhance the light blue color of the tile and looks harmonious when installed in pool.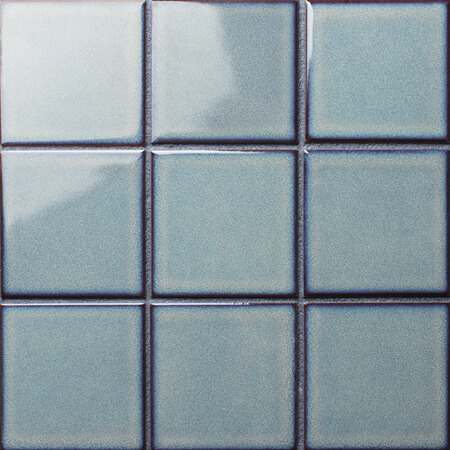 light blue porcelain tile for swimming pool BCQ301
Fambe Crystal Decorative Pool Tile
If you want your swimming pool outstands in your neighborhood in a way of using classic pool tile, then look no further than this glazed pool tile. Its blue surface is glossy as the other porcelain pool tile does. The feature that distinguishes it from the ordinary blue tiles is its unique pattern – small black fambe dots spreading all over the tile surface, which gives an illusion that it is a matte surface but in fact it is shiny glazed and touches smooth. As shown in the attached picture, chip size is 4 inch. Compared with those in tiny chip size, mosaic pool tile like that decorates your swimming pool in a different way, which is grand and dignified instead of chic and interesting.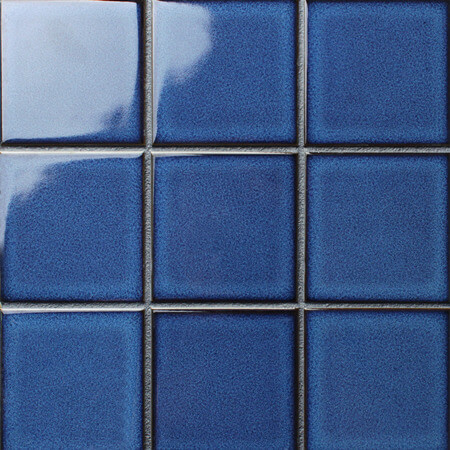 fambe blue glazed classic pool tile BCQ601
BluwhaleTile is a pool tile company who has over 10-year experience in supplying different designs of mosaic pool tiles. There are: ceramic pool tile, glass pool tiles, swimming pool mosaic art and other pool accessories. Welcome to visit our official website http://www.bluwhaletile.com for more advice on the selection and maintenance of swimming pool mosaic tiles.